Our family just returned from a weekend in the spectacular Jackson Hole region of Wyoming.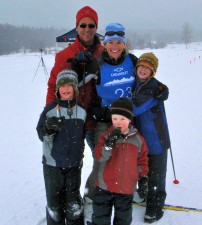 Our purpose of the trip was mostly to be on skis — a little work and a lot of play. We started the weekend off at the Moose Chase ski race. I entered the 30-kilometer race and our oldest two sons, Wolf, 10, and Hayden, 8, entered the 5k. My husband, Jerry, and our 3-year-old son, Finis, were our support and cheering team.
This was my second ski race. (Last March I did the Rendezvous 25k in West Yellowstone, MT.) My 30k was the first event and we literally chased two moose that were ahead of us on the trail at the 1k mark. Although I didn't see any moose after the start, there was evidence of the big animals throughout the course in the form of moose droppings. (I can report that moose droppings are not your skis' friend. I almost biffed it when one ski tried to glide over a scattering of them, coming to a complete, and very sudden, halt.)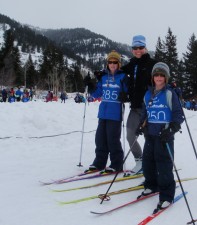 The course for my 30k involved skiing two 15k laps. The terrain was hilly and rolling and through forest and open meadows and fields. The scenery was awesome. There were some short, incredibly steep uphills (one aptly called "Grunt Hill"), as well as long, seemingly never-ending uphills. The terrain reminded me of Beaver Creek on South Pass, only the trails were longer.
The downhills were awesome — except for one called "Faceplant." This was the steepest downhill I've ever done on skinny, free-heel skis. It was so steep and big that on the first lap, I literally came to a stop at the top, to size it up, before descending. Let's just say it took gumption for me to go down it. My snowplow had little impact on my speed. I flew down it. Because the 30k required I ski two laps, I would have to fly down it twice. Both times I prayed (out loud) to not fall and to not blow anything out. Whew. It was exhilarating.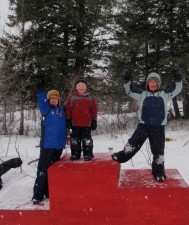 At the start of the event, I purposefully started near the end of the crowd of skiers. The first lap was faster than the second. The falling snow lightened up a bit and the (surface) conditions seemed pretty fast, but like in most race situations, it was a "cluster" for a while. The second lap was my favorite, despite a pretty good blizzard and the much softer trail conditions. I liked it best, though, because by this time skiers were spread out and I could enjoy solitude and the scenery. I covered the distance in 2 hours and 17 minutes. The first lap took me 1:07 and the second 1:10.
It was a difficult-but-fun-and-beautiful course, and I did about the best I could. I maybe could have pushed it a little more, but felt great during the event so I have not a single complaint. And, very importantly, I was not sore or tired the next day, which worked out well because we had a family day of downhill fun planned at Jackson Hole Mountain Resort, where I enjoyed my second attempt at telemark skiing, which is not an effortless activity to do, in my humble opinion.
This event was super special for me, and the reason is two of our sons also participated in it. It was their first-ever race event. We told them to stay together and visit and, mainly, have fun. We also told them not to take off their skis off and stay too long when they got to the aid station with the cookies. 🙂
By far, the highlight for me was seeing Wolf and Hayden out on the course, and skiing with each of them briefly, as they approached the finish line and I approached the end of my first lap. They were having fun, smiling, and moving their legs briskly. It was a sight for this mom to behold! I cheered them and they cheered me. Then, I heard Jerry cheering loudly for us. Our 3-year-old son, Fin, yelled "I love you, Mommy!"
My skiing in the Moose Chase was just a very small part of my experience. Sharing the event with my family was the big/main part. After the event was over we called my parents. Hayden reported to them, happily, "I finished second to last. It was hard, but it was fun."
Below is a video. (If you watch it to the end, which I hope you will, you'll hear the best part, which is Fin yelling, enthusiastically, "I love you!" to us as each of us approached the finish line.)
It does not escape me that I am a very lucky girl.
NOTE: Thanks to friend, Norm Cessna, for waxing my skis with some magic.