"Because in the end, you won't remember the time you spent working in the office or mowing your lawn. Climb that goddamn mountain." (Jack Kerouac)
Or go to Iceland.
We returned from our epic Iceland trip on June 25, and I have been trying to write this blog post ever since. For 10 days now, I've sat down every morning to write it but to no avail. Why? Simply, it's hard, if not impossible, to put our Iceland experience into words.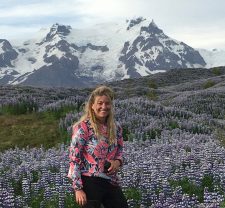 The saying goes that a picture is worth 1,000 words. Nowhere is that truer than in Iceland. I have, however, broken our Iceland experience into parts, and I wrote a blog post for each of the seven parts. I hope you'll check them out. They are longer in photos and videos than in words, and will hopefully provide just enough information to inspire and/or teach you something about the unique country that is Iceland. I'm including links to those blogs posts at the end of this one.
We have always been an adventurous family and we've traveled extensively in the U.S. However, we took things to a new level in 2016. Around 2015, my husband, Jerry, and I made it a goal to take our family on extended vacations at the start of Summer. Our motivation was related to the ages of our boys and the stage of life for our family. Our oldest son, Wolf, just graduated from high school and next year, our middle son Hayden will graduate from high school. (Our youngest son, Fin, will graduate in 6 years.) We made this goal of extended vacations because we wanted to see new places and to experience different countries and cultures as a family while everyone was still "in the nest." Our hope was–and is–that these experiences will create lasting memories and possibly inspire and inform our sons' lives and futures.
These extended international trips are not cheap, particularly a trip to Iceland. But while our house needs updating and some renovations, when considering, Should we invest money on our home or traveling internationally with the kids? It's no contest. Unless the roof is falling in, we'll always choose travel. Even if it does mean we'll have to pinch pennies for a while afterward. Or in this particular post-Iceland case, for a long time!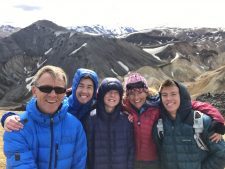 In 2016, we made our first serious international trip. (We had been to Mexico, but that was the extent of our international travel and it was more of a beach resort trip.) We spent 31 days touring 8 countries in Europe In 2017, we took a van trip that started in Vancouver, B.C. and ended in Los Angeles, with stops and experiences at about every city, beach and natural wonder in between. (I'm sorry I didn't blog about that great trip.) Last year, we went to Paris before exploring Madrid, and then backpacked for 160 miles on the Camino de Santiago in northern Spain before finishing our trip in Barcelona.
This year: 15 days in Iceland!
Iceland's slogan is The Land of Fire and Ice. It makes perfect sense and is a great slogan. However, I propose their new slogan be, simply, "Whoa!" I found myself saying Whoa! several times a day and more times in Iceland than I have in my entire life.
We keep a family journal on these trips and each night, I nag everyone to write an entry about what the day's highlights were for them. One day I asked everyone to come up with one word they would use to describe Iceland. Our words were: Mesmerizing, Otherworldly, Breathtaking, Crazy and Unique. While these 5 words fall short, they give you a flavor of the impression Iceland made on us.
The first order of business is to clarify that, contrary to its name and what many probably think, Iceland is not all ice. While it is home to the largest glacier in Europe, and many spectacular glaciers, just 11% of the country is covered in ice. It is in fact very lush. It is full of tall, green hills speckled with plump, foraging sheep. Those tall green hills have ridgetops, and epic waterfalls tumbling over many of them. There are fields of flowers and also scatterings of tiny wildflowers. There are green fields dotted with beautiful Icelandic horses, and great expanses of lava chunks piled all around, often covered by a thin and beautiful green moss. There are also tall mountains, volcanoes, steaming fumaroles and geysers, numerous rivers and lakes, and of course, the Atlantic Ocean.
So if Iceland's landscape is lush and diverse, why is it called Iceland?
Let's look to the sagas for the answer. Iceland is a land of sagas–long stories of heroic achievement. The very definition of saga is, A prose narrative recorded in Iceland in the 12th and 13th centuries of historic or legendary figures and events of the heroic age of Iceland (and Norway). According to a story writers Jon Krakauer and David Roberts share in Iceland, Land of the Sagas, late in the ninth century, a Viking named Flóki Vilgerðarson set sail from Norway in search of a rumored land in the North Atlantic. His only navigational aid were three ravens. Once released, the first raven flew back to Norway, the second circled and landed on his ship, and the third raven guided Flóki straight to what is now Iceland.
The story goes that Flóki put livestock out to graze, but he was so busy enjoying the excellent fishing in the new land that he neglected to raise hay to feed his livestock during winter and so come winter, his livestock died. Discouraged, Flóki decided he would return to Norway. But first, he climbed a mountain, and from the mountain's top, Flóki spied drifting ice floating in a fjord, and he had a brainstorm. To deter other would-be settlers, Flóki would name the country Iceland. (A century later, another Viking, Erik the Red, would pull off the opposite scam. He lured settlers to a different vast wasteland, which was largely covered in ice, and called it Greenland.)
We chose Iceland for our 2019 trip because we considered it an epic destination and in contrast to our other epic trips. We hoped Iceland would be the kind of place that would blow our minds and inspire us. Seeing and hiking on the country's melting glaciers would be a big part of that.
To say Iceland blew my mind is an understatement.
We'd be in Iceland for 15 days. We rented a 4-wheel-drive vehicle and Jerry and I researched and planned what would be a great road trip that included some of the country's most popular and highly recommended stops, but also enough free time and space for spontaneous exploring. (Note: Many of Iceland's roads are still dirt roads. If you want to do anything off the beaten path, you need to rent a 4-wheel-drive.)
During our time in Iceland, my Facebook and Instagram no doubt showed us having a very active and full trip. Some people may criticize our itinerary and suggest it was too full. However, we had plenty of downtime along the way. I just didn't take and post photos of our boys chilling in their room on their laptops and phones, or napping, or of Jerry and I doing laundry or laying around. 🙂
Our family's MO (modus operandi) is basically: Start early, go big, finish early. (By the way, we didn't vote on this MO. This is a system Jerry and I put in place. When it comes to particular values in our family, such as experiencing the outdoors and travel, Jerry and I play captain and we've implemented certain systems to ensure we get the most out of these experiences.) It has been confirmed over and over for us that the early bird does in fact get the worm. It's not that we don't like and appreciate sleep. But by now Jerry and I know from experience that our adventures are more rich and memorable if we don't have to share them with hundreds of people all at once. Tourists typically sleep in, eat a big breakfast and pull out to explore at around 10 or 11 am, when everyone else is doing the same thing. We are not in that crowd.
I should also mention that Iceland is quite an expensive place to visit. So unless you have unlimited money and opportunity, you don't go to Iceland without doing some research. This Iceland trip would be a once-in-a-lifetime experience for us and trip planning and research, combined with smart logistics, made all the difference. Our trip exceeded my (high) expectations. We saw and did everything we hoped to do, and then some.
Here's a map image of our itinerary. It is a good reference for the ground we covered. We traveled the "Ring Road," but also some side trips and adventures that were off the beaten path. For reference, we traveled the Ring Road in a counter-clockwise direction.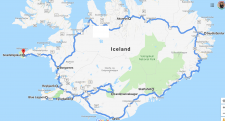 Because I'm feeling lazy and struggling to articulate our Iceland experience, I'm going to simply list things we experienced or learned during our epic trip and am including some favorite photos and videos. (These are not in any particular order.)
–Icelandic is the official language of Iceland. We couldn't, and cannot, pronounce place names in Iceland. It wasn't that we didn't try, but when we learned that the town of Hofn is pronounced "Herp," we gave up our efforts and from then on just pointed at places on our map when communicating about attractions, region or destinations. Fortunately, not knowing Icelandic was not a problem because everyone was generous and spoke English.
–The people of Iceland are wonderful! Everywhere we went and stayed, the people who greeted and served us were exceptionally kind and helpful.
–There's a saying, "We all have the same 24 hours in a day." I would like to challenge that notion. If you're in Iceland, during summer, your 24 hours are seemingly more than the 24 hours of most other people. With 24 hours of daylight in Iceland, it was possible for us to go sightseeing at 11 pm–or any time of night or early morning–without the need for headlamps and with our views not limited by the dark of night. We loved the possibility and novelty of the 24 hours of daylight, but it was a little disorienting and therefore we didn't sleep super well. By nature, I'm not a night owl and yet often I'd be reading or thinking about something else to do when I realized it was midnight or later. Still, it's pretty awesome to have it be "daytime" all the time…
–Iceland is one of the best places in the world to view the Northern lights. The Northern Lights (Aurora Borealis) occur when excited solar particles collide with atmospheric gases. The effect produces a neon light show that can last for minutes or even days at a time. Due to the time of our visit, we didn't see the Northern Lights. (Seeing the Northern Lights is a great reason to consider an Iceland trip in the Winter.)
–Jerry and I make a great team when it comes to adventure and trip planning. I tend to have the initial crazy idea/vision, but Jerry's such a trooper it's not long before he's researching as hard as I am. One of the best things about making these trips is our trip planning. In the months leading up to the trip, Jerry and I spend evenings researching, comparing notes and imagining itineraries. We take particular leadership roles. Jerry leads the effort when it comes to transportation and lodging, and I lead the effort when it comes to researching things to do and see and to discover off-the-beaten-path, best-kept secrets. Ever since our first Europe trip in 2016, the whole family has come to love the anticipation of what our accommodations will be like in a given destination. We don't typically stay in hotels, but rather opt for apartments or cottages or rooms. When we arrive at a town, getting to see what our accommodations are like feels similar to opening a Christmas present. Thankfully, Jerry is an expert and our various apartments, rooms, and cottages throughout our Iceland trip were wonderful and added to the quality of our Iceland experience.
–Speaking of accommodations, because our boys are pretty much men now, we don't all fit into one room. Sometimes we'll fit in one room if there's a cot or hideaway, but most of the time we simply need more room than one will provide for all of us and our bags, etc. While I love the memories from past trips of us all being stuffed into a single room and the "together-time" that comes with that, given the boys' ages and size, it makes much more sense to have two rooms. As their mother, I love that our sons have so much time together on these trips, and I know the boys love having their own space, away from their parents, after adventuring and traveling all day as a family.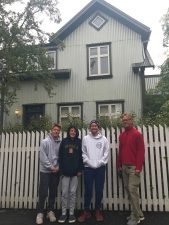 -When planning a trip to Iceland, especially if you're planning an epic trip that will include a lot of adventure, figuring out roads and routes, and transportation is an important piece of the trip planning. For example, some places we wanted to see are reached after traveling a rough dirt road and therefore, renting a 4WD vehicle is required. Jerry did all the heavy lifting on this end and he did a bangup job!
–In terms of size, Iceland is about the size of the state of Kentucky. Iceland is similar to our beloved state of Wyoming in that it's expansive and sparsely populated. About 330,000 people live in Iceland. Its major cities, such as Reykjavik and Akureyri, are more like big towns. We loved Reykjavik and Akureyri, and we also loved the small (tiny?) towns of Vík í Mýrdal and Seyðisfjörður.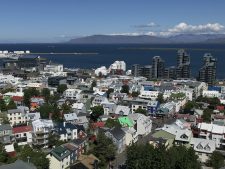 –Iceland is home to Europe's largest glacier, Vatnajökull. Vatnajökull is known as "the water glacier" and covers 3,100 square miles–8% of Iceland. The average thickness of Vatnajökull's ice is 1,300 feet, with a maximum thickness of 3,300 feet. Vatnajökull has around 30 outlet glaciers that form a mindblowing landscape along the southern part of the ring road. As we drove along the south and southeast coast of Iceland, we were blown away by how many glaciers we could see from the road and that can be accessed with little effort.
Video of the scenic drive from Vik to Skaftafell: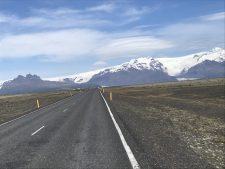 –It was odd to see glaciers to our left and the Atlantic ocean to our right. It felt alpine-like near the glaciers, and yet we were at sea level. In our beloved Wyoming, where some of the largest and last remaining glaciers in the Lower 48 are situated, one must be willing to hike pretty far and climb pretty high to see and travel on a glacier.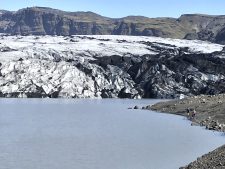 –One of our first adventures was a super jeep ride and ice cave tour. Our guide, "Hawk," took us on a thrilling bouncy ride to an ice cave that is under the Katla Volcano. Katla Volcano is an active volcano that erupts every 20-90 years. The 5,000-foot-high volcano is covered by a glacier, Myrdalsjökull. We had a fantastic time exploring the beautifully shaped and colorful ice in the cave, and the boys remarked how they loved the feeling of being under a volcano and glacier all at once. We drank from water that spouted out of the glacier and through the ice cave's roof and got to hike up and spend time on the glacier.
Video of our Ice Cave Tour under Katla Volcano: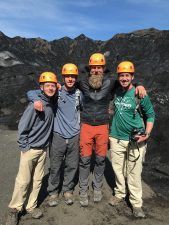 –Speaking of volcanoes, Iceland is called "The Land of Fire and Ice" for good reason. The island that is Iceland owes its existence to a large volcanic hot spot that sits astride the middle of the Mid-Atlantic Ridge. The western part of Iceland, to the west of the volcanic zones, belongs to the North American plate and the eastern part belongs to the Eurasian plate. These tectonic plates, which we viewed above ground in Pingevillar National Park, are separating at a rate of 2 centimeters a year. Iceland experiences a major volcanic event about every five years.
–From the moment we landed in Iceland to the moment we left, we saw lava. It's everywhere. Since the Middle Ages, a third of all the lava that has covered the earth's surface has erupted in Iceland. Iceland is home to 32 volcanic systems encompassing around 130 volcanic mountains, 18 of which have erupted since the settlement of Iceland. Situated along Iceland's south coast, Eldhraun is the largest lava flow in the world. Created during the Laki eruption in the late 18th century, the enormous 565-square-kilometer site is of both historic and geologic importance as well as being a place to explore the persistence of Icelandic flora and fauna. (It is also where the Apollo 11 crew trained for their impending moonwalk in 1969 for its similarity to the surface of the moon.)
–We hiked to the top and around four craters during our Iceland trip. Viti ("Hell") Crater, in Krafla region, was our favorite. Turquoise geothermal waters fill the dark reddish-brown crater. We also loved Kerid Crater, which is also a lake and is known for its colorful steep sides. We also hiked a 3,000-year-old crater in the Lake Myvatn area called Hverfjall, and we hiked up and around Grabrok Crater, which belongs to the volcanic system of Ljosufjoll.
Video of Jerry and the boys hiking up to Viti Crater's rim:
–Due to the geological location of Iceland (over a rift in continental plates), the high concentration of volcanoes in the area is often an advantage in the generation of geothermal energy, the heating and making of electricity. Iceland is a pioneer in the use of geothermal energy for space heating, and generating electricity with geothermal energy has increased significantly in recent years. Geothermal power facilities currently generate 25% of the country's total electricity production.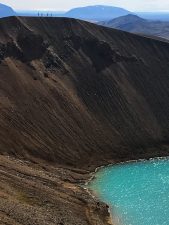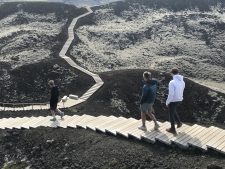 –Speaking of geothermal energy, Iceland is home to many wonderful hot springs in which to soak adventurous muscles and tired limbs. Upon landing in Iceland, tired and following a 7.5-hour red-eye flight, we loved soaking in Iceland's most popular geothermal hot springs, Blue Lagoon. We also soaked in other hot springs along the way.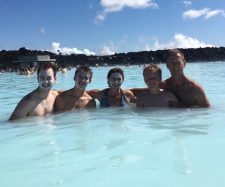 –The weather in Iceland is dynamic and always changing–much like it is in Wyoming in Spring or Fall. The wind blows often and when it does it similar to the cold and biting winds we can experience in Yellowstone Park or Wyoming's high country. (While our rental car had a sticker on its dashboard warning us to hold onto our doors tightly when opening or closing so "they don't blow off," I'd spy tiny, delicate flowers rooted in glacier scree surviving and resilient despite the gale-force winds.) During most of our trip, we were blessed with unseasonably warm and reliable weather. Still, we always had layers in our backpack. During our June 10-25 trip, most of the time we had on hiking pants or shorts, with a short-sleeve shirt under a long-sleeve shirt, and our hat, gloves, fleece jackets or hoodies were never out of reach.
–Nootka lupine is a beautiful purple (and white) flower that is abundant throughout much of Iceland. While I loved seeing the flowers everywhere, the lupine is not native to Iceland. In 1945, the lupine was introduced to Iceland to combat erosion, speed up land reclamation and help with reforestation. While it was effective in doing that, the flower is controversial among Icelanders because many are concerned about the plant's spread to areas where it is detrimental rather than helpful. Still, I loved seeing the fields of purple almost everywhere we went.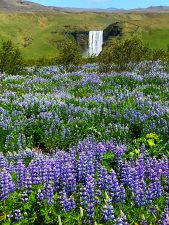 –Speaking of flora, moss is a common plant in Iceland. It grows abundantly in the mountainous region and is a special characteristic of Iceland's lava fields. One of the most spectacular moss blankets is located on the southern coast of Iceland, over the Eldraun Lava Field. We loved seeing the fields of chunky lava covered in the fragile green moss throughout much of our travels.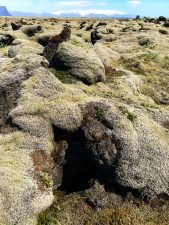 –No question one of the things we were most looking forward to seeing and experiencing was Iceland's glaciers. During our drive from Vik to Skaftafell, we took a side trip and short hike to the tongue of Sólheimajökull glacier. Before the trip was over, we would also spend time hiking on and climbing other glaciers, including a guided hike up Falljökull, which means "falling glacier." Falljökull is a massive icefall dropping down the mountains, crashing its way (in glacier speed)  toward the ocean. Our guide, "Biscuit," informed us he predicts Falljökull will be melted and gone within 15-30 years, which made our experience feel even more valuable and special.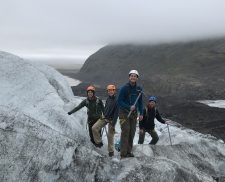 –On these extended family vacations, especially when they're in Europe, Jerry and I have a tradition of going on happy hour dates after a day's adventure, when our boys want to be left alone to chill and with their own devices. Jerry and I had probably our most epic happy hour date, ever, on our Iceland trip. After a day of hiking and sightseeing in Skaftafell National Park, and after a family dinner, we checked into our hotel. Our hotel's front desk manager recommended, passionately, that we explore the path behind the hotel "and follow it through the waves of purple flowers to a glacier." So after dinner, Jerry and I grabbed a bottle of wine and went looking for the path. What an extraordinary experience! Jerry and I followed a trail up and over hills covered in Nootka lupine. There were no other people in sight, and it was extremely quiet, except for some beautiful birdsong that filled the air. After about 15 minutes of walking, we were rewarded with up-close views of an enormous glacier. There before us was the carved, contoured and colorful tongue of Svínafellsjökull glacier. It was amazing! As if the flower-covered landscape and up-close view of the glacier weren't enough, the scene's backdrop was Iceland's tallest mountain, 6,921-foot-tall Hvannadalshnjúkurit. For as much research as we did before our trip, we had not realized that the glacier that was the scene for many popular movies, and shows, was in Iceland.
Svínafellsjökull glacier is sometimes called "Hollywood Glacier" because it's been the site for scenes from Interstellar, Batman Begins, Game of Thrones, James Bond's A View to Kill, and others. Svínafellsjökull is about 1,000 years old and is one of the bluest glaciers in Iceland. Jerry and I sat and shared a bottle of wine while listening to the gurgling sounds coming from under the glacier, and occasional rocks dropping from its melting ice. We had 45 minutes of Solitude. It will be hard to ever beat that happy hour…
Video of the field of flowers on the walk to see Svinafeljokull Glacier: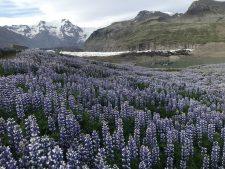 –We loved Jökulsárlón Glacier Lagoon. The lagoon borders Vatnajökull National Park in southeastern Iceland, and its blue waters are dotted with icebergs from the surrounding Breiðamerkurjökull Glacier. We stood, and walked along the lagoon's shore, for quite a while just taking it all in.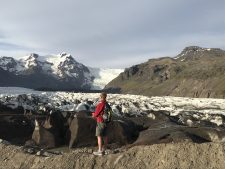 Video of Svinafeljokull Glacier: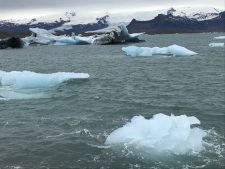 –We also loved our time exploring Diamond Beach. The aforementioned glacier lagoon flows through a short waterway into the Atlantic Ocean, leaving chunks of ice washed up on a black sand beach called Diamond Beach. It was mesmerizing to stand so close to floating glacier chunks, and they looked like diamonds, especially in their stark contrast to the black sand they landed on.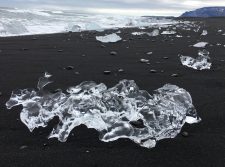 –We struck unexpected gold when we discovered Landmannalaugar in our trip planning research. Landmannalaugar is in Fjallabak Nature Reserve in the Highlands of Iceland. It is at the edge of Laugahraun lava field, which was formed in an eruption around the year 1477, and it is known for its beautiful landscape of rainbow-colored hills and mountains, lava fields and ts natural geothermal hot springs. We couldn't wait to do an epic hike in Landmannalaugar and our experience there was definitely near the top of the many highlights of our trip. We hiked many of the trails there, including climbs up the mountains/volcanoes, Brennisteinsalda and Blahnukur. Following our epic hiking, we soaked our tired muscles in the hot springs. It was a perfect end to a perfect day in Landmannalaugar.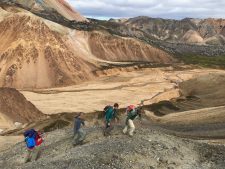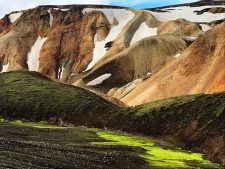 Video of Jerry and the boys descending Blahnukur: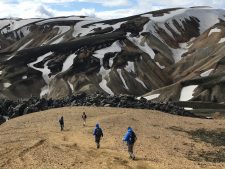 –Due to its far north location, Iceland experiences long periods of darkness and long periods of daylight. During our visit, there was no darkness. We mostly loved having 24 hours of daylight and the uncommonly large window of opportunity for seeing and doing things. However, the lack of darkness made sleeping more difficult. Most of us didn't get very good sleep because we lost track of the time due to no nightfall, plus it was hard to make our apartments and hotels dark enough to fool us into thinking it was night time. But I'm not complaining!
–We loved spending time at Reynisfjara Beach, a world-famous black-sand beach found on the South Coast of Iceland. With its black sands, enormous basalt columns and stacks, and the crashing ocean waves, Reynisfara was a favorite stop for us. The beach was the last stop for one of our sightseeing days and we used our time there well. We had a huge picnic lunch, climbed on the basalt columns and took naps in the sand.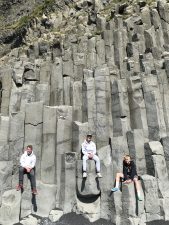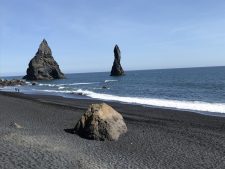 –We will never forget the 2019 Summer Solstice, because we attended the Secret Solstice Music Festival on June 21, under the midnight sun. It was a spectacular event where we listened to and danced to Jonas Blue, Pusha T, Pussy Riot, and others. When we were getting a cab ride back to our apartment in Reykjavik, we drove near the ocean, where the sun was about to set, yet did not set. It was a spectacular sight I'll never forget.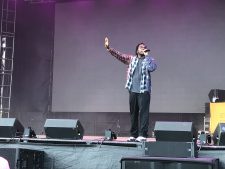 –Our grand finale was grand, indeed. We signed up for a guided climb of Snaefellsjokull. Snaefellsjokull is a 700,000-year-old glacier-capped stratovolcano. Snæfellsjökull served as the entrance to the subterranean journey in Jules Verne's classic science fiction novel, Journey to the Center of the Earth. It was a full-on mountaineering experience that started with a hike through lava fields before putting on crampons, roping up and ascending the glacier-covered volcano. We had an unforgettable time! It was unforgettable to hike through lava fields, to the top of a 700,000-year-old volcano that's covered by a glacier that's 2,000 to 3,000 years old. Oh, and with the ocean for a backdrop.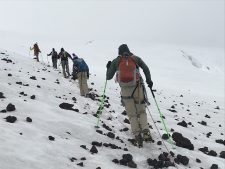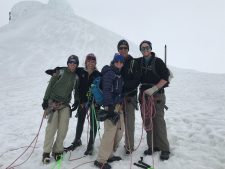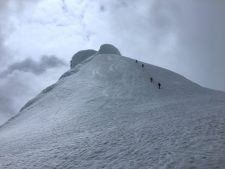 Video of us climbing Snaefellsjokull:

–There are hardly any trees in Iceland. I often felt the way I feel when I'm above treeline and in alpine country, only we weren't "above treeline," and in fact, we were often at the same level as the Atlantic Ocean.
–We didn't see much wildlife in Iceland because there isn't much of it. We did feel lucky to see a small black arctic fox when it crossed the road in front of us with a mouse in its mouth.
–Before our Snaefellsjokull climb, in the fishing village of Arnarstapi, Jerry and I went on a short walk from our hotel to the ocean. We were harassed and crowded overhead by a bunch of birds. It was obvious we were intruding and making them agitated so we cut our little walk short. These weren't just any birds. These were Arctic Terns. And what a fascinating bird. Arctic Terns migrate farther than any other animal in the world. Each year the bird migrates up to 50,000 miles, round trip, from pole to pole. They spend their summers in Iceland and their winters in Antarctica. The average Arctic Tern will, in its lifetime, travel a distance that could take it to the moon and back three times, and as a species, it experiences more sunlight than any other animal.
–The Puffin has become a bit of a national symbol of Iceland. More than 60% of the world's Atlantic puffin population–8 to 10 million–call Iceland home. The Westman Islands, off the South Coast of Iceland, have the largest Atlantic Puffin colony in the world. Some 30 different species nest over the archipelago, and puffins are by far the most numerous. Puffins, which have black and white feathers and a large, parrot-like beak. A puffin's beak changes color during the year. In winter, the beak is gray and in spring it turns into bright orange. Puffins are sometimes called "sea parrots" or "clowns of the sea." Puffins spend most of their lives out at sea, resting on the waves when not swimming.
–Icelandic horses can be seen throughout Iceland. The Icelandic horse is a unique breed of a small horse that came to Iceland with the first settlers from Norway. It's estimated that there are about 80,000 Icelandic horses in Iceland, and we saw many of them.
–We could see sheep continuously while in Iceland. The Icelandic sheep is a breed of domestic sheep and is one of the Northern European short-tailed sheep, which exhibit a fluke-shaped, naturally short tail.
–Foods in Iceland that are popular and that we enjoyed included skyr, lamb, arctic char, fish and chips, pizza (of course), and believe it or not, hotdogs, which are quite popular. (No, we did not eat fermented shark. LOL.)
–Iceland was settled in the 800s, making it a fairly young country.
–Iceland is home to the first parliament grounds in Europe. In the year 930 AD, the first Parliament met in Iceland in what is today Þingvellir National Park, a UNESCO World Heritage Site.
–Speaking of Iceland's Þingvellir National Park, there you can see two of Earth's tectonic plates meeting above the Earth's surface–one is the North American and the other is the Eurasian. These plates jut out of the ground in Þingvellir, and we were able to see where Iceland is quite literally being pulled apart. The tectonic plates separate about 2 centimeters per year. (This is one of only two places in the entire world where one can see two tectonic plates above the Earth's surface. The other is in Africa.)
–Iceland's waterfalls blew us away. Our favorites were Seljalandsfoss, a waterfall we got to walk behind, Skogafoss, which is enormous, Dettifoss, which is the most powerful waterfall in all of Europe, Godafoss, which is one of the most picturesque waterfalls I've ever seen, and let's not forget Gullfoss, a gorgeous 2-step waterfall. We also hiked to many stunning waterfall wonders, including Haifoss, Svartifoss, Lítanesfoss and Hengifoss, and the waterfalls of the Gjain region.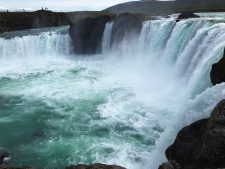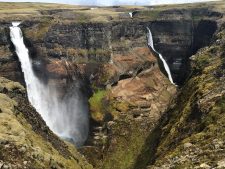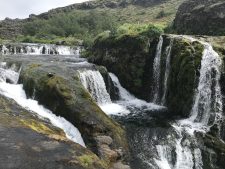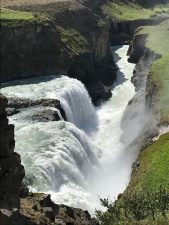 –Much of the landscape we traveled through might be considered by some to be "wasteland" or "godforsaken." Iceland is full of these unpopulated, undeveloped expanses. Certainly, we have some of these areas in our home state of Wyoming. But in Iceland, there are very few signs, very few fences, no shoulders on the sides of the highway, and very few places to pull over. And, speaking of roads, most bridges in Iceland are single-lane bridges.
Video of driving in Iceland. The scene looked like a computer-generated, simulator:
–Speaking of driving, we went through an under-ocean tunnel, called the Hvalfjordur Tunnel, which is under the Hvalfjörður fjord. The tunnel is 3.5 miles long and is about 540 feet below the ocean.It opened in 1998 and was built in order to shorten the distance from Reykjavik to the western and northern parts of the island by 45 kilometers (28 mi).
–We also traveled through a 4.6-mile-long tunnel that led us into the beautiful town of Akureyri.
–Like is often the case in Europe, we often had to pay to go to the bathroom. Except for at the hotels we stayed at you, we often had to pay to use the "WC" (which stands for waste control). The cost was usually around $1US per person and the restrooms were remarkably clean.
–Iceland is expensive. Very expensive. To give you an idea of the level of expensiveness I'm talking about: A beer was about $12US. A hamburger and fries costs about $18-21USD. (Contrast this to our Camino de Santiago pilgrimage trip last summer. In a cafe in the countryside in northern Spain, Jerry and I had fresh octopus and cold beers, and the boys had sandwiches and chips and soda pops, all for $21USD total.) Even though we budgeted as best we could for the trip, and we were as frugal as we could be, we'll be pinching pennies for some time as a result of our trip to Iceland. I think it's expensive because it's so remote and due in large part to the growing number of tourists that visit and must be provided for. (It's a good thing our Iceland experience was priceless since the experience did not come cheap.)
–Speaking of money, every time we travel to another country we are reminded of our own excess. We talked about this as a family while in the airport waiting to return to the U.S., and everyone in our family agreed about this. Houses are smaller than what we're used to in the United States, food and beverage portions are smaller, etc. There is just less excess.
I can't stop thinking about our time and experience in Iceland. It was an off-the-charts experience, and I will never forget it!
To read more specifically about our experience in Iceland, I've written the following blogs. Because Iceland is such an epic experience, and because we had 15 days to explore the country, there was a lot to report. I've divided the trip into 7 parts:
Iceland, Part 1 of 7: Blue Lagoon, Kerid Crater, Seljalandsfoss, Sólheimajökull Glacier, Skogafoss and  Reynisfjara Beach
Iceland, Part 2 of 7: Iceland, Part 2 of 7: Katla Ice Cave, Vatnajökull, Skaftafell, Svartifoss and Svínafelsjökull Glacier
Iceland, Part 3 of 7: Climbing Fjallsjokul, Jökulsárlón Glacier Lagoon, Diamond Beach, Lítanesfoss, Hengifoss and Seydisfjordur
Iceland, Part 4 of 7: Studlagil Canyon, Dettifoss, Viti Crater, Hverfjall Crater, Lake Myvatn and Godafoss
Iceland, Part 5 of 7: Hiking in Landmannalaugar: Climbing Brennesteinsalda and Blahnjukur Volcanos
Iceland, Part 6 of 7: Secret Solstice Music Festival!
Iceland, Part 7 of 7: Our Epic Grand Finale–Climbing Snaefellsjokull Volcano and Glacier