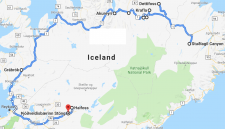 By now, I think the tourism slogan for Iceland should be, simply: Whoa! I have found myself saying this word more times in our short time in Iceland than I've said in my entire life. This is a country that frequently leaves you speechless and with your jaw dropped. So much of what one sees in Iceland is unusual and breath-taking.
This portion of our trip started out on Father's Day, and by all indications, it was going to be an unforgettable day not only for Jerry (the father in our family) but for all of us.
Our first stop was exploring Studlagil Canyon. Studlagil was a late addition to our itinerary. Just a few days before leaving for this trip, I saw a photo of it on the Travel Iceland Facebook page, and I knew we had to see it.
The region of East Iceland consists mostly of sheep farms. In fact, apparently, these East Iceland farms are considered the best in the country. The valley is also known for its forceful glacial river, Jökla.
After traveling through the town of Egilsstaðir, we traveled through the lower part of Jökuldalur, past sheep farms and occasional waterfalls tumbling over the lips of the high green ridges around us before finally finding the access to a short hike that would afford us the best upper views of Studlagil Canyon.
We were not disappointed. It is spectacular! The turquoise blue waters moving through the basalt column canyon combines for an incredible sight. Studlagil Canyon really is a hidden gem. Check out this article to learn more about how this canyon was formed.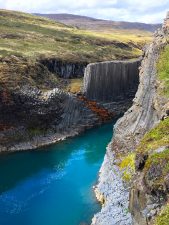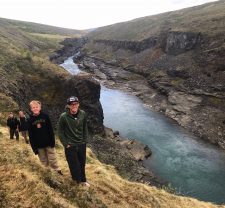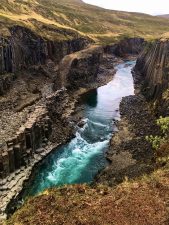 After Studlagil, we returned to Route 1 and continued into North Iceland. We drove through the northern portion of a region called the Highlands. It was an otherworldly landscape. It's not uncommon for us to experience an open road in a vast and empty landscape. Wyoming is full of that. But what's different is there are no fences, hardly any signs, no shoulders on the narrow highways, and the surrounding landscape is otherworldly. At times it feels like you're on the moon, or certainly another planet.
Check out this video to see what I mean. As I watched the video after I uploaded it to YouTube, I found that it is more like a simulator or video game. It doesn't look real. But I assure you, it's real.
Driving in the "otherworldly" expanses of Iceland

Next up was a waterfall we were looking forward to seeing: Dettifoss. Dettifoss is fed by the powerful glacier river, Jökulsá á Fjöllum, which flows from Europe's largest glacier, Vatnajökull. (Vatnajökull is Iceland's largest ice cap and Europe's largest glacier, covering 3,100 square miles–about 8% of Iceland.) Dettifoss is said to be the most powerful waterfall in all of Europe. The volume and force of the waterfall are astonishing: 500 cubic meters of water per second plunge over the edge! Dettifoss is about 150 feet high and 330 feet wide.
Turns out there are two roads you can take to view Dettifoss, and East road and a West Road. We didn't know about the West road, which is paved, and came first to the East Road so that's what we took. It was a long and bumpy gravel/dirt road, but like all things we've gone out of the way for in Iceland, it was well worth it!
Once at the parking lot, we took a short hike to see the thunderous waterfall that is Dettifoss.
We now know what the fuss is all about! As we approached the roaring waterfall, the nervous mom in me came out and I was yelling at the boys and Jerry and trying to keep them on a "short leash." The dropoffs are significant here, and a fall would be fatal. Unlike Yellowstone and other natural wonders we're used to visiting in the U.S., many of Iceland's attractions do not have barriers installed or signage warning of dangers. This is one of the things that makes Iceland so appealing–its lack of signage and civilization.
I was in total awe, standing at the very edge of this dramatic canyon and being sprayed by its roaring and voluminous display. Words fall short in describing how one feels when witnessing, so closely, such a powerful and beautiful force of nature.
Hiking to Dettifoss Waterfall

As if views of the waterfall weren't enough, a double rainbow formed in the mists of Dettifoss. We sat there watching it and looking over the canyon's edge for some time before hiking a small distance to the brink. It was an incredible experience to see Dettifoss in all its glory.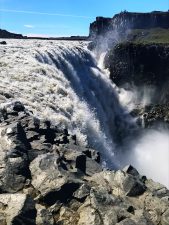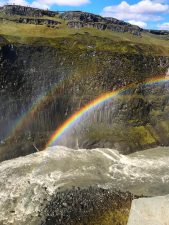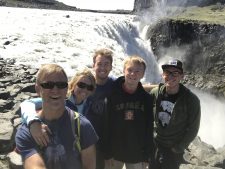 After Dettifoss, the boys fell asleep in the car as we continued toward the Myvatn region of Iceland.
Shortly before getting to the Lake Mývatn area, we stopped to see Krafla. Krafla is a caldera of about 6 miles in diameter with a 56-mile-long fissure zone. There have been 29 reported eruptions in recorded history.
Our favorite feature in Krafla region was Viti ("Hell") Crater. We hiked up and around the crater's rim. The crater is full of bright turquoise geothermal waters.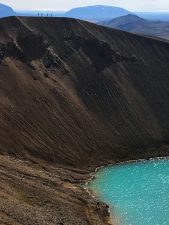 Here's a short video clip from our hike to the top of Viti Crater:
After our Viti Crater hike, we got back in the car and continued a short way up the road to the Namafjall Geothermal Area.
I won't lie. We didn't spend a lot of time here since Yellowstone is in our backyard and is home to 10,000 geysers and hot springs and about 60% of the world's hot springs and geysers. Due to the fact we've spent so much time exploring Yellowstone's geothermal features, we didn't want to spend too much of our limited time looking at fumaroles and hot pools and geysers. We did stretch our legs by walking around one of the collections of steam vents and hot pools.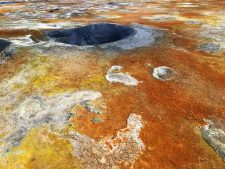 We then continued toward the volcanic lake, Myvatn. Covering 20 square miles, the lake is Iceland's fourth largest body of water, and is surrounded by some incredible geological features and a wealth of flora and fauna.
To stretch our legs and see some more, we hiked to the top of 1,300-foot-deep Hverfjall Crater, which is about 2,500 years old. The beautiful Mývatn Lake provides a beautiful and colorful backdrop when climbing and exploring the black, volcanic crater.
Next up was the day's grand finale: Godafoss Falls. Godafoss is a horse-shoe shaped waterfall that is stunning in its beauty. The name Goðafoss means either waterfall of the gods or waterfall of the priest/chieftain. After exploring and climbing around the rocks on either side of the beautiful waterfall, I thought I was being clever when I exclaimed to Jerry and the boys, "Oh my Godafoss!" They weren't impressed and rolled their eyes at me while walking toward the car.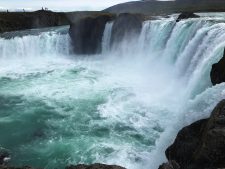 Video of Godafoss Waterfall

After that awe-inspiring stop, we continued toward our next destination, Akureyri. Getting there was exciting the approach to the town included driving through a 4.6-mile-long tunnel. Upon emerging from the long tunnel, we were greeted by a grand view of the beautiful town. Akureyri is at the base of Eyjafjörður Fjord in northern Iceland.
And we were hungry. And it was Father's Day. And Jerry and the boys' favorite food is pizza. So, after checking into our rooms for the night, we enjoyed a fantastic pizza feast for Father's Day at Pizzasmiðjan.
Full from our feast, we walked around the town for a bit afterward, including a short walk up to see the beautiful 1940 Akureyri Church, with its stained glass windows portraying scenes from Icelandic Christian history. (I'm sorry I don't have any photos of the church.)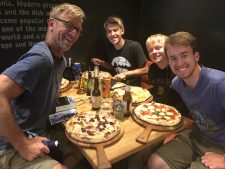 After a good night's sleep, we had a long travel day. We would travel from Akureyri to a place in the Highlands that would situate us near our next epic adventure: Landmannalaugar.
During the long drive, we stopped to stretch the legs and get some air by hiking up and around Grábrók Crater. Grabrok belongs to the volcanic system of Ljosufjoll and is about 600 feet deep. It was great to see and experience the crater before driving for another 3-4 hours.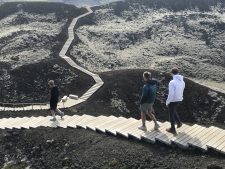 It's worth mentioning an under-ocean tunnel we traveled through during this portion of the trip. Near the town of Borgarnes is Hvalfjörður Fjord. The fjord is approximately 3 miles wide by 18 miles long. Until
The Hvalfjörður Tunnel is a road tunnel that travels under the fjord. It was opened in 1998 and is almost 4 miles long and reaches a depth of 550 feet below sea level.  The tunnel shortens the distance from Reykjavik to the western and northern parts of the island by 28 miles. (Passing the fjord now takes 7 minutes instead of about an hour.)
Eventually, we arrived at our destination for the next few days, The Highland Center Hrauneyjar. I couldn't wait for this portion of our adventure. In our trip planning research in the months leading up to this epic trip, I had discovered photos and hiking reports from an area called Landmannalaugar, that is in Iceland's Highlands. I had seen photos of rainbow-colored hills and couldn't wait to explore Landmannalaugar. The fact we had arrived at the Highlands Center meant we were about to start doing some serious hiking so I was filled with anticipation…
We had a rest day before our big epic hike in Landmannalaugar, so we slept in and just explored a few attractions that were easy to get to, and unforgettable in their own right: Haifoss Falls, Stong and Gjain.
We took a drive up a very bumpy dirt road. It was worth the effort to see Haifoss! Haifoss is situated in the Fossá river, which is a spring water tributary of the glacial river Þjórsá, Iceland's longest river. The stunning waterfall, which is surrounded by other impressive and beautiful waterfalls, tumbles 400 feet into the depths of the steep canyon.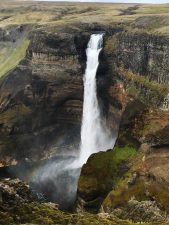 A video of Haifoss Waterfall

Next, we continued back out to the highway before finding another bumpy dirt road that led us to Stong. Stong is the ruins of a Viking Settlement-age farm in Pjorsardalur Valley. A second generation Viking Hall dating back to the 11th Century AD, Stong was was excavated in 1939, and is one of Iceland's most prized archaeological sites.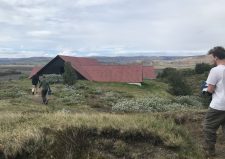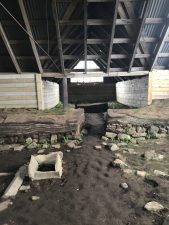 After exploring the second generation Viking settlement, we hiked about a mile to a wonderful collection of waterfalls and cascading falls and beautiful pools of water that occupies a small valley called Gjáin. Basalt rock and/or lush greenery surrounds much of the waterfalls and cascading waters and ponds in this area. It is a beautiful area that should be included on one's Iceland itinerary.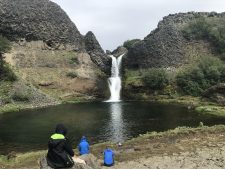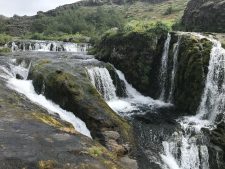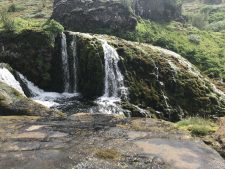 It was yet another unforgettable and inspiring day in Iceland!
Next up: Epic hiking in Landmannalaugar!
For the rest of the Iceland story, and for additional Iceland-related blog posts:

Iceland or Bust
Iceland, Part 1 of 7: Blue Lagoon, Kerid Crater, Seljalandsfoss, Sólheimajökull Glacier, Skogafoss and  Reynisfjara Beach
Iceland, Part 2 of 7: Iceland, Part 2 of 7: Katla Ice Cave, Vatnajökull, Skaftafell, Svartifoss and Svínafelsjökull Glacier
Iceland, Part 3 of 7: Climbing Fjallsjokul, Jökulsárlón Glacier Lagoon, Diamond Beach, Lítanesfoss, Hengifoss and Seydisfjordur
Iceland, Part 5 of 7: Hiking in Landmannalaugar: Climbing Brennesteinsalda and Blahnjukur Volcanos
Iceland, Part 6 of 7: Secret Solstice Music Festival!
Iceland, Part 7 of 7: Our Epic Grand Finale–Climbing Snaefellsjokull Volcano and Glacier