"When I travel, I travel not so much to move, as to be moved." –Pico Iyer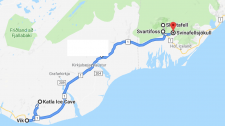 Our Day 3 in Iceland was sure to be epic. A few months ago, we signed up to go on a guided "Super Jeep Tour and Ice Cave Exploration" and today was the day for that adventure. "Hawk," a native Icelander who could be mistaken for a Viking, would be our guide.
It was only minutes after loading into Hawk's jacked-up 4×4 "van" with self-inflating and deflating tires, that we understood why the Ice Cave Tour included a "super jeep ride." After driving some miles on the paved Route 1, Hawk led us on an unforgettable, bouncy and 4-wheeling ride for miles into a remote area where we would meet the ice cave under the glacier-covered Katla Volcano. The black volcanic sand plains resulting from previous eruptions of the volcano made for a landscape that looks otherworldly and moon-like, not to mention an unforgettable jeep ride.
After getting crampons and helmets on, we followed Hawk toward the cave and glacier.
The first thing Hawk showed us was water spouting out of the glacier. We all filled our water bottles with this freshest of water before entering the cave.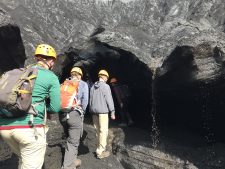 Katla Volcano is an active volcano. Some 20 eruptions have been documented between 930 and 1918, at intervals of 20–90 years. Hawk explained that it has not erupted violently for 101 years, although there may have been small eruptions that did not break the ice cover. The Katla ice cave is in/under the Kötlujökull glacier, a ruggedly beautiful icefall of Mýrdalsjökull glacier that is Iceland's fourth largest glacier.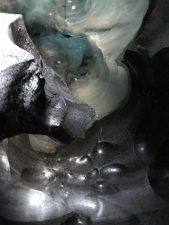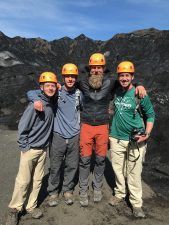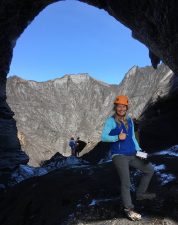 It was a fun adventure and the ice formations and colors inside the cave were magnificent. It was quite the unique experience to be under a volcano, and to be able to travel through it and up and on to a thousands-year-old glacier.
Video of our Katla Ice Cave Tour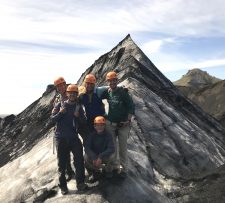 Once we got back on the road, Route 1, and headed East, we were in for more stunning beauty.
Iceland's few highways are narrow compared to ours in Wyoming and the United States. There are only two lanes for traffic and no shoulders. Most of Iceland's many bridges are single-lane bridges. As we found out pretty quickly, there are very few "pullouts" and parking areas along the roads from which to view and photograph sights along the drive.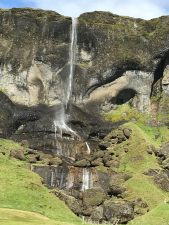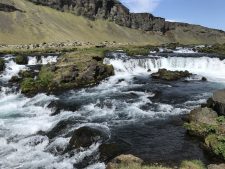 Contrary to what most would think, Iceland is not all ice. That said, 11% f of it is covered in ice. Iceland's largest ice cap is Vatnajökull, which is the largest glacier in Europe.
Vatnajökull covers 3,100 square miles and alone covers 8% of Iceland. The ice cap's average thickness is 1,000 feet, but in places, it is 3,300 feet thick. The huge ice cap is home to Iceland's highest peak, Hvannadalshjukur, and hides some potential volcanoes under its ice. Approximately 30 outlet glaciers extend from the massive glacier and form a landscape along the southern part of Iceland's Ring Road, and are nothing short of awe-inspiring.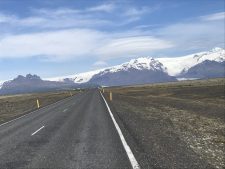 I was blown away by how many glaciers we were beginning to see as we traveled east along Iceland's South Coast. They were right there!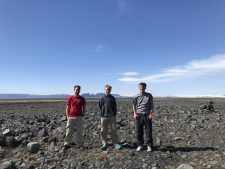 Back home in Wyoming, our backyard of the Wind River Range is home to some of the last and largest remaining glaciers in the Lower 48 states. I have seen and walked on some of our glaciers in the Wind Rivers, and to do so I had to backpack 26 miles and climb to 13,000'. Along Route 1 in South Iceland, glaciers are in sight almost constantly.
Video of our Epic Scenic Drive

Making these glacier sights even more exhilarating was the fact that the ocean was also in view. Again, so different from our glaciers in Wyoming, that can be seen only if you're willing to hike for many miles and climb high into the mountains.
As if the views of glaciers weren't enough, we marveled at the expansive "otherworldly" landscape on either side of the road that is mostly lava chunks covered in a fragile, light green moss. Moss is a common plant in Iceland. It grows abundantly in the mountainous region and is a special characteristic of Iceland's lava fields. While many of Iceland's glaciers are so close you could walk to them, most of the time it's discouraged due to this fragile moss surrounding many of them.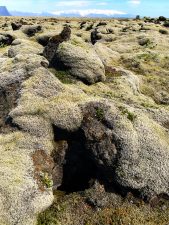 One unusual site we pulled over to examine while en route to Skaftafell National Park, was a "monument" of huge rusted and graffiti-covered steel remains. I learned about this structure when reading Atlas Obscura long before we booked our trip to Iceland, but had forgotten about it until we spied it from the road.
The Skeiðará Bridge comprised a portion of the Icelandic ring road and carried drivers across the Skeiðarár Sandur, a wide plain of black volcanic sand marbled with creeks of run-off from the Skeiðarárjökull glacier.
In 1996, the volcano Vatnajökull, which sat beneath Skeiðarárjökull, erupted, melting portions of glacier and creating a massive flood. While the girder bridge was built to withstand a hefty amount of flood waters, there was no preparing for the house-sized icebergs that the floods washed down the plain. A number of these glacial shards crashed into the bridge, wiping it out and creating a gap in the main ring road around Iceland.
All that remains of the original bridge today are two twisted girders by the side of the new road. They form a unique monument to the lovely but powerful beauty of Iceland's natural landscape. The boys had a great time climbing around and hanging from the graffitied remnant of the bridge, not to mention we had terrific views of Skeiðarárjökull glacier, as well as Svinafellsjökull glacier.
It was a creative break from our time in the car.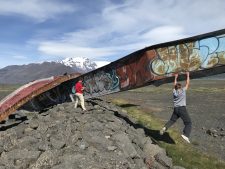 Soon after, we arrived at Skaftafell National Park, where we took a quick uphill hike to see the unique and stunning Svartifoss Falls. A longer hiking loop is recommended by many, however, we opted for the more direct, short-but-uphill 1-mile hike Svartifoss. The waterfall tumbles 65 feet and I can see why it's is one of the most popular sights in the park. The waterfall is surrounded by dark black columnar basalt formations that beautifully frame the waterfall and give it its name, Black Fall.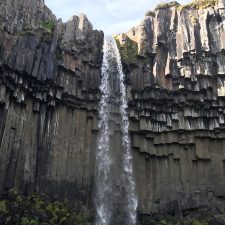 Video of Svartifoss Waterfall

After our return hike, we treated the boys to a Fanta and Jerry and I indulged in a Viking beer. The cold beverage hit the spot!
On these epic family vacations, we start early and see a lot, but end each day relatively early with some time left to–as our boys say, "chillax." It's become a tradition for Jerry and me to occasionally go on dates for dinner or drinks at the end of these adventurous days while the boys chill together in their room, usually on their devices catching up with their friends back home and/or playing games or watching Netflix.
When we checked into our hotel in Skaftafell, the front desk manager recommended we explore the path behind the hotel and to hike through "the waves of lupine that lead to a glacier." Jerry and I packed a bottle of wine and went in search of said path.
And boy, did we ever find it. This was in my opinion and to date, our best vacation happy hour ever! Jerry and I had the path to ourselves and except for abundant bird song, there was nothing but quiet and hills of purple lupine everywhere before us. The fields of flowers were thigh-high in places.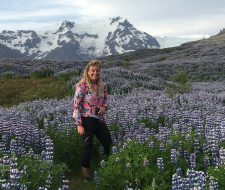 After some walking through fields of flowers, we soon arrived at a glacier, and not just any glacier, but Svínafellsjökull Glacier! This glacier is sometimes called "Hollywood Glacier" since scenes from movies and TV shows, including Interstellar, Batman Begins and Game of Thrones, have been filmed on the glacier. (The glacier was also the setting for the icy planet of Hoth in the film "The Empire Strikes Back.)
Video of our hike through lupine to see a glacier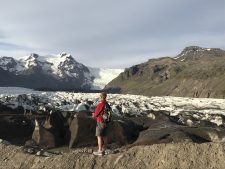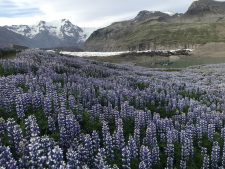 The sight was astonishing. It was an extraordinary treat to be standing right at a glacier and have it all to ourselves. We listened as water under the glacier gurgled and we heard pieces of rock falling in the glacier as a result of melting ice.
Video of Svínafelsjökull glacier

Video of Svínafelsjökull glacier up close

 The scenery really was astonishing. Not only did we have fields of purple lupine and up-close views of a glacier, but for a backdrop was Iceland's tallest mountain, Hvannadalshnúkur. It was an unforgettable evening and a dreamy ending to a perfect day.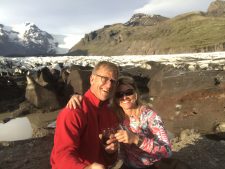 For the rest of the Iceland story, and for additional Iceland-related blog posts:

Iceland, Part 1 of 7: Blue Lagoon, Kerid Crater, Seljalandsfoss, Sólheimajökull Glacier, Skogafoss and  Reynisfjara Beach
Iceland, Part 3 of 7: Climbing Fjallsjokul, Jökulsárlón Glacier Lagoon, Diamond Beach, Lítanesfoss, Hengifoss and Seydisfjordur
Iceland, Part 4 of 7: Studlagil Canyon, Dettifoss, Viti Crater, Hverfjall Crater, Lake Myvatn and Godafoss
Iceland, Part 5 of 7: Hiking in Landmannalaugar: Climbing Brennesteinsalda and Blahnjukur Volcanos
Iceland, Part 6 of 7: Secret Solstice Music Festival!
Iceland, Part 7 of 7: Our Epic Grand Finale–Climbing Snaefellsjokull Volcano and Glacier