We are so excited, we can hardly stand it. For months we have talked about and anticipated our visit to Rome, and we are finally here. We are in Rome!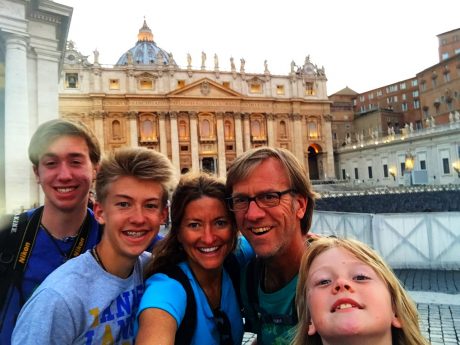 (By the way, this is my 9th blog post published so far during our 29-day "Epic Europe Family Adventure." If you're interested, all previous trip reports from this Epic Family Adventure include are listed and linked to at the bottom of this blog post.)
We rode a train from Florence and arrived in Rome at 4:40pm. From there, we took our first bus public transport of the trip. It was either that, or walk 2 miles with our heavy (90L) Patagonia Black Hole Duffel Bag/Backpacks for 2 miles to our apartment. By now, we are accustomed to doing this. Typically we have had to walk 1/4 to 1 mile from train station to our accommodations. But today, with 17,000 steps already on our feet from the morning in Florence, we opted to save our walking for exploring Rome's attractions, rather than walking from train to hotel.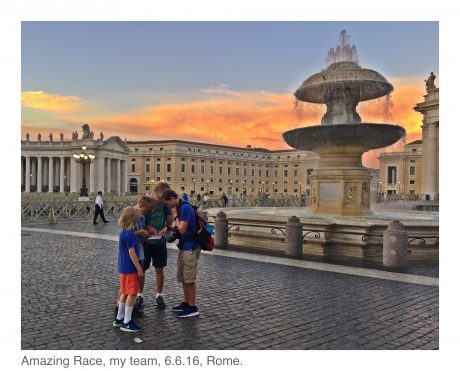 After riding in the packed bus for 10 stops before disembarking, there was a bit of an adventure. It felt like we were on The Amazing Race show, and we lost –and yet we very obviously didn't lose, and still won. 🙂  We kept taking wrong turns and going the wrong direction, and couldn't find our apartment. Thankfully, after about 20 minutes of wandering up and down streets – and trying every one in the area except the one our apartment was on – we finally found it, and there was a woman waiting outside of it for us. She took us through a huge green door with a small door cut out of it, then through a gate, then up some old marble stairs – one floor, two floors, plus one floor more – and, there it was. This is the second city where we have an apartment ("flat") that is part of a two?-hundred-year-old building. It's a wonderful place!
By the way, we have loved the accommodations adventure part of this trip. We arrive to a city or town, and it's like unwrapping a present and not knowing what we are about to receive. We are always being surprised–anticipating what behind that gate and that door and up those stairs and behind that other green door…  It's been a lot of fun, and so far we have not been disappointed.
As soon as we were checked into our apartment, we were out the door, walking toward Ponte Sant'Angelo.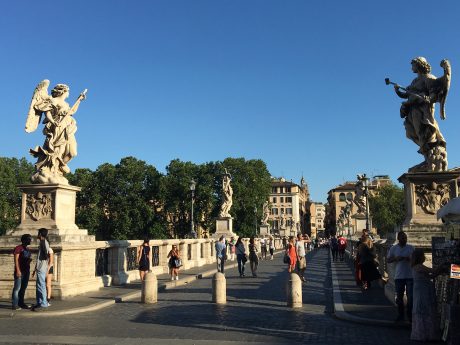 Ponte Sant'Angelo, (once the Aelian Bridge or Pons Aelius,) is a Roman bridge that was completed in 134 AD by Roman Emperor Hadrian, to span the River Tiber, from the city center to his newly constructed mausoleum, now the towering Castel Sant'Angelo. The bridge is faced with travertine marble and spans the Tiber with five arches, three of which are Roman; it was approached by means of ramp from the river. The bridge is now solely pedestrian, and provides a photogenic vista of the Castel Sant'Angelo.
According to Wikipedia, the Mausoleum of Hadrian, usually known as Castel Sant'Angelo (English: Castle of the Holy Angel), is a towering cylindrical building in Rome. It was initially commissioned by the Roman Emperor Hadrian as a mausoleum for himself and his family. The building was later used by the popes as a fortress and castle, and is now a museum. The Castle was once the tallest building in Rome. At the top of the castle is a sculpture of St. Michael. Legend has it that the Archangel Michael appeared atop the mausoleum, sheathing his sword as a sign of the end of the plague of 590, thus lending the castle its present name.
Here's a short video capture from one of our moments during the Sant 'Angelo scene:

After enjoying the music from the harp player, and watching two street performers who appeared to have invisible heads/faced, we continued toward St. Peter's Basilica, which we could spy from a distance while crossing the Sant 'Angelo bridge. We couldn't wait to get up close to it!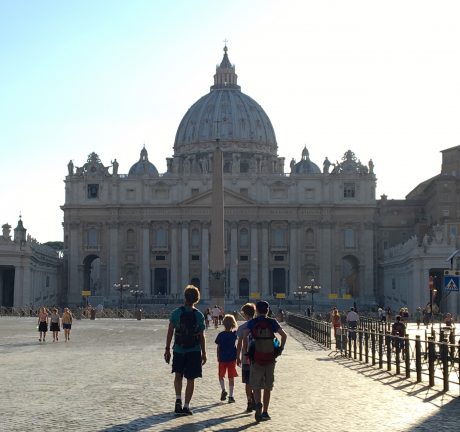 St. Peter's Basilica is an Italian Renaissance church in Vatican City, the papal enclave in the city of Rome. Designed principally by Donato Bramante, Michelangelo, Carlo Maderno and Gian Lorenzo Bernini, St. Peter's is the most renowned work of Renaissance architecture and one of the largest churches in the world. St. Peter's has been called one of the holiest Catholic shrines.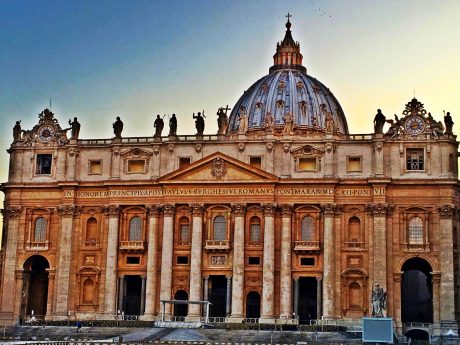 As we approached it, and took in all of its grandeur, stood in its presence, and wandered about the Square, looking at its beautiful exterior up close, and taking in the whole setting, we were speechless. It is simply awesome. We are going on a private tour of St. Peter's, the Vatican Museum, and more on Wednesday morning, but for now, this was a magnificent start to seeing the spectacularly beautiful cathedral.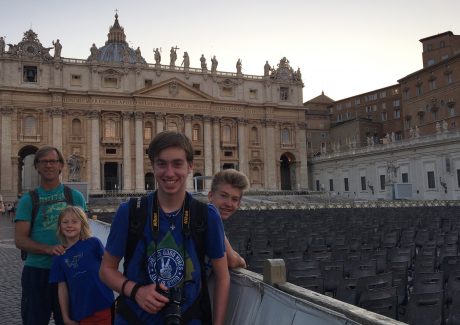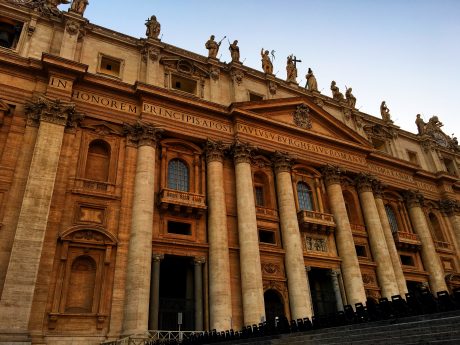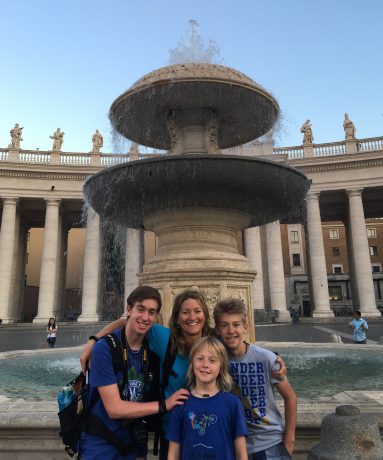 After checking out St. Peter's, we were famished. In anticipation of our Rome arrival, all we had eaten was a modest breakfast, some crackers and a gelato. We found a trattoria and enjoyed a large and delicious Italian dinner, and then set our sights on Piazza Navona.
Piazza Navona is a piazza that is the site of the Stadium of Domitian, built in 1st century AD, and according to Wikipedia, it follows the form of the open space of the stadium. The ancient Romans went there to watch the agones ("games"), and hence it was known as "Circus Agonalis" ("competition arena"). It is believed that over time the name changed from avone to navone, and eventually to navona.
We were eager to check it out after dark because some locals told us it's got a great vibe, and that we might see street performers. Of course we needed a gelato, and we are so delighted that we have seen probably no fewer than 50 gelatarias so far in our few hours of walking Rome. We found our way to Piazza Navona while enjoying our gelatos.
We knew where to go by the liveliness we could hear and sense coming from the Piazza. It was very festive. Singers, artists and people throwing lit up twirly objects that shot up high in the air, and the sound of the three major fountains and people talking and laughing and having a great time. Fin bought one of the glowing twirlers with his own money, and the boys had fun taking turns shooting it high up into the black sky.
Here's a short video capture from our experience at in the Piazza Novena:

We didn't get back to the apartment until after 11pm. My FitBit reported we had walked 32,000 steps. Another big day! (Thanks, by the way, to all of our friends and family who have made recommendations for this trip, including a special thanks to Mark Randall for tips about what to do when we were first had feet on ground here in Rome!)
If our first evening in Rome is any indication, we've fallen in love. We are so excited to be here. Thanks for reading and following along with us on our Epic Europe Family Adventure. Next up: Crypts and Catacombs!
If you're interested, here are all of my previous blog posts about this Epic Europe Family Adventure so far:
• From Wyoming to the British Museum and Shakespeare's The Taming of the Shrew in 24 hours
• Big Ben, River Thames, Tower of London and Ice Cream
• Munich Day 1: Glockenspiel, Deutsches Museum, Englischer Garten and Beirgarten
• Biking in the Bavarian Alps, Exploring Neuschwanstein Castle, Epic Beer & Food
• Lauterbrunnen, Switzerland: The Land of Many Fountains, Cows with Bells and Epic Food
• Zermatt: Gornergrat Glacier, the Matterhorn, Mountain Lakes and More Delicious Food
• Moneglia, Italy: The Cinque Terre, Epic Focaccia, Pizza, Pesto, Wine, Olives, and Gelato
• Leaning Tower of Pisa, Michelangelo's David, Cathedral of Florence, and Giotto's Bell Tower.