Oh. My. God. We have arrived. Today we rode many trains from Munich to arrive here, Lauterbrunnen, Switzerland. Immediately it was evident why this place is called Lauterbrunnen –- which means, "Many Fountains." In the Swiss Alps, Lauterbrunnen is set in a valley featuring tall cliffs, and waterfalls, including the roaring Staubbaach and Trummelbach and the many other tall, ribbon-like and tumbling waterfalls.
(By the way, this is my 5th blog post published so far during our 29-day "Epic Europe Family Adventure." If you're interested, all previous trip reports from this Epic Family Adventure include are listed and linked to at the bottom of this blog post.)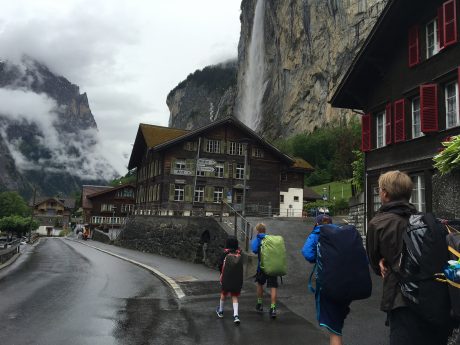 Waterfalls were tumbling off high cliffs above us and all around us. Below is a lush, green valley with few buildings. We walked in a light sprinkling of rain about one-third of a mile to find what would be our favorite accommodations so far, a really neat cabin in the Jungfrau Campground.
We got settled in our cabin, and then headed for a quick walk. We had been sitting in trains all day so wanted to stretch our legs and check out our new destination. We ventured to the nearby showstopper of a waterfall, Staubbach Falls. With a height of nearly 300 meters, Staubbach Falls is the second highest waterfall in Switzerland. It is one of 72 waterfalls in Lauterbrunnen Valley.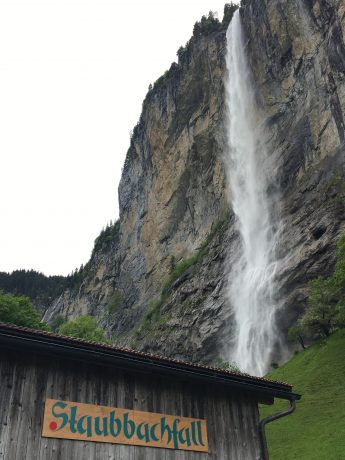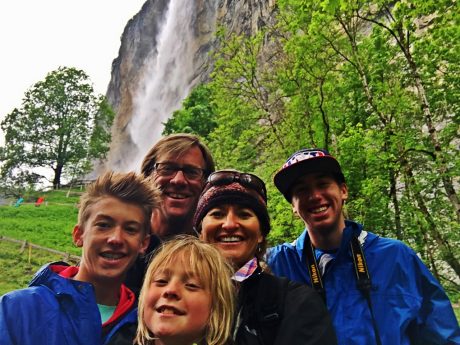 Did I mention how awesome our accommodations were?!! Check out the video I snapped on our first morning waking up. And enjoy the bird songs in the background:

We woke up early in Lauterbrunnen because we had big plans, and wanted to get an early start. Today we would hike the Lauterbrunnen-Murren-Gimmelwald-Trummblebach Falls loop hike.
We'd do it without using any lifts, so it would be a big, long day. Why would you not take the tram lift up at the start in order to remove the several thousand feet of vertical uphill hiking, you ask? Well that is a good question! The reason is Jerry and I mistook meters for feet. What we thought would be a 1,000-foot vertical gain in the beginning of the hike was really 3,000+ feet. Oops. Thankfully we hike a lot with the boys in Wyoming, and they're used to climbing lots of vertical feet. But, despite what our boys think, ours was an honest mistake!
Add to that it was raining when we started, so we had had on rain jackets, and each of us carried our own umbrella. Our sons are such troopers. And so is my husband. I am so blessed that to have a family of troopers, because today's outing pretty much required that!
Here are some photos from the first part of our epic hike: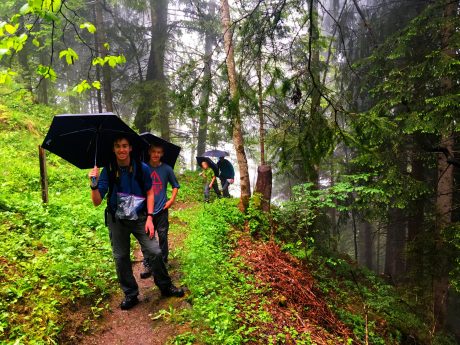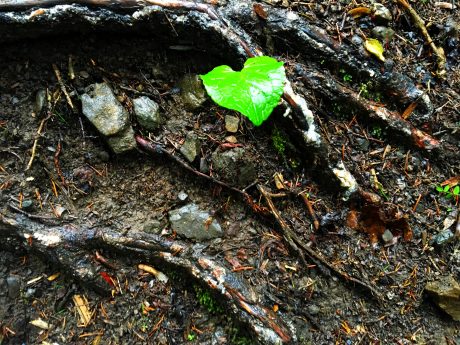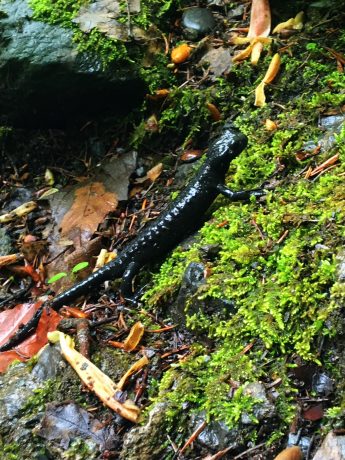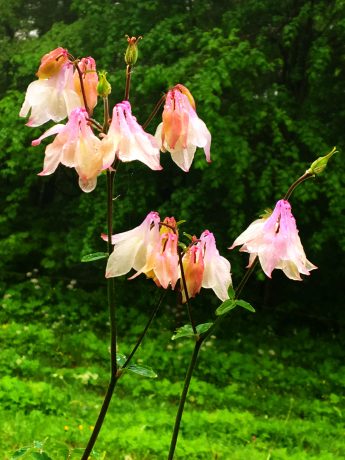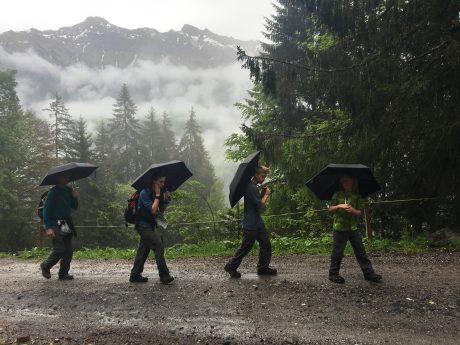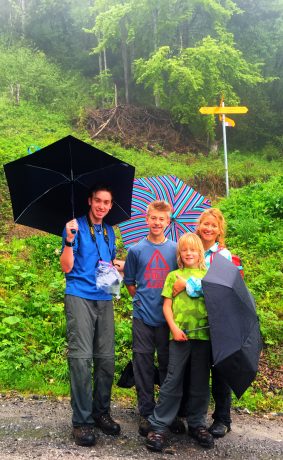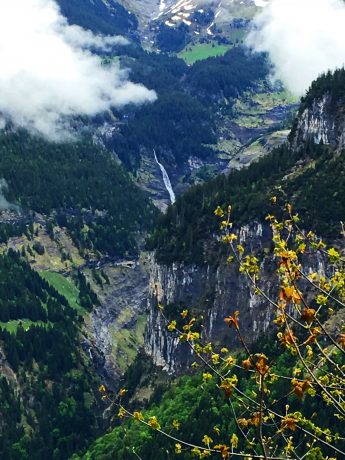 It was during the grunt of uphill through the lush and wet forest, when I was gasping for air and the miles of uphill were so never-ending that I realized that we had forget to convert meters to feet. Jerry and I would pay for this… We were certainly not winning parents-of-the-year honors this morning…
We had heard that Winteregg would be a stop we could make after the first five or six miles of hiking, and that we may even be able to enjoy some hot chocolate there. Thank God it was true.
After about 2.5 hours of hiking, we spotted it and it just opened as we arrived. Jerry and I enjoyed coffees and the boys had hot chocolates.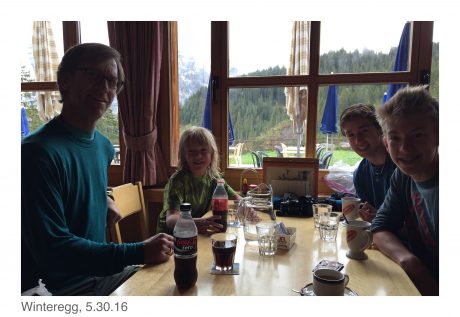 The woman who waited on us was so kind, she offered to take our photo outside under three giant mountains, whose tops were obscured by clouds but whose presence could still be felt. The mountains we stood under are the Eiger, Mönch, and Jungfrau.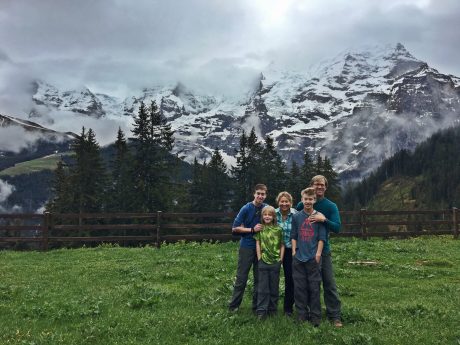 After warming up and getting rested, we snarfed some special Swiss chocolate bars we brought. (We are now in love with Milka bars, and of course Toblerone, which are in abundance here.) We loved the next part of the hike becasue it was flat, and led us to the awesome – and car-less – town of Mürren.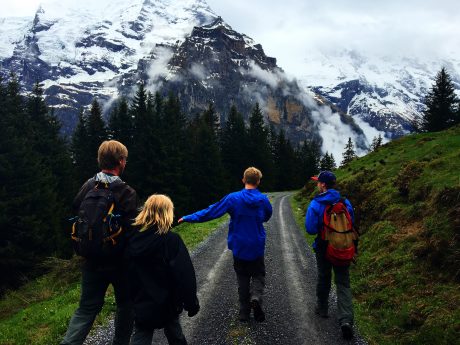 According to Wikipedia, Mürren is a traditional Walser mountain village in Bernese Oberland, Switzerland, at an elevation of 1,650 m (5,413 ft.) above sea level and unreachable by public road. Tourism is popular through the summer and winter; the village features a view of the three towering mountains: Eiger, Mönch, and Jungfrau. Mürren has a population of just 450, but has 2,000 hotel beds.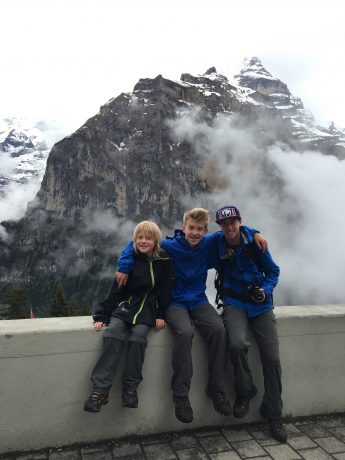 All we knew was that it was a beautiful town and soon, we could see it. And more importantly, soon we'd be eating at a restaurant there. By now the boys, and Jerry and I, were famished!
We decided on the Eiger Guesthouse for lunch, and it was an exceptionally good pick. Jerry and I shared cheese fondue and a basket full of fresh baked bread, along with a pint of beer for Jerry and a glass of red wine for me. The boys shared a pizza and also ate some of our fondue. Never has a meal hit the spot so well! Here are some photos: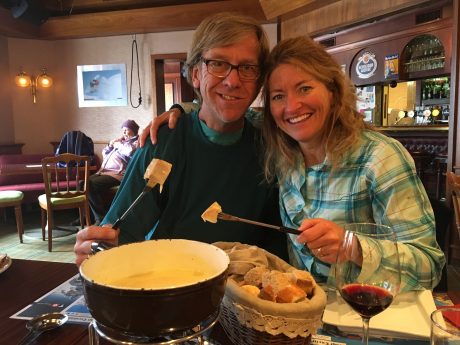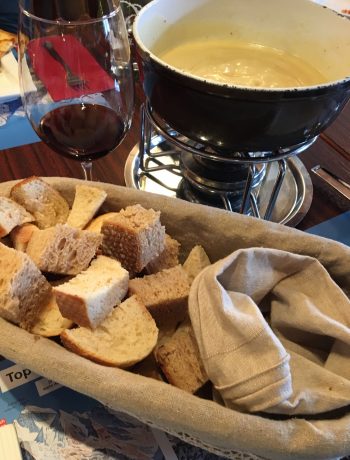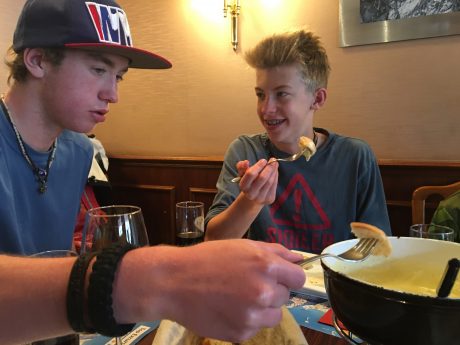 After a filling, delicious and long lunch break, we continued down the trail. Next stop: Gimmelwald, a smaller car-less village that Rick Steves recommends. Gimmelwald is a small village situated at about 4,000′ feet elevation.
Gimmelwald also won us over. It's another charming village. We especially loved their "Honesty Shop – Europe's First Unattended Self-Service Village Shop."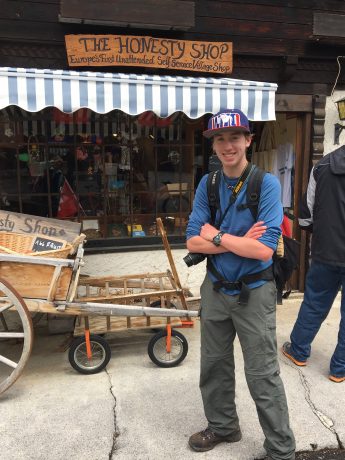 And, then, out of nowhere, we stumbled onto the Pension Gimmelwald Biergarten. Can this hike get any better??!! I don't think so. It's epic for so many reasons, most of which I'm including here. 🙂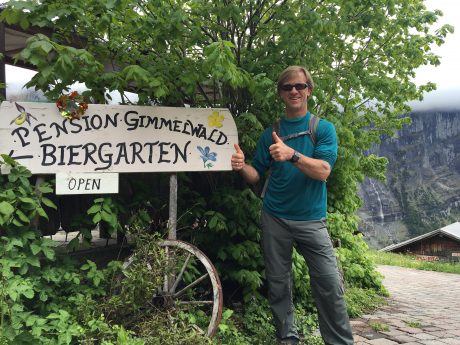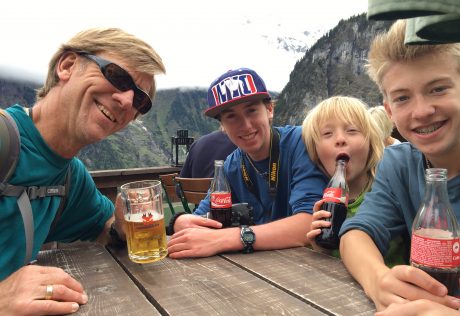 We loved this part of the hike, where we walked past big cows with their jangling bells around their neck, and views of the green lush valley below, toward which we were descending, and of course, waterfalls everywhere around us.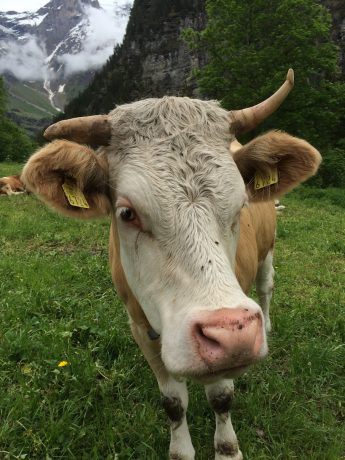 See for yourself what this stretch of hike was like: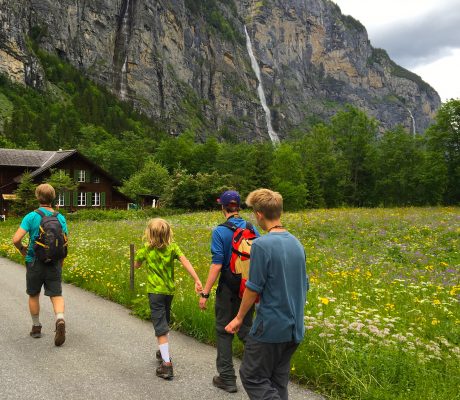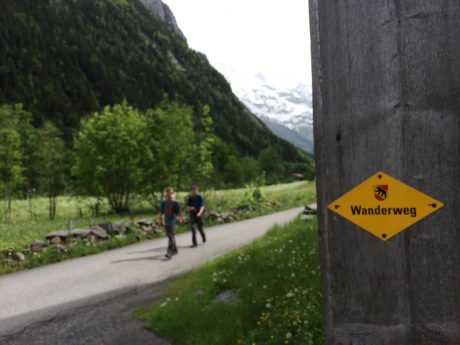 We continued down to the valley floor, and another 1.5 hours from there to one of the area's most famous waterfalls, Trümmelbach Falls.
According to MySwitzerland.com, the Trümmelbach Falls are the world's only glacier waterfalls that are accessible underground by lift, galleries, tunnels, paths and platforms. They alone carry the meltwater of the glaciers from the Jungfrau down to the valley – up to 20,000 liters of water per second. The water carries with it over 20,000 tons of boulders and scree per year and causes the entire mountain to shudder and make a thundering noise.
We paid to see what all the fuss is about, and it was worth it! Here's a video: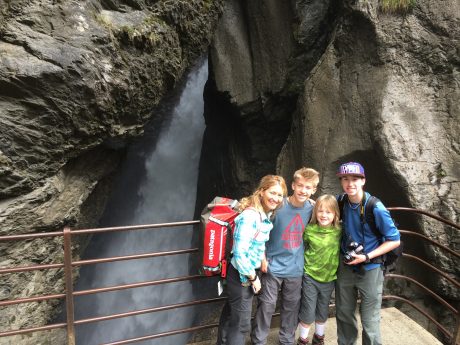 When we got back to our cabin, we had hiked 16 miles, including 3,400′ of gain. We were all completely fulfilled and exhilarated, despite being worn out. It was such a fantastic day that included so many highlhights. I've tried to list most of them, but trust me when I say there are even more. I simply need to end this blog post so I can get a little shut-eye before we ride a train tomorrow to Zermatt, Switzerland.
Thank you for following along with us on this Epic Adventure. I hope you'll stay tuned for our upcoming posts.
Next up: Zermatt, Switzerland (including the Gornergrat train ride and views of the Matterhorn and a report about another epic hike we'll do in that region.)
If you're interested, here are all of my previous blog posts about this Epic Europe Family Adventure so far:
• From Wyoming to the British Museum and Shakespeare's The Taming of the Shrew in 24 hours
• Big Ben, River Thames, Tower of London and Ice Cream
• Munich Day 1: Glockenspiel, Deutsches Museum, Englischer Garten and Beirgarten
• Biking in the Bavarian Alps, Exploring Neuschwanstein Castle, Epic Beer & Food