For a range of photos and videos showing the wonders of Landmannalaugar, please visit this blog post.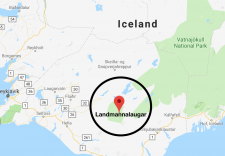 It wasn't long after we booked our flights to Iceland and we had started our trip planning that I became enthralled about an area called Landmannalaugar.
I was completely captivated by the area after seeing photos of mountains that didn't even look real. The photos and reports promised rainbow-colored hills and mountains, dotted with plumes of smoke and steam rising from the area's fumaroles.
We had an extraordinary day and epic hike in Landmannalaugar. My family and I have hiked in some amazing places all over the U.S. and world. In other words, my list of unforgettable hiking experiences in long. I don't like to compare hikes because the regions of the hikes are often so different that I love them for their individual characteristics. But that said, Landmannalaugar ranks way up high on my list of favorite unforgettable hiking experiences. I can't recommend it enough!
As the saying goes, a picture is worth a thousand words. For a more lengthy and information report about hiking in Landmannalaugar, I wrote this article. Otherwise, I just want to leave you with photos and videos of our adventure in Landmannalaugar. They are so much more inspiring than anything I could write. I'm writing words to hopefully provide enough information for you to plan your own Landmannalaugar hike, but when it comes to inspiring you, my words will do nothing compared to the photos and videos.
Landmannalaugar is located in the Fjallabak Nature Reserve, in the Highlands of Iceland. It is situated at the edge of the Laugahraun lava field, which was formed in an eruption around the year 1477. The Landmannalaugar region is known for its natural geothermal hot springs and its unique and colorful landscape composed of with rainbow-colored mountains, lava fields and smoking fumaroles.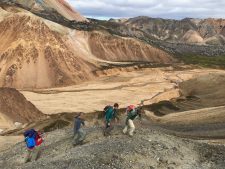 The first thing one needs to know about hiking in Landmannalaugar is you must have a 4×4 vehicle to access this Wonderland. (Or, you could opt for a tour or hire a ride to get there.) Because our Iceland trip was 15 days long and there was a lot we wanted to see that would require driving on dirt roads, we rented a 4×4. On the passenger side dashboard, there was a sticker that essentially granted us permission to drive on dirt roads, and also warning to hold tightly to the car doors when opening and closing them or they could be blown off by the wind.
We had based out the Highland Center Hrauneyjar, which I highly recommend. The rooms were wonderful and the hotel is lovely. The people who work there provided wonderful and friendly service, and there's even a Ranger on hand to answer questions about the region. We left the Highland Center at 7 am and drove about 1 mile east on the paved road, F26, before taking a right onto the dirt road, F208, that would lead us to Landmannalaugar. We traveled the scenic, bumpy dirt road for 25 miles. It took about one hour to get to Landmannalaugar, and we had the road pretty much to ourselves.
We opted to park our vehicle in the first parking lot. We knew from our research and could see now with our eyes, that it's possible to drive further to park, to be closer to the main complex and campground, but you'd have to drive through a large puddle that on this day looked more like a small lake. We opted to play it safe and walk the quarter-mile to the main area and trailheads.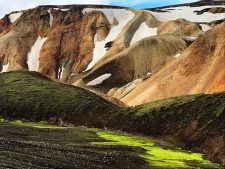 We had lucked out with a favorable weather forecast, but still packed lots of layers and bundled up for the start. We had been in Iceland long enough to know that wind is common and it's often chilly like our Wyoming winds are in the high country.
Situated at about 2,000′ (600 meters) elevation, Landmannalaugar is a popular destination for adventurers and this was obvious by the number of colorful tents pitched at the campground and the number of jacked-up 4x4s parked nearby. We used the WC and then reviewed the trail map and started up the trail.
Our plans were to hike a lot and see as much of the area as we could. Our only specific goals were we planned to climb two mountains (volcanos): Brennisteinsalda and Blahnukur.
We started up the Laugahringur Circle Trail, which is the most popular trail in Landmannalaugar. The landscape is littered with lava chunks. As we hiked up and through the lava field, our middle son, Hayden, was exuberant at all the obsidian. He had been looking for obsidian our whole trip and here it was abundant.
After hiking through the lava field for some minutes, we were treated to breathtaking views of the Vondugil (bad ravines) Canyon. We walked up the canyon to Grænagil, at which point we had a great view of our first objective: Brennisteinsalda ("sulfur hill.") Brennisteinsalda, which means sulfur wave, is a colorful, 2,800-foot-high mountain (hill) with steam vents around its base that filled the air with sulfur (the smell of rotten eggs). It was a steep effort but it didn't take us long to climb the volcano and we were on the top.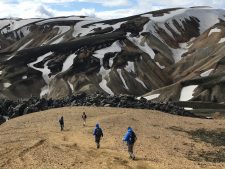 Due to our early start, we had the mountain top to ourselves so we lingered and took lots of photos. You'll see from some of the photos included that it was a windy, you-better-hold-onto-your-hat summit experience. The views from the top were extraordinary. We could see lava fields, rainbow-colored hills, a lush green meadow, more mountain peaks all around and black lava scattered everywhere.
One thing we noticed was a circular pattern in the black field in the distance. We came to learn the circles are called Nornabaugar, which means Witch's Rings. The circles are formed by a mushroom trying to grow in Iceland's' sensitive highland regions. You'll see this in one of my photos below.
After descending Brennisteinsalda, we found our way to a beautiful creek that separated us from our next mountain climb, Blahnukur. After crossing a creek we found a path that would lead us up a beautiful ravine and eventually to Blahnukur's summit.
This was harder than our first volcano climb because it's a little higher. Blahnukur, which means blue peak, is a 60,000-year-old black-blue volcano that stands 3,100 feet tall.
As a family, we have climbed many mountains. Gone are the days when we had to bribe them with sweet treats up the trail. It wasn't long and the boys and Jerry left me in the dust. I just couldn't get enough of the views as we ascended the ravine to gain a ridge to climb Blahnukur. The hills to my right were so colorful, and the higher reaches of the hills had snow patches nestled in them that made the mountains and hills look cartoonish. Also, there were enormous patches of neon-green colored moss that didn't look real. I was in Heaven and as such, I lingered more than I hiked.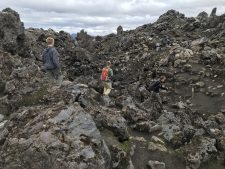 Eventually, I caught up to the boys and we started the real ascent. After hiking up a worn path for a bit, we gained the mountain's very exposed ridge. You wouldn't want to slip either right or left as when climbing Blahnukur.  The panoramic views that unfolded all around as we climbed higher and higher were astonishing. This was probably my favorite part of the day's adventure because I love climbing ridges and to the tops of mountains.
When we reached the top another small group was starting down so again, we had some moments at the top all to ourselves. We sat and hung our legs over the edge of Blahnukur's top and took some photos before starting our descent. Our descent was quick and we enjoyed a picnic in the fantastic setting that is Graenigil Canyon before eventually finishing the hike through more lava.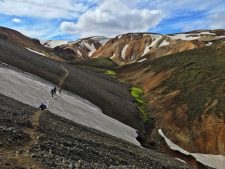 Our entire adventure was about 12 miles, and while we took our time taking in the views and eating snacks, we finished the whole hike in about 4.5 hours. Which meant we had a lot of time to soak in the natural hot springs near the trailhead!
Soaking in Landmannalaugar's geothermal waters was a perfect ending to our time in Landmannalaugar.
We're back home in Wyoming and I find myself recalling often the colorful mountains of Landmannalaugar. It truly is an unforgettable experience, and in my humble opinion, a visit to Iceland without time in Landmannalaugar will be incomplete.
(NOTE: The most famous long-distance trail in Iceland starts here and is called the Laugavegur. The trail is about 34 miles long (55 kilometers) and runs from the Landmannalaugar geothermal springs to the Þórsmörk nature reserve. The Laugavegur trail is considered to be one of the most epic treks in the world, and most people will reserve 3-5 days to hike its entire length. I have added it to my bucket list.)
For the rest of the Iceland story, and for additional Iceland-related blog posts:
Iceland, Part 1 of 7: Blue Lagoon, Kerid Crater, Seljalandsfoss, Sólheimajökull Glacier, Skogafoss and  Reynisfjara Beach
Iceland, Part 2 of 7: Katla Ice Cave, Vatnajökull, Skaftafell, Svartifoss and Svínafelsjökull Glacier
Iceland, Part 3 of 7: Climbing Fjallsjokul, Jökulsárlón Glacier Lagoon, Diamond Beach, Lítanesfoss, Hengifoss and Seydisfjordur
Iceland, Part 5 of 7: Hiking in Landmannalaugar: Climbing Brennesteinsalda and Blahnjukur Volcanos
Iceland, Part 4 of 7: Studlagil Canyon, Dettifoss, Viti Crater, Hverfjall Crater, Lake Myvatn and Godafoss
Iceland, Part 6 of 7: Secret Solstice Music Festival!
Iceland, Part 7 of 7: Our Epic Grand Finale–Climbing Snaefellsjokull Volcano and Glacier