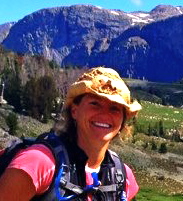 My friend, Tom Carter, is author of Day Hiking the Wind River Range. He has told me, in person, as well as in his guidebook that the hike to the top of Doubletop Mountain, in the northern Wind River Range, provides a 360-degree view of the entire span of the Wind River Range.
For years I have wanted to see if the view is as good as he says it is. I am here to report that indeed, it is.
This was my first time to hike in the northern section of my beloved Wind Rivers, and although getting to the trailhead took more time than usual (located on the other side of the range from us, north of Pinedale, WY), I was eager to see new country.
My comrades for this hike would be my good friends, and frequent epic hiking partners, Kathy Swanson and Holly Copeland. Our hike would be a 21-mile loop connecting Doubletop Mountain, Palmer Lake and New Fork Canyon trails. Our start/finish was at the New Fork Lakes Trailhead, a 45-minute drive north of Pinedale.
For the first two miles, we hiked up, through aspens and over a lateral moraine that rises sharply alongside upper New Fork Lake. The moraine and lake are a result of the "Pinedale Glaciation" that occurred 10,000 years ago. Carter explains in Day Hiking the Wind River Range: For 5,000 years, a river of ice flowed from the mountains, carrying large amounts of rock and glacial debris. It scraped and eroded the canyon walls forming a broad U-shaped gorge. The glacier spilled into the valley floor and scooped out what is now New Fork Lake.
At two miles, you'll come to an intersection with the Lowline Trail, for which we left the New Fork Canyon trail. Here, we also had to find our way through some willow thickets and cross an inlet to New Fork Lake to the opposite side.
Once across, we started hiking up what is a long, sustained climb up and around Doubletop Mountain. The trail passes through a forest that was pretty well burned up during a human-caused fire in 2008. The elevation gain to Doubletop's top is about 3,000′ so this isn't for the faint of heart. We continued hiking up, mostly through forest, until we reached a very buggy Rainbow Lake at 4 miles.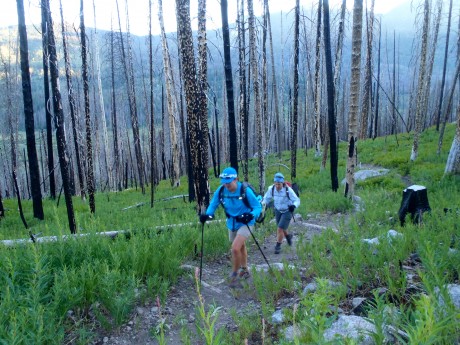 After Rainbow Lake, most of the work is done. It's just a gradual mile and 400′ more feet of vertical gain before the trail levels out and dishes out the prize — an amazing panoramic view of the entire Wind River Range.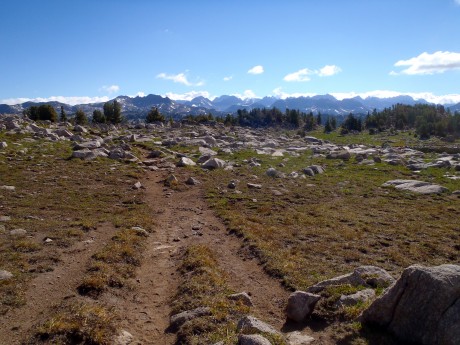 We continued another half or three-quarters of a mile around the mountain, past a junction for the Bluff Creek Trail. Here, we stayed left and left the Doubletop Mountain trail briefly for a scramble to the mountain's official summit, which stands 10,892′ tall. While Doubletop is not a tall mountain or a spectacular mountain in itself, it sure knows how to dish out a view.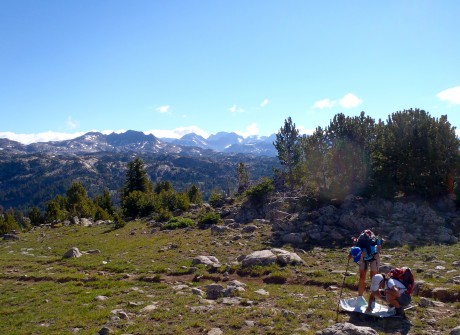 From Doubletop's top, we could see Temple Peak some 45 miles to the south, Angle Peak, Fremont Peak, Gannett Peak, and many other impressive peaks.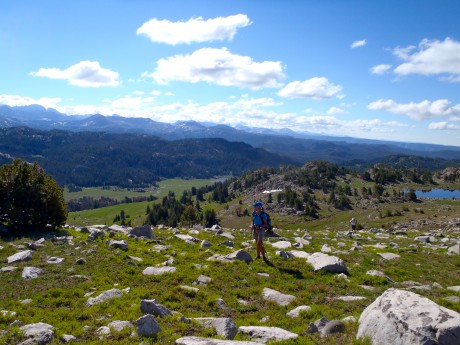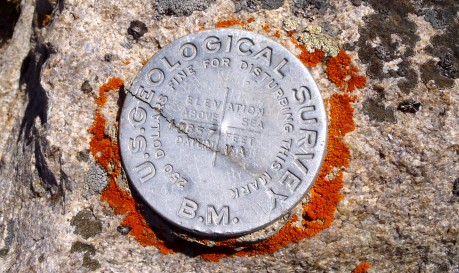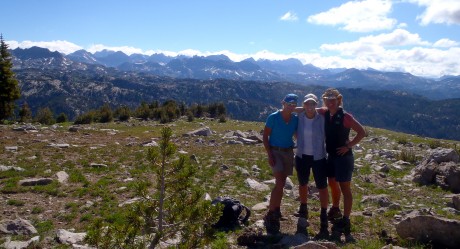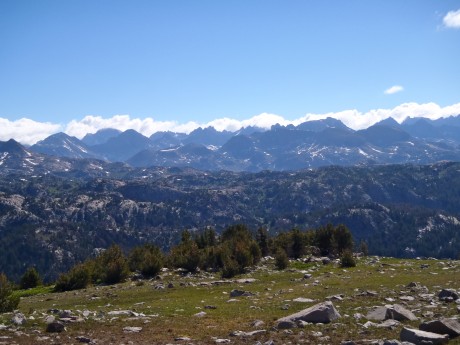 After experiencing the awesome views from Doubletop, we continued along the trail toward Palmer Lake. After hiking alongside Palmer Lake's shores, and spying fish jumping in its waters, we headed for Palmer Canyon, which we would descend toward New Fork Park and New Fork Canyon.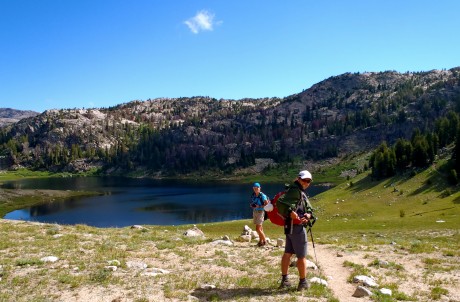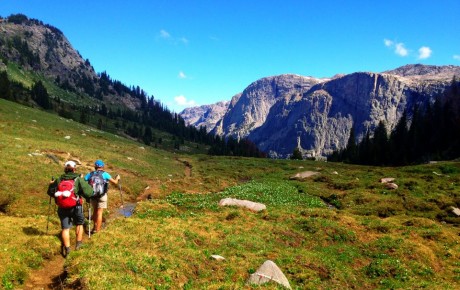 Thanks to Tom Carter, I had also learned prior to our hike that New Fork Canyon is the deepest canyon in the Wind River Range. We were all excited to hike through it. But first we would experience Palmer Canyon.
Palmer Canyon was a pleasant surprise. We didn't expect anything awesome of this "connecting" trail that would help us link Doubletop Mountain and New Fork Canyon into one hike, but the walls of Palmer are tall and impressive. The descent to New Fork Canyon Trail is pretty dramatic.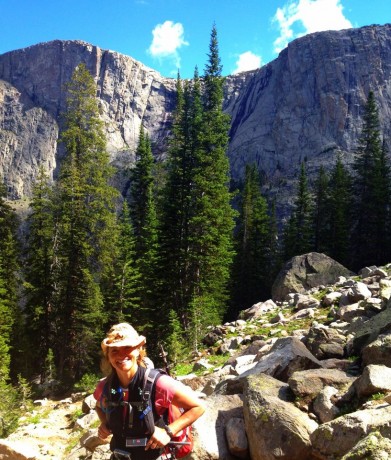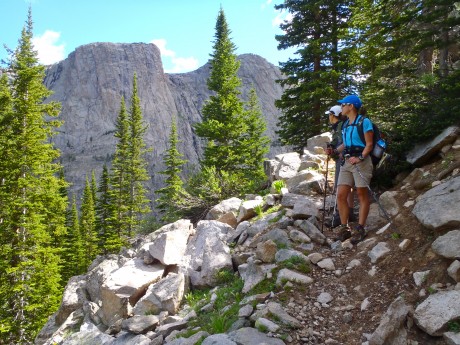 We really enjoyed the changing terrain and remarked that the massive granite walls we could see through the forest caused us to feel a little as if we were hiking in Yosemite. (By the way, our map indicates there are lakes — Hidden Lakes and Thompson Lakes — on top of Palmer. Holly, Kathy and I remarked that seeing those lakes might make a cool hike in the future.)
Once in New Fork Canyon, we were in a completely different landscape. Instead of burned forest or mountain top hiking, we were in the depths of a very green and lush park. Our trail meandered near the New Fork River, and with tall walls of the New Fork Canyon looming overhead.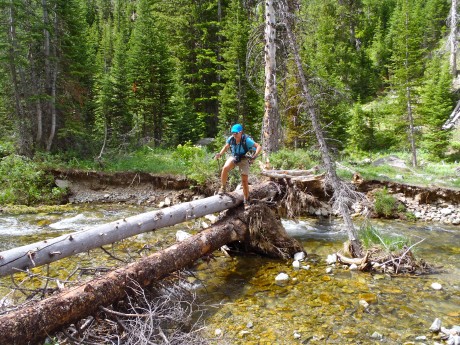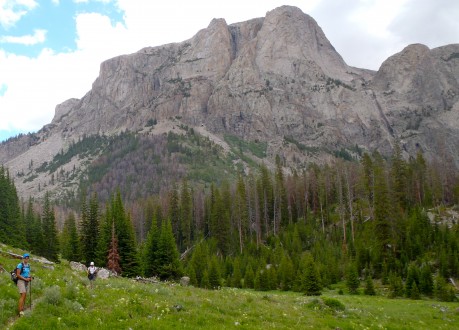 The wildflowers were the most spectacular I've ever seen on an epic Wind River hike. Bright red Indian paintbrush and bluebells were everywhere and as tall as our knees. We also saw fireweed, columbine, Queen Ann's lace and several other varieties.
With about six miles left, we crossed the New Fork River, which was not running very high or swift given last winter's low snowfall and the current drought conditions. About a half mile farther down, we crossed the river again.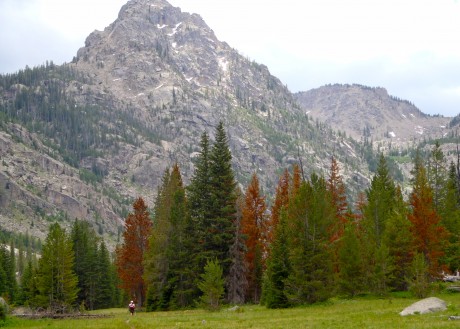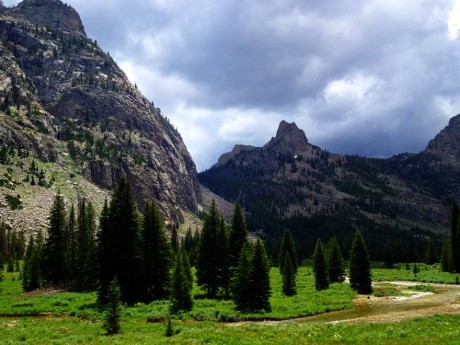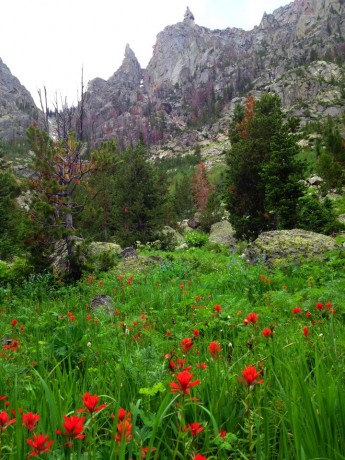 With about 3.5 miles to go, we could spy New Fork Lakes as we descended New Fork Canyon.
With just a half mile remaining, the big storm clouds that had been building up for a couple of hours gave way to rain — and even hail! We were thankful we had arrived to the final, "horses to the barn" stage of the adventure when that happened.
It was a fantastic day: Hiking with two of my closest friends, exploring new country, seeing the expanse of my beloved Wind River Range, hiking through canyons and their massive, sheer walls, and knee-deep in wildflowers.
By the way, when I'm not hiking — and sometimes when I am — I am a life and leadership coach and consultant. Check out EPIC LIFE, my coaching business. Epic Life provides coaching, with an option for a guided epic adventure. I also have a blog there.