Greetings! After successfully making four train connections, we arrived in picturesque Zermatt, Switzerland. Zermatt is in southern Switzerland's Valais canyon, and is a mountain resort renowned for skiing, climbing and other alpine recreation. The town is set below the iconic, snow-capped Matterhorn peak. Its main street, Bahnhofstrasse, has upscale boutiques, lodging from luxurious hotels to modest chalets. Except for work vehicles and taxis, the town is car-less and accessed only by train.
(By the way, this is my 6th blog post published so far during our 29-day "Epic Europe Family Adventure." If you're interested, all previous trip reports from this Epic Family Adventure include are listed and linked to at the bottom of this blog post.)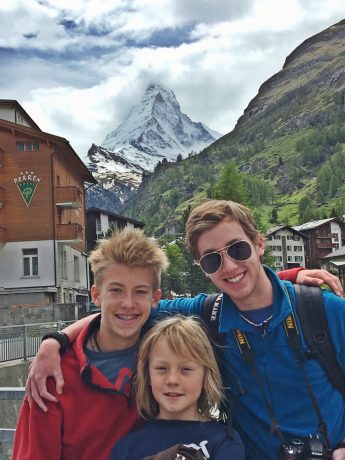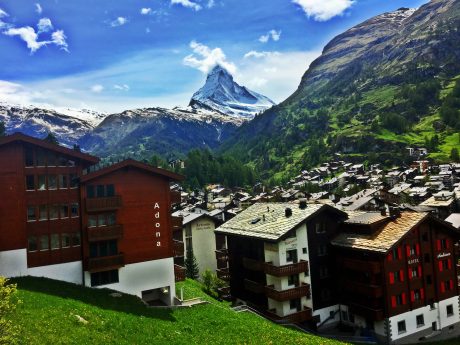 After checking in and dropping our luggage at the wonderful Chalet Medi, we headed out to buy discount 3:36pm tickets to ride the Gornergrat Bahn. The Gornergrat Railway would take us to the top of the Gornergrat, to an elevation of 10,135′.
The Gornergrat (English: Gorner Ridge) is a rocky ridge of the Pennine Alps, situated at 10,285′ and overlooking the Gorner Glacier. It is the second highest railway in Europe, and the highest open-air railway in Europe.
The Gornergrat Glacier is about 22 square miles, and is on the west side of the Monte Rosa massif. We'd see about 29 tall peaks while at the Glacier.
The train ride was a hit! Check out this video I captured near the top: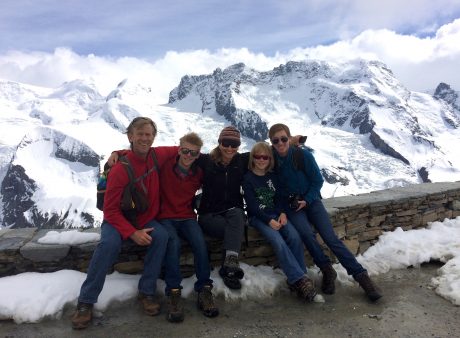 Once at the top of the Gornergrat, we were fascinated while looking at the glacier.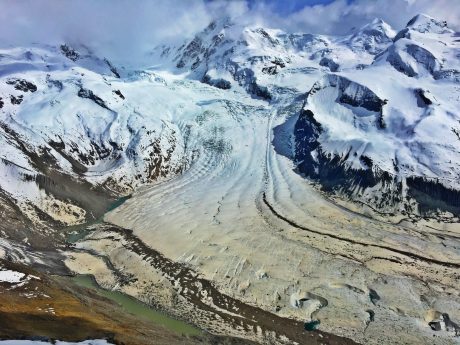 We also stopped into a little chapel before taking some panoramic photos from the very top. Called the "Bernhard von Aosta" chapel, it is one of Zermatt's most visited places of worship. Visitors from all over the world stop to light a candle and enjoy the soothing tranquillity of this mountain sanctuary. We stopped in and donated a franc in a little basket so we could light a candle, and then, since we had the little chapel to ourselves, we said a family prayer, mostly thanking God for our safety, our friends and family, and for all of our blessings. It was very meaningful!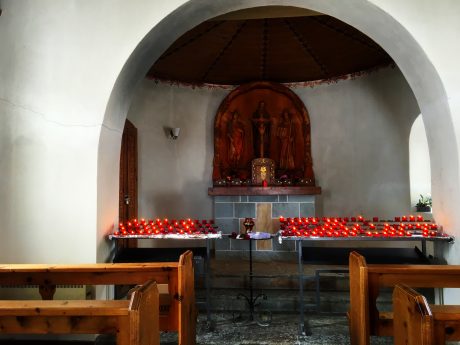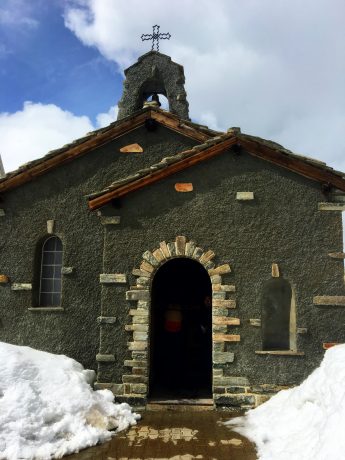 Afterward, we bought ourselves a beverage and enjoyed it while taking in the panoramic views before catching our return train ride back to Zermatt. We needed to get back to eat dinner so we could be to bed to get rest for the next day's epic hike.
We enjoyed a fabulous dinner at The Brown Cow Pub in Zermatt and then hit the hay.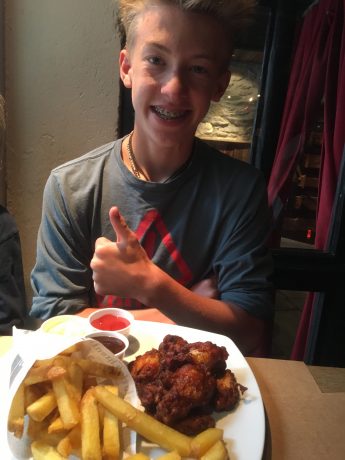 The next day started early. We had the boys up and at 'em and out the door to start hiking at 8am sharp. Once again, we skipped the tram lifts up and started up a mountain. This time we knew the difference between meters and feet, and still we went for not pursuing the parents of the year award. (The tram didn't open until 9am, and it was 8am. That explains it, right? Insert smiley face here. LOL)
We hiked basically straight up a mountain… I think it was part of the Cervo boutique mountain resort, but I'm not 100% certain as I write this. Finally, after a long, hard, seemingly endless uphill effort, we arrived at a signed junction that indicated we were 30 minutes from Sunnegga. It was mostly a flat path to Sunnegga, and we had a bunch of our snacks, and some water on a bench under a cross, while taking in views of the valley below, and the Matterhorn and other mountains, whose tops will at the moment obscured by clouds. (We had hoped that the Sunnegga station would be open and have hot chocolate, but no luck. We reached it too early, too!)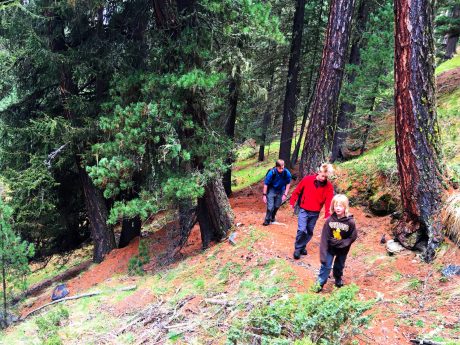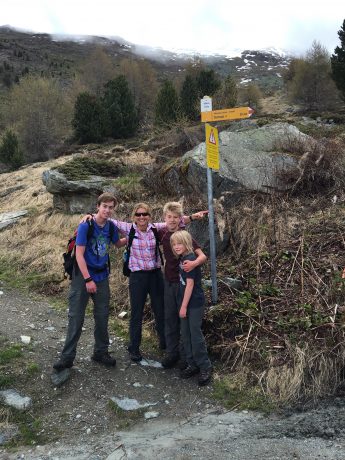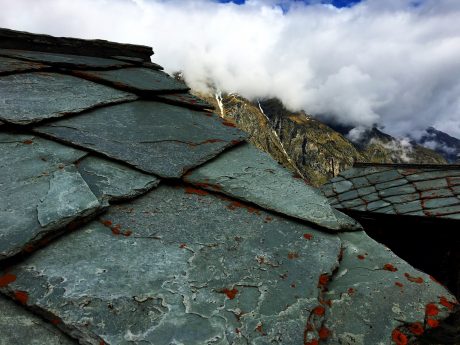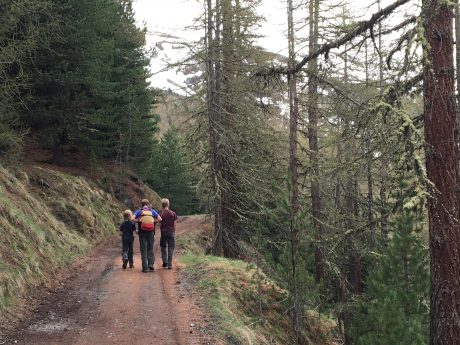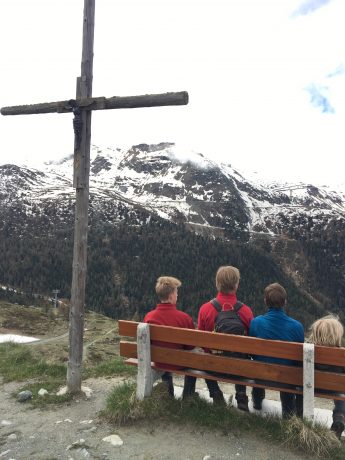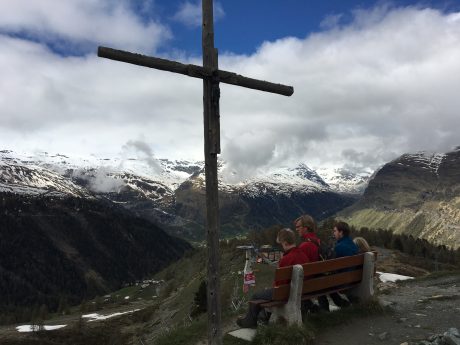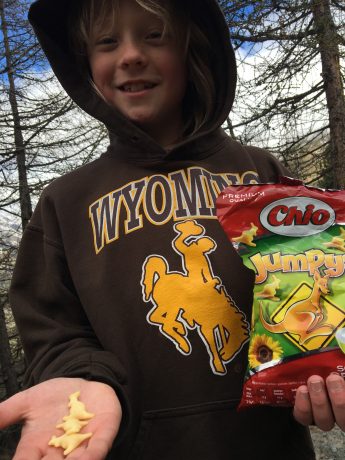 After getting refueled, we continued to Leisee Lake, which was surrounded by jungle gyms and picnic tables. The next lake was Moosjisee which was beautiful turquoise in color.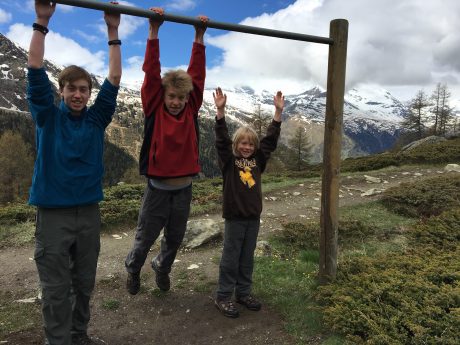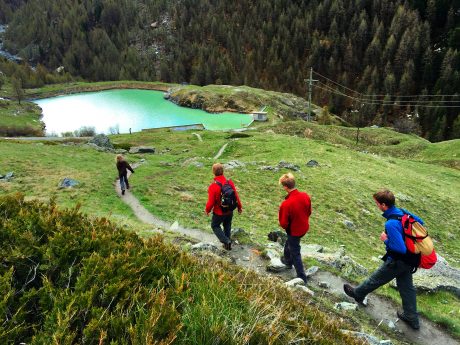 After that, we still wanted to see another lake, so we continued on and up to Grünsee Lake. This one was a little more hard-earned.
Here's a short video clip of that stretch:

Finally, we reached Grünsee Lake, which was beautiful, even if it was small. I am NOT complaining, but these "lakes" seem more like ponds to us. They were very tiny by Wyoming standards, so I'd by lying if I didn't say we were a little disappointed when we crested after a long hill to see the very tiny Grünsee Lake.
On the upside, we had it the lake all to ourselves, and the Matterhorn's summit was now out of the clouds. We had a wonderful rest at the lake. One of our sons skipped rocks, another took photos of the area, and the other played with the hundreds of minnows he spotted in the lake. We didn't rest for long, though, as we had a long hike and descent back into Zermatt, and at this point we already had 10 or 11 miles on our legs.
Here are some photos: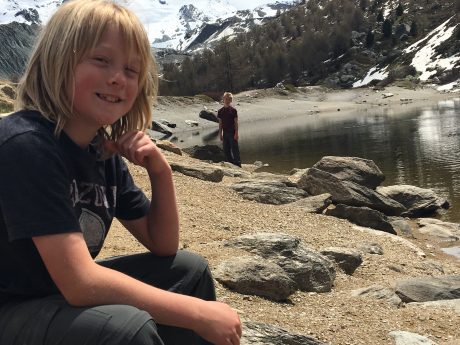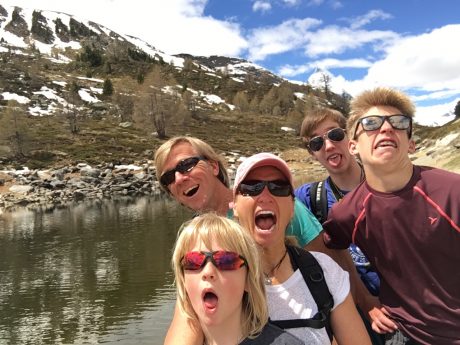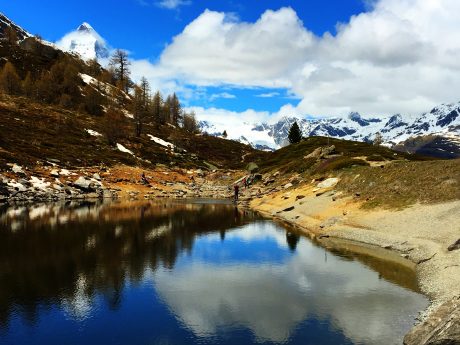 It took us some hours to get back because, as per usual for us, we made the hike longer and harder than originally proposed. 🙂 As a result, we saw even more than we imagined was possible and we were more deserving of even more delicious food and drink upon our entry back into Zermatt.
Have I mentioned lately how blessed I am to have such troopers for a husband and three sons? They go on these epic hikes with me, that are always longer than they anticipate, and never complain.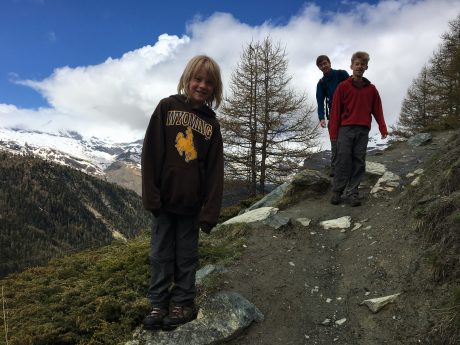 Here is us after crossing the finish line: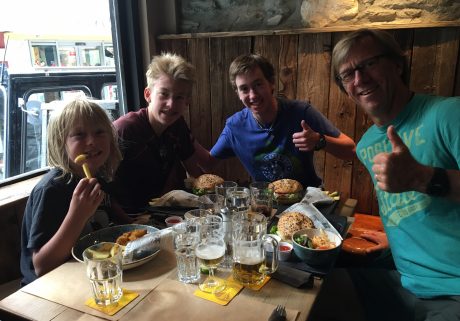 And, as always, there were so many unexpected surprises, including these beauties: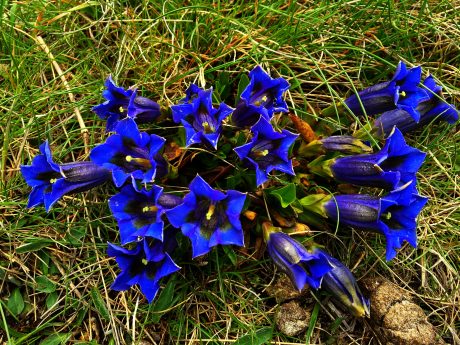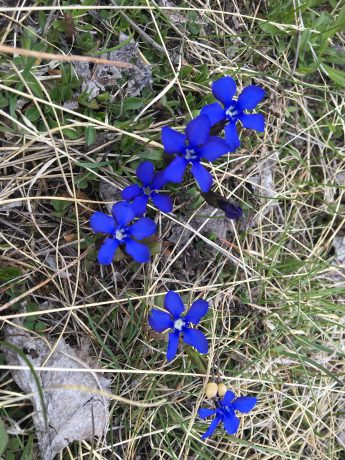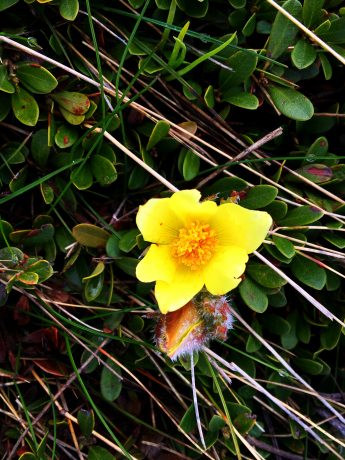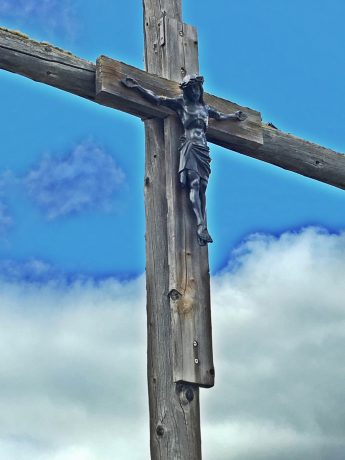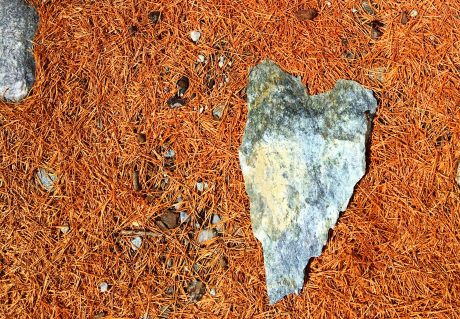 Thanks for following along with us on our Epic Family Europe Adventure. Please stay tuned and check back for more.
Up next: Moneglia, Italy and the Cinque Terre Trail!
If you're interested, here are all of my previous blog posts about this Epic Europe Family Adventure so far:
• From Wyoming to the British Museum and Shakespeare's The Taming of the Shrew in 24 hours
• Big Ben, River Thames, Tower of London and Ice Cream
• Munich Day 1: Glockenspiel, Deutsches Museum, Englischer Garten and Beirgarten
• Biking in the Bavarian Alps, Exploring Neuschwanstein Castle, Epic Beer & Food
• Lauterbrunnen, Switzerland: The Land of Many Fountains, Cows with Bells and Epic Food