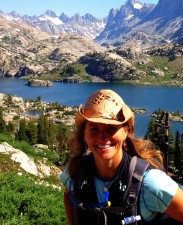 It has been a generous summer for me in terms of how much time I've had in the high country of my back yard, Wyoming's Wind River Range. For the last six weeks, I've gone on six epic day hikes.
On July 12, my husband, Jerry, and I hiked a 25.5-mile roundtrip hike that took us past a jaw-dropping panoramic view of massive granite peaks and several lakes, and through fields of wildflowers before reaching what is one of the most spectacular sights I've ever seen — Island Lake and Titcomb Basin.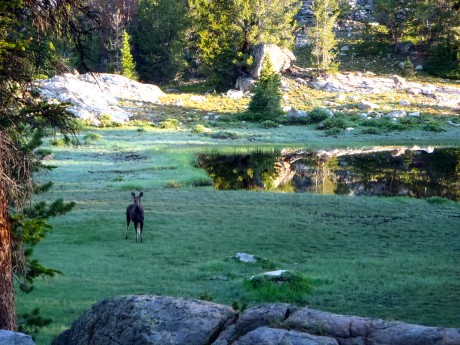 This hike would be all new territory for us so we were particularly excited. We started hiking at 5:30 a.m. from the Elkhart Park/Pole Creek Trailhead, located about 15 miles/30 minutes outside of Pinedale, WY. We enjoyed a very gradual uphill hike through a forest for the first few miles. At four miles we noted a cow moose standing near a pond in a meadow to our left. We watched it — had a bit of a (loving) staredown with it — for a few minutes, before quietly moving on. I always see moose, or elk, or both, when I'm hiking with my better half. He's either good luck, or he and I don't chat as much as my girlfriends and I do on our epic hikes. At any rate, after seeing a moose so early on, I knew it was going to be a spectacular day.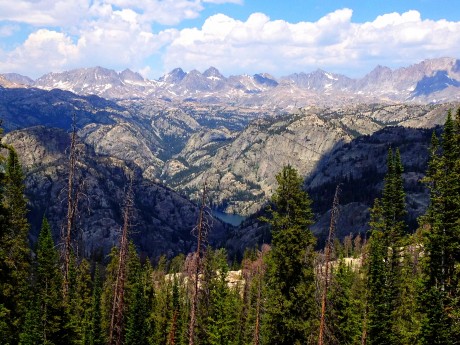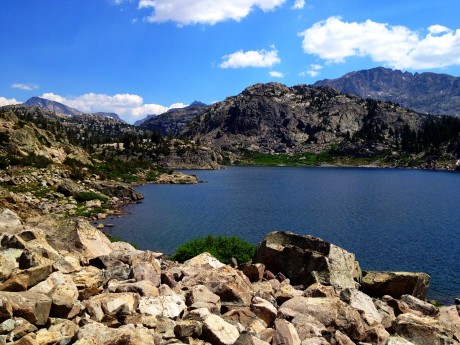 From Photographers point, we descended a mostly-forested trail that was interrupted every once in a while by meadows that are part of Miller Park. These little meadows were full of wildflowers. The show was amazing and included purple lupine, yellow buttercups, and bright red Indian paintbrush. The area also has lots of limber pine.
Next, we hiked past Eklund Lake and Barbara Lake before ascending to Hobbs Lake. At nine miles, we reached Seneca Lake, a beautiful lake that is pretty big. We really enjoyed hiking alongside the long shore of Seneca Lake. At about 11 miles, we hiked past Little Seneca Lake, and soon after, we arrived at a junction. Go right toward Lester Pass, or continue straight toward Island Lake and Titcomb Basin. We did the latter, although we'd like to hike a loop that includes Lester Pass and Pole Creek Lakes next time.
We continued up and over a pass toward Titcomb, whose high, jagged points were becoming visible to us and served as teasers. We hiked through piles of granite and enjoyed views of two or three more beautiful lakes to our left as we continued at 10,500′ en route to Island Lake and Titcomb Basin. Despite having many miles on our legs, our pace quickend in anticipation of the view that awaited us over the pass.
Wyoming's Titcomb Basin has been featured prominently in Backpacker, Outside, and other magazines. From the photos I had seen and the stories I had heard, I knew it would nothing short of extraordinary.
And yet, it was even better than extraordinary. The view of Island Lake and Titcomb Basin blew our minds and took our breath away. Yes, the view is that good. We experienced the region for 30 minutes before we couldn't take the bugs anymore. It was fulfilling to drink in the view and the quiet before putting our packs back on and returning the way we had come.
There are many more photos, and a video blog, below. It was another epic day in my back yard.
By the way, when I'm not hiking — and sometimes when I am — I am a life and leadership coach and consultant. Check out EPIC LIFE, my coaching business. Epic Life provides coaching, with an option for a guided epic adventure. I also have a blog there.
Thanks to our wonderful friend, Korinne Thoren, for watching the boys so we could tackle this hike!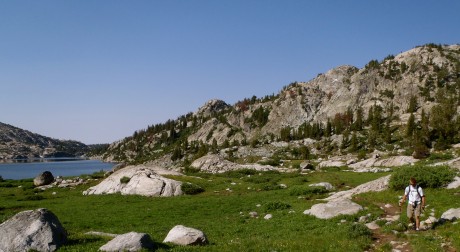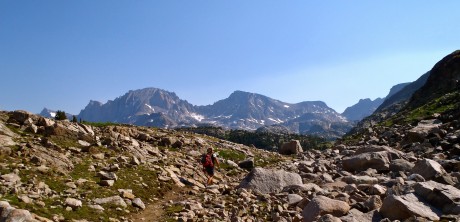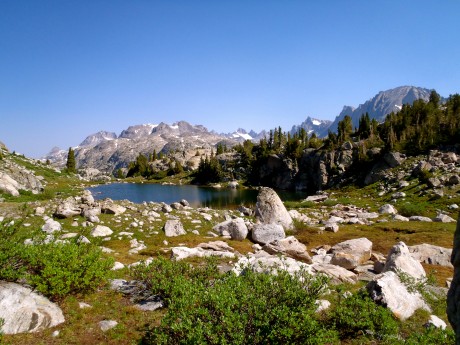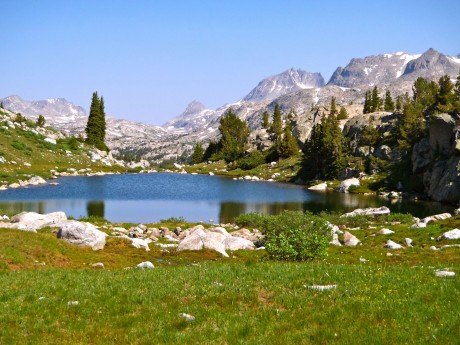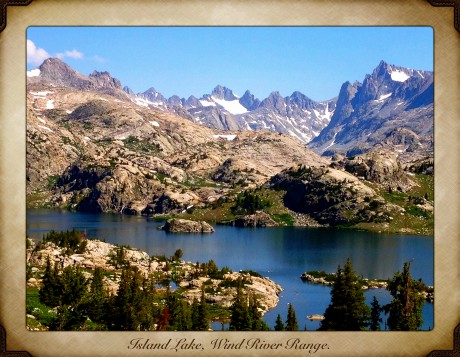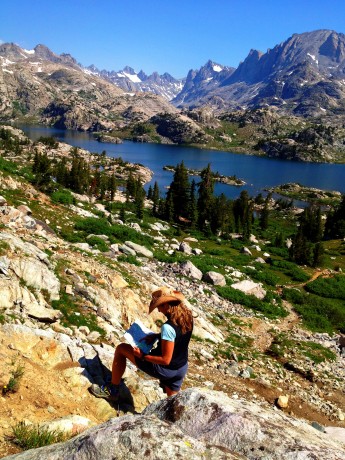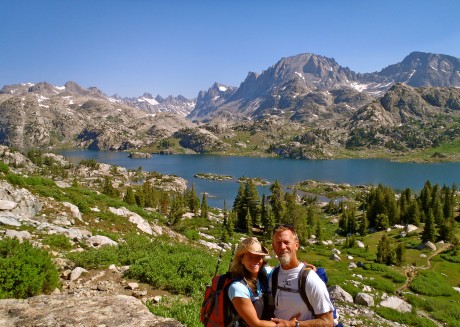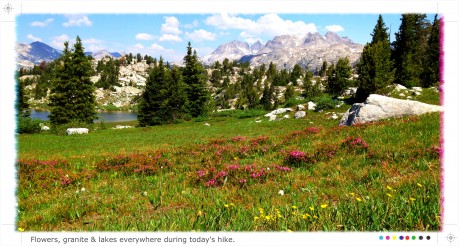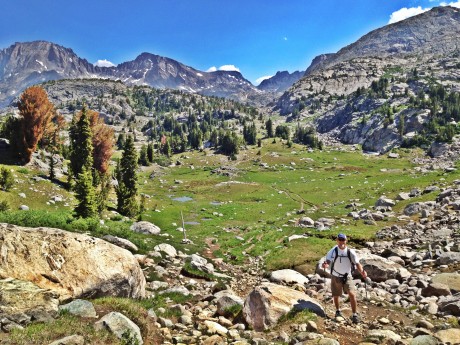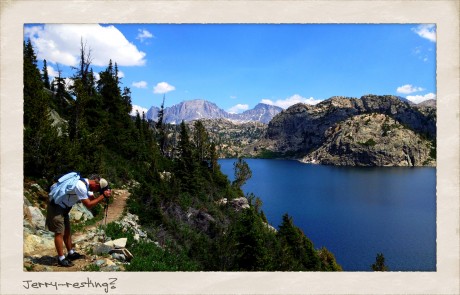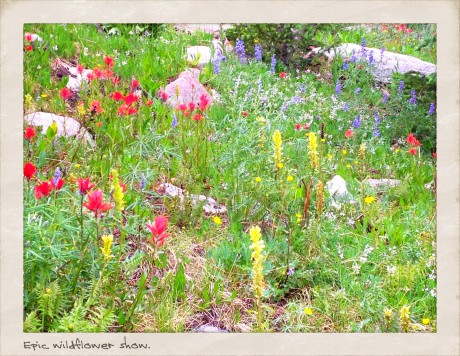 VIDEO BLOG: