Greetings from Florence, Italy. Wow! We have had just 24 hours here, and it's not enough. I know you're probably growing weary of me saying it, but we really love this place.
(By the way, this is my 9th blog post published so far during our 29-day "Epic Europe Family Adventure." If you're interested, all previous trip reports from this Epic Family Adventure include are listed and linked to at the bottom of this blog post.)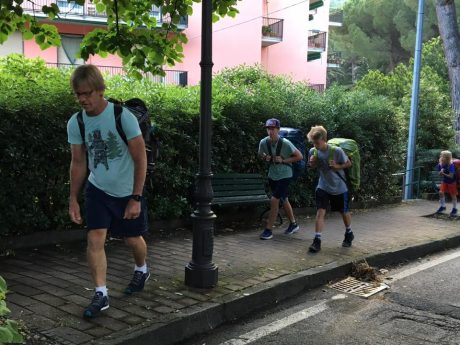 We like our hotel (Hotel Astrid), but the wifi is pretty dismal. As a result, this blog post will be mostly photos, with one video clip. I'm including pretty detailed captions with each.
In short, though, here are the highlights of our time in Pisa, and Florence, Italy:
–We opted to get off the train in Pisa, so we could stretch our legs and walk to see the Leaning Tower of Pisa. This was not the highlight of our day, but it was nevertheless wonderful to see it. After two hours of walking around and taking photos, and – of course – having a gelato, we boarded another train that would take us to Florence.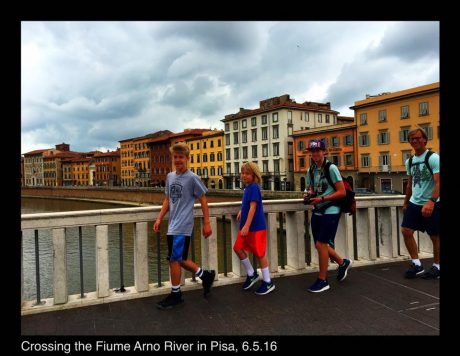 –Seeing Michelangelo's David (1502-04) was an even greater experience than we expected. Michelangelo's David, standing over 14 feet tall, represents the biblical figure of David, who killed the giant Goliath with a stone from his slingshot. (From the gallery's exhibit panel: "Nor has there ever been a pose so fluent, or a gracefulness equal to this, or feet, hands and head so well related to each other with quality, skill and design." With these words, Giorgio Visari attempts to define the reasons behind the marvel that the vision of David provokes in the observer. It has always been the subject of debate among scholars whether David is represented before or after his victory over Goliath. His sling is also barely visible as though to emphasize how David owed his victory not to brutal strength but to his intellect and to his innocence.
(We learned something new too – that on the sculpture, David's right hand is disproportionately large compared to his body because in the Middle Ages, David was commonly said to be of "manu fortis" – strong of hand.)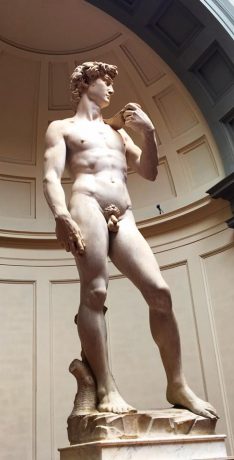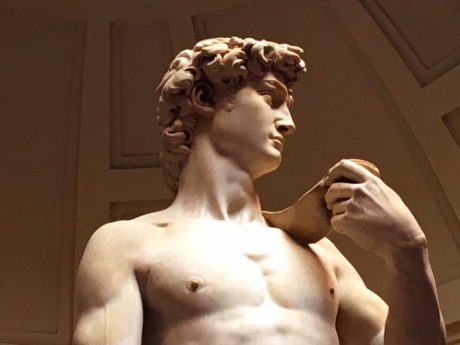 – By the way, we received a huge break when we learned our admission to the Accademia Galleria would be free. (On the first Sunday of every month, free admission is offered; in fact, there are no tours or advance tickets sold on this day. The gallery is closed on Mondays, so this afternoon was our only chance to go. Furthermore, when we arrived, at 3pm, we had to wait in line for only 5 minutes!)
–After seeing David, and other art, we headed for the Cathedral of Florence, (The Cattedrale di Santa Maria del Fiore in English "Cathedral of Saint Mary of the Flowers"). It is the fourth largest cathedral in the world. (The largest are St. Peter's in Rome, St. Paul's in London, and the Milan Cathedral) This spectacular church is the main church of Florence, Italy. Il Duomo di Firenze, as it is ordinarily called, was begun in 1296 in the Gothic style with the design of Arnolfo di Cambio and completed structurally in 1436 with the dome engineered by Filippo Brunelleschi. The exterior of the basilica is faced with polychrome marble panels in various shades of green and pink bordered by white and has an elaborate 19th-century Gothic Revival façade by Emilio De Fabris. We stood in awe as we admired it. The UNESCO World Heritage Site covering the historic centre of Florence and are a major attraction to tourists visiting Tuscany. Its beautiful dome remains the largest brick dome ever constructed.
Wolf and Hayden and I paid a little money to walk the 414 steps to the top of the Cathedral's bell tower – Giotto's Bell Tower – and it was so worth it! We arrived at the very top right at 5pm, so the bell started ringing. It was a beautiful evening and we could see all of Florence, including the best view of the Dome, ever. (See photos, and also a short video capture of our experience.)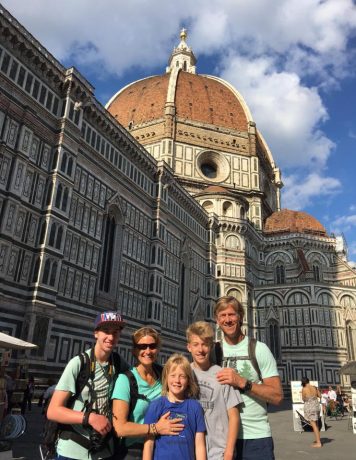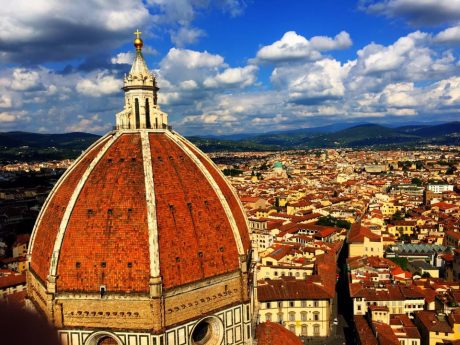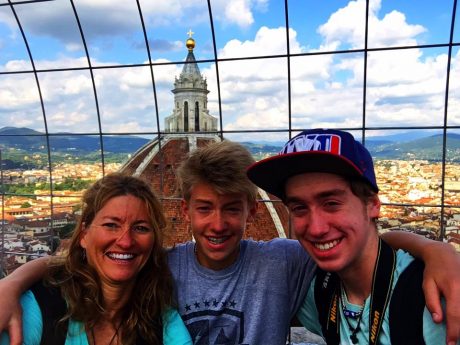 –We ended the full day with an epically delicious Italian dinner from Mercato Centrale, a local produce & everyday goods provided in a high energy, spacious, 19th-century iron & glass market hall that has a great vibe.
Thank you for reading, and for following along with us on this Epic Europe Family Adventure! Next up: Rome!
• From Wyoming to the British Museum and Shakespeare's The Taming of the Shrew in 24 hours
• Big Ben, River Thames, Tower of London and Ice Cream
• Munich Day 1: Glockenspiel, Deutsches Museum, Englischer Garten and Beirgarten
• Biking in the Bavarian Alps, Exploring Neuschwanstein Castle, Epic Beer & Food
• Lauterbrunnen, Switzerland: The Land of Many Fountains, Cows with Bells and Epic Food
• Zermatt: Gornergrat Glacier, the Matterhorn, Mountain Lakes and More Delicious Food
• Moneglia, Italy: The Cinque Terre, Epic Focaccia, Pizza, Pesto, Wine, Olives, and Gelato