Greetings from one of the most charming towns I've ever experienced – Moneglia, Italy.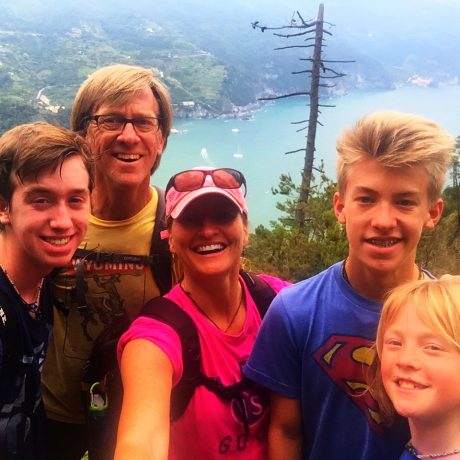 (By the way, this is my 9th blog post published so far during our 29-day "Epic Europe Family Adventure." If you're interested, all previous trip reports from this Epic Family Adventure include are listed and linked to at the bottom of this blog post.)
As I write this, the boys are sleeping, but not for long because we have a 6:30am train to catch. Two pretty short train rides will take us to the Leaning Tower of Pisa later this morning, and to Florence early this afternoon. And while today marks Day 14 of our Epic Europe Family Adventure, and we are very eager for what lies ahead – Pisa, Florence, Rome and Portugal – we would not mind having more time in this little paradise!
Moneglia, with a population of almost 3,000, is in the Province of Genoa, in the Italian region of Liguria, about 30 miles southeast of Genoa. While it is considered a tourist destination on the Italian Riviera, Moneglia feels like an authentic and beautiful "hometown" sort of place for us. Because our visit is occurring during "early season," we have not seen many tourists, certainly very few, if any, other Americans. Most of the people we have met here were not tourists, but locals, or at least from the region.
We were struck by the family friendly nature of the place. Kids were on scooters and running around, playing with one another, feeding birds, or playing with the water spouting from various fountains. Many families walked their dogs. Everyone was friendly, and extremely welcoming, despite our inadequate efforts to speak to them in their language.
I will include several photos below that hopefully capture some of the essence of Moneglia: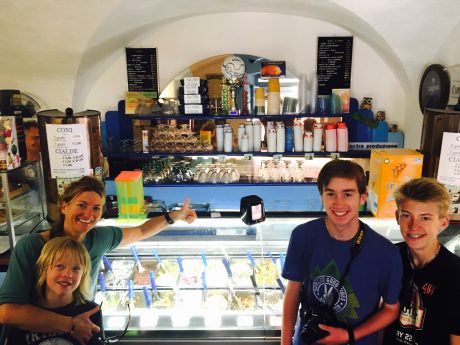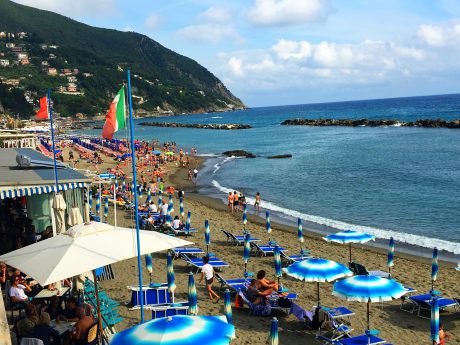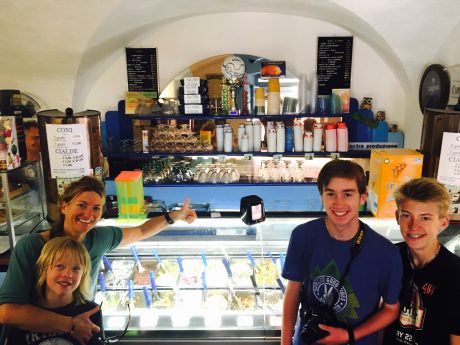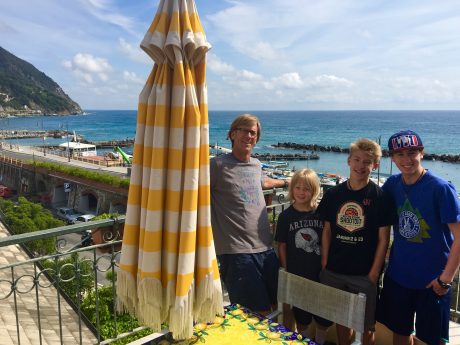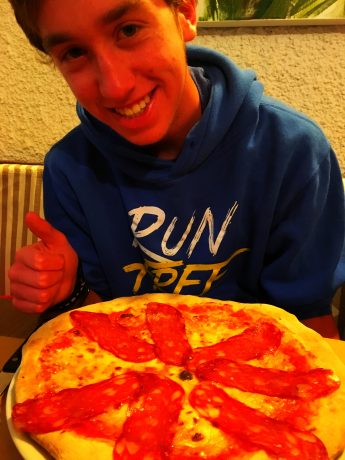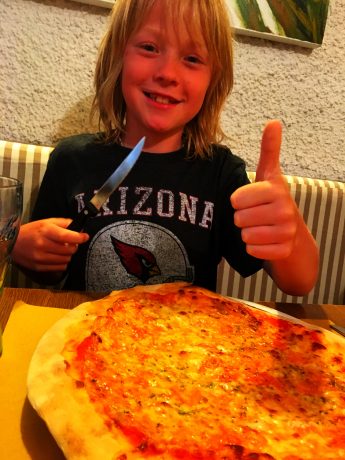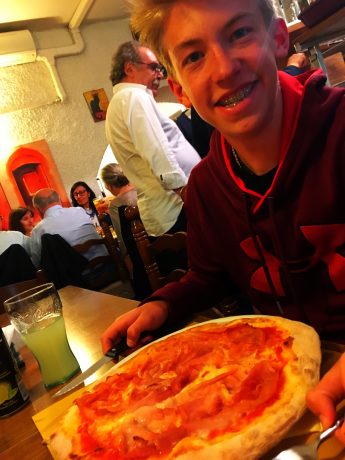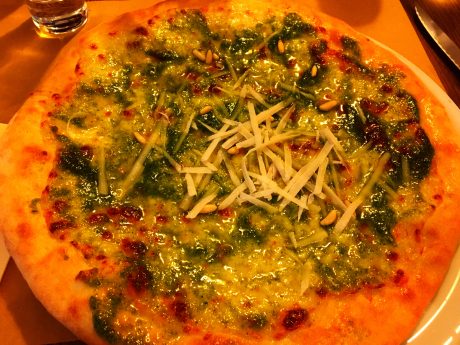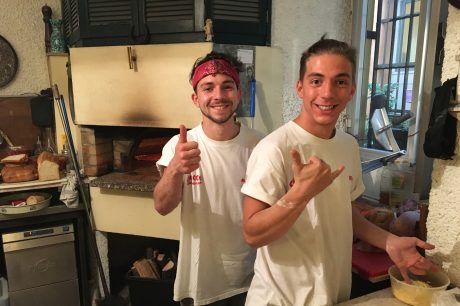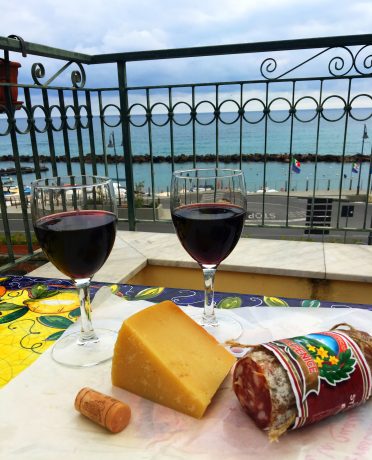 Moneglia is located on the shores of the Ligurian Sea, which is part of the Mediterranean Sea, situated between the Italian Riviera (Liguria and Tuscany) and the island of Corsica. When we first arrived, we dashed to the beach to put our toes in the water, which is always a very big deal for us. After all, we live in Wyoming, which is spectacular, but also land-locked, and not coastal. After getting our feet wet, we went about solving our hunger pangs.
With three growing boys, and an abundance of real and delicious foods all around us, we have eaten a lot on this trip! I quickly found a little market and bought some genoa salami, gorgonzola cheese, a bottle of red wine and a cantaloupe. I was golden. Oh, and all of it cost me just $14 Euros.  Jerry and I shared this on the balcony of our flat that overlooks the ocean, while the boys ate their Ringo cookies, and enjoyed exploring our new digs.
We loved exploring  Moneglia's  narrow passageways, used only for walking or bicycling through, and lined by very colorful, old, tall, and usually stucco houses and buildings that towered over us on either side. Small markets offering fresh produce and wines and cheeses, salamis, and/or fresh fish, are abundant, as well as coffee shops, bakeries, pizzerias, restaurants, gelatarias. We could get an espresso for $1 Euro, and an out-of-this-would-delicious gelato – 2 generous scoops for just $2 Euro.
Our favorite pizzeria, which we highly recommend, is Pizzeria II Ciocco. The family members who run the pizzeria are wonderful people, who are kind, generous, and boy, do they know how to make a pizza. We went have eaten there twice during our 3-day stay, and can see why their TripAdvisor reviews are so glowing. We will be adding our own glowing review. Did I mention pesto yet? Oh my God, the pesto in Moneglia is the best I've ever had. If you're in Moneglia, you must go to Pizzeria II Ciocco for pizza. You will thank me!
Jerry and the boys and I discussed last night how part of the adventure so far has been arriving at a new destination, and not only experiencing new sights, foods and people, but also discovering our accommodations. It has been six months since we booked our 28 nights of lodging, which was quite an undertaking considering our itinerary includes several destinations in seven countries. We booked selected our accommodations based on budget, location, and reviews from other travelers. Even though we had a lot of information at our disposal when selecting where we'd say in each destination, including many photos, it still is like unwrapping a present when you arrive at a hotel or flat or apartment, and we turn the key and open its front door for the first time.
After loving our accommodations in Lauterbrunnen, and Zermatt, Switzerland, we were certain nothing else would measure up. That was until we arrived here. We have stayed at the Giada Holiday Flats, and it takes the cake. It is the best home away from home a family like ours could ask for. We are in Room 13, which is on the top floor and our wrap-around deck and balcony overlook the Ligurian Sea. The building is old and quaint – and perfect – for us. It has won us over much like Moneglia has. Bunk beds fold out of one wall, and there's a sleeper sofa. The boys used these, and Jerry and I had our own bedroom. We had quick access to everything, including 4 gelatarias within 25 yards of our flat, restaurants, coffee and bars, and only a one-minute walk to be standing with our toes in the ocean. The hosts are charming and very helpful.
Our main reason for coming to Moneglia was so we could hike the Cinque Terre Trail, which is in a national park and allows hikers to enjoy incredible views of the sea while passing through five beautiful, colorful and quaint villages. We had two full days scheduled here and both days' forecasts were not favorable. The first full day called for 100% chance of rain, though, so we decided it would be a lazy, recovery day. This was fine with all of us, especially after our very active and epic hiking in Switzerland, and the fact that we had laundry to do, and I had blogs I wanted and needed to write.
The boys slept in, and I woke up only due to the smell of coffee Jerry was brewing. (I have the best husband in the world. His coffee greets me every single morning. I am a very lucky lady.) After a cup of coffee with Jerry, I returned to bed with my laptop, where I proceeded to upload several photos and videos, before writing and publishing six blog posts here. Whew! While it was productive from a blogging standpoint, I logged only 71 steps on my FitBit during my first 6 waking hours that day!
Thankfully, around 1pm, the rain ceased, and the sun came out. Our two oldest sons, Wolf and Hayden, and I went out for our first walkabout of Moneglia. We explored all the paths through towns, and stopped in to several markets, shops and restaurants to discover new foods and souvenirs, arts and other items. Here is a random sampling of photos I took during our little walkabout: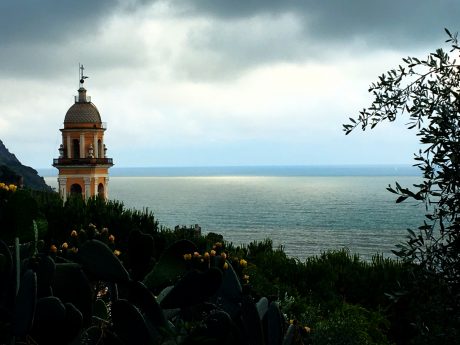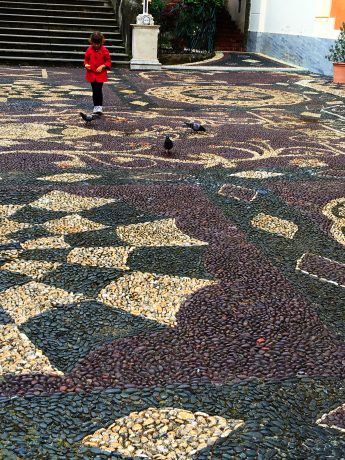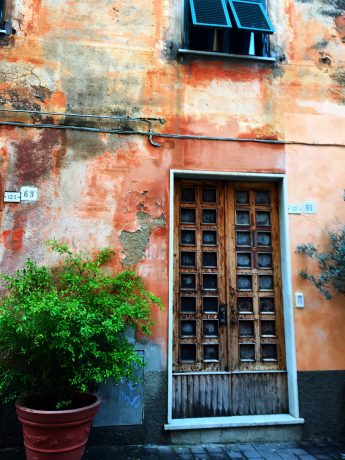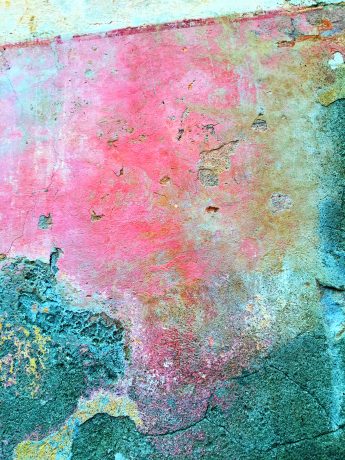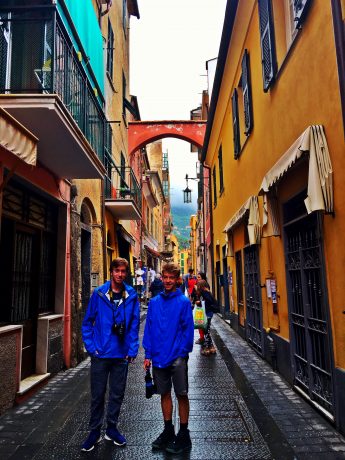 We also wanted to check out a church. Our flat's balcony was a stone's throw from a beautiful church bell tower, that chimed a beautiful tune every hour, and we were curious about the church.
At first we didn't find the church next to our flat, the one we were searching for. But in our exploration of the area, we stumbled upon a different church. We poked around the grounds around the church, and were about to walk away when I decided to take my chances and open a green door…
Oh my God. The church is something to behold. Wolf, Hayden and I were all caught off guard, surprised by the spectacular beauty and grandeur of what we saw. This is the Church of San Giorgio, built in 1396 by Benedictine monks, who were replaced by Franciscan in 1494. According to Wikipedia, the interior houses a wooden sculpture by Anton Maria Maragliano, a canvas of St. George Killing the Dragon attributed to Peter Paul Rubens, a Madonna with Saints by Carlo Dolci and an Adoration of the Magi by Luca Cambiaso. It also has a notable cloister. We were completely taken by the beauty of the church.
After that, we set out to further explore. We followed a cobblestone, narrow ramp/walkway up, up and up until we had wonderful views of the church bell tower (on the church we were still looking for) and the Ligurian Sea behind it. It was a good little uphill workout, and we were rewarded by great views that provided a different perspective of Moneglia.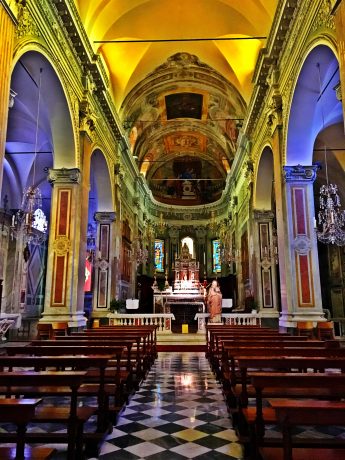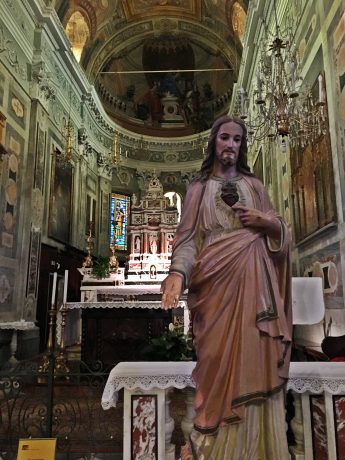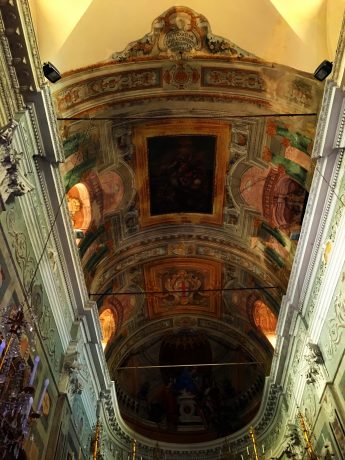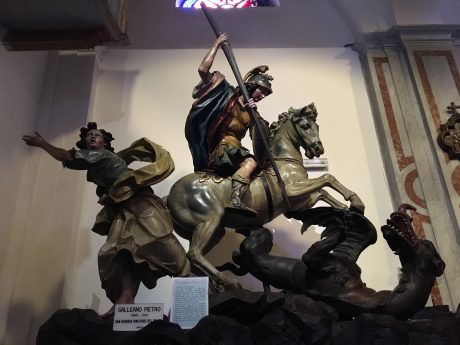 We descended and continued looking for "the other church." Soon, we found it. And, again, Oh My God!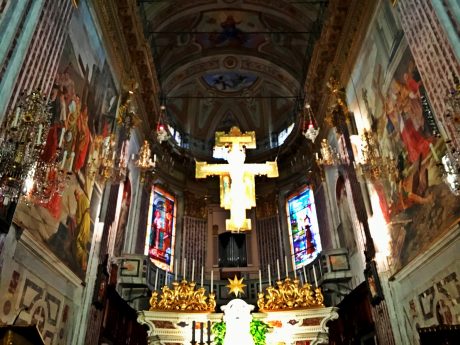 The Church of Santa Croce was built, according to some sources, in 1130, but probably pre-existing. The modern church, in Baroque style, dates to 1725, and houses a statue of Madonna by Maragliano and a Byzantine Crucifix.
This is all to say that this is a day when we had no plans, which allowed for us to stumble upon things that have turned out to be very meaningful experiences that we won't forget. We likely would have missed these if the day had been filled with pre-planned activities. Furthermore, I had not researched top things to do in Moneglia, as I did our many other destinations, simply because I considered Moneglia a base camp for our Cinque Terre Hiking experience, and little more. Boy, was I wrong about that. Somehow, accidentally opening the door to the church made that experience much more powerful than had we been anticipating what we were about to see due to advance trip-planning.
So there are two takeaways here that I want to record so I remember, but also to share with you: One, and I know this is not original, and I'm still a huge fan of planning, especially for a trip of a lifetime like this one that we're on that is a significant investment of time and money: Don't plan every single activity, and every single day of your trip. And, second, don't be afraid to open a door. We almost missed the first church because the door looked so normal and unassuming. Thankfully, I was just curious enough to stop and open the door.
The next day was our only opportunity to hike the Cinque Terre Trail, and we were all excited about it.
Cinque Terre means "Five Lands," and is a rugged portion of coast on the Italian Riviera. It is in the Liguria region of Italy, to the west of the city of La Spezia. The five villages includes Monterosso al Mare, Vernazza, Corniglia, Manarola, and Riomaggiore. The coastline, the five villages, and the surrounding hillsides are all part of the Cinque Terre National Park, which is a UNESCO World Heritage Site.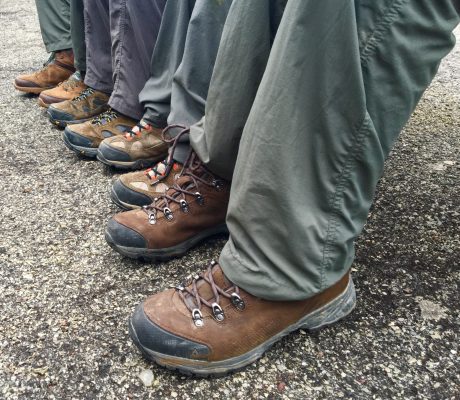 Paths, trains and boats connect the villages, and cars cannot reach them from the outside. The Cinque Terre area is a very popular tourist destination. We couldn't wait to hike the trail. We have hiked many trails before especially in our beloved Wind River Range of Wyoming, and in Yellowstone. But we had never hiked where we could stop for gelato or pizza every 2-3 miles. The boys were really excited about these "rest stops."
Jerry and I were up by 6am, and were planning to have us all out the door and on the train to Monterossa, where we'd start the hike, by 8am. However, it was dreary and wet outside again. Bummed! After talking things over, Jerry and I decided to let the boys sleep in, and we'd still do the hike, but we'd start around 11am so as to give the weather a chance to improve. The forecast indicated it would likely be a good day for hiking if we were willing to be patient.
We all got off the train in Monterossa, and went directly to the National Park Service office to buy our pass to the park so we could hike the trail, and to get a trail map. Unfortunately, our dream ended here. Due to the heavy rains, and landslides resulting from recent rains, the Cinque Terre Trail was closed. We were not going to be hiking the Cinque Terre.
I know the weather is one of the things we cannot control. Especially because I am an adventure guide, I know that the weather holds a lot of power when it comes to an adventure, and today would not be our day. We were all very disappointed, but we did our best to stay positive. In fact, we have been quite blessed thus far in the trip. During our time in Switzerland, there were 100% chance for rain forecasts on both of our hiking days. Even though we started our two epic hikes in rain, we ended up with spectacular days. A person cannot be lucky all of the time. Certainly we've been lucky most of the time.
We decided to explore Monterossa, and we licked our wounds by – you guessed it – eating gelato. That helped a lot! Monterosso al Mare is located at the center of a small natural gulf, protected by a small artificial reef, to the east of Punta Mesco in the Riviera of La Spezia. It is the westernmost of the Cinque Terre. The town is divided into two parts: the old town and the new town. The two areas are divided by a single tunnel that caters to pedestrians and the very few cars in the town. We explored all of Monterossa, before heading to catch a train to the next village, Vernazza. If we couldn't hike Cinque Terre, we'd at least see some of the villages.
Vernazza is often raved about as being a favorite, and we could see why. Vernazza has no car traffic and, according to some of our travel resources, remains "one of the truest fishing villages on the Italian Riviera." Vernazza's name is derived from the Latin word verna, meaning "native," and the aptly named indigenous wine, vernaccia ("local" or "ours"), helped give birth to the village's moniker.
First records recognizing Vernazza as a town date back to 1080. Wikipedia states that Vernazza was a likely point of departure for naval forces in defense of pirates.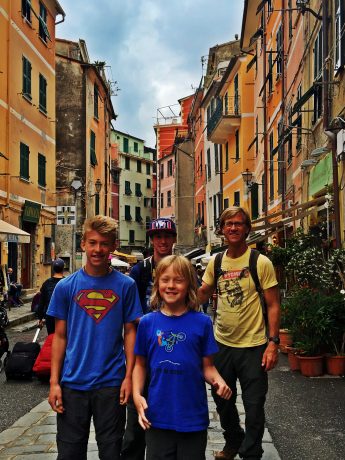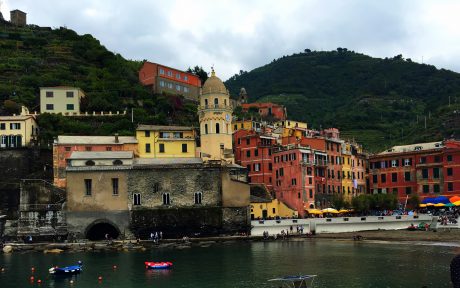 We loved Vernazza. My good friend, Joel, who spent some time studying art in Italy during college had suggested to us, "You have to take a swim off the pier in Vernazza." If only! It was a dreary, not-warm day and no one else was swimming. Even an attempt to bribe our boys with all of the pizza and gelato they could eat, they wouldn't dive in. We fell in love with the beauty of the colorful buildings of Vernazza, all of the shops, and the view of and from the pier, and a church we toured called the Church of Santa Margherita d'Antiochia, c. 1318.
We decided to ride the train back to Mongolia. For one thing, we love it, and second – and this is no small thing – it has a nice bathroom! This was our first experience with "porcelain holes in the ground" for toilets. While the boys managed, I had a very difficult time using such toilets. The toilets in Monterossa and Vernazza's train stations unclean and gross and unserviced.
We got on the train, and during our ride to what we thought would be Moneglia, the boys snarfed a huge bag of Italian potato chips as we arrived to Levanto. After sitting there for a few minutes, the train started moving again, but in the wrong direction! Dang! We were going back to Monterossa (for our second time today). This marked our first train mistake of our first 13 days. I don't mean to brag but we've successfully made probably 50 different train connections to this point. We laughed it off, and rode back to Monterossa.
Once off the train, I went to the national park office again, just in case a miracle happened and the Cinque Terre Trail had opened. No such luck. However, there was a couple in front of me in line who had hiking poles and looked like they had been hiking. They were German, and so there was a bit of a language barrier, but I was able to understand that there was a trail open to hiking between Monterossa and Levanto, and we were welcome to follow/join them. I could have hugged and kissed them both 100 times. Suddenly, we would be hiking after all.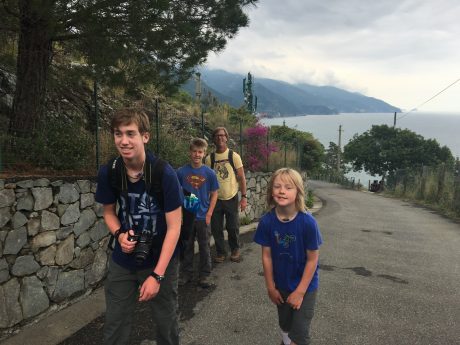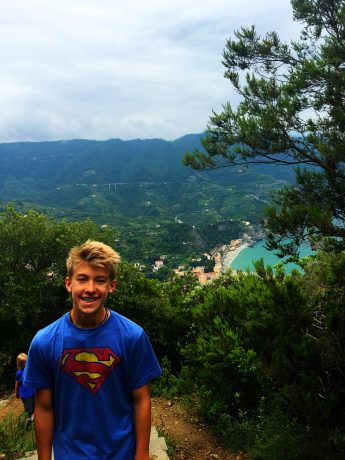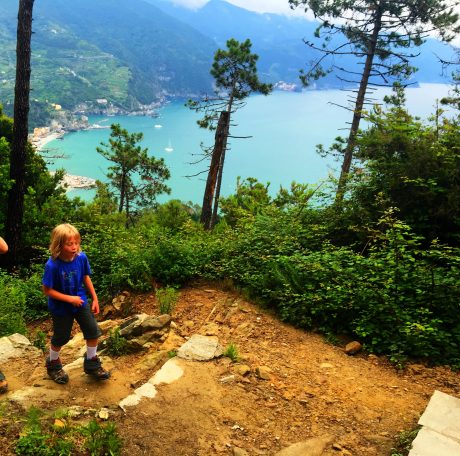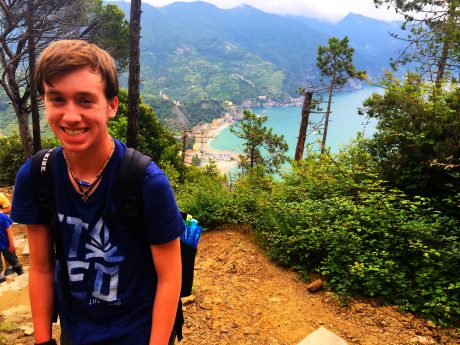 We followed Heika (sp?) and Gelt (sp?) up a wonderful trail. It went up, up, up for about an hour and the views behind and below us were exceptional. In fact, at one point, we could see all five villages – the Cinque Terre — perfectly, and the ocean below was a wonderful sight during the entire hike.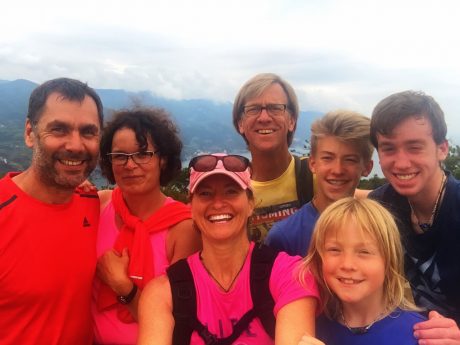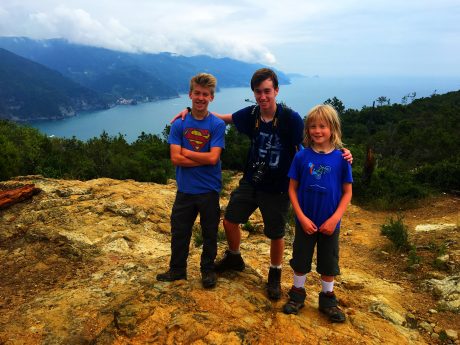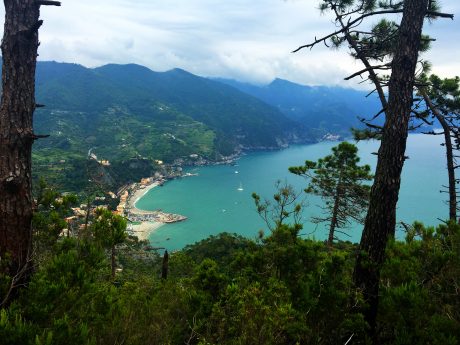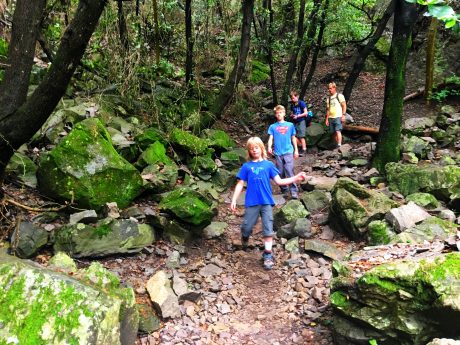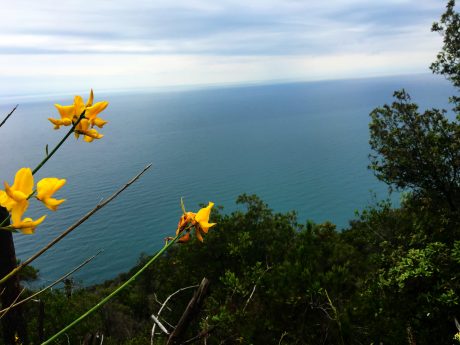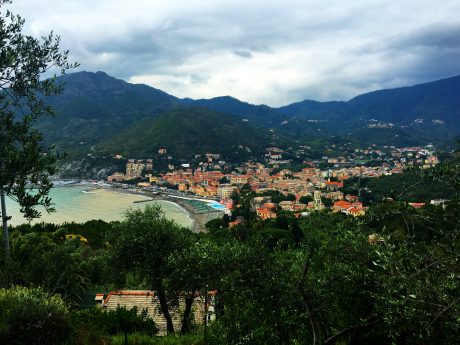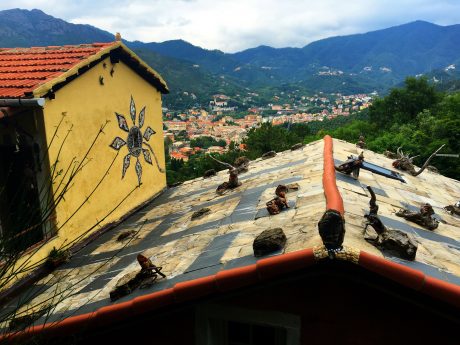 It took us about 2.5 hours to hike from Monterossa to Levanto. We had made some wonderful new friends from Germany, while getting a glorious and epic hike. Once in Levanto, we walked another mile to and through the beautiful center of town and eventually, to the train station, where we treated the boys to a Fanta and Jerry and I had cold beers. Yeehaw! What a day. We boarded the train at about 6pm, and by 7pm we were ordered our favorite pizzas from Pizzeria II Ciocco in Moneglia.
This small town on the Ligurian sea that is called Moneglia has won all of our hearts! If you plan to explore the Cinque Terre trails, or even if you don't have any interest in the Cinque Terre hike, I highly recommend you stay in Moneglia and just use the train to ride 10 minutes to start the hike in Monterossa. Moneglia, in my opinion, is a true gem, that despite my blogging about it now, will remain somewhat of a best kept secret. Stay at the Giada (if you're a family, request Room 13!).
We have explored its many nooks and crannies, and we have (extensively) tried out its pizzerias and gelatarias. We are not only in love with this place, we are also in love with its people, and yes it's food.
Extra snapshots from our time in Moneglia, including random shots from our rest day in the flat when it was raining outside: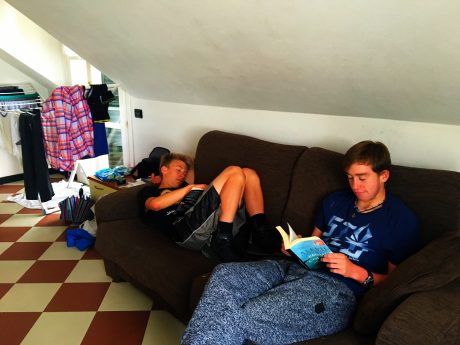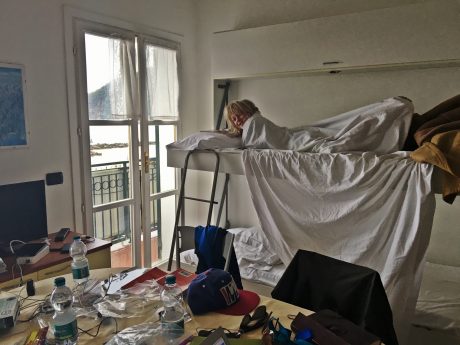 After making 4 successful train connections, we crossed over from Switzerland to Italy, At the first train station in Italy, the boys promptly located a pizzeria. "We have officially arrived," one of them quipped.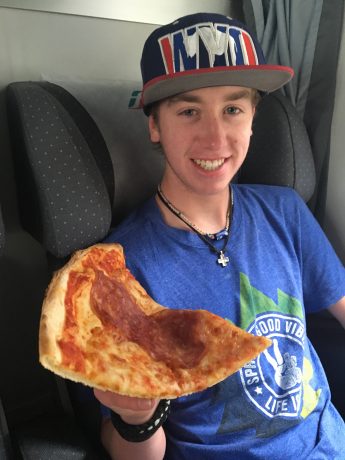 We're starting to feel like world travelers. However, I'm careful not to completely confirm that, because sometimes when I boast, the wheels come off, and we have many more trains to catch and exciting things to do in our next 14 days – the last half of our this Epic adventure. So let's just say we're getting more accustomed to getting around Europe using their rails system, and it really is a dream for getting from point A to point B and C and D and E and F and so on.
And on that note, we have a train to catch, so I'll sign off for now. Thanks for reading, and please check back again soon.
Next up: Pisa and Florence, then Rome!
If you're interested, here are all of my previous blog posts about this Epic Europe Family Adventure so far:
• From Wyoming to the British Museum and Shakespeare's The Taming of the Shrew in 24 hours
• Big Ben, River Thames, Tower of London and Ice Cream
• Munich Day 1: Glockenspiel, Deutsches Museum, Englischer Garten and Beirgarten
• Biking in the Bavarian Alps, Exploring Neuschwanstein Castle, Epic Beer & Food
• Lauterbrunnen, Switzerland: The Land of Many Fountains, Cows with Bells and Epic Food
• Zermatt: Gornergrat Glacier, the Matterhorn, Mountain Lakes and More Delicious Food