(To read the pre-Camino de Santiago blog post, which explains in detail why we're on this pilgrimage, please click here.)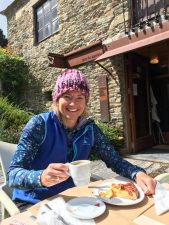 Day 4 of our pilgrimage on the Camino de Santiago was wonderful. It was our easiest day so far, and we were thrilled to see our friend – the Sun – on several occasions. Today's trek was about 14 miles over reasonable terrain, mostly small, rolling hills that took us through lush, green hills. We, and our sore joints, were so happy that today's route was mostly on a path, and not on pavement. We shared the path with many pilgrims today – the most we've seen so far. During most of today's walk, we had a background soundtrack that included conversations in German, Italian, Spanish, French and Japanese. Another highlight were all the dogs we saw. Fin, who stopped to pet and cuddle most of them, called it a "20-dog day." (We miss our Buddy!)
Jerry and I just returned from our usual Sangria date, and we both mentioned how much we loved listening to the boys laugh and giggle as they hiked and talked about stuff we couldn't hear or understand. 🙂 We are liking this lifestyle… We start each day on the Camino at around sunrise. We make up and share a prayer as we start our walk, and then we start walking. The early parts of the hike are always quiet and peaceful. We are each sorta in our own worlds. Eventually there are conversations, among our family and with fellow pilgrims. We hike about half our distance for the day before stopping at a little village, where Jerry and I have a cappuccino or espresso, and the boys have a croissant or other baked goodie.
Then, about 2-3 miles short of our final destination for the day, we stop at another village and have lunch. (We also get our "Credencial" stamped during these stops because we each need to get at least two stamps per day to get our Certificate of completion at the end in Santiago de Compostela.) For lunch today we stopped in a tiny village called Fillobal, where we enjoyed an epically delicious lunch. Wolf had spaghetti, Hayden had lasagne, Fin had a plate of calamari, Jerry had a Spanish potato tortilla and tomato tuna salad, and I had apple pie. The boys had sodas, I had a coffee, and Jerry, a cervaza. All for about $28 USD. (As we enjoyed our fantastic lunch, cows were herded through the tiny street that is more like a passageway through 300- and 400-year-old small, stone buildings.
After getting plump and refueled, we continued.
With about a mile to go before arriving in Triacastela, we hiked past a woman who complimented Jerry and I on our family. Upon thanking her, she and I struck up a conversation. Her story is fascinating. She is from Indonesia but currently lives in Houston with her husband. They have three grown children. Patricia explained that she was very ill, with Hepatitis C, for 18 years. She was healed by a Chinese medicine doctor two years ago. With her health back, and her children grown and on their own, she wanted to do something meaningful, and for herself.
Patricia explained she's not a hiker or a walker, but she had seen the movie, The Way, and had read about the Camino de Santiago, and was intrigued. Plus, she explained, when she was 12 years old, she converted from Muslim to Catholic. She said her husband wanted to do the adventure with her, but she insisted she do it alone. She wanted to do something challenging, and for, and by, herself. Her family thought she was crazy to do a 500-mile pilgrimage by herself, especially since she had never been a hiker or walker. And, she added, women from Indonesia don't usually do things alone. So her family and friends were at first worried, but they have been watching her and following her pilgrimage. "By now they're probably sick of getting all of my photos," she said with a chuckle. Patricia said she has had blessings on the path every day. "I have had miracles on a daily basis," she said.
The first day on the pilgrimage, she somehow wandered two hours off course when a local from a village ran after her and helped guide her back to where she was supposed to be. She got tears as she was recalling the story, and called the man "an angel." Upon leading her to the right place, and to her hotel, he insisted on not receiving any payment for his help. On another day, after a very hard descent, her knee was really hurting, and she questioned whether she could, or should, continue her pilgrimage. She said she prayed to God, as she struggled, asking him for a sign. Soon after, she turned around and saw a rainbow in the sky behind her. She said it has been an incredible journey.
Patricia has about 100 miles left to go, and is taking her time, as she does a lot of thinking and reflecting. We hugged farewell as we parted ways. I feel blessed to have met Patricia, and will keep her in my thoughts and prayers.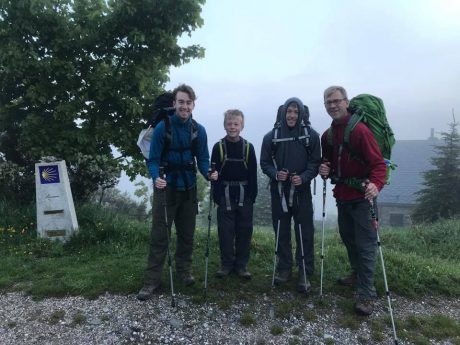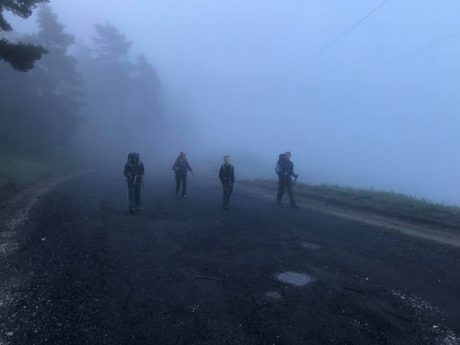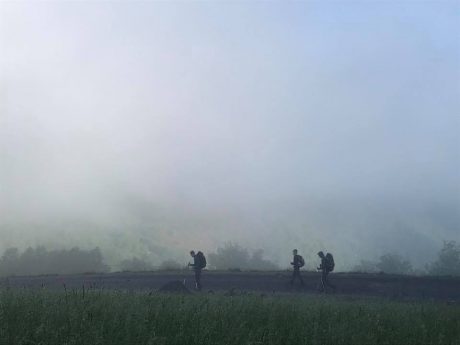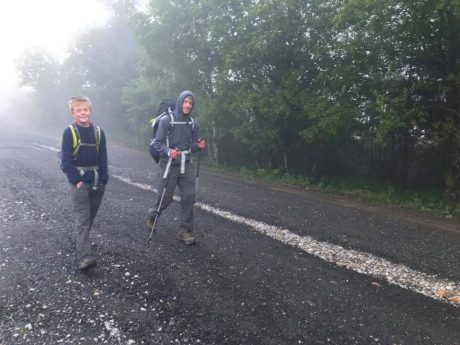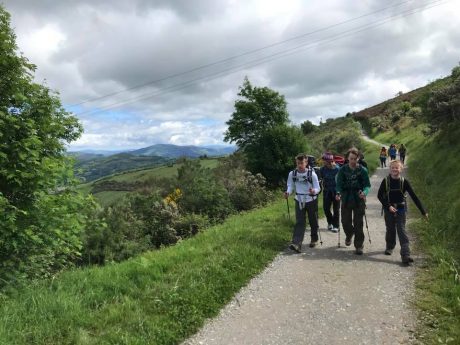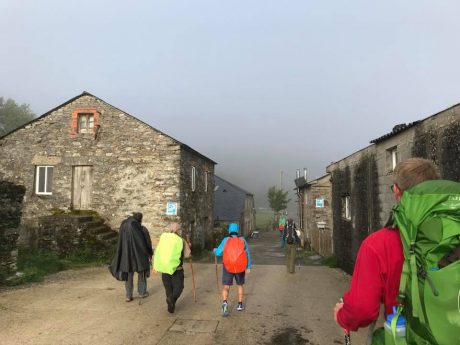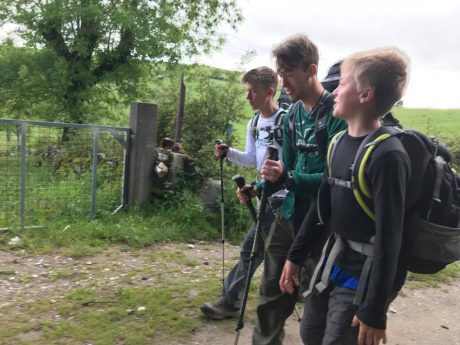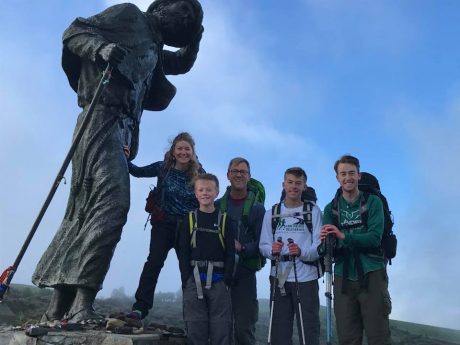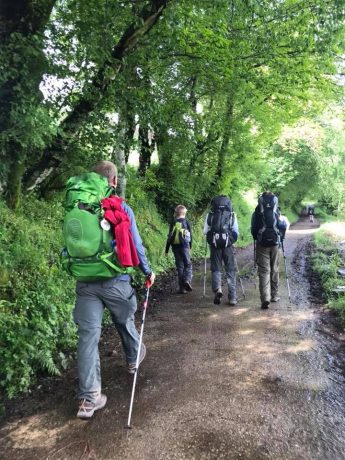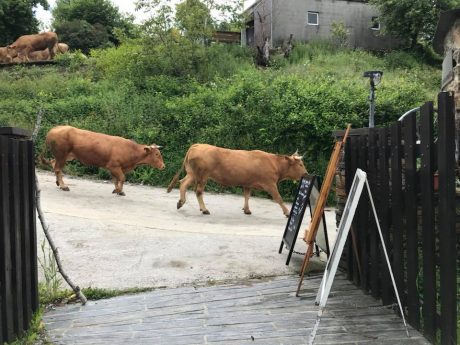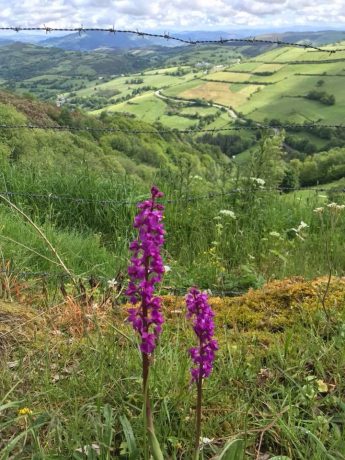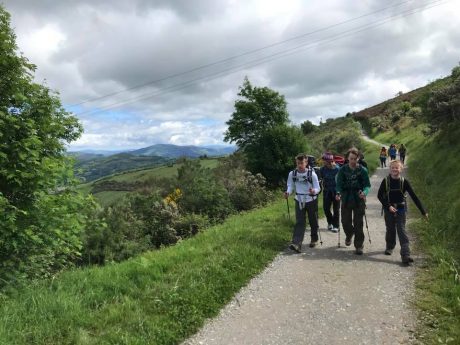 Related blog posts:
Spain or Bust: Camino de Santiago Here We Come 
Day 1 on the Camino de Santiago.
Day 2 on the Camino de Santiago.
Day 3 on the Camino de Santiago.
VIDEOS FROM DAY 4:

NEXT: Day 5 on the Camino