Greetings from Lisbon – the hilly, coastal – and stunning – capital city of Portugal.
(By the way, this is my 14th blog post published so far during our 29-day "Epic Europe Family Adventure." If you're interested, all previous trip reports from this Epic Family Adventure include are listed and linked to at the bottom of this blog post.)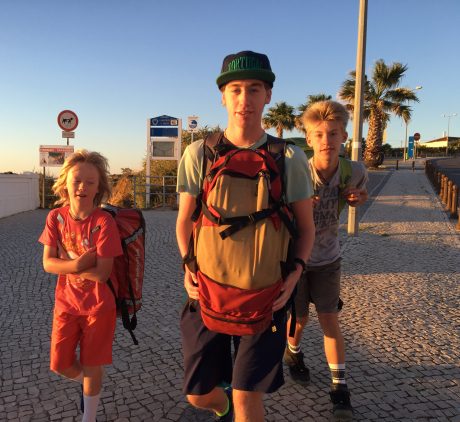 We rode a bus from Lagos to Lisbon, and hit the ground running. Well, not quite running! After all, we had on our backs our 90L Patagonia Black Hole duffel/backpacks, and Lisbon, is well, like climbing hills over and over again. The city's main neighborhoods are built up, up, up.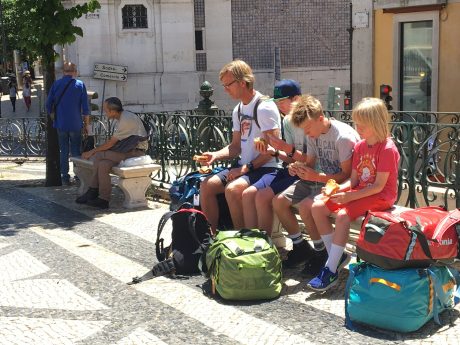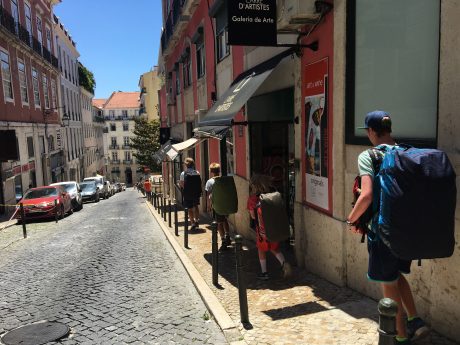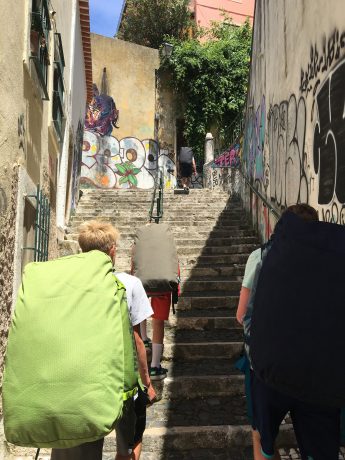 You go through narrow passageways – in Wyoming we'd call them alley ways – only these are all cobbled with ancient tiles, and beautiful meandering paths that help you access different neighborhoods, restaurants, shops, cafes and bars. Both sides of these are lined with very tall, colorful, old buildings. There is wall art everywhere, and vines, and distressed stucco, and also 18th Century tiled walls. And, it seems, always lively music coming from somewhere.
We have logged many steps exploring this beautiful city's nooks and crannies.
First up yesterday, after disembarking the bus from Lagos, we walked up, up, up to meet our AirBnB apartment's host. When it comes to our AirBnB and other apartment picks, we have been so rewarded! We have hit nothing but jackpots on our various accommodations. (In Munich, we had an apartment in an old building that was centrally located…a 20-minute walk from everywhere that mattered. In Rome, we stayed in a 17th Century, and this one in Lisbon is in an 18th Century building)
After settling into our Lisbon digs, we set off to go explore the 11th Century Moorish São Jorge Castle.
Here are some photos from the Castle, which is situated atop Lisbon, affording panoramic views of the City of Lisbon and it's colorful neighborhoods and views of the spectacular Tagus River, the longest river on the Iberian Peninsula.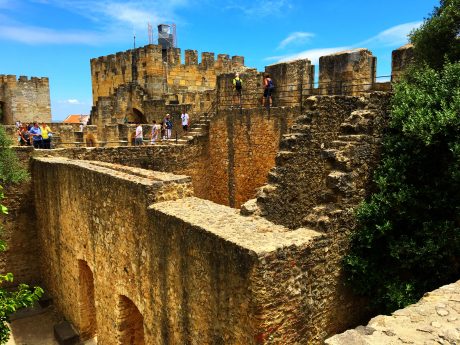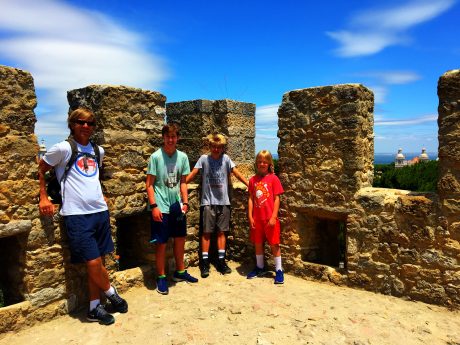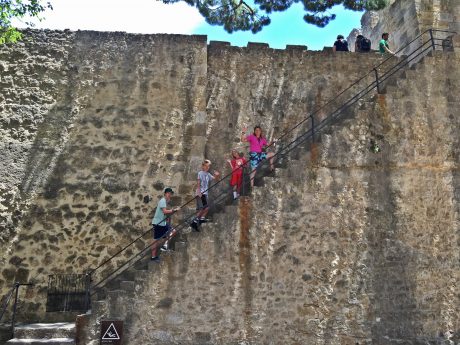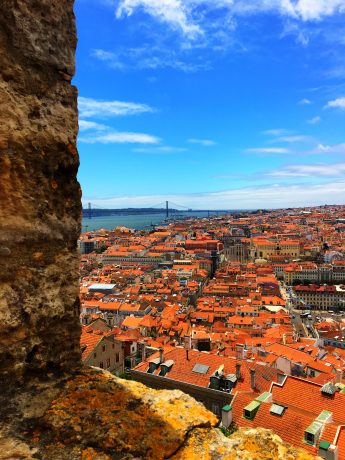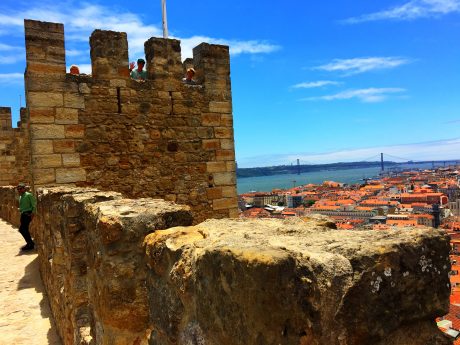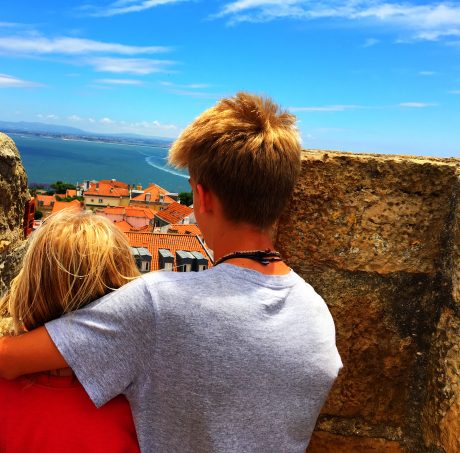 After the castle, we followed the advice of our generous and kind AirBnB host, Tiago, who is a local. He suggested we walk down to the Praça do Comércio, so we did. There, situated along the Tagus River is a huge square (commonly known as Terreiro do Paç), complete with a huge outdoor big screen that displayed live the soccer game. Jerry got a beer, the boys played foosball at one of the many foosball tables and I took some photos. On one of end of the square is the impressive stone, triumphal arch, Rua Augusta Arch, which was built to commemorate the city's reconstruction after the 1755 earthquake.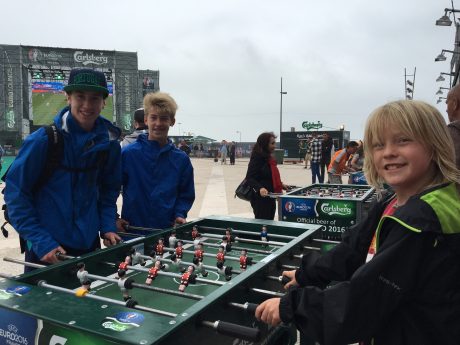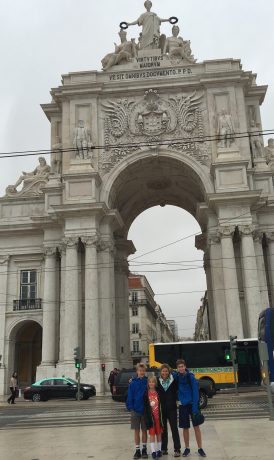 From there, we headed back up, up, up. It was dinner time, and we wanted to try out a place Tiago recommended, a cafe in a place called the Teatro da Garagem. But first, we stopped by a restaurant and tried some pastels de bacalhau (Portuguese codfish cakes). They were yummy!
After lots of hiking up staircases, and up long tiled hills in narrow passageways, we found the Teatro, and the cafe inside. Wow. Like so many places in these old cities, you enter a non-descript door and then are blown away. That's what happened after we walked downstairs inside the theater. Huge walls of windows, like a giant sunroom, with staggering views of the city of Lisbon, and a piano player, and complete charm. We ordered a cheeseboard and some portuguese wine (for Jerry and I), and cokes for the boys.
Here is a photo and a video: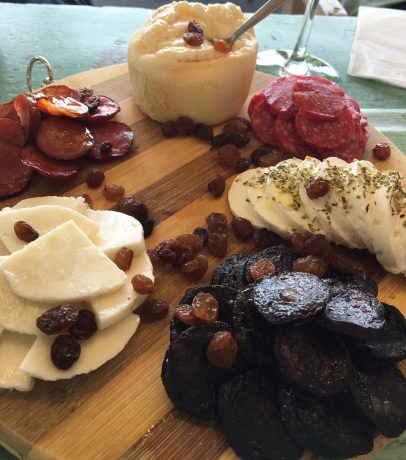 After a great dinner and a full day, we dropped the boys back at the apartment and chilled for an hour or so, before Jerry and I headed back out. Our goal: To find some live Fado!
Fado is soulful music that gets it roots from the early 1800s.The word Fado comes from the Latin word fatum –or, fate. After walking literally a total of 4 miles, in and out of neighborhoods, up hills and down hills, stopping at various bars and terrace restaurants, and through DJ's parties, and a reggae patio party, we stumbled into our prize, Fado Maior, where there were two amazing performers singing. I'm including a clip of the woman, Milene Candeias, as well as the male performer. I didn't catch his name, but he was also amazing. NOTE: I didn't want to disturb the atmosphere or performances with the flash on my camera, so I'm sharing these only for the audio. I hope you enjoy the Fado music as much as I did!
Milene Candeias:

Male performer:

Here are some other photos I captured in Lisbon, including many wall art photos: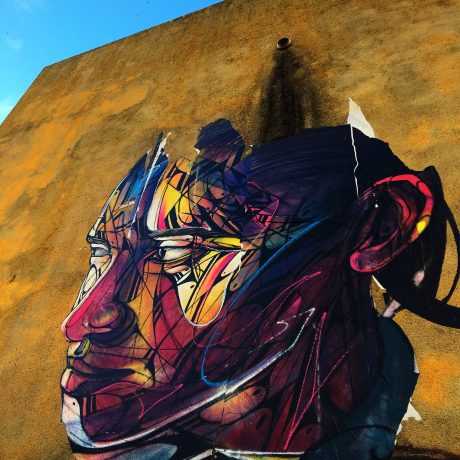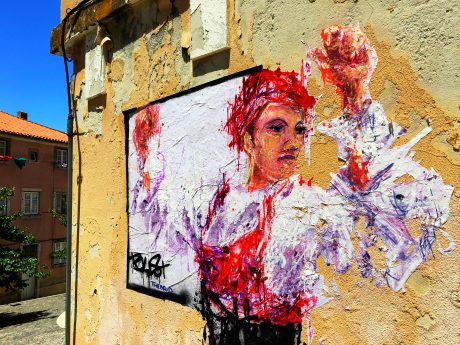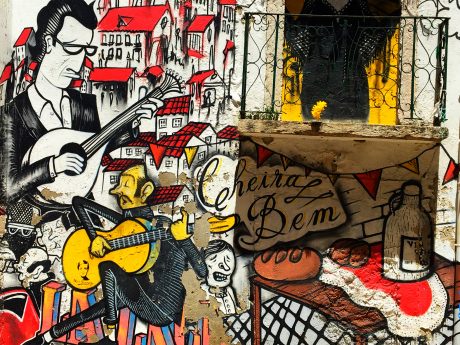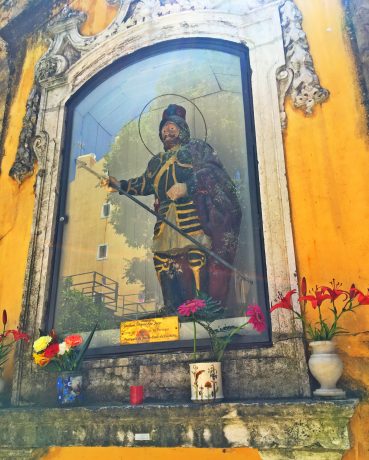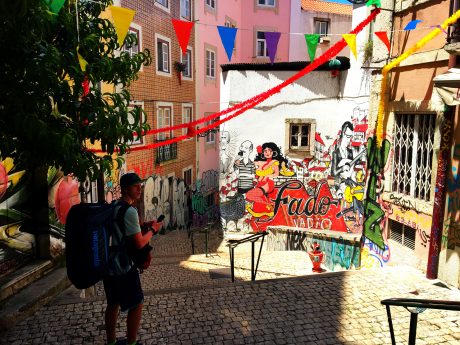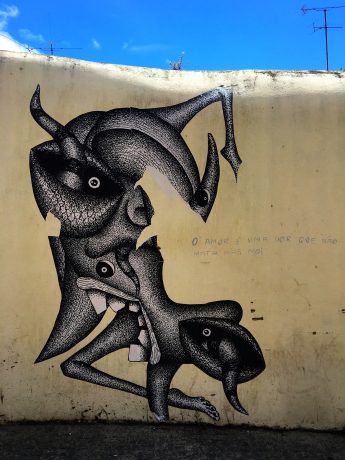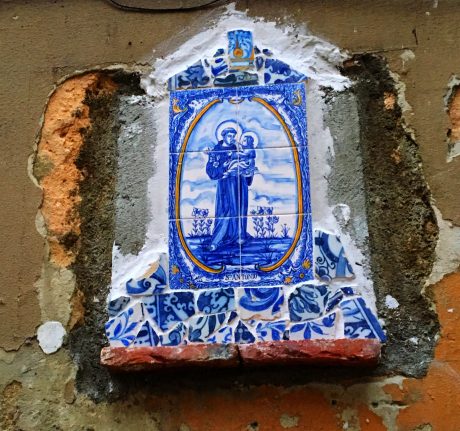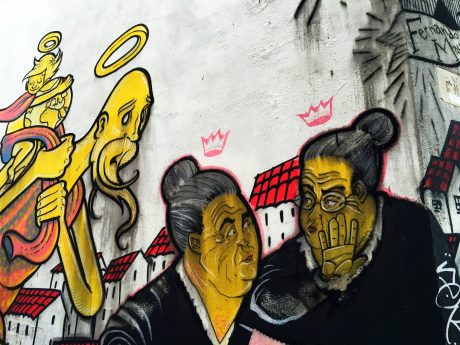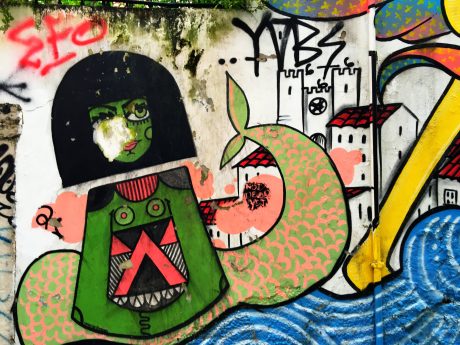 Thanks for following along on this Epic Europe Family Adventure. We're approaching the end… Lisbon represents our last destination. Please check back every now and then, though, as I'll be continuing to write, and publish adventure blog posts once I return to my beloved frontier of Wyoming.
If you're interested, here are all of my previous blog posts about this Epic Europe Family Adventure so far:
• From Wyoming to the British Museum and Shakespeare's The Taming of the Shrew in 24 hours
• Big Ben, River Thames, Tower of London and Ice Cream
• Munich Day 1: Glockenspiel, Deutsches Museum, Englischer Garten and Beirgarten
• Biking in the Bavarian Alps, Exploring Neuschwanstein Castle, Epic Beer & Food
• Lauterbrunnen, Switzerland: The Land of Many Fountains, Cows with Bells and Epic Food
• Zermatt: Gornergrat Glacier, the Matterhorn, Mountain Lakes and More Delicious Food
• Moneglia, Italy: The Cinque Terre, Epic Focaccia, Pizza, Pesto, Wine, Olives, and Gelato
• Leaning Tower of Pisa, Michelangelo's David, Cathedral of Florence, and Giotto's Bell Tower.
• Rome, Part I: Ponte Sant 'Angelo, St. Peter's Basilica, Piazza Navona & More
• Rome, Pt. 2: Capuchin Crypt, Catacombs of Priscilla, and Ancient Underground Churches
• Rome, Pt. 3: The Pope, Vatican Museum, Sistine Chapel, Trevi Fountain, Pantheon, and a Date
• Rome, Pt. 4: The Colosseum, Roman Forum, Palatine Hill, and our Last Night in Rome
• Lagos, Portugal: Stunning Beaches, Kayaking Through Caves and Passageways – and R&R