Finally, after disembarking from our 7.5-hour, direct, redeye flight from Denver, we had feet on the ground in Iceland! The anticipation as we landed and walked to baggage claim was palpable. This epic trip had been in the works for several months and finally, we were here.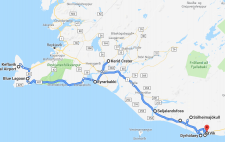 After fetching our rental car–a 4×4, which would be necessary for our epic and active itinerary–we found a cafe to snarf some Fish & Chips before driving for 20 minutes to the town of Grindavik. Why Grindavik? Well, trust me, for good reason. The Blue Lagoon is there. We were whipped from the travel, jet lag, and the time change, so nothing sounded better than soaking in Blue Lagoon's geothermal and therapeutic waters.
(During our trip planning, we read some criticisms of Blue Lagoon–specifically that it is expensive and touristy. And it is pricey, but everything in Iceland is pricey, and we knew to start our epic, 2-week adventure in Iceland with a soak in Blue Lagoon would hit the spot. For reference, the cost for the "comfort package," which includes a towel, a free beverage, a silica mud mask, runs about $55USD per person. We had reserved our 1pm soak time and tickets online, far in advance of our travels. I recommend this as their capacity fills up far in advance during peak tourism season.)
And there's a reason Blue Lagoon is considered "touristy." The secret is out that the Blue Lagoon is a must on any Iceland itinerary. The milky blue, mineral-rich waters are an inviting 102 degrees and are extra beautiful due to being nestled against the surrounding black lava fields.
One of the minerals enriching the waters is silica. We took advantage by applying silica mud mask to our faces, which apparently can do youthful things to one's skin. I don't know if I looked, or felt, more youthful after my soak, but I definitely felt relaxed and restored after soaking in the hot waters of Blue Lagoon.
We soaked almost three hours in the hot pools, and it was a perfect start to our Iceland adventure.
Next, we drove an easy hour or so to the small and charming fishing village of Eyrarbakki, where we enjoyed a simple dinner before retreating to our hotel in Eyrarbakki and went to bed early. Our itinerary was ambitious and we wanted to be rested for our start the next morning.
Day 2 started with a stop at the Solvangur Icelandic Horse Center, a family-operated horse breeding farm where people can look at the Icelandic horses or sign up for horseback riding. We spent a little time looking at the horses, and then we stopped at the farm's Stable Cafe, where Jerry and I enjoyed an Americano and the boys were treated to gourmet chocolate cake for breakfast.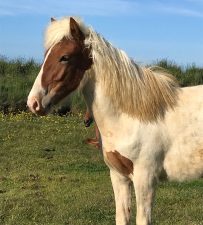 After the leisure start to the morning, we headed for our first stop, Kerid Crater. Once at Selfoss, we'd take a 15-minute spur trip on Highway 35 to Kerid Crater. Kerið is a volcanic crater lake located in the Grímsnes area in south Iceland. It is believed that Kerid was once a cone volcano that erupted, depleted all its magma, and then collapsed under the magma's weight. (I had read about the Kerid Crater in Atlas Obscura long before we chose to visit Iceland, so it was extra neat to be able to see the crater.)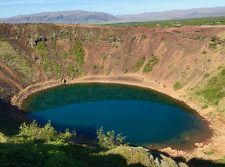 We had to pay 400 Icelandic Krona per person ($3.25USD) to tour and walk around the crater, but it was well worth it. We walked about the crater's rim, and also we walked around the sapphire blue-colored lake that fills the bottom of the volcano. The crater's walls are composed of rare red volcanic rock, and the colors of the rock, combined with vegetation, give the walls of the craters a rainbow palette.
After exploring Kerid Crater, we headed up the road, Route 1, filled with anticipation. Next up would be our first of many waterfall stops: Seljalandsfoss.
Seljalandsfoss is stunning as it tumbles almost 200 feet. The waterfall is part of the Seljalands River that has its origin in the volcano glacier Eyjafjallajökull. One of the unique things about viewing Seljalandsfoss is there's a path behind the waterfall, allowing for a unique behind-the-waterfall vantage. Of course, we took the path. Looking out from behind the waterfall, and getting sprayed by the waters of Seljalandsfoss, provided an invigorating experience.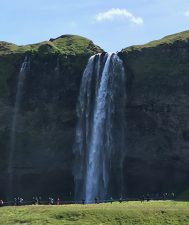 Video of Seljalandsfoss in Iceland – from behind the Mist

After leaving Seljalandsfoss, we took in views of several other waterfalls we could see tumbling over the lush green ridge tops to our left. To our right were intermittent views of the Atlantic Ocean.
One thing we were already falling in love with were the fields of purple flowers. The purple flower I'm talking about is Nootka lupine, or Alaskan Lupine. The flower was everywhere, providing fields of purple in the foreground.
There are fields of the knee-high, non-native purple and white flower throughout Iceland. The lupine is not native to Iceland and is considered by many Icelanders to be invasive. The flower was imported from North America in 1945 to combat erosion, speed up land reclamation and help with reforestation. The lupine took off and many would say it has taken over much of Iceland, including areas it's not desired and can be detrimental to some of the country's vegetation.
The flower's presence, although loved by most tourists, is controversial in Iceland due to the damage it does when it spreads to areas where the flower is detrimental. But more on that later. For now, let's just say the fields of purple in the foreground of voluminous waterfalls took my breath away.
Next up: Skógafoss. Skógafoss is a waterfall that tumbles about 200 feet. The waterfall is situated on the Skógá River in the south of Iceland at the cliffs of the former coastline. Often a rainbow, or two or three, can be spied in the mists of the huge waterfall.
Standing at the base of the falls took my breath away. The sheer volume of water tumbling before us was humbling. Words fall short in the presence of such natural wonder. Jerry and the boys and I stood at the waterfall's base and said nothing as we watched its power.
We were happy to discover that the price of a short uphill hike was physical and not financial. 527 steps to be exact. We took the uphill hike to the waterfall's brink, and I can tell you, it's worth the effort to get the brink view of the waterfall.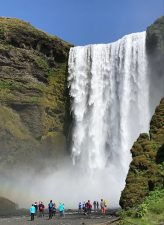 Video of Skogafoss

Legend has it that behind the Skogafoss waterfall is a chest filled with gold and treasures. The story goes that Þrasi Þórólfsson, the Viking Settler at Skógar around 900, hid the chest and it was said that the first man who went to the waterfall "will find great treasures." I'm telling you, Skógafoss waterfall is a treasure in itself!
After stopping to take photos of some more beautiful waterfalls and cascading rivers, we took a spur trip down a gravel road when I noticed the word, glacier, on the sign.
We drove a few miles up the bumpy gravel road to be rewarded with what would be our first close-up view of a glacier in Iceland. Sólheimajökull is a glacier situated between the volcanoes Katla and Eyjafjallajökull, and is part of the larger Mýrdalsjökull glacier.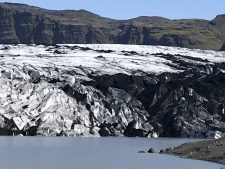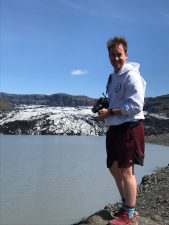 Iceland, especially given its name, is thought by many to be a cold, white and ice-covered landscape. It was surprising to us, as it is to many who visit Iceland for the first time, to see that in fact, the country is largely green and lush.
However, 11% of Iceland is covered by glaciers, and its main ice cap, Vatnajökull, which is the largest glacier in all of Europe, covers 8% of Iceland, occupies 3,100 square miles, and is the source of at least 30 outlet glaciers.
Next up for us was Dyrholaey. Dyrhólaey, formerly known by seamen as Cape Portland, is a 400-foot-high promontory located on the south coast of Iceland, not far from the village Vík. It was formerly an island of volcanic origin.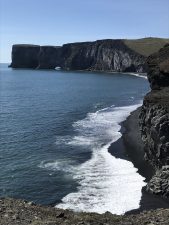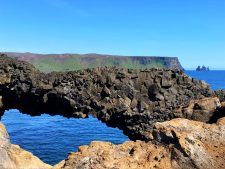 Video of Dyrholaey area:

After Dyrholaey, we headed to Reynisfjara Beach, which would be our last "To Do" for our Day 2 in Iceland.
Reynisfjara is a world-famous black sand beach that is With its enormous basalt stacks and its stunning setting against the Atlantic Ocean, Reynisfjara is spectacular! (Don't just take my word for it, though. National Geographic voted Reynisfjara as one of the Top 10 non-tropical beaches to visit on the planet.)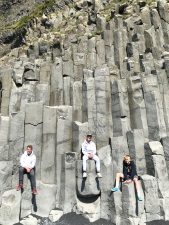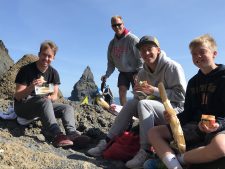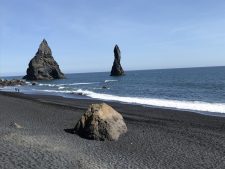 Because Reynisfjara Beach was our last stop for the day, we lingered there for 3 hours. Upon arriving, the boys ran for the vertical basalt columns and proceeded to climb them and find a perch on which to sit. After that, we wandered the black sand beach and climbed to the top of a huge boulder where we had a great picnic and Jerry and I shared some wine. We had great views of the Reynisdrangar Sea Cliffs, which stand under the Reynisfjall Mountain. The towering, spiky basalt sea stacks jut out from the ocean and are 217 feet tall. After our picnic and exploration, the boys and I all fell asleep on the beach while Jerry hunted for interesting rocks and other items in the sands. It was our first of many epic naps in Iceland. 🙂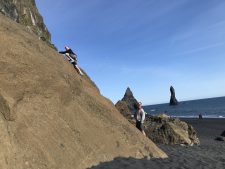 We overnighted in the quaint seafront village of Vík í Mýrdal, a small fishing village on the South Coast of Iceland.
It was a great first full day in Iceland!
For the rest of the Iceland story, and for additional Iceland-related blog posts:
Iceland, Part 2 of 7: Iceland, Part 2 of 7: Katla Ice Cave, Vatnajökull, Skaftafell, Svartifoss and Svínafelsjökull Glacier
Iceland, Part 3 of 7: Climbing Fjallsjokul, Jökulsárlón Glacier Lagoon, Diamond Beach, Lítanesfoss, Hengifoss and Seydisfjordur
Iceland, Part 4 of 7: Studlagil Canyon, Dettifoss, Viti Crater, Hverfjall Crater, Lake Myvatn and Godafoss
Iceland, Part 5 of 7: Hiking in Landmannalaugar: Climbing Brennesteinsalda and Blahnjukur Volcanos
Iceland, Part 6 of 7: Secret Solstice Music Festival!
Iceland, Part 7 of 7: Our Epic Grand Finale–Climbing Snaefellsjokull Volcano and Glacier