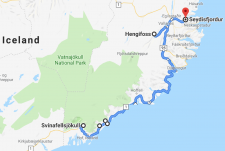 On our epic family trips, we keep a family journal. Every evening, all five of us reflect on the day and its adventures and write our thoughts in the journal. Last night I had asked each of the boys to write down one word they would use to describe Iceland so far.
Here are our words: Otherworldly, Unbelievable, Unique, Mesmerizing and Breathtaking.
Today's highlight was a guided, half-day hike on a glacier, and to say we were excited was an understatement.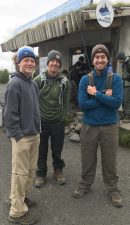 After getting crampons, a helmet, harness and ice ax, we took a short bus ride to the start of our adventure on the glacier, Fjallsjokull. Fjallsjokull, which means falling glacier, is an outlet glacier from the massive Vatnajokull icecap.
Before we started our glacier hike, our guide, "Biscuit," shared that he predicts Fjallsjokull glacier to be melted and gone within 15-30 years. Gulp. The thought of that was staggering–and depressing. I suddenly felt even more blessed to be able to explore the glacier.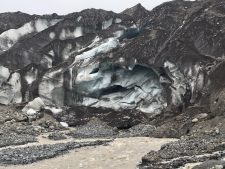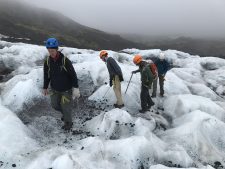 Our guide ("Biscuit") led us up a dramatically carved landscape of ancient ice. As we made our way climbing up through the glacier's contours at times we could see lava chunks with moss growing on them littered across the ice.
The higher we climbed, the more rigid and carved the glacier was. And also, the higher we hiked, the more blue ice we spied.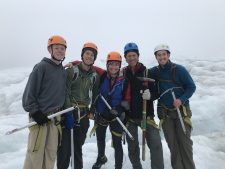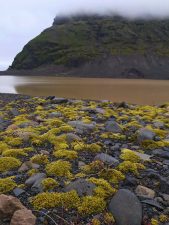 Video of us hiking up Fjallsjokull Glacier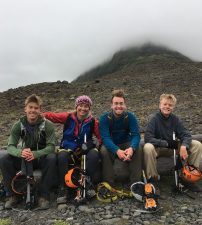 It was an extraordinary, and humbling, experience to be on this glacier that is melting and will not be here for much longer.
After the glacier hike, we were exhilarated but also tired. All that remained for the day was to drive to our next destination, where'd we get a little downtime to enjoy two things we couldn't wait to see–Jökulsárlón Glacier Lagoon and Diamond Beach. 
After a good night's rest, we headed to Jökulsárlón, also called Glacier's River Lagoon. Jökulsárlón borders Vatnajökull National Park and is breathtakingly beautiful. The glacier lake is filled with floating icebergs and provides close-up views of Breiðamerkurjökull Glacier.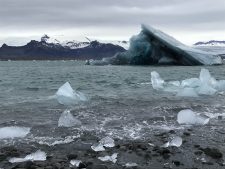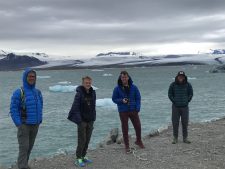 It was mesmerizing to stand so close to floating glacier chunks, and the ice chunks looked like diamonds against the dramatic black sand beach.
Video of Jökulsárlón Glacier Lagoon

The glacier lagoon flows through a short waterway into the Atlantic Ocean, leaving chunks of ice on a black sand beach, which is called Diamond Beach. We headed there next. Diamond Beach is a strip of black sand belonging to the greater Breiðamerkursandur glacial plain, located by Jökulsárlón glacier lagoon on the South Coast of Iceland. Here, the icebergs which fill Jökulsárlón glacier lagoon flow through to the Atlantic Ocean and wash up on shore. The ice chunks resemble diamonds and are particularly beautiful in their contrast against the black sand.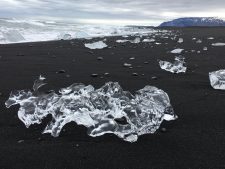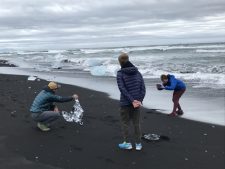 After our relaxing and enjoyable time in the glacier lagoon area, we continued our exploration of Iceland and continued driving about fours north, where we'd hike to Litlanesfoss and Hengifoss waterfalls.
When we got to the trailhead, we learned that much of the hiking trail was closed for repairs, but we were still able to hike about 1 mile uphill to get great views of both Litlanesfoss and Hengifoss.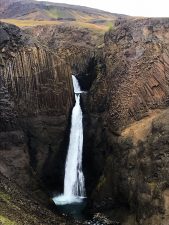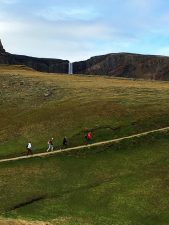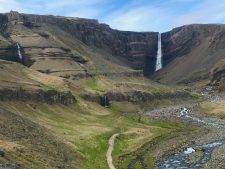 Hengifoss is the third highest waterfall in Iceland, 128 meters. It is located in Hengifossá in Fljótsdalshreppur, East Iceland. It is surrounded by basaltic strata with thin, red layers of clay between the basaltic layers.
After hiking and viewing the beautiful waterfalls, we continued to our next destination, the town of Seydisfjordur. During our trip planning, I had lobbied Jerry for a night in Seydisfjordur after seeing photos of the town and reading that many consider it one of Iceland's most charming towns. Photos I saw of the town persuaded me to want to visit there, and it didn't hurt that Seydisfjordur's website uses words like "charming, quirky, fun, funky and lovely" to describe the town.
We arrived at Seydisfjordur, and after dropping our boys off at our rented apartment, Jerry and I headed into the town's "main street," which is a rainbow boardwalk. We had a great happy hour at Café Lára El Grillo Bar. The bar is named after Lára, a local legend that lived in the house for decades. We enjoyed a great meal and some Icelandic beer. (Customers can choose between 25 Icelandic beers as well as their own local beers.)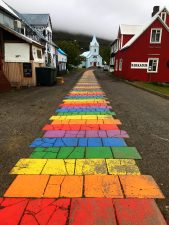 For the rest of the Iceland story, and for additional Iceland-related blog posts:
Iceland or Bust
Iceland, Part 1 of 7: Blue Lagoon, Kerid Crater, Seljalandsfoss, Sólheimajökull Glacier, Skogafoss and  Reynisfjara Beach
Iceland, Part 2 of 7: Iceland, Part 2 of 7: Katla Ice Cave, Vatnajökull, Skaftafell, Svartifoss and Svínafelsjökull Glacier
Iceland, Part 4 of 7: Studlagil Canyon, Dettifoss, Viti Crater, Hverfjall Crater, Lake Myvatn and Godafoss
Iceland, Part 5 of 7: Hiking in Landmannalaugar: Climbing Brennesteinsalda and Blahnjukur Volcanos
Iceland, Part 6 of 7: Secret Solstice Music Festival!
Iceland, Part 7 of 7: Our Epic Grand Finale–Climbing Snaefellsjokull Volcano and Glacier