We departed Four Corners and headed toward southeastern Utah. Our next destination was a place called Goosenecks State Park.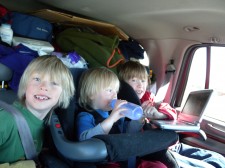 I had seen images of the area while researching content for the new sites we're developing that promote Zion National Park, and Grand Canyon National Park. It wasn't far out of the way and would link Four Corners and Monument Valley for us before we'd head toward our main destination, the Grand Canyon.
After winding through some desolate but interesting country, we came to the end of the road, where an overlook was situated along with a couple of picnic tables and some short railings.
We parked and headed to see why the road ended so abruptly. The sight was stunning. There in front of us the San Juan River carves its way around two big interesting "knobs". It is a striking sight because it's so unusual and it's all natural. We enjoyed it all to ourselves as we had a picnic at the table overlooking it.
Here are a couple of video clips. The first is the typical roadtrip video… kids bored in back seat, driver chewing sunflower seeds, good music and "open road" in all directions. The second shows the spectacular Goosenecks formation.
Next up was Monument Valley. We wanted to see what all the fuss is about. Monument Valley has been described as one of the most unique scenic drives in all of America. It's often referred to as "otherworldly."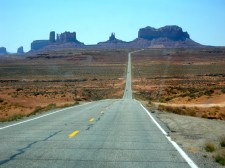 It was recommended we drive it southbound to see the iconic, famous view of the scenic drive en route to Kayenta, UT. This made sense for us given we were coming from Goosenecks State Park and headed to the Grand Canyon.