This is POST 22 of my "fitness journey." For backstory, see Post 1,
Post 2, Post 3, Post 4, Post 5, Post 6, Post 7,Post 8, Post 9, Post 10, Post 11, Post 12Post 13,Post 14, Post 15, Post 16, and Post 17,Post 18, Post 19,Post 20,and Post 21.
If you've been following my fitness blogging, you'll recall one of my goals is to be able to do 20 pull-ups.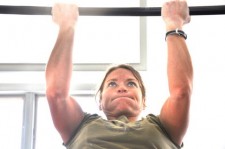 I tested this morning at Elemental Gym, and did 19. I'm excited. To be honest, I'm ecstatic! However, what this means, and I'm sure my coach/trainer, Steve Bechtel, will agree, is that I've got more work to do. Not quite there yet.
I'm also preparing for a 25k skate ski race in West Yellowstone coming up on March 6, and am registered for the Tahoe 50k Trail Run in July, so I have plenty of reasons to keep up the fitness, in addition to getting that 20th pull-up!
The photo with this post was taken by Mei Ratz, of Lander, during one of my recent training sessions. Mei is a phenomenal photographer and I encourage you to check out her site!
Elemental Gym has a fantastic gym, some terrific programs and classes that will help you achieve better fitness. And, I might add, some great personal trainers: Steve Bechtel, Ellen Bechtel, Jagoe Reid, Sophie Mosemann and Lee Brown.