Today I arrived to Washington's Olympic Peninsula region. After flying in two puddle jumpers and one big airplane I find myself in beautiful new country.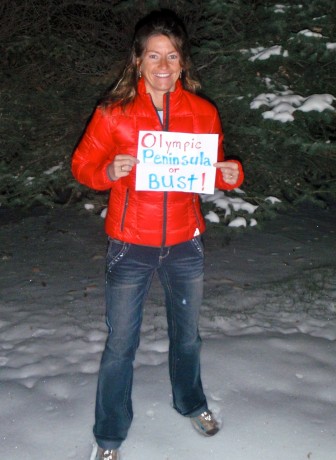 I'm making the trip to be a keynote presenter at the Olympic Peninsula Tourism Summit that is Wed., Oct. 14.
During my time here, I will explore much of Olympic National Park, including Hurricane Ridge, Lake Crescent, Hoh Hoh Rain Forest and Third Beach. I will also spend some time in Forks, WA, the famed setting for the first of the Twilight book series.
The Olympic Peninsula receives something like 150 inches of rain per year. We get the same amount of… snow. My home state of Wyoming enjoys 325 days of sunshine every year, and receives only a trace of rain, about 13 inches of rain per year. I've got rain gear, which I've never had the opportunity to wear, packed.
One of the most interesting things about my trip is the culinary experience I will find myself immersed in.
The Tourism Summit this year is focusing on niche marketing and how social media can enhance business and economic opportunities. The Olympic Peninsula Loop Culinary Tourism Association will be making its debut at the conference. To introduce and highlight Olympic Coastal Cuisine, the luncheon will be presented by 11 local chefs who will showcase foods that are grown, foraged, caught and made on the Olympic Peninsula.
Following is what this Wyoming steak-and-potatoes-country-girl will be eating on Wednesday:

APPETIZERS
Dungeness Crab and Oyster mushroom Agnolotti with Mascarpone cheese finished with a Tarragon Beurre Blanc, by Chef Patrick Norris of Lake Quinault Lodge
Locally harvested Mediterranean mussels with a mirepoix of locally-grown celery, carrots and onions, Pernod and organic cream, by Chef Gabriel Schuenemann of Sequim's Alderwood Bistro
Classic local manila clams steamed in white wine with herbs and garlic, by Chef Tim Tocatlian of Port Townsend's T's Restaurant
SOUP COURSE
Roosevelt Elk Berry Soup, by Chef and Association Vice President Jess Owen of the Ocean Crest Resort in Moclips
MAIN COURSE
Fresh local salmon, caught and prepared according to tribal custom, will be provided by the Jamestown S'Klallam Tribe and L Bar L Catering
Northwest Dungeness crab cakes with roasted pepper coulis, basil aioli and chive oil, and locally foraged Chanterelle mushroom and truffle risotto (Both dishes by Chef Dan Ratigan of the Resort at Port Ludlow)
Roasted Ozette potatoes and Chanterelle mushrooms, by Port Angeles' Bella Italia
Port Townsend's Pane d'Amore Artisan Bakery will provide a selection of rustic breads.
DESSERT
Local Blackberry Pavlovas with Mt. Townsend Fromage Blanc Parsnips 'Foster' Upside Down Cakes
Wow. This small town girl who hails from the frontier of Wyoming –- beef country — is about to have her taste buds shocked and delighted. I can't wait.