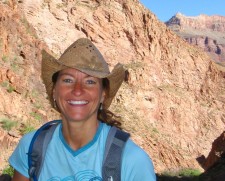 The Grand Canyon is considered one of the Seven Natural Wonders of the World. After having traveled by foot from one rim to the depths of the canyon across the Colorado River to the other rim, and then back again, I can tell you, from intimate experience, that this claim to fame is merited.
The 277-mile-long canyon is carved by the Colorado River and is over a mile deep. As of Friday at 1 p.m., I checked off a major life list item, hiking Rim-to-Rim-to-Rim of the Grand Canyon in one day. Yeehaw!
My husband, Jerry, and I had on two previous occasions (in 1999 and 2009) hiked from the South Rim to the Colorado River via the South Kaibab Trail, to Phantom Ranch and then back up to the South Rim via the Bright Angel Trail in a day. It is no walk in the park. It's an epic hiking experience that allows hikers to test their physical abilities while experiencing the interior of the fantastic abyss that is the Grand Canyon. It has to be one of the most popular and difficult day hikes in the world.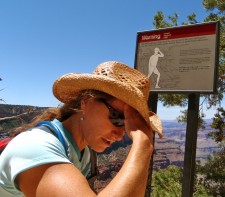 BUCKET LIST ITEM:
During the last one of these hikes, in April 2009, I etched in my mind that I might want to try the Rim-to-Rim-to-Rim sometime. The Rim-to-Rim, which is pretty impressive in its own right, involves hiking from either the South Rim, to the river, and up to the North Rim, or vice versa. It's no small feat. However, you have to bother with logistics of arranging for a shuttle or some other way to transport you back to the rim at which you started. What a hassle, right? Why not just double it and end up on the rim you started on?
Many ultra runners and other people who are in exceptional physical shape have done the Rim-to-Rim-to-Rim. In fact, many are undertaking the effort as I write this.
One thing I feel compelled to mention is that this is not for the faint of heart. A Rim-to-Rim-to-Rim should only be considered by those who are in exceptional fitness. It's also critical when deciding whether to embark on this enduring adventure to realize that you will be responsible for yourself. Even though I had a hardcore trail companion with me who is part adventure athlete, veteran trail expert and editor of Backpacker Magazine, there is no way I could place my burden(s) on my hiking partner, or anyone else. Simply put:  You don't enter the canyon and begin an effort like this unless you're confident you can get yourself in and out on our own. Just sayin'.
The Rim-to-Rim-to-Rim has been occupying my dreams since I first put it there a little over a year ago. I've spent the last 13 months losing fat and weight and getting myself in the best shape of my life. Part of the reason for the added effort was so I would be ready if/when a Rim-to-Rim-to-Rim opportunity would present itself.

OPPORTUNITY KNOCKS
That opportunity came when friend and colleague Jon Dorn, editor-in-chief of Backpacker Magazine, left me a message eight days ago that said "Can you call me? It's urgent."
To my pleasant surprise, he was going to be at the Grand Canyon for some meetings and had a "spot" for me if I still wanted to give the Rim-to-Rim-to-Rim a go. My husband, Jerry, whose support for my adventures and fitness endeavors is significant, was excited and helped me find a way to say yes to Jon's invitation.
So, Thursday, May 20, at 1:30 p.m., we were delivered by park shuttle to the South Kaibab trailhead on the South Rim, and just like that we were off.
OUR ROUTE
Here's what we had cut out for us: Start at South Kaibab trailhead on South Rim, at 7,260′ elevation. Descend South Kaibab Trail, cross the Colorado River, pass through Phantom Ranch, situated at 2,480′, along Bright Angel Creek in Bright Angel Canyon to Cottonwood Campground, up the North Rim via the North Kaibab Trail, which is situated at 8,241′, turn around and repeat the same trails to Phantom Ranch. For the home stretch, we'd ascend the 10-mile Bright Angel Trail to the top of the South Rim, at 6,860′.
All told, we'd gain and lose about 23,200′ of elevation and travel 45 miles. In one push/one day. (By the way, it was to be 45 miles. But Jon's Garmin indicated in the end that we in fact hiked 46 miles. I'm not one to argue with Garmin, especially if its number is greater.:> Besides, I bet you'd get not a single argument from anyone who has hiked up the final three miles of the Bright Angel Trail when I proclaim this: It's longer than 3 miles! It has to be!)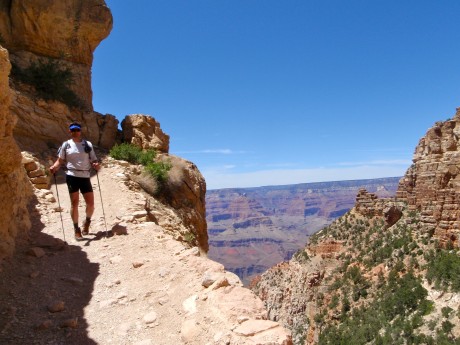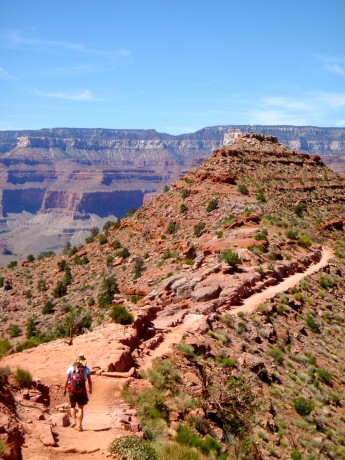 PHANTOM RANCH
Except for stopping for various video clips and photos, we descended the South Rim/South Kaibab pretty quickly, arriving to Phantom Ranch by 4:30 p.m. Phantom Ranch is listed on the U. S. National Register of Historic Places. The site where the ranch is now located was used by Native Americans; pit houses and a ceremonial kiva dating from about 1050 have been found there.
After our arrival, we quickly learned we arrived 20 minutes after the store had closed. There was brief torture as we smelled steaks marinating and cooking nearby. We re-filled our water, used the restroom and visited with four guys who had spent the day descending the North Rim and were setting up camp for the night at Phantom Ranch. (Note to self: "Reasonable" people experience the Grand Canyon by hiking down and then spending a night at Phantom Ranch before hiking back up. But also, make note of this: Phantom Ranch is one of the most popular destinations in the national park system; accommodations are often sold out for a year in advance.)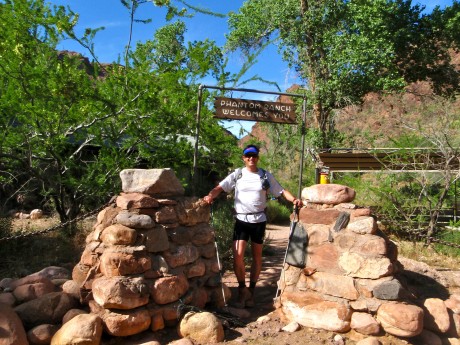 After about 30 minutes of rest and refueling at Phantom Ranch, we continued on. We still had a long night ahead of us, and to be exact, about 39 miles remaining. A mile or so into the continued hiking, we stopped briefly and Jon loaned me some duct tape to cover a pretty big hot spot that was developing on the ball of my right foot. With Jon's help, I tended to it, and we continued on our way.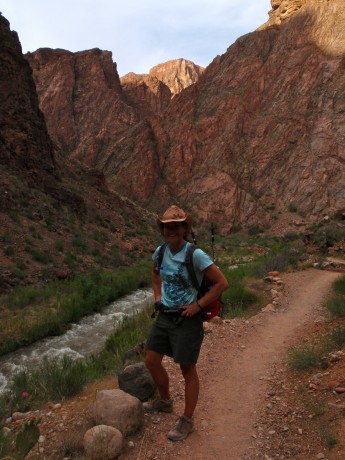 The next miles of trail were rolling and magnificent. The trail meandered in and out of Red Wall formations in Bright Angel Canyon, which is carved by a rushing, voluminous Bright Angel Creek. For a handful of miles beyond Phantom Ranch, we hiked alongside or within an earshot of the creek. A nice bonus was catching a glimpse of Ribbon Falls.
BLISTERS START CRASHING THE PARTY
Around mile 9, shortly before night was to fall, I had the rude realization that I had a new blister. I could feel, without a hot spot warning, that the inside of one of my smaller end toes had just broken. We stopped again and I removed my shoe to get a look-see. Not good. Sure enough the inside one of my end toes was completely torn and now had a flap of skin loose exposing red. I wrapped it with duct tape.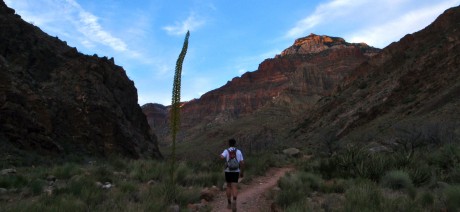 At this point, Jon, a veteran hiker, backpacker, cyclist and adventure racer (read: hardcore adventurer/athlete), looked at me and said something to the effect of: I know you don't want to hear this. But clinically speaking, I don't know how you can work through that/those. We still have 33 miles to go. We can turn around now and it's probably only 12 miles. I'll give you an out. Those are some blisters. If we continue to the North Rim and you have to bail, there are no services there.
Demoralized. The crux of the whole adventure had changed. At this rate, no longer would the challenge be the physical undertaking, but rather the physical undertaking with what would surely be completely damaged feet. As we sat on rocks on the side of the trail and I considered how to proceed, this is the reality I faced.
"I can't quit or turn back," I said. I didn't elaborate. But, I was suddenly nauseous and brimming with doubt. I was concerned if I would have the constitution necessary for such a colossal task given the circumstances. And yet, I was also thinking to myself that the disappointment of having to quit and not complete this, after getting this awesome opportunity, making the trip down here, and given the significance of it to me, would outweigh the torture of continuing. At that moment, I felt certain, quite certain I might add, that I could better handle the physical pain of continuing than the emotional pain of calling it quits.
"Let's go," I said. And to this, Jon said, "Okay."
FROG-STOMPING
And off we continued. Night began to fall. The last light on the inner canyon, combined with the sound of the creek rushing by were spectacular. A small stretch of trail took us through a swamp that was brimming with frogs. We could hear frogs loudly making their noises. In fact, I feel bad to admit this, but I stepped on a frog that was in the trail. Jon told me that I stepped on one. That made me feel bad and I watched the trail more closely after that!
Then, just like that, it was dark. Next, we arrived at Cottonwood Campground, where we used the restroom, filled our hydration packs and our bottles, and put on our headlamps.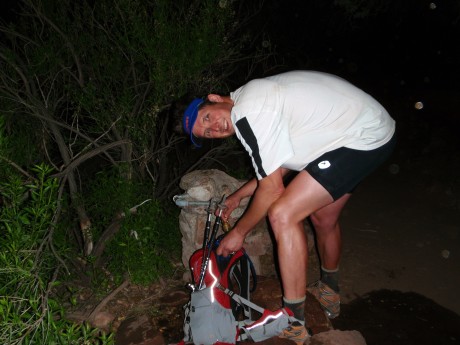 Night was upon us. This would be new territory for me. I'm not a night owl. Certainly I have never hiked during the night, let alone through it. I am a morning person who usually goes to bed around 9 or 10 p.m. With headlamps on, we started what would be a 7-mile ascent of the North Rim. We had our work cut out for us. We had the entire night before us, as well as the adventure's most significant work, a climb of hundreds of steep switchbacks totaling, on the way up, about seven miles and 5,000 feet of elevation gain. Same for the way down.
ROARING FALLS and HIKING ON THE EDGE OF THE GRAND CANYON, LITERALLY
Soon we were on a trail that was very exposed. Carved into the rock walls and the North Rim, the trail meanders along the Grand Canyon. Although it was pitch dark at this time, we could feel the void below to our right. Note to self: Do not get sleepy on the way down. There is no margin for error during the day, even less during the night.
Soon we heard a tremendous roar of water. It was Roaring Springs, a good-sized, steep waterfall. We had only a quarter moon, but it was enough to illuminate the entire gushing waterfall that was to our right. It lived up to its name as we heard it for a long time as we hiked. The white of its water glowed bright from the moon's reflection. It was a sight to behold.
Hiking at night was awesome. It was a unique experience for me and the temperatures were cooler. Combined, this provided a pleasant reprieve from the foot torture. Although my feet were both pretty slaughtered with blisters by this point, my mind was preoccupied by the adventure of hiking through the night, hiking literally "on the edge" of the Grand Canyon, hearing the roar of a waterfall and seeing stars shining bright overhead. Also, I'm just guessing, but I'm betting there is psychological benefit to ascending the North Rim in the dark, when you can only see the spot in front of you and not what must be an unrelenting, steep and seemingly-never ending trail.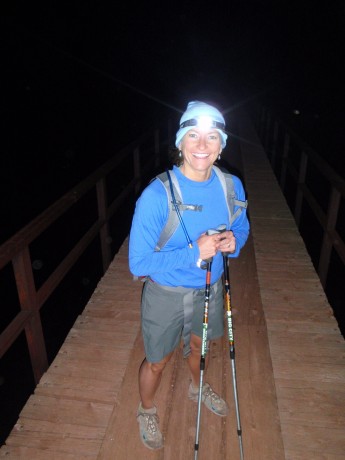 We often refer to Grand Canyon hiking as occurring on a "dusty trail." However, you don't realize just how dusty is it until you hike through it at night with a headlamp on. We were not exactly "kicking" up dust, and yet before me, between my eyes and the trail, was nothing but a cloud of dust particles. It was thick to the point of softening/blurring my field of view. Many times I stubbed a toe (usually a blistered one) on a rock that I didn't see due to the cloud of dust that stood between my eyes and my feet. When I turned around to see where Jon was, all I could see was this circular haze glowing with light formed by his headlamp. I know our skin was painted with red dirt and dust so that the trail was dusty was not news. But during the day when we have all the light we could ask for, the amount of dust that surrounds us is just not visible.

SCORPIONS, BATS AND OTHER NOCTURNAL CRITTERS
The most exciting thing was when I saw something in the trail move. Upon closer inspection, I saw it was a scorpion! Jon and I both marveled at it and snapped some photos before continuing.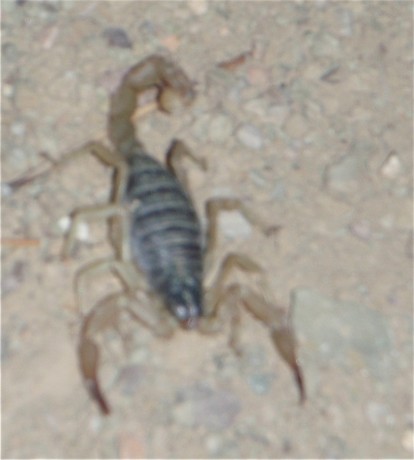 After that sighting, it seemed scorpions were everywhere. Small scorpions, in particular, were out en masse. In addition, bats fluttered by, one time causing Jon to leap into the air. They fluttered around us as we made our way up the North Rim. It was really quite surreal! I also took a photo of a creepy spider that had a "see through" body. I could see his little organs, even. Unfortunately my camera didn't do a good job of capturing all the life I saw at night. I guess you'll just have to take my word for it.
THERE ARE NO COFFEE CARTS IN THE GRAND CANYON'S DEPTHS
So, I'm not a night person. I also should mention I love coffee. Except during pregnancies, I don't remember the last time I went 24 hours without coffee. I was worried about getting drowsy and disoriented on the steep switchbacks leading to the North Rim. With about 2,000′ feet and two miles to go to the rim, I decided to decrease some of the weight in my pack by consuming a 5-Hour Energy I had packed along — sort of an ace up my sleeve, if you will. It worked! I practically ran up the final 2,000′ to the North Rim. Despite my blisters, I felt a rejuvenation and capitalized on it, for I knew it would likely be short-lived…
RIM-TO-RIM COMPLETED – HALFWAY THERE!
We arrived to the North Rim right at midnight. What a night so far! And I was still awake. And, most importantly, we had completed a Rim-to-Rim! How about that?! The North Rim was, well, quiet and without life. There is no civilization or development. It was pitch dark. All that awaited Jon and I was a trailhead sign, an interpretive display and some piles of snow. Not sure if I mentioned my pack was exceptionally heavy. Time to get out and eat the watermelon and quaff the Pabst Blue Ribbon I had hauled. It was awesome!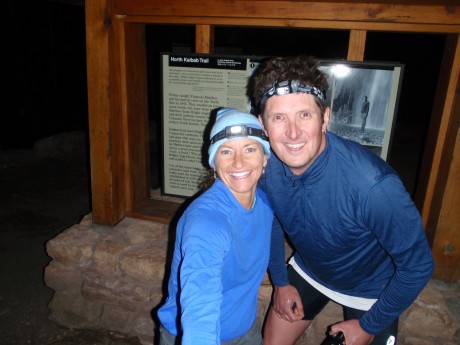 We took a quick seat by the sign. We were now at just under 8,300′ elevation, and it was a little cold and windy. After putting on another layer, posing for a quick photo and capturing a short video, we headed back down.
At this point, I was eager to use the Leki hiking poles Jon offered me for the adventure. While I hiked unexpectedly strong up the final push to the North Rim, descending — with each foot sliding on the rugged steep decline — would almost certainly extend the blister damage to my feet with each step. As a result, the descent would be slow going for me. (Note: Hiking poles are the bomb.)
Jon quaffed a Red Bull and was on his way. I told him to go ahead. He is 6'6″ (with super long legs — I'm guessing an inseam of about 50″?) Anyway, I knew I'd be slower going down than up due to the foot damage and sliding that would occur, so I encouraged Jon to crank it and go ahead at his desired pace.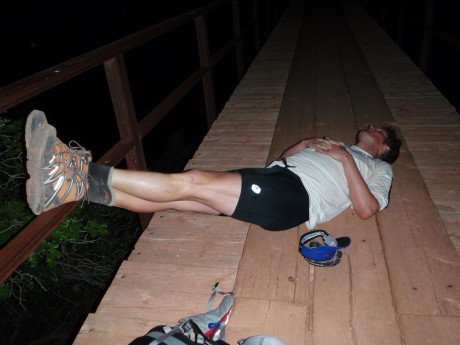 STAR GAZING
Jon would hike ahead and then stop briefly to lie on his back, turn his head lamp off, and gaze at the black sky that was filled with diamond-bright stars and soak in the magnificent quiet while I caught up. My feet hurt and at this point it was truly a "march" of sorts for me. I would get in a rhythm and didn't stop often, for fear of not getting started again. I am grateful, though, for one time in particular, on a bridge on the way down from the North Rim, when Jon said "Turn your light off. You have to. Just for a minute." Then, the next couple of minutes of star-gazing in the depths of the Grand Canyon marked one of the fondest of all my mini experiences along the way of our Rim-to-Rim-to-Rim. (Thank you, Jon, for insisting that I stop just for a minute!)
Soon, we were at Cottonwood Campground. Still hiking in the dark, we could start to hear Bright Angel Creek in the vicinity and I was encouraged by the fact that a new day was about to arrive. After using the restroom and re-filling our hydration packs once again, we continued. At this point, after hammering my feet for what were 7 miles of steep, rugged, sliding downhill steps, I was looking forward to anything that was not downhill. I had to do some extra soul searching to get the gumption to keep a good attitude during the next 6.5 miles to Phantom Ranch.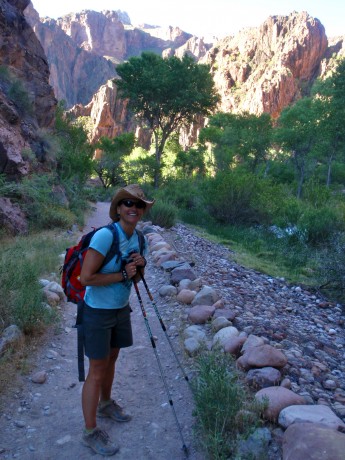 SUFFERING, BUT IN A SPECTACULAR PLACE
I took a couple of deep breaths and took in my surroundings… where we'd just come from, and to the distant South Rim ahead, which marked our destination. It occurred to me, at that moment of first light and while looking at the distant South Rim, that we were now moving toward our destination. We had turned the corner so to speak. That realization helped provide energy in my step, and I was on my way.
You know, this would not be an honest post if I didn't at this point mention that my blisters were absolutely agonizing. There is just no other way to describe it. Each and every step was like walking on knives or sharp cactus. One can only imagine how many steps it takes to hike the Rim-to-Rim-Rim. For approximately the last 34 miles of the epic hike, each step was agonizing. While I mentioned the blisters on occasion, including in the video clip included near the bottom of this post, I was careful not to complain. I did not want to ruin my experience, and very importantly, I did not want to negatively impact my friend's experience. Fortunately I determined early on, on the verge of tears and a prospective tantrum that would have featured a bunch of cuss words, that these actions would not be productive, and that they would in fact make me more miserable.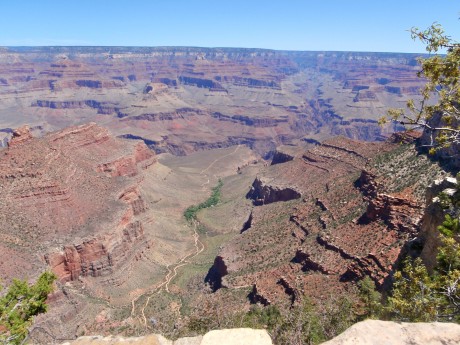 So, instead, I looked around at the magnificence of the place. I did this, constantly, and throughout my hike, from the onset of the first blister, and it worked miracles for me. The fact that I could see, let alone experience, a place that is so grand in scale and in beauty, well, I felt lucky. It is the Grand Canyon and what it holds within its depths that somehow gave me what it was I needed to have a great experience and complete my goal, despite my mangled feet. I also drew inspiration from thoughts of my family and friends. Thinking about the less fortunate, such as Bhutanese refugees, or anyone who is disabled, also spurred me into action and immediately removed the urge to pout.
Okay, Phantom Ranch arrived — or rather, I arrived. Finally. Jon was catching a cat nap near the canteen. I used the restroom, woke him up with a song (let's see if his memory is the same as mine), and then we filled our water, snarfed a Slim Jim, which was just the load of salt we each were craving. (Make a note to pack one Slim Jim for your Rim-to-Rim-to-Rim. It packs a lot of salt and you'll thank me for this important recommendation.)
FOOD AND WATER
Some important words about food and properly fueling. I have had experiences with 50-ks and other trail running events, long day hikes and backpacking trips that require disciplined hydration and fueling. For this epic adventure, I'd be hiking in a hot, rugged environment that would tax my muscles and internal systems for almost 24 hours. Fueling and keeping hydrated were going to be critical for my success. Especially once the blisters prevailed, I focused hard on my eating and drinking. That, after all, was something I could control. And I would be diligent and well-fueled even if my blisters crippled me.
I figure I consumed about 564 ounces of water during the effort and snarfed approximately 14 different kinds of energy bars. In addition, I ate a Slim Jim, about eight packets of Gu, several Clif Bloks, Milk Duds and an apple. I knew from what the experts say, and from past experience, that I needed to stay ahead of the game on food and water. It gets really challenging to eat when you don't feel like eating. But I realized almost immediate benefits when I consumed a half of a bar here, or a packet of Gu there.
APPETIZERS? YOU BET
And wait, I can't forget to mention that Jon surprised me with appetizers at night fall: Jalapeno-stuffed olives and marinated green beans. Seriously! Even though I could only handle two or three without my lips blowing up in flames, they were to die for. He also shared some peanut butter pretzels, which hit the spot, and another of my favorites, corn nuts. Near the end of the hike, as I made my way like an ant on the final march up the huge wall under the South Rim, I found that putting a handful of Skittles into my mouth was extremely delightful — and helpful.
Next up: The End. But not before we ascended the Bright Angel Trail to the South Rim.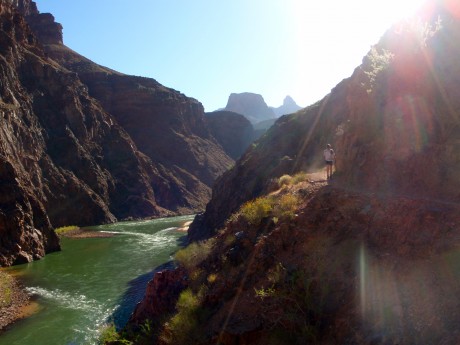 THE HOME STRETCH
Well, what can I say? The last several miles, particularly the final 4.5 miles from Indian Creek to the end, I hiked on attitude alone. Sure, my feet and legs moved. But given the terrible condition my feet were in by this late stage, it was sheer will that got me to the top of the South Rim. Well, that and a margarita-flavored sucker I had purchased on impulse at a convenience store while traveling the day before.
And let me not forget all the people I shared the trail with and the conversations we shared. I always take time to say hello to my fellow hikers and this day was no different. On this day we all had the Grand Canyon in common and I couldn't help but feel a kinship.
Regarding food, something funny happened to me about two miles from the finish. My stomach, although it felt fine and was not upset, was making noises that sounded like "alien communications." Seriously. Beeping and quiet screams. Loud enough that I'm sure others may have heard the sounds. I think my stomach was revolting — fortunately only in voice — about all of the various foods I fed it during the last day and night. I didn't blame it one bit, but it was a first time for me to hear what sounded like aliens communications coming from my midsection. It made me laugh. And at that point, anything funny or unusual had the potential to help propel me a bit further.
Finally, I arrived at the top of the South Rim. Yeehaw! I had completed the effort. What an amazing experience. This was an adventure of a life time. I will never forget any of it. Because of the blisters, I practiced "mind over matter" at a level I never before had been required to practice. And although I would not wish my blistered feet on anyone, mine was 50 times the accomplishment as a result. The fact I had to suck it up and somehow manage the bad news that were my feet helped me to grow in ways I hadn't set out to do. I have a better idea of my ability now when it comes to mind over matter.
The Grand Canyon changes people. Certainly this grand experience I have shared with you here has changed me. And I'm better for it.
To wrap this too-long post up, at the start of this event, I had parked my car in the El Tovar parking lot. When I got to the top of the South Rim, the El Tovar was nowhere in sight. I asked someone where the El Tovar was. "About a 10- minute walk along the Rim there." It took me 60 minutes to hobble there.
During the hobbling to my car, a huge gust of wind came up and without warning, lifted my tried & true and well-worn cowboy hat off of my head. Given my agonizing feet, I didn't budge to save it or chase after it. It abruptly blew to the edge of the Rim and took flight into the Grand Canyon. How fitting, I thought. I hope some adventurous soul found/will find it and put it to good use. It was good to me.
(POSTSCRIPT: about one hour after finishing, I realized I must have lost some weight. It's common to burn 13,000-20,000 calories on a Rim-to-Rim-to-Rim effort that's done with no overnights. My wedding band was literally slipping off my finger. But then I ordered for the first time ever a "Baconator" from the Wendy's drive-thru in nearby Tusayan, and it suddenly fit again. An update regarding my feet: I went to an Urgent Care during my road trip the next day and got several blisters drained and cleaned, and went on antibiotics. I think I'll get to use 'em again! I've already speculated enough about what went wrong with my feet. I knew from experience that blisters might pose a problem for me but nothing to this extent. I had good used shoes on and tried various different pairs of highly-rated socks of all thicknesses. I was well hydrated. All I can figure is it had to do with starting the hike in high heat or possibly my pack was too heavy, what with the watermelon and 18-pack of PBR in it, and all.)
———–
Some ENTHUSIASTIC THANKS are now in order:
–Thank you to Jon Dorn, for providing me with the opportunity to achieve this "life list" adventure. He made a perfect trail companion.
–Thank you to my husband, Jerry, and our three sons, for supporting and loving me, and allowing me to embark on such adventures.
-Thank you to my parents and siblings and all of my friends for the support and love.
-Thank you to Steve Bechtel of Elemental Training Center, for helping get me to a high level of fitness.
–Thank you to Jackie Stockton, Mary Mandel, and others who helped provide childcare for our youngest son so I could log some additional training to prepare for this epic adventure.
–Thank you God.
–Thanks Leki, 5-Hour Energy, energy bars, Gu and Slim Jim.