My husband's uncle Gilbert is 82 years old. He has knee problems, glaucoma, and other aches and pains that commonly wreak havoc on people as they age.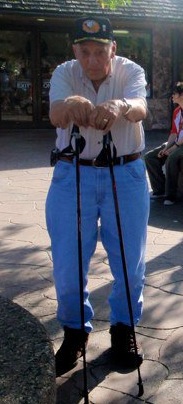 But he is no ordinary 82-year-old.
Every summer we travel to Omaha, my husband's home town, to visit his family. Omaha is home to the ever-expanding and awesome Henry Doorly Zoo.
Gilbert is a big fan and supporter of the zoo, and it's tradition for Uncle Gilbert to take us to there while we visit. It's a highlight of our trip, as the zoo provides hours of awe-inspiring sights, particularly for our three young sons.
We can hardly keep up with Uncle Gilbert, who with his trekking poles, despite the heat and humidity and hills, leads us all on our trek to explore the animals.
Seven days a week, Gilbert walks one mile, sometimes two. He does this at the zoo, or at Fontenelle Forest, or around one of Omaha's many lakes.
I'm calling this post the Gilbert Johnson challenge. I am challenging you to walk one mile every day.
Come on, you can do it. Extend your life and improve your quality of life by incorporating some exercise into every one of your days. One mile is only 10-30 minutes out of your day. Walk to the office or the grocery store.
Are you living or dying? Gilbert is living. We should too.
(Thanks, Uncle Gilbert, for your continued inspiration!)
Here are my many other fitness-related posts.