"In every walk with Nature one receives far more than he seeks." (John Muir)
The book, Last Child in the Woods, by Richard Louv, tells the story of today's staggering divide between children and the outdoors. It is not a new book. I think I first read it three years ago. It has since been expanded.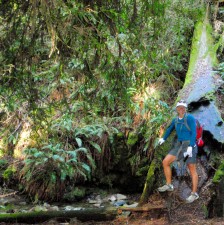 The book should be required reading for all parents – and heck, even for all educators.
Louv is a journalist and author of seven books about the connections between family, nature and community. In Last Child in the Woods, Louv links today's wired, "nature-deficit" generation with rises in obesity, attention disorders, and depression. This important book has essentially created a national conversation about the disconnection between children and nature, and its message has inspired "Leave No Child Inside" initiatives throughout the country.
As a very wired person, myself, and someone who adores the outdoors but also loves technology for its connectivity and enabling features, I'm very interested in nature-deficit disorder. Specifically, I'm interested in seeing that it doesn't penetrate my family and the upbringing of our three young sons.
I am so enriched by my own time spent outdoors and in nature, that I really think people are robbing their lives from being full when they don't allow for the experience of being outdoors. In my humble opinion, there is no more effective way to "create space for oneself" than to step outside. Sure, I like to go for miles outside, usually on foot. And, I'm lucky that I live on the frontier of Wyoming, where it's pretty easy to create space. Heck, there is nothing but space here. Big open, empty space.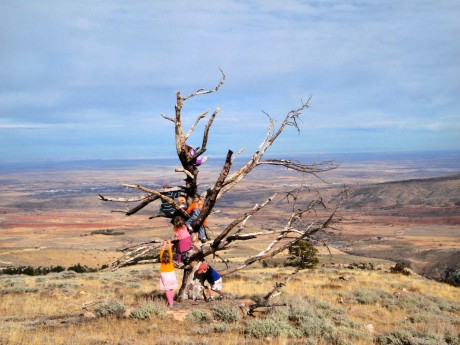 But a person needs only to step outside to find the opportunity for creating space and solitude. A bird's song, the sound of a creek flowing nearby, the smell of pine, or of rain on sagebrush, fresh air or the sun's warmth against the face. All of these things are effective in creating not only a physical, but emotional and mental space that facilitates a clearing of sorts, as well as rejuvenation, creativity, restoration and other outcomes. (Again, John Muir said it best: "Climb the mountains and get their good tidings. Nature's peace will flow into you as sunshine flows into trees. The winds will blow their own freshness into you, and the storms their energy, while cares will drop away from you like the leaves of Autumn.")
Some of my most successful business ideas came to me when I was exploring some trail. I most easily solve problems or find answers to big questions during solitude in nature. And, time shared outdoors with my family often feels richer than time shared indoors.
By the way, I am grateful to my parents, who got us out often for weekends in Yellowstone, picnics on the South Pass and in Sinks Canyon and on ski outings. All of this exposure to the outdoors at an early age had a big impact on me.
Articles like Solitude and Leadership, which does a compelling job of linking solitude to leadership, are intriguing. (Thanks to friend Dan Mezick for sharing the article with me).
I am a huge fan and evangelist for the National Outdoor Leadership School (NOLS), which is headquartered here in my town of Lander, WY. NOLS teaches leadership to thousands of young and old using nature and the outdoors as a platform. Courses are provided throughout the world.
As parents of three young sons, my husband, Jerry, and I do not take the outdoors and its impact on a person lightly. We want to give it to — and require it for — our sons, Wolf, 10, Hayden, 8, and Fin, 3.
Here are some of the moments that the outdoors have facilitated for our family: