(Written May 17, 2009)
As I write this I'm in a tent in Yosemite National Park. When we step outside we have views of a thick, green, healthy forest of big pine trees dotted with dogwood, and views above of Half Dome, a granite behemoth that towers over Curry Village. If that all isn't enough, we can hear a thunderous roaring waterfall… Yosemite Falls, as in the 2,425-feet-high tallest waterfall in North America, which is just down the way from us.
(Don't tell anyone, but our tent is insulated and heated… electricity included… I'm plugged in right now as a matter of fact. We'd prefer people think we roughed it, but the truth is we're not very bad off. Thanks to our friends at Delaware North, we have a comfy, warm refuge to retreat to following two days of hard hiking and exploring.)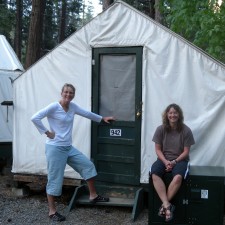 My dear friend, Sabrina Thoren, is on this trip with me. Yosemite National Park was a our Plan B. Our Plan A had been to take a backpacking trip to the remote Havasu Falls, in the Grand Canyon West region. We were going to experience a little adventure and soaking and relaxing as a belated celebration for our turning 40. (As it is Sabrina is 43 already, so this trip was long overdue) Havasu Falls is on both of our bucket lists. But one-and-a-half weeks ago, we got a call from the Havasupai Tribe informing us all access to the area was closed until June 1. Our flights into Las Vegas, long booked, were nonrefundable.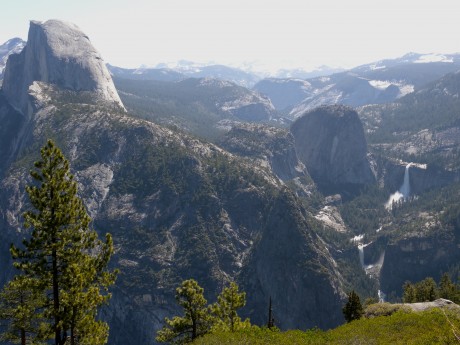 Ironically, at the time I was helping lead development of several national park sites, one of which is myYosemitePark.com. While working with the Yosemite-based writer, reviewing and compiling content, and selecting photos and videos to feature on the site, I was beyond inspired. Yosemite remained one of the national park wonders I had yet to visit.
At the same time, I was furiously looking for a Plan B based out of Las Vegas that would be "epic" and as memorable as Havasu Falls would have been. Zion and Grand Canyon, two epic alternatives, were not options since I only recently returned from great adventures in those regions.
Surfing the net one evening in bed four nights before our flights were to depart, after learning we could extend our flights to SFO for under a hundred bucks, I texted Sabrina (who lives next door) the following message: "How about Yosemite for a Plan B?" Swiftly I got a response. "Wow! Go for it. I'm in."
And just like that we had a Plan B. These two "country bumpkins" (small town Wyoming girls) would be going to California's Yosemite National Park. Turns out I'd get to see firsthand what all the fuss is about when it comes to Yosemite. And, most importantly, turns out our Plan B has turned out better than probably our Plan A would have been. If it was a waterfall we wanted, we'd get lots of them, and not just any waterfalls…
Yosemite National Park can best be described in one word: MAGNIFICENT. If I must use a few more words, they would be spectacular, giant waterfalls, phenomenal, giant granite formations, awesome, giant sequoias, magnificent and epic. This is truly an amazing place. Its beauty is astounding.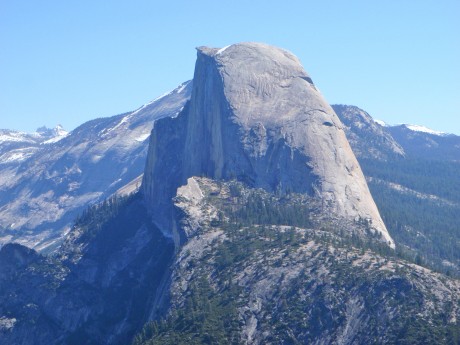 By the time we flew into San Francisco and got lost and took several extra hours to find our way to Yosemite National Park, we had taken to referring to ourselves "country bumpkins #1 and #2." The name was fitting, especially as we stumbled into Yosemite's Curry Village looking for Tent #942, long after dark.
After a restful night in the tent, we awoke to a clear sky, got coffee from the Coffee Corner and walked a couple of miles to Yosemite Lodge, where we would catch the Hiker Shuttle to Glacier Point. An admitted coffee junkie, who needs coffee when you have views like Yosemite's? We were greeted by Half Dome towering over a thick green forest surrounding our tent. Along our path to the shuttle pick-up, we enjoyed views of North America's tallest waterfall, Yosemite Falls. Yosemite Falls, at 2,425 feet tall, is a stunning sight and provides a backdrop for much of the Yosemite Village area.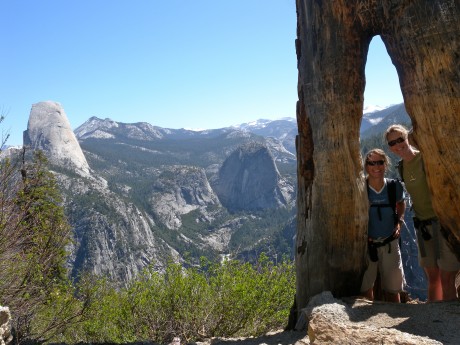 After an hour-long, educational shuttle trip, we were delivered to Glacier Point, where our jaws hung open at the view that greeted us. There before us the Yosemite Valley unfolded, complete with Half Dome towering and framing the left end of the view, and a roaring, white Nevada and Vernal Falls framing the right. Linking it all was a dense, green, healthy forest of endless trees. After being adequately stunned and inspired, we headed down the trail to Panorama Point and the Mist Trail.
It was a long hike, but a pretty reasonable one, as far as effort goes. After about two or three miles, you cross a small bridge over the under-promoted-but-still-beautiful Illoluette Falls, before continuing on for the main prizes, Nevada and Vernal Falls.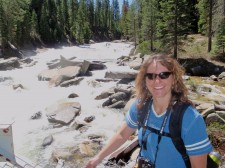 The 9-mile trail is mostly downhill, except for a mile-and-a-half stretch right before your first encounter with the impressive, roaring, huge Nevada Falls.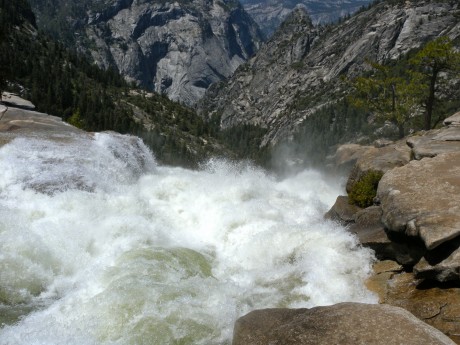 Check out this sampler of the scenery hikers enjoy:


Nevada Falls blew us away. The volume of water and its force and loud roar is overwhelming. Photos and videos don't do it justice, but certainly they do better than mere words. We could hear the roar of the waterfalls, and also feel them under foot as we approached on the trail. You really have to check these out firsthand. You will be better for it. I know the sights and sounds will remain with me forever, and I will recall them in the coming days and weeks and be inspired each time.
By the time we were done taking in Nevada Fall, we were overheated. It was about 85 degrees, if not more, and we had been hiking in the hot sun for a couple of hours.
We kept hearing people mention Mist Trail and Vernal Falls. As we made our way down the trail between Nevada and Vernal Falls, the people hiking up that we met on the trail were soaking wet – literally dripping wet, hair and all. We couldn't wait to see what the Mist Trail section would bring, as we were hot and looking forward to some relief and cooling off.
At Vernal Falls, people laid out sunning on the big slab of rock that is separated (thank goodness) from the river and waterfall's upper brink by a metal fence.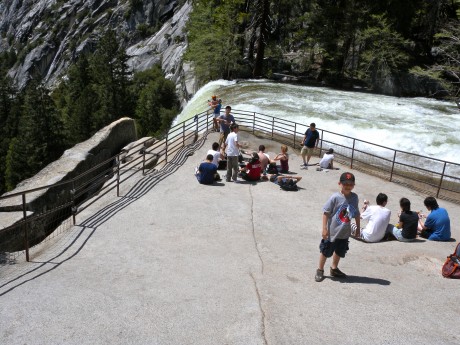 Boy, were we hot. Sabrina was getting a little tired of all the media capture and wanting to get "misted" like the upward hikers we were meeting on the trail. I was eager as well.
Soon after we finally got a great vantage of Vernal Falls and started descending a stone staircase-like trail that was being misted over by the nearby rush of Vernal Falls. The view and sound and mist of Vernal Falls was more than enough to satisfy, but throw in a rainbow cutting through the mist and this was a major thrill for us.

We packed all the gadgets and cameras away except for the one waterproof camera and off we went. Eager to get wet but (apparently) not too wet, Sabrina left me in the Mist and I lolly-gagged taking videos and pictures and enjoying both the awesome, cold, refreshing shower Vernal Falls provided me and the spectacular scene… a rushing waterfall, rainbow and mist spraying a cloud over the nearby trail and its visitors.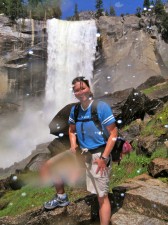 From there, we hiked another mile or two to the bottom, ending at Happy Isles, where a shuttle awaited, but we didn't take. (Much to Sabrina's regrets. I bribed her to walk the remaining flat mile to Curry Village and it only cost me a fudgecicle.)
It was a glorious day in God's country. Like so many of our national park wonders, Yosemite National Park gave and gave and gave. Our first day, and time, in Yosemite National Park was nothing short of epic. The sights were stunning, the sounds were exhilarating and the adventure was epic. It was a fulfilling and rewarding day in California's star national park.
We returned to our tent village, where we enjoyed a hot shower, great meal and restful night, where I'm currently entering this post. : >
Here is a compressed video clip that captures the hike from Glacier Point to Panorama Point to Mist Trail:

If interested, here's another post about Giant Sequoias, and other stunning Yosemite Park sights.
If you'd like to see more images from Yosemite National Park, here is a link to my Flickr Photostream of the whole Yosemite trip, including waterfalls, Half Dome, Yosemite Valley, Mariposa Grove (including the 27-foot-wide Grizzly Giant Sequoia).

Or, here's a link to another post that covers a handful of other stunning Yosemite sites.
BTW, when I'm not enjoying our national parks in the West, I'm most likely working on promoting them on behalf of Active Interest Media.
To get in on all fun, start here. We want to share tips and media about our favorite national park wonders in the West and help others have a vacation of a lifetime like my recent one in Yosemite.
P. S. Thank you very much to my good friend, Mike Lilygren (and his business partners, Cade Maestas and Brendon Weaver) of Bridge Outdoors, who outfitted me with enough portable power to charge an army's media gadgets.