So, our 7-year-old son, Hayden, lost one of his top front teeth last Tuesday.
That evening he wrote a note to the Tooth Fairy asking for some very specific toy. We explained to him that the Tooth Fairy isn't really big on delivering toys. That would be Santa Claus…
When he woke up the next morning, he ran into the kitchen to tell us the news. He had received three coins. And, "She left a note, but I can't read it because it's in cursive!"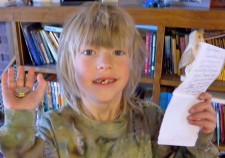 So my husband, Jerry, said he'd read it. Unfortunately he also had trouble reading it.
Hey, at least she showed. (And no, it wasn't an I. O. U.)
This all reminds me of an even more funny story about the Tooth Fairy. My older sister, Alicia, and her husband, Denny, have a boy named Royal. When he lost a tooth a few years back, he left a note for the Tooth Fairy asking for his money to be in foreign currency. Japanese yen, to be exact.