This is POST 6 of my "fitness journey" blogging. For backstory, see Post 1,
Post 2, Post 3, Post 4 and Post 5.]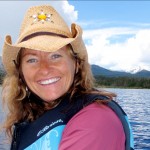 I woke up a little nervous this morning. You see, today marked my weigh-in, body-fat check and fitness testing at Elemental Gym. I've been working with personal trainer Steve Bechtel for 4 months now and every now and again I get weighed and tested.
Hiring a personal trainer and changing my ways has paid off big-time. During the initial 2.5 months, I lost 14 pounds and 7% body fat. Although I've continued working out hard and eating right during the last seven weeks, this morning I was uncertain if, or how much, weight and fat I lost. Add to that I was feeling bloated and heavy as I walked into the gym, where Steve greeted me with his testing game-face.
So imagine my delight when I learned I lost another 4 pounds and 2.2% of body fat. According to national body mass index standards, I'm now technically almost "very lean." : >

I also am happy to report that I lost an inch in my hips and waist. (This better have been the case since I declined lots of homemade pies, my mother-in-law's Swedish pancakes and Krispy Kremes during our trip to the Midwest a couple of weeks ago!)
We also performed a slew of other fitness testing exercises we did 7 weeks ago, and I was able to increase my reps in all categories.
For those of you following this blog and my pursuit of improved fitness, weight loss and energy gain, you know that I'm working myself out of a rut I had dug myself into for a period of four or more years. The results have been significant for only 4 months' time, but the work has been very hard.
When I hired Steve as my trainer he said their goal at Elemental Gym is to get athletes, and all people wanting to become more fit, out of their comfort zone. Boy, has he succeeded in that.
Hiring a personal trainer is a financial, emotional and physical investment. It costs money and time, is a lot of work and can be emotionally challenging. But given the results I'm enjoying, the biggest of which I feel better and have more energy, are well worth all of the aforementioned investments. I'm enjoying a great return on all of them.
So if it sounds like I'm providing props to Elemental Gym and my personal trainer, it's because I am. I wouldn't be where I am after just four months without Steve's tutelage and my investment and commitment.
Below is a graphic that shows how my comfort zone has expanded during the last four months. I'm now doing epic 20-mile day hikes in the mountains with no after effects or recovery needed, and have significantly more energy for our three young sons, my husband and my work. And, I have a Grand Teton expedition coming up on Aug. 1-4.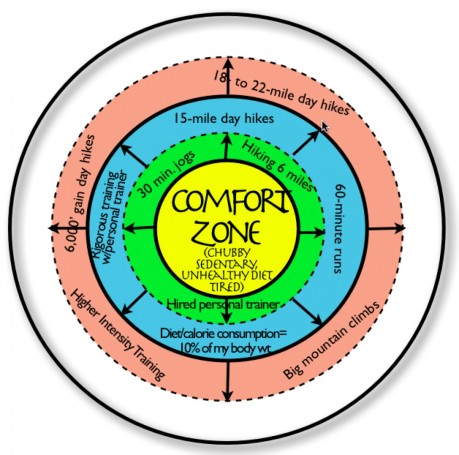 Elemental Gym has a fantastic gym, some terrific programs and classes that will help you achieve better fitness, and some great personal trainers, including Steve Bechtel, Ellen Bechtel, Jagoe Reid, and Sophie Moseman.