Well, our grand plans for a "Spring" Spring Break vacation were dampened right from the start.
Our family's plan was to go on a major road trip and camping adventure that would take us through 6 states in 7 days. Most of that would be in warmer, desert climes. Our destination was Grand Canyon, but this was a trip where truly the journey would be the trip.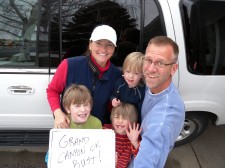 But boy, was it ever not shaping up that way. It was looking like we may not even get on the road.
We barely got out of dodge (Lander, WY) on Friday late afternoon after Jerry, a teacher, and our boys got out of school. We left in a blizzard in hopes of covering at least half of our original Day 1 miles so that we might just make it to the yurt in Ridgway State Park on April 3, which would mark the official start of our adventure.
It took us 7 hours to travel 250 miles but finally we made it safe and sound to Craig, Colorado. Finally! Our ears were ringing with Are we there yet??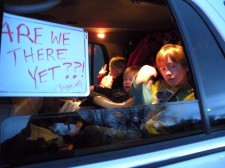 Needless to say we were all at wits end by the time we got there. It had been white knuckle winter driving conditions for Jerry, and we survived largely thanks to Apple (iPods) and a bottle. (No, not that kind of bottle, although it would have come in handy. : > I'm referring to a bottle of milk for our 2-year-old)
Arriving at the Best Western Deer Park Inn hit the spot. It's a nice, clean hotel with a pool and free wireless. You can tell the owners take a lot of pride. Management was out helping people clear the snow off their cars in the morning.
We arose and traveled south to Ridgway State Park located about 28 miles south of Montrose, CO, where our first "yurt" experience awaited us.
It was awesome! Nestled in some pine trees and covered in snow was our warm, cozy and very affordable retreat from the winter conditions.
Inside was a gas stove, bunk beds and two king fold-out futon-type beds, a table and chairs, microwave and refrigerator. In addition, outside was our own picnic table, bench, fire pit and grill.
The boys had fun playing games and on the bunk beds, while Jerry cooked dinner outside in the falling snow and I curled up by the stove to start some leisure reading on the Kindle. (Pillars of the Earth, a 960-page treasure I was hoping to put a good dent in on the trip)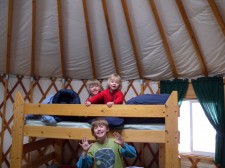 Night came and we all slept like babies as winter put a hush on our surroundings. We woke up to about 6 inches of fresh snow and headed south.
Here's a clip of what the yurt looked like:
Next up: Mesa Verde National Park.