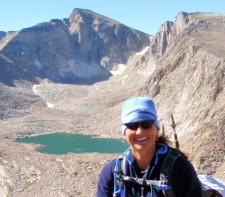 I have had a great four months. My beloved Wind River Range has been good to me. I have been lucky enough to experience seven or eight long and stunning day hikes in my back yard plus a bunch of smaller hikes and outdoor adventures with my family.
Most recently, my husband, Jerry, and I hiked up (and down) and up to the end/top of Roaring Fork Mountain. The mountain itself it not that spectacular. Its high point is a little over 12,000′. But the mountain is broad, and as its name suggests, it forks into what are two pretty long mountains/ridges that are all part of The Roaring Fork. We are pretty sure the Roaring comes from the roaring nature of the wind, but we're only guessing?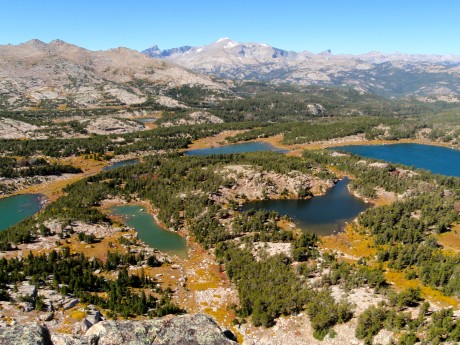 There are two reasons this hike was/is so special to Jerry and I. For one, we can see this mountain from most of the hikes we do in the southern Wind Rivers as well as from the deck of our mountain cabin. The Roaring Fork, complete with its notch ("bite") in its summit ridge, are iconic if you live and play in the mountains above my town of Lander, WY.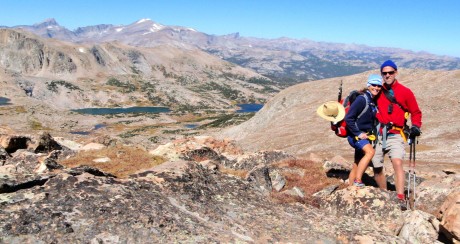 The second reason is Roaring Fork Mountain juts out of a landscape composed of regions marked by spectacular canyons, cirques and lakes. We have hiked into, or taken llamas into, most of these awesome regions. Standing on the top of Roaring Fork and getting up-close and more intimate with it, was quite a meaningful experience for us.
I wish I could take credit for thinking up this hike, but I can't. A friend, Jared Kail, has talked about wanting to do a version of it for some time. For his 40th birthday he was going to hike it and invited us along. Unfortunately, he came down with a cold the day before and had to forego it. But I owe Jared for thinking of the hike.
I have pretty much hiked and camped in and explored a good majority of the trails in the southern Wind River Range. And yet, somehow this one eluded me until last Sunday. And, turns out, it's a major favorite. I cannot wait to return when I have more time to explore the mountain even further.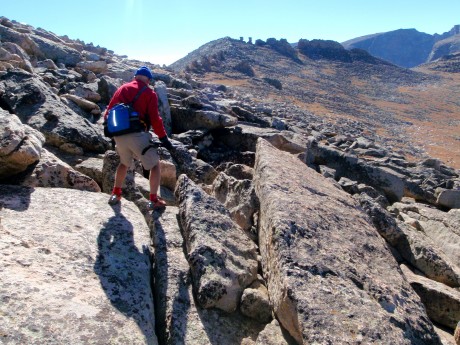 For the record, we did a long version. We did an out and back. We started at Worthen Reservoir and hiked the Stough Creek Lakes Trail for almost 4 miles to the Stough Saddle. This saddle is a favorite day hike that affords one of the best views of Wind River Peak, the tallest peak in the southern Winds, standing 13,192′ tall. (Jerry and I climbed it in 1997.)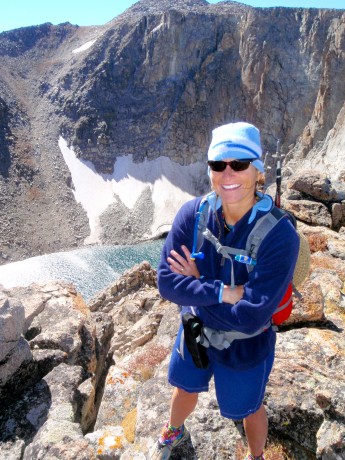 From there, we headed left, off-trail for approximately five miles of tundra, scree, boulder field hiking. It was quite windy in the Winds! The Winds, as well as the Roaring Fork lived up to their names on Sunday. But no complaints — we had a perfectly brilliant Autumn day for the adventure.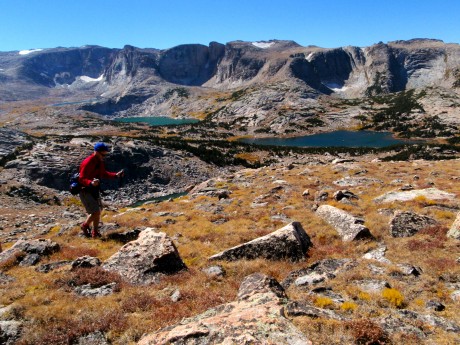 We had jaw-dropping, awe-inspiring scenery pretty much constantly, and in all directions. To our right, for the five miles we hiked toward the end/high point of Roaring Fork Mountain, numerous lakes and cirques unfolded to our right that make up the spectacular Stough Creek Lakes Basin region. At any single vantage, we could count six to seven lakes and cirques. This is how it was the whole way to our right.
To our left, especially when we gained the high point of the ridge, we had similarly spectacular views, including the Roaring Fork Lake/Creek, Leg Lake, Silas Canyon and its lakes, Atlantic Canyon and its lakes, not to mention Fossil Hill, Frye Lake and Worthen Reservoir. And, let's not forget the view that unfolded behind us, which was basically one containing most of the southern Wind River Range, complete with iconic Wind River Peak, Temple and East Temple Peaks and Lizard Head peak standing out. We could also see Shoshone Lake, the lake we hiked to the previous week.
Another friend of ours, Mike Lilygren, had hiked a different variation of the same hike a week prior and provided invaluable input to us the night before. Basically he instructed us to not head directly over the rocky mounds immediately to our left of the Stough saddle, but to instead keep them to our left. This was great advice.
Still this adventure found us ascending to 11,000, then descending 200′, then gaining 400′, then descending 200′ and so on. All told we hiked out about 9.3 miles and gained 6,600′ in elevation gain due to the aforementioned contour of the mountain (and due to our route-finding decisions).
By the time we were back at the car, our GPS indicated we had ascended 7,900′, despite the fact our high point was just about 12,000′ for the day, and hiked almost 19 miles. There are ways to make this hike a little shorter and probably have a little less elevation gain/loss, but that's another conversation. And, um, we like 'em long. 🙂
VIDEO BLOG OF THE ROARING FORK HIKE:


LINKS TO MY OTHER HIKING ADVENTURE POSTS: