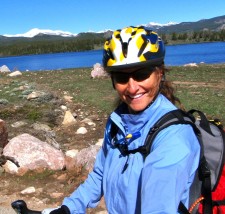 Right now, the "Switchbacks" and road that connects nearby Sinks Canyon State Park and Bruce's Bridge to Highway 28 and South Pass, above my town of Lander, WY, is closed to vehicular traffic, which means as a cyclist you can have the 8 miles of pavement up the Switchbacks all to your self.
Or, as a mountain biker, you can ride the full 26 miles, which climbs to Blue Ridge Lookout, at 9,600′ elevation while passing or traveling near a handful of beautiful lakes set in the foothills of the southern Wind River Range.
Recently, I enjoyed a morning bike ride from Lander up to beyond Frye Lake – just another stellar day in my back yard!
Come along with me and see for yourself: