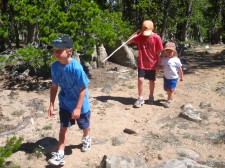 I live in Lander, Wyoming, which is an awesome town with about 7,000 people in it, located in the foothills of the spectacular Wind River Range. Those of you who follow me and this blog are well aware of my love of this area and for hiking.
Recently, my husband, Jerry, and I took our three young sons on a favorite local day hike. The hike is only one mile round trip, making it an "easy adventure" for young children with small legs. (The hike starts at 9,600 feet elevation so there could be some effort and huffing and puffing even from the adults in the group.)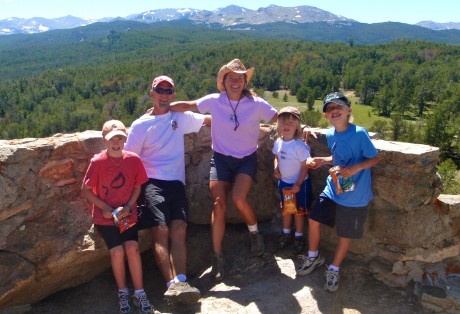 The Blue Ridge Lookout was constructed in 1938. The views from the top are magnificent. Among other sights, you'll see Wind River Peak and Atlantic Peak, Fiddler Lake and lots of forest. I have fond memories of making this hike with my siblings and parents when I was a kid. It is truly one of the best short hikes and picnic spots for families here in my back yard.
The trailhead is located about 23 miles southwest of Lander, along the Sinks Canyon-Louis Lake Road. The trail, which starts at about 9,600′ elevation gains about 365 feet by the time you reach the top of the lookout.

Note: Keep your young children on a short leash. This could be a dangerous destination for kids left unattended due to the heights of the lookout.
Here's a short "video journal" of the day's outing. It will provide visuals for the actual hike, as well as the lookout. Enjoy!