The Grand Canyon Railway claims its customers get to enjoy two trips when they ride the historic train to the Grand Canyon's South Rim: a trip to the Grand Canyon and a trip into the past.
It's an accurate claim, and what a spectacular adventure!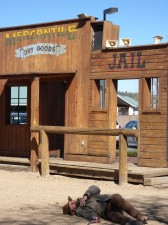 Our family just returned from a Spring Break vacation that included 3 days in the Grand Canyon region. On our middle day we enjoyed the Grand Canyon Railway. We showed up at the Depot in Williams, AZ, located about 50 miles south of the South Rim, at 9:30 am. From there we got our tickets and then walked about 25 yards to the corral where we watched a great Old West gunfight skit and reenactment. It was really entertaining. Our three young sons loved it and we got some laughs at the great actors. My parents were along and also enjoyed the show.
We boarded the train at 10:20. We rode Budd Coach for our trip to the South Rim. Coach is the most economic option. There are four classes: Coach, First Class, First Class-Dome ("Observation Dome") and Parlor (Luxury) Class. Coach, although the most economical of the classes, was still wonderful.
Seating was comfortable and entertainment was provided. We enjoyed interacting with one of the gunfighters in the Old West Show, as well as some great guitar music and singing.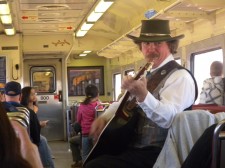 The cars are historic and the train ride truly brings the Old West to life. It's a great way to sit back and have a cultural experience that is also a lot of fun, and where someone else is doing the driving.
Around 12:45 the train delivered us to the Depot on the South Rim, near the historic El Tovar Hotel, where we walked about 50 yards to a free shuttle that took us to Maswik Lodge, where our group of 7 enjoyed a great cafeteria-style lunch where there was something for everyone. After that we walked a little ways to catch the Red Route/Hermits Rest shuttle system.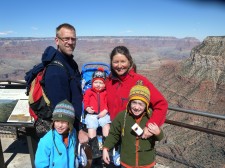 From there we took in great views of the Grand Canyon at Trailview, Hopi Point and Powell Point before heading back to catch the 4:30 return train.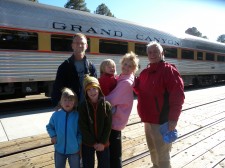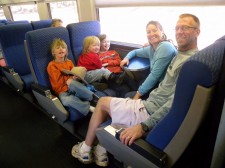 For the return trip we had upgraded to First Class. Now that was extra comfy. Comfortable bucket seats and snacks and beverages were enjoyed. But regardless of what Class you're sitting in, the return is packed full of entertainment.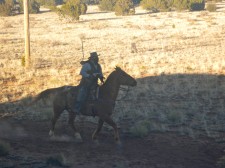 For starters, we got robbed!
We were riding along visiting and enjoying the snacks and scenery when all of a sudden our young boys noticed a train robber/bandit on a horse racing right outside our train window. Wow, now that was exciting. Suddenly everyone got alert as our PSA informed us of how to protect our money and what to do if they overtook our train.
Five days later, our boys are still talking about the train robbery! It was a hoot to say the least.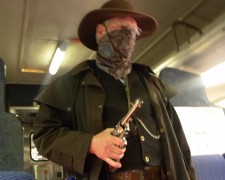 In between all the excitement I had special press privileges to tour the Parlor/Luxury class sections of the train. Parlor Class has restaurant-type seating…comfy and roomy seating with tables, and lots of windows. Also, very importantly, if you're riding in Parlor Class, you can enjoy the back outdoor deck. I was able to stand out back and listen and watch as the train took us down the tracks. It was very exciting! Champagne was another benefit, which I reaped when I was touring the back.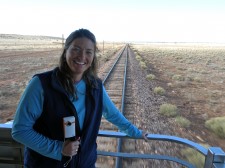 It was an adventure our family won't soon forget, and it added to our Grand Canyon vacation experience. For our adventure, we took the 10:30 train, arrived to Grand Canyon at 12:45, enjoyed lunch and the free shuttles to major overlooks on the Red Route, including Trailview Overlook, Hopi Point and Powell Point before boarding the return train at 4:20 pm. It was just right for our family.
However, Grand Canyon Railway also offers packages that are very reasonably-priced and probably are the best package and value. For example, you can spend the first night in Williams at the Grand Canyon Railway Hotel, then board the train the next day and spend that night at a lodge on the South Rim of Grand Canyon then return the following day. There are all kinds of packages available and we'd highly recommend any of them. Go to TheTrain.com for more information.
Here's a little video production that covers the adventure: