In early April we spent our spring break on the Big Island of Hawaii. It was our second time there. It is one of our favorite places in the world.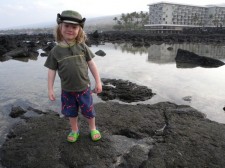 We had a magnificent time. We had seven days there, including the first three days in the Kona area, and the last four days in the Waikoloa region.
Our initial nights were spent at the Outrigger Keauhou Beach Resort, and it is fabulous. It's located on the ocean and is literally a few steps from several tidepools. Our three young sons had a wonderful time starting and ending each of our days in exploring the pools, where they spotted sea urchin, sea turtles, crabs, and made other interesting discoveries.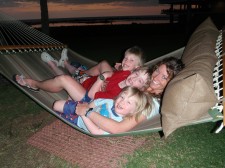 The view looking out to the ocean from the bar and eating areas was magnificent. The breakfast, which is included as part of your stay, was abundant and delicious. Each morning we stocked up plate fulls of fresh fruit, eggs, pastries, pancakes, coffee, juice, etc., while watching the ocean hit the shore.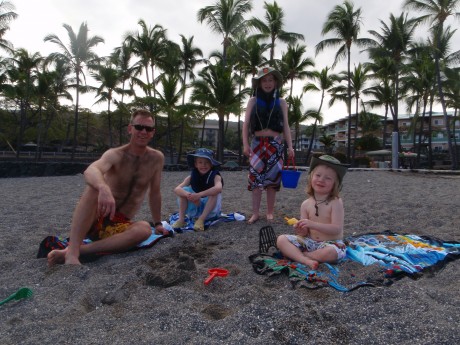 It was also nice to be located so close to many other restaurants and to the heart and pulse of the great town, Kona. Just a handful of miles away were many restaurants and bistros, as well as beaches and places from which to rent surf and boogie boards, snorkel equipment, etc. We loved Kona the first time we visited six years ago. We love it even more now.
While based at the Outrigger, one day we snorkeled and swam at the adjacent beach, Kahalu`u Bay, where water toys are available for rent, there is a beach shower and bathrooms, as well as a food truck complete with shaved ice, grilled lunches and other tasty snacks.
Another day we traveled a few miles north of the Outrigger to a beach called Keauhau Beach. I rented a stand up paddle-board and oar and gave standup paddling a try. It was a blast and I'm now hooked!
Here's a video clip I captured while enjoying some stand up paddle-boarding. Watch toward the end and you'll see a sea turtle:

As I sit here now in my hometown of Lander, WY, which is in the snowy mountains, I ponder how/where I can do stand up paddle-boarding in Wyoming. It was that much fun.
Mostly, stand up paddle-boarding provided a different way to "tour" the ocean. As I stood up and paddled out into the ocean, sea turtle would every now and then swim near me or right with my board. (See video for proof-it's toward the end of the clip) Then, with a little more confidence, I tried catching a wave. That didn't work out so well. :> But, it is a great sport that I will definitely look forward to doing again on a return trip to Hawaii.
In addition, the older boys and I went on an adventure where we got to swim in the wild with dolphins, and see humpback whales and a manta ray. This was an adventure of a lifetime we'll never forget. (Provided by Barefoot's Adventures and Sunlight On Water.)
Here's a video clip of Wolf, our 9-year-old, during one of the swims:


Our Outrigger room was beautiful and clean, and after a day of adventuring, we could see and hear the ocean from our room's balcony and its sliding doors.
Next stop: Luxurious Paradise
After a lot of adventuring in the Kona region, we headed north for luxury, what our boys later dubbed "as sort of a paradise" — the Hilton Waikoloa.
Take it from me, once here, you'll be hard-pressed to find a reason to leave the Hilton Waikoloa — ever. (Except maybe to return to work to start saving for the return trip)
There is a natural lagoon area, complete with sandy beach, ocean access, a waterfall, sea turtles, eels and other ocean critters, and water toys like bike and pedal boats, kayaks and stand up paddleboards to rent and explore.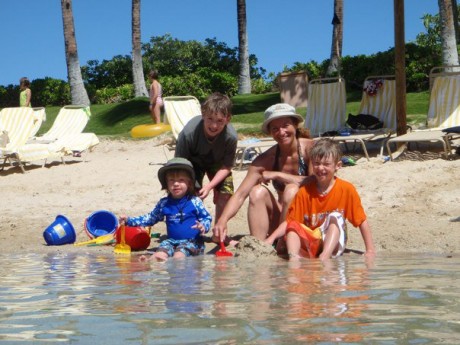 Or, just suntan on the lagoon's beach while listening to the ocean slap against the shores behind you.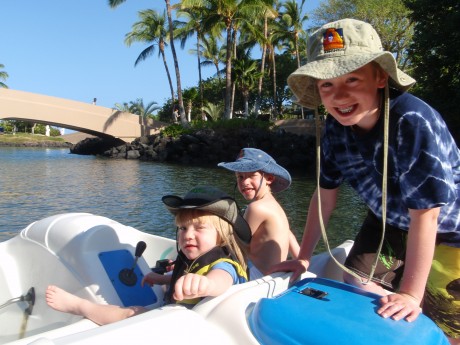 Here's a video clip of us playing the lagoon:

Then, after exploring in the lagoon each day, our mission was to swim, swim and swim some more in the many pools on the property. (Our routine was pretty stringent at the Hilton Waikoloa.)
Here's what swimming looked like for Fin and I:

It basically went like this: Eat a bunch of fruit, head to the Lagoon to swim, look for turtles and ride toys until noon.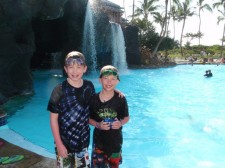 Then, move to the pools, but only after stopping for a great lunch at the grill in between the lagoon and pools. (Also worth mentioning, as we ate, we watched the dolphins swimming at the Dolphin Quest complex also located between the lagoon and the pools.)
A video of the "pool experience" at the Hilton Waikoloa:


Then, after re-fueling, we staked out chairs near the main pools. One pool is a baby pool that is sand-bottomed. Babies and young toddlers love it! The other pools are big and connected, eventually boasting a waterfall and a pretty good-sized slide, and a couple of hot tubs. There are bars everywhere, from which to treat your kids to a Green Gecko, or yourself to a Whale Watch, pina colada or Lava Flow. Take your pick. From my investigation into the matter, they are all more than satisfactory.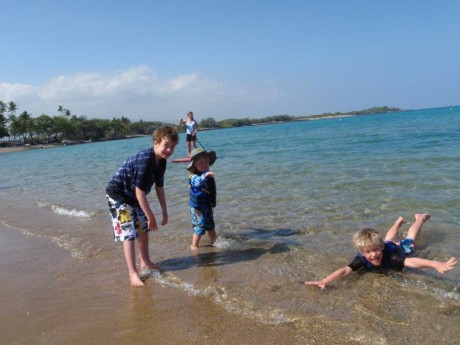 Longing for a little more direct ocean and beach time, one afternoon we drove a few minutes to Anaehoomalu Bay (called "A Bay" for short), where we did some more snorkeling, sand castle-building and played with a few sea turtles that were near the shoreline.
The older boys and I departed for another guided adventure when we did a "deluxe" parasail over the ocean for 14 minutes. By deluxe, I mean we were about 50 stories over the ocean. UFO Parasailing provided the adventure, and it was a hoot! The boys did it for me, and they ended up loving it as much, or more, than I did!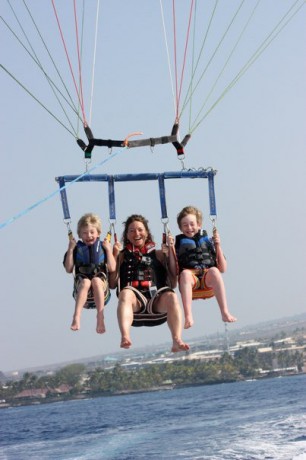 Some helmet cam video of the parasail: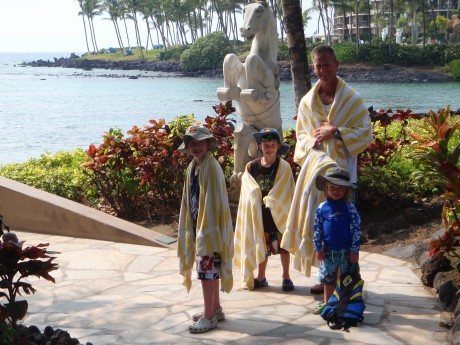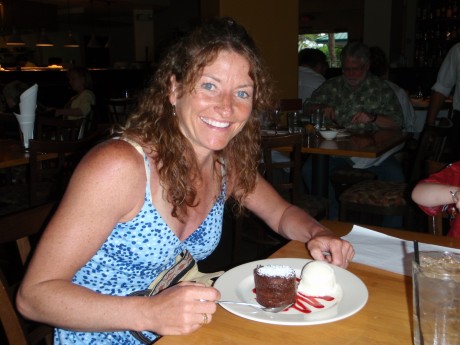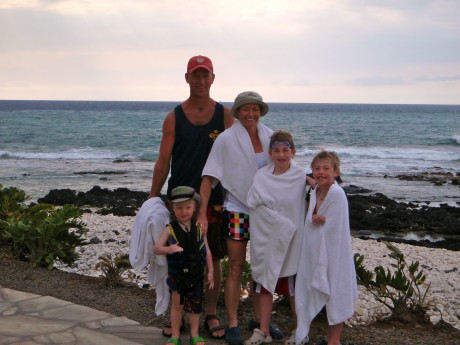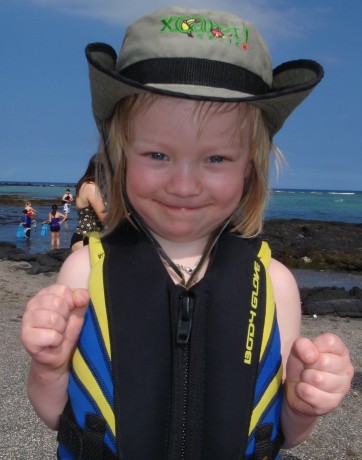 Other Hawaii blog posts:
Swimming with dolphins in the wild.
Parasailing