I love to travel and I travel with lots of gadgets to capture it all in one form of media or another. And hence, the name of this blog… (Those closest to me probably realize that one of my shortfalls is that I tend to focus so much on capturing the moment that I likely miss out on fully enjoying the experience at hand. I'm working on this. But I digress…)
I love technology in general, and in particular, gadgets. Especially if they can somehow improve my life, make me more efficient, and help me capture my most unique and memorable moments.
I just returned from a hiking trip with a girlfriend to Zion National Park.
With me I took the following gadgets, each serving a very important and distinct purpose:
• Blackberry Storm
• iPod + noise-canceling headphones
• Nikon Coolpix600
• FlipVideo
• Macbook Pro Laptop
• Amazon Kindle
• Portable GPS
• Nike-Plus wristband
Once I boarded my flight in Riverton, WY, I used my blackberry to send a quick text to my husband, Jerry, letting him know I was boarded and on schedule. I then settled in for the 1-hour flight by watching a Jon Stewart Daily Show episode on my iTouch with my noise-cancelling headphones.
Kathy, from Omaha, and I linked up for the trip by flying into Las Vegas. From there we used my portable Tom-Tom to get us headed in the right direction and to our hotel near Zion National Park.
I had ordered and preloaded my Kindle with several hiking and guidebooks for the region so I only had to carry with us my (10 ounce) Kindle, vs. towing a trailer along to haul a bunch of heavy guidebooks.
I could quickly upload geotagged photos to my Facebook page, and also to Flickr from my phone while at the top of Zion National Park's famous Angel's Landing. I could also text my husband and sons a short video clip of the scary, exposed hike. I used my FlipVideo to capture short clips along the way to post on YouTube.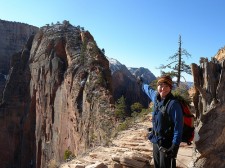 During the adventure Nikon Coolpix 6000 camera was logging GPS coordinates and seamlessly attaching them to all my images.
When I returned to the hotel room, I was able to upload my photos and video to my laptop. Thanks to iLife 09, the photo app I use (iPhoto) immediately assigned my photos in "Places" placing them on a map according to their gps coordinates. Next, it sorted my photos according to "Faces." Since it was just Kathy and myself on this particular adventure, I chose one photo with both of us in and quickly assigned our names to our faces. From there iPhoto could sort all Kathy photos for me as well as all Shelli photos.
I was also able to log our miles for the day via my NikePlus.
Things were all going so slick and efficiently that I was downright giddy.
But then it came time to re-charge all of the gadgets for the next day's adventures.
Which meant I had to untangle (at least) 7 separate power/charging cords and then figure out which one went with which device. Suffice it to say that this normally-cheerful (but unfortunately impatient) person had become a very frustrated and grumpy person. I bet it took me a (wasted) 30 minutes to get it all figured out, and when I did there weren't enough available power outlets to plug them all in simultaneously so I had to charge them in sets. (Note to self: next time pack a power strip)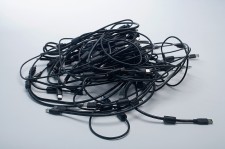 What I think would be the most valuable accessory for me, and other media folks, and technology junkies would be one charger cord that works for all of the above devices.
Please, I would pay lots of money for a simple, streamlined solution. BTW, thank you very much FlipVideo for simply using AA batteries, and offering a no-cord solution. Other gadgets would be wise to follow!