This is POST 27 of my "fitness journey." For backstory, see Post 1,
Post 2, Post 3, Post 4, Post 5, Post 6, Post 7,Post 8, Post 9, Post 10, Post 11, Post 12Post 13,Post 14, Post 15, Post 16, and Post 17,Post 18, Post 19,Post 20,Post 21, Post 22,Post 23, and Post 24, Post 25, and Post 26.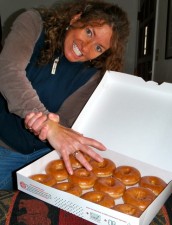 First off, to those of you who regularly follow my fitness blogging, thank you for your support and readership! I appreciate it. You help me in my fitness journey.
I've lost 28 pounds and a quite a bit of fat in the last 14 months. I have never felt better than I do right now as a direct result of weighing less and being healthier.
I've tasted the Koolaid, so to speak, and I'm not going back. Or, model Kate Moss said (and was criticized for): "Nothing tastes as good as skinny feels."
I'm not skinny, and not trying to be. I'd rather have muscles and be able wrestle our three sons and do "epic" adventures. These things require more than skin and bones; they require a strong frame.
Still, I think about what Kate Moss says a lot. Like, for example, recently, when there were two cartons of Krispy Kremes at our house. (We bought the donuts to support a local fundraiser).
The "filter" my coach and friend Steve Bechtel, of Elemental Training Center, instructs me to apply to such food decisions, is "Will eating this bring me closer to my goal or take me further from it?" Unless I'm training for a donut-eating contest or an episode of the yet-to-be-produced The Biggest Gainer, that usually does the trick for me. But if and when it doesn't do the trick, I recall the quote by Kate Moss.
Donuts and similar foods are yummy — that's why we fall off the wagon and consume them — but their benefits (of tasting so good) are pretty short-lived. In fact, most often, the enjoyment passes as soon I've snarfed the last crumb. You can only make a brownie last so long… And yet the negative impacts continue long after the snarfing is over. I often feel sluggish from the temporary sugar high, which quickly leads to a bit of a crash and energy suck, not to mention I am not happy with myself for eating something that I know has no nutritional value.
So, think about this the next time you reach for the chips at a barbecue. Maybe grab some baby carrots instead. Just sayin'.
Elemental Gym has a fantastic gym, some terrific programs and classes that will help you achieve better fitness. And, I might add, some great personal trainers: Steve Bechtel, Ellen Bechtel, Jagoe Reid, Sophie Mosemann and Lee Brown.