Click here for all posts related to National Park travel on this blog.
RELATED POSTS: OLYMPIC PENINSULA OR BUST and OLYMPIC PENINSULA DAY 1.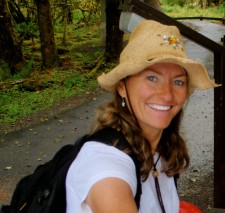 Wow. I'm coming off 2.5 days in Washington State's Olympic Peninsula region. I had a half of a day on Tuesday to explore, then was in a conference all day Wednesday, where I was a keynote presenter for the Olympic Peninsula Tourism Summit, then had all day Thursday to explore some more.
This was my first time to the region and I was eager to see as much as I could of this country.
I ate a mountain of all the best seafood and native, gourmet food harvested and made with care by the best chefs throughout the Olympic Peninsula. I'm talking culinary delights to the maximum – the kind that shock your tastebuds.
I ate about 16 things I have never had before, including Dungeness Crab and Oyster mushroom Agnolotti with Mascarpone cheese finished with a Tarragon Beurre Blanc, locally harvested Mediterranean mussels with a mirepoix of locally-grown celery, carrots and onions, Pernod and organic cream, local manila clams steamed in white wine with herbs and garlic, Roosevelt Elk Berry Soup.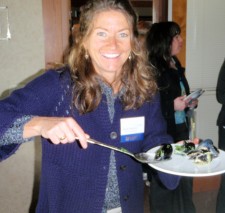 I ate fresh local salmon, caught and prepared according to tribal custom, Northwest Dungeness crab cakes with roasted pepper coulis, basil aioli and chive oil, and locally foraged Chanterelle mushroom and truffle risotto, Roasted Ozette potatoes and Chanterelle mushrooms, an assortment of local rustic breads, and for dessert, local Blackberry Pavlovas with Mt. Townsend Fromage Blanc Parsnips 'Foster' Upside Down Cakes.
Here's a VIDEO for a sampling of what I'm talking about when I say culinary delights and tastebud-shocking:

I explored Olympic National Park for the first time. Olympic National Park is one of only 20 World Heritage Sites in the U. S. and now I know why it is among them. Based on my hundreds of experiences in the world's first national park, Yellowstone, and my many other experiences in other national parks of the West, I feel strongly that national parks provide an unmatched inspiring and restorative experience for their visitors.

I get a unique feeling, that is indescribable other than to say I feel very deeply inspired and moved whenever I'm in a national park. While in Olympic National Park –– including Hurricane Ridge, in the Hoh Rain Forest, Lake Crescent, and along the Pacific coast beaches – I felt that feeling. As a result, Olympic National Park now has a special place in my heart and I can't wait to take my husband and sons there.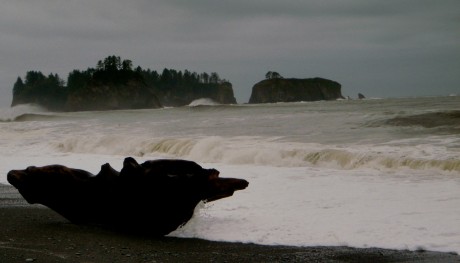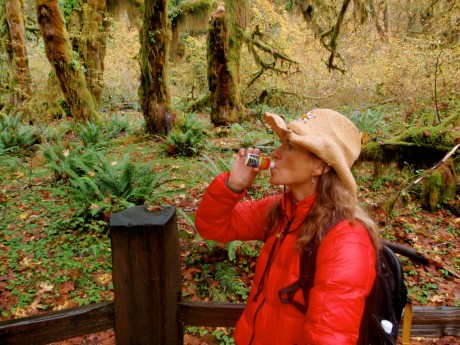 Another first for me was I saw a salmon jumping up a waterfall, at Salmon Cascades. Here's a clip:

I met probably 150 people during my short stay. These included the many people I met at the Tourism Summit, who are business owners, operators, marketing people, Chamber and Visitor Bureau directors, and others, who live throughout, and love, the Olympic Peninsula region, but also many people along my travels, on the planes and jets, in the airports, and throughout the Olympic Peninsula region as I was exploring and driving my rental car from place to place. Everyone I met was super.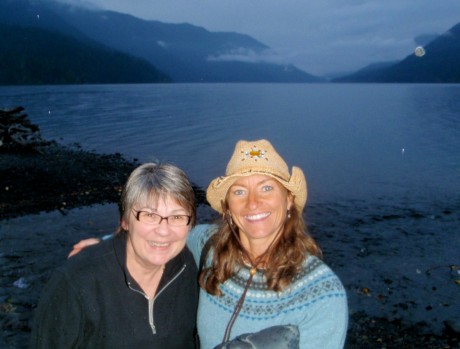 I visited the "Twilight Zone" – aka Forks, WA, and the nearby rain forests that were the setting for Bella, Edward, and others in the movie and book, Twilight.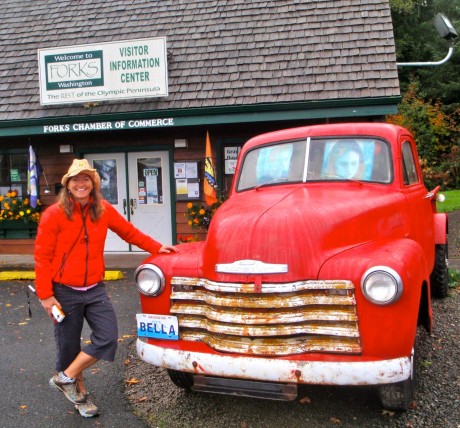 Here's a video clip of my stop in "the Twilight Zone" of Forks, WA, and my exploring in the Hoh Rain Forest:

You could say I maximized by 1.5 days of free time there. To prevent me from writing a 3,000-word novel about my short trip, I'm providing a summary list of all I did in my short time on the spectacular Olympic Peninsula.
Here's what I did:
I saw Hurricane Ridge and the Olympic Mountains in Olympic National Park.
I saw the Strait of Juan de Fuca.
I went to Ediz Hook.
I explored downtown Port Angeles.
I ate at Bella Italia, the setting for Bella and Edward's first date in the first Twilight book.
I walked along the beach in a deluge of a rain storm.
I ate clams.
I ate Dungeness Crab cakes.
I ate Roosevelt Elk & Berry soup.
I saw a salmon jumping a waterfall at Salmon Cascades.
I ate wild salmon.
I dipped my feet in the Pacific Ocean as I visited Rialto Beach, in Olympic National Park.
I ate local Ozette potatoes.
I ate wild Raspberry Pavlovas.
I hiked and ran about 9 miles of trails in the Hoh Rain Forest, in Olympic National Park.
I made a quick trip to Port Townsend, where I admired the Victorian seaport.
I visited Fort Worden State Park, where Officer and a Gentleman was filmed.
I was photographed next to Bella's red truck from the book & movie, Twilight.
I went to Bella's house (the Swan House) in Forks, WA.
I went on many scenic drives.
I went to Lake Crescent.
I met lots of passionate local people, business owners, tourism promoters, marketing folks and chefs who live in, and operate, in the Olympic Peninsula.
I saw the Hood Canal.
I hiked to Tom Fall in the Hoh Rain Forest.
I walked along and skipped a few rocks in the Hoh River.
I went to Be Dazzled by Twilight to buy Twilight-related souvenirs.
I made a keynote presentation at a tourism conference.
I went to Blyn, WA and spent time in the beautiful Tribal Center.
I ate (too much) local chocolate.
I got a dirty chai in Forks, WA.
I looked for vampires in the woods behind the Forks, WA, visitor center.
I saw Discovery Bay.
I ate at delicious dinner at the historic Lake Crescent Lodge, in Olympic National Park.
I ate pie made of local berries, accompanied by ice cream made with local lavender.
I had an AWESOME time.
A special thanks to Mary Brelsford, of the Olympic Peninsula Visitor Bureau, the Red Lion Hotel in Port Angeles, and Mike Gurling of the Forks, WA, Visitor Center for extra help that made my stay more memorable and wonderful.