Hello again! We are still in Rome. It is our last day here; we leave tomorrow around lunch-time. As we were eating lunch on a bench in a piazza today, our middle son, Hayden, remarked, "I never want to leave Rome. I love it here." Indeed, we have fallen in love with Rome. We are totally smitten. We all had high expectations for Rome, and we all agree they have been exceeded. Yes, it's that great.
(By the way, this is my 12th blog post published so far during our 29-day "Epic Europe Family Adventure." If you're interested, all previous trip reports from this Epic Family Adventure include are listed and linked to at the bottom of this blog post.)
Today, as per usual, we explored many sights on foot. However, the highlight of the day, by far, was our guided tour of Rome's Colosseum.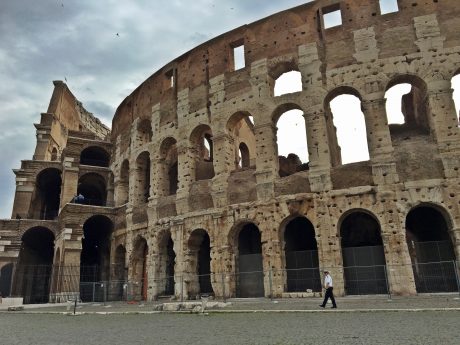 The massive stone colosseum, known as a Flavian Amphitheater, is the largest amphitheater ever built, and I am here to report that it is massive. The building's dimensions 615 feet long and 510 feet wide, with a base area of 6 acres. The Colosseum was commissioned to be built in 70-72 A.D. by Emperor Vespasian as a gift to the Roman people. In 80 A.D., Vespasian's son, Titus, opened the Colosseum with 100 days of games. These games included combats between gladiators (who were slaves) and wild animal fights. The Colosseum was used for four centuries.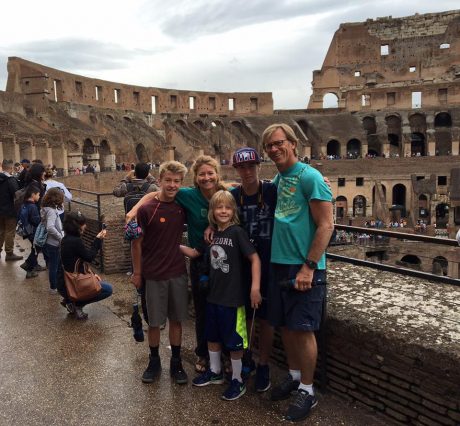 It is hard to describe how it felt to stand in the arena – something so massive and old, and that was at one time a place of such raucous and violent "sporting events."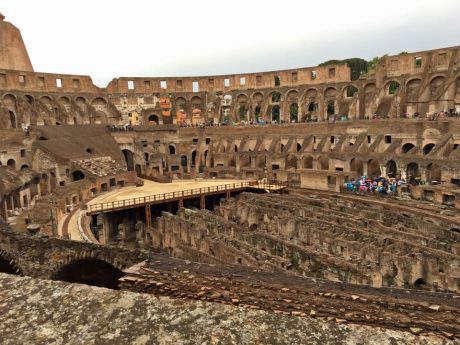 During our family's daily gelato fix, and during that, we shared what we found to be the most interesting points learned during the Colosseum tour. I'll share some of what we all mentioned as learning highlights from that conversation…
• There were usually three events. In the morning was a hunt, complete with a wide range of animals, ranging from lions, bears, leopards, tigers, wolves and wild boars. During lunch, on display were the public executions, where wild animals were set loose to kill criminals for all to watch. Then the afternoon event was the gladiators who fought one another.
• By the way, apparently, the gladiators were not tall and handsome and ripped like Russell Crowe. Rather, the gladiators were "more like Danny DeVito." Apparently, the gladiators were fed lots of barley to fatten up their stomachs in an effort to provide additional protection for their internal organs.
• Some people attended the events at the Colosseum.
• During the Colosseum's 100-day opening, 9,000 animals were killed, and 2,000 gladiators were killed.
• As an event approached, the animals were not fed, and they were caged so they'd be more aggressive come the day of the event.
• There were 20-30 elevators/"lifts" that lifted up wild animals, as if magically, through "trap doors" in the colosseum's arena floor during the events. Each lift required 6-8 slaves to manually operate them and lift the animals up. Their working conditions were awful… they were under the arena floor, in pitch dark (with a small oil lamp), surrounded by wild animals, and their roars and their waste, no circulating air, and add to that, there was a sewer under the arena.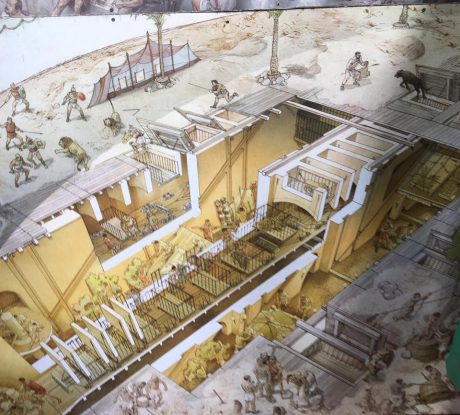 • Gladiators were trained for 6 months, so they didn't just get picked one day, and put out to fight the next. 
• Even though the gladiators were slaves, they were famous, and admired by some.
• According to our guide, the gladiators were chosen from a wide ranging regions of Italy "so that they would be less likely to bond, since they'd be going at battle and were instructed to kill."
• The steps in the colosseum were purposely built to be very steep, so that the entire crowd of people could exit the amphitheater in about 15 minutes time. We also learned that "arena" means sand, and that the Colosseum used sand because it was easiest to remove and clean up and replace in between events.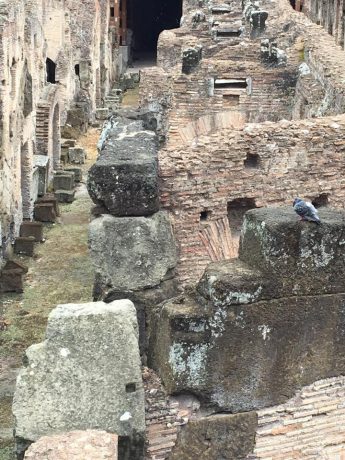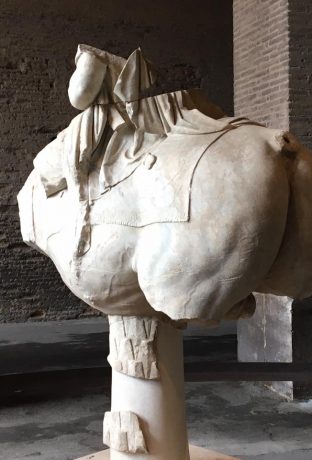 Getting a guided tour of the Colosseum was a fantastic experience that I highly recommend. Our guide was fantastic. We learned so much more than we would have had we just walked through the Colosseum on our own.
We then enjoyed a tour of the Roman Forum and Palatine Hill that was also fascinating, even if it was a little more exciting than we bargained for. (It rained, and there was a lot of lightning and thunder over and around us.) I hope to write about that fabulous tour in a future post, but for now, am including some photos, with captions, from that part of the tour at the very end of this blog post.
During our daily gelato break today this afternoon, I was asking everyone to mention some of the things they love most about Rome. One son remarked, "I don't want to leave Rome. I love this place." We have all fallen head over hills for Rome! We all came up with the following ways to describe this fabulous place, use the letters of ROME:
Jerry: Rich, Outstanding, Moving, Exciting.
Me: Romantic, Old, Masterful, Epic.
Wolf: Rich, Old, Miraculous, Extravagant.
Hayden: Renaissance, Ominous, Mastery, Exciting.
Fin: Riveting, Outstanding, Margherita pizza, Enjoyable.
Later, the boys put collared shirts (polos!) on for the first time during this adventure and we all went out to Piazza Navona, one of our new favorite places, and had one last epically delicious Italian dinner. We had a wonderful time! Here are some photos and videos.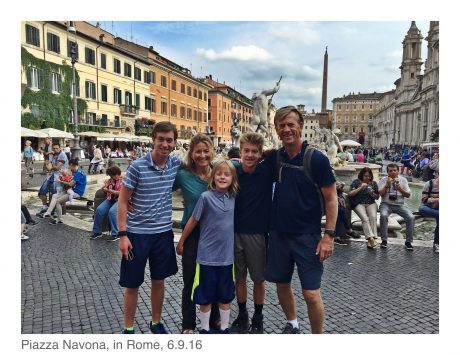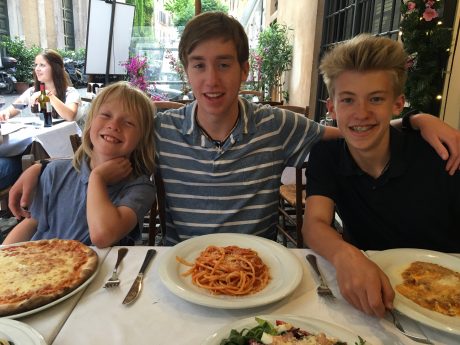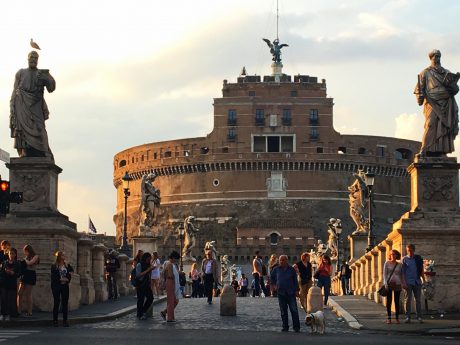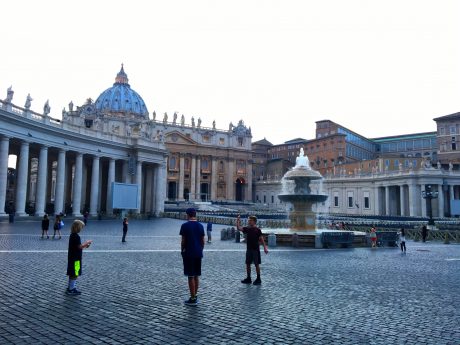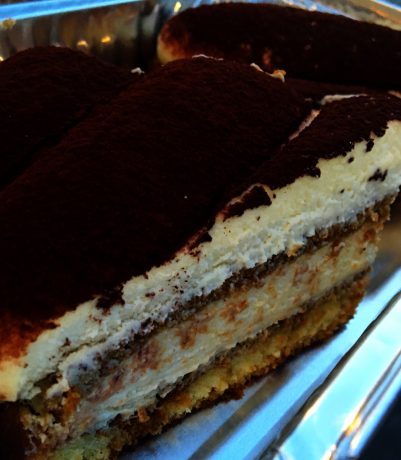 Photos from Roman Forum and Palatine Hill tour: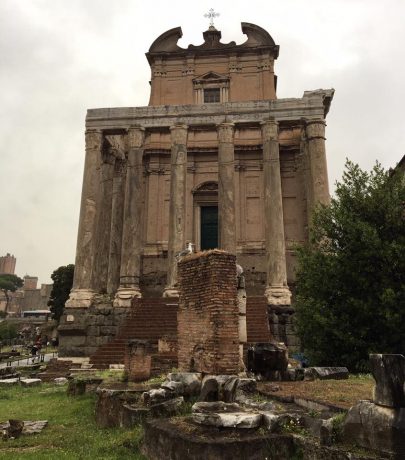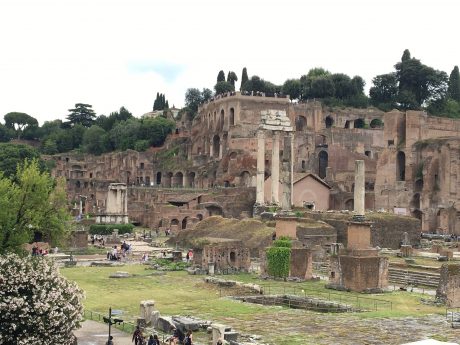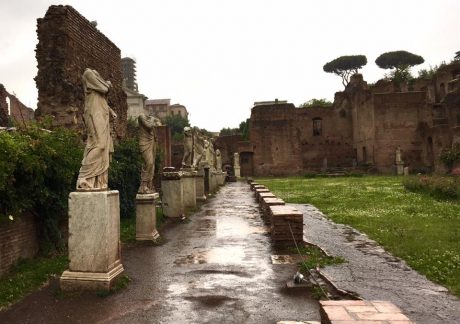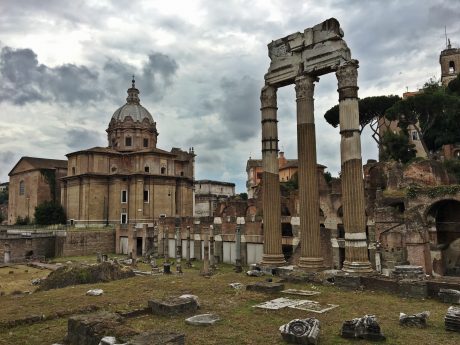 For now, thanks for reading this blog, and for following along with us on this Epic Europe Family Adventure.
Next up: Portugal!
If you're interested, here are all of my previous blog posts about this Epic Europe Family Adventure so far:
• From Wyoming to the British Museum and Shakespeare's The Taming of the Shrew in 24 hours
• Big Ben, River Thames, Tower of London and Ice Cream
• Munich Day 1: Glockenspiel, Deutsches Museum, Englischer Garten and Beirgarten
• Biking in the Bavarian Alps, Exploring Neuschwanstein Castle, Epic Beer & Food
• Lauterbrunnen, Switzerland: The Land of Many Fountains, Cows with Bells and Epic Food
• Zermatt: Gornergrat Glacier, the Matterhorn, Mountain Lakes and More Delicious Food
• Moneglia, Italy: The Cinque Terre, Epic Focaccia, Pizza, Pesto, Wine, Olives, and Gelato
• Leaning Tower of Pisa, Michelangelo's David, Cathedral of Florence, and Giotto's Bell Tower.
• Rome, Part I: Ponte Sant 'Angelo, St. Peter's Basilica, Piazza Navona & More
• Rome, Pt. 2: Capuchin Crypt, Catacombs of Priscilla, and Ancient Underground Churches
• Rome, Pt. 3: The Pope, Vatican Museum, Sistine Chapel, Trevi Fountain, Pantheon, and a Date