This Thanksgiving, I am feeling particularly blessed, and reflecting on all the gifts in my life.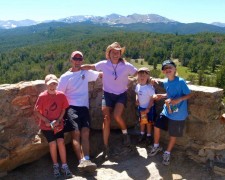 I am thankful for my husband, Jerry, and our three sons, Wolf, Hayden and Finis. Jerry is the perfect life partner. He's my partner in crime in all the adventures I love to do, my best friend and my biggest champion. He laughs at me and with me. He gives me courage and he holds me up. He encourages me to be the best I can be. And, he loves me unconditionally, which I'm sure is not always easy to do. I look forward to growing old with him and am blessed beyond words to have the opportunity to do so.
Our sons fill me up. I never knew how deep love could be until each of them entered my life. They cause me to slow down and see things — the small wonders in this world that I would otherwise miss. I "happy cry" all the time due to these three young boys that are our sons. Everything I do means more because of Jerry and our boys. Guys: I love you from the bottom of my heart, with all of my heart and more than life itself. Thank you.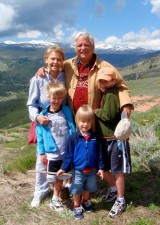 I am grateful for my parents, Nancy and Bill Sniffin, who have given me unconditional love, a great up-bringing, support, friendship and opportunity, and who have taught me, among so many other things, to be polite and respectful, about the value of hard work, to care for others, and to dream. My mom is the strongest, and yet most gracious person I know and she, more than anyone, teaches me about strength and kindness. My dad is one of the most successful, self-made people I know, and he is big on dreaming. I am a dreamer and an optimist because of him. Thanks to my parents, also, for moving us to Lander, Wyoming, when I was just a young girl. I love you both so much. Thank you.
I am grateful for my sisters, Alicia and Amber, and for my brother, Michael. Thank God they will be in my life forever, and I know on each of them I can always lean. I'm enriched by them and all the wonderful memories I have of time spent with each of them and/or all of them at once. I wish each of you and your families were geographically closer. But you are always near in my heart. I love you, sisters and brother. Thank you.
I am grateful to all my relatives and extended families. I love and thank you all for everything and for adding to my life.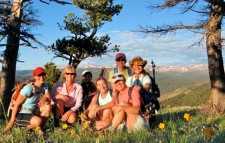 I am grateful for all of my friends. I love you all. I have such meaningful relationships with each of you. Each of our friendships make my life richer. Many of you push me in ways that make me have a more fulfilling life. Thank you.
I am grateful for my mentors, teachers, colleagues, vendors, clients, customers and "champions." You have all helped me lead a successful and purposeful life thus far. Thank you.
I am grateful for acquaintances I've made, and acquaintances I've yet to make. Relationships enrich my life and I look forward to creating new relationships with you in the future.
I am grateful for small things, like Jerry's delicious coffee and fried eggs, playing board games or dancing with our sons, flying kites, camping, long epic hikes with Jerry and/or my girlfriends, short family hikes, Friday ice cream socials with the boys, family get-togethers at my parents', s'mores, good books, red grapes, merlot, dark chocolate, winter adventures, blue skies, sunshine, and so much more.
I'm grateful for living in Lander, WY — on the frontier of Wyoming, and in the foothills of my beloved Wind River Range. I can't imagine living anywhere else. I am right where I wish to be. I don't love any place more than this one.
I am also grateful for the freedoms we enjoy, and for the life we are able to have in our great country.
Happy Thanksgiving. I wish you a wonderful and memorable Thanksgiving holiday.