Greetings from Miami Beach!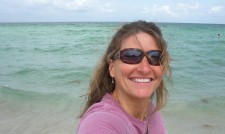 Been having a blast on this trip. Was a keynote presenter today at Eye For Travel's Online Travel Marketing conference at the Fontainebleau.
(Here's the Twitter thread on Day 1 of the conference)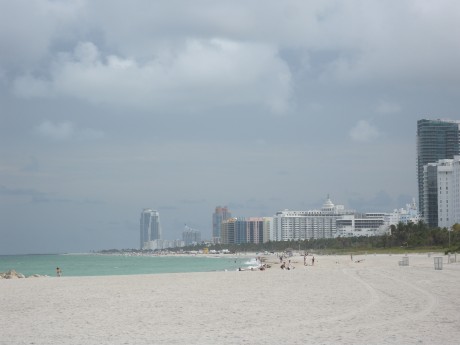 Well, yesterday I arrived. Made all connections and flights and had feet in sand by 2 pm EST. Bad news: Suitcase didn't arrive with me. But, wait, good news, says "Baggage Service" person-having-a-bad-day: "It's on another flight that arrives at 4 pm." Whew. Crisis averted, so heck, I'll go get my feet wet in the Atlantic Ocean and by dinnertime my suitcase with "outfit" in it for tomorrow's presentation will be safe and sound in my hotel room.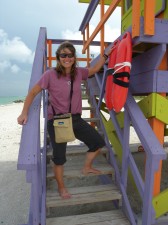 The beach is spectacular. White sands. Staying at The Palms Hotel & Spa, with direct access to white sands, pool and of course, tiki bar. This place is okay. Not too shabby at all. (Especially for a Wyoming bumpkin.)
By 9 pm suitcase still not here, despite numerous calls to "Baggage Check" at American Airlines that indicated, on each call on the hour: "your suitcase is on the way to your hotel." (Strange since it took me only 20 minutes in the cab to get here!)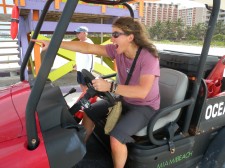 By 10 pm, not having much fun…growing worried about having to present in my stinky, already-been-worn, full-of-sand, Life is Good t-shirt and capris and flip-flops. I decide I better go shopping.
It's not my fault, I told myself. It's American Airlines' fault. (BTW, I really wish someone in a position to help get my suitcase to me would give a damn. Everyone who's not in a position to fix the problem is caring, and that is helpful for moral support (hotel concierge, peers at conference, valet staff, maids, hotel staff, life guards, @theycallmemrjoe, a conference attendee that tweeted his support… if he was a girl I bet he would have given me the shirt of his/her back — basically everybody who I've met and whined to, except for the many shifts of workers I've pleaded to, kindly I might add, at American Airlines.) But they just don't seem to care that I need my suitcase by hour 11 of my 36-hour stay.
So, I'm going shopping. Destination: Lincoln Road Mall.
But there were only ultra-hip stores open at that hour. If you're looking for Affliction clothing, after 10 pm at night, Lincoln Road is your place. Being from Wyoming, the Affliction clothing in so many of the stores' windows just didn't grab me. In fact, it was all a little frightening to me: Skulls, lightning bolts and lots of black and silver.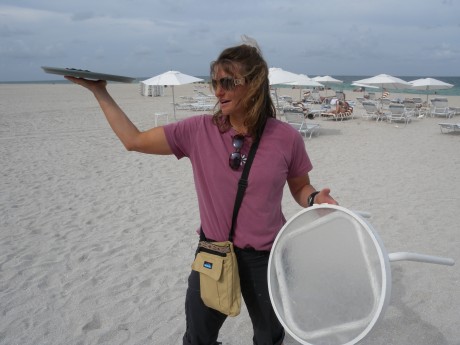 Affliction was certainly fitting at the moment… for those of you who don't know, affliction means "a state of pain or discomfort." Still, athough very relevant to my mood and circumstances, this skulls clothing wasn't a good substitute for what I was originally planning on presenting in. (Funny, though, as the night went on and I walked along Lincoln Road, I saw lots of stylish people wearing Affliction, and by gosh, it did look pretty cool and hip. Still, because I couldn't envision myself ever wearing it in Wyoming (the "frontier" remember – "the country which lies just beyond the existing boundary"), I just couldn't bring myself to drop a load of cash on Affliction. I had enough of it already without breaking the bank.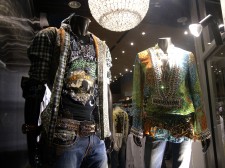 I would have to present "in character" even if not by design. (That is, sandals and Life is Good and capris)
The presentation went pretty well I think, despite the anxiety related to my alternative "outfit." (The suitcase, would you believe it, was delivered to my hotel room during my presentation).
The conference was great. Heard lots of great presentations and met some great people, and got reacquainted with others. We're headed to Lincoln Road to eat some sushi tonight and then to the Hotel Delano.
Stay tuned for lots of coverage on that in tomorrow's post, which I'll send from layover at DFW.
———————
BY THE WAY, the moral of the story, if you're in customer service, or marketing, or the airlines industry, is: hire people who give a damn. Someone could have been a hero just by physically hunting down my suitcase yesterday. I would have paid a cab to fetch it. Now I'm angry. Not good for AA. (And p.s., I know: I should have packed it in my carry-on.)