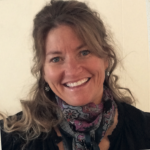 Someone once said to me, "Happiness is a time, not a place."
I think I had just moved to Winner, South Dakota, from Missoula, Montana, and he was trying to cheer me up. Nothing against Winner, but Missoula had mountains and the kinds of outdoor activities I loved. Winner, on the other hand, was situated in mostly flat, farm country, and would have been awesome if I hunted pheasants. I didn't.
At any rate, I've never forgotten the quote. The words seem wise. If you're happy, you could be anywhere, and you'll likely be happy. We ought not to put such a high burden on a place to be the cause of our happiness.
But let's be honest, some places can really help bring out the happy in us. And Ojai, CA, is one such place. I just returned from a visit to Ojai. It was my first time there, and my purpose for being there was to participate in a 5-day Silent retreat and workshop with Byron Katie, whose Center for Work is in Ojai. (I will be writing pretty personally about my experience in Silence, with no technology and connectivity to family and friends, and much more, at my YourEpicLife.com blog. Please check that if you're interested in those writings.)
Ojai is a small city in Ventura County, about 1.5 hours northwest of Los Angeles. Set in a valley in the Topatopa Mountains, Ojai has a village-like center that includes many art galleries, good food, and great markets and "new age" shops. On its North edge is the Los Padres National Forest, which is full of trails to explore. Ojai is about the same size as my hometown of Lander, Wyoming – home to only about 7,500 people – so it would not be too hard for me to find my way around, even without the use of technology or words.
I knew my experience was going to be special as soon as I drove into Ojai and arrived at my AirBnB and learned the little guesthouse that would be my refuge for 6 days had a rainbow painted on it. 🙂  My home away from home would be a guesthouse on an organic farm on the outskirts of Ojai, in the Meiners Oaks area. It also didn't hurt that it is Spring in California. It had rained a lot recently, and everything was green, and the air was rich with smells of flowers and shrubs. I couldn't inhale enough!
Just 18 hours earlier, I had been in a whiteout blizzard on South Pass while driving to a regional airport to catch my flight to LAX. There were still two feet of snow and a very wintery landscape covering my home state of Wyoming. It is hard to smell much of anything in snowy Wyoming when all evidence of vegetation is covered in deep blankets of snow.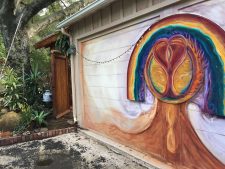 As I was taking in the smells and the spring-like conditions, I noticed a little "sunset trail" right out my front door that would, as my host, Christopher explained, take me to the top of a hill overlooking the farm and provide me with a great sunset view.
My accommodations, which was a room with a big bed and a private bathroom, attached to a "bamboo kitchen," were quaint and enchanting. It was a perfect little "refuge" to which I could retreat every evening.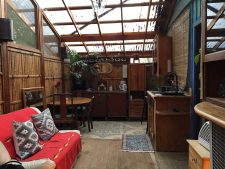 I had arrived with a night and one full day to call my own, so I didn't waste any time in exploring. After getting settled into my guesthouse, I walked up the hill and watched the sun set over the farm and mountains.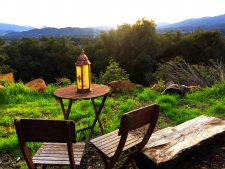 Then, I walked one mile for dinner to a place I couldn't wait to experience, the Farmer and the Cook. The Farmer and the Cook is an organic market and bohemian cafe with a large patio serving vegetarian Mexican fare and salads. Because I would be mostly fasting during my retreat, this would be my first and last real "meal" while here. Oh my God, I was not disappointed! I had a large salad composed of a several organic vegetables and herbs, and a cup of the best black bean soup I've ever had. To round out the deliciousness, I had a peanut butter, chocolate chip cookie. Epic yum.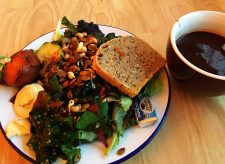 As if that wasn't a good enough finish to the day, the almost-full moon lit my way on my walk back. As my good luck would have it, I was going to be in Ojai, in Silence, during the full moon. How special!
The next morning I rose before the sun was up. I am an avid sunrise watcher, and I wanted to be near Meditation Mount for my first sunrise in Ojai. Meditation Mount doesn't open until 8:30am, but I wanted to be in that area to see the sunrise. As the saying goes, the early bird gets the worm.
I struck gold!  I witnessed a magical sunrise, complete with birds chirping all around me. I know I'm not special; that anyone can watch a sunrise, and that the sun rises every single day, but it still feels like a miracle every time I see the sun first appear. I have seen some Epic sunrises, and this one is right up there near the top of the list. Its beauty moved me to tears, and seemed the perfect start to my days of Silence.
After that terrific start, I went to find a trail to hike. I decided on Lake Casitas, where I hiked for about 5 miles, and was afforded some views of what is a beautiful lake that right now has, by all indications, low water. It was a nice way to stretch my legs and start getting introduced to the area.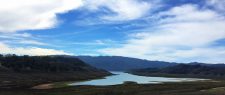 Then, I got in the car and set my sights on Foster Park for some more walking. But first, I stopped and indulged in some fresh blueberries and raspberries I bought at a roadside fruit stand.(#notinWyominganymore) Pure deliciousness!
Foster Park is a beautiful park with a series of green hills and lush vegetation. The Ventura River flows through the park. I gained access to the beautiful and wonderful Ojai Valley Trail, a "rails to trail" trail that stretches for 9.3 miles, eventually leading into and through the town of Ojai. (I would come to know various portions of this trail well during my 5-day retreat. I returned to it during most of my lunch breaks during the retreat.)
I walked a few miles out and back before heading into Ojai to register for the retreat.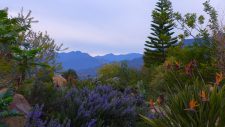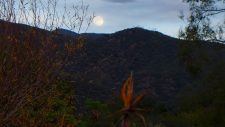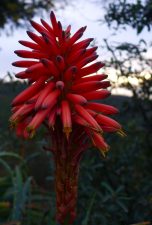 After checking into the retreat, I headed to Meditation Mount, to meditate while watching the sunset. Meditation Mount was founded in 1971 and is a nonprofit meditation center "in service to humanity." The mission of Meditation Mount is "to promote the building of an enlightened and compassionate world through the power of creative meditation and community-based events that focus on principles right human relations, goodwill, group endeavor, unanimity, spiritual approach and essential divinity."
I spent about an hour getting my breath taken away by all of the flowers and plants in the International Garden of Peace, with the sun setting over the mountains for a backdrop. Opposite the sunset, was the almost-full moon rising. It was an amazing place from which to meditate, that is for sure.
During the course of the Silent retreat, I got out often to explore Ojai. The people in all of the markets, and places I explored were delightful and generous, even when I was in Silence and couldn't acknowledge them with words or engage in conversation.
I enjoyed many more hikes, including the Foothill-Pratt Trail, and the Cozy Dell Trail, the latter of which I hiked on two mornings, starting before dark, under a starry sky, and grunting it to the top of the hill right as the sun arrived for the day.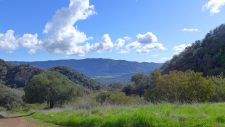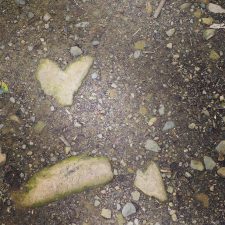 I am an avid hiker, adventure and adventure guide. I hike about 1,000 miles a year. While hiking I always have my eyes open for heart rocks, and heart shapes. While in Ojai, I spotted numerous hearts, at least one on every walk I took. In other words, there was a lot love on the trails in Ojai.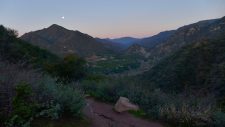 By the end of my time in Ojai, I felt a special kinship toward the people in the town and its trails.
While I've been to many awe-inspiring, special places, Ojai really worked its magic on me. It won my heart. Thank you for the love, Ojai!
(I will be back. My family is taking a 25-day vacation at the start of summer that will include some of California's central coast, and I think we'll take a slight detour so I can show them this special place.)