I love Apple, but I also love Google.
I love my Motorola Droid X.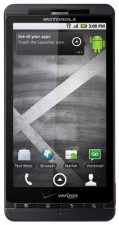 My family travels a lot. And, our three sons have inquiring minds. As we're motoring across southwestern Wyoming, we often pass the time by expanding our knowledge, thanks to my "smart" phone.
They want to know things like, have ghosts and/or UFOs have been reported in the vicinity?How much blood is inside a great white shark? They like to confirm things they agree with, such as why broccoli is a "cruciferous" (to bear a cross) vegetable.
My Droid is happy to look these things up for us. It helps pass the time during road trips and we gain new knowledge while logging miles.
One of the most exciting things is when I, a small town girl — a country bumpkin — look to my Droid to navigate and help me find my way to places when I'm in a big city. Recently I was in a big metropolis and needed to find a Walgreen's. It was rather exciting to hear my Droid voice her commands, left turns and right turns (and even u-turns when I made mistakes) and which exits to take.
And I found my way. The only beef I have is after such lengthy play-by-play navigation, the navigation's voice should include a huge "Congratulations!" or "Nice Work!" Instead, all I got was "You have successfully arrived at your destination." No duh. Oh well. Beggars can't be choosers.
The funny thing is that in all the excitement, by the time I got to Walgreen's, I totally forgot why I needed to go to Walgreen's in the first place. So, I just bought some Gingko Biloba and was on my way.
I love my Droid. It is (more than) the droid I was expecting.