I have been traveling to the San Francisco, CA, region every month for the last five months for life coach training in San Rafael. My final course was last week. And, thanks to my parents, who so graciously offered to watch our three sons, my husband, Jerry was able to fly out and meet me in California. We spent 3 nights there on what could be called a "second honeymoon."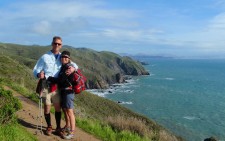 As readers of this blog know, I love to embark on long, epic, hiking adventures.
Jerry's an avid hiker, too, and I couldn't wait to show him the area trails I had discovered. So last Monday, we hiked our legs off in the Marin Headlands region. We hiked 22 miles, including 4,000'+ of elevation gain.
We hiked most of the trails in Muir Woods National Monument, plus linked trails to hike the Dipsea and Steep Ravine trails, before linking several more trails to hike to the East Peak of the 2,571-foot-high Mt. Tamalpais, before descending on yet more trails upon our return to Muir Woods. But that wasn't enough — we wanted to hike a shore-hugging trail, too, so we drove to nearby Muir Beach and hiked the Coastal Trail to Pirate's Cove before returning and wading bare feet into the Pacific ocean.
In other words, we were not having a lazy time of it. And our sustenance while hiking — energy bars and bottled water — was nothing to boast about.
Boy oh boy, were we ready for some gluttony.
And what better place to be gluttonous than California's Napa Valley?
So next up: Vino Bello Resort. We entered its address into my Droid's navigation system, and exited Muir Woods National Monument to head to the land of fine wine.
After driving through rolling green hills and past vineyards and wineries, we approached our destination, the Vino Bello. Pure luxury is what it looked like from the outside as we parked our car. Here, the Droid navigation lady said in her usual nice voice, "You Have Arrived."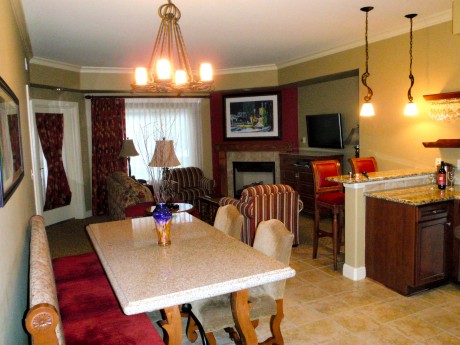 Boy, had we ever!
California wine country's newest luxury resort, the Vino Bello Resort, with its "World Tuscan" decor, and set amidst vine-covered hills, beckoned.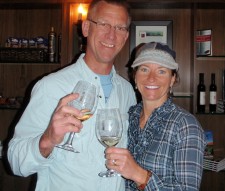 Ravenous, and with mud caked on our lower legs and to the bottoms of our shoes, and smelling a little worked-over and stinky, we were greeted by people behind the desk calling us by our first names and ready to respond to our every need. We were being waited on hand and foot. Dare I say, pampered? 🙂
It only went up, up, up from there.
Once in our room we discovered we not only had a big warm shower awaiting us but a shower with not one — but 5! — showerheads.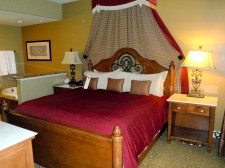 We enjoyed an upscale condominium-type room that included a full kitchen, a full living room complete with fireplace, a full jacuzzi bath, spacious bathroom, and a huge comfy poster bed.
The resort is pure luxury. It includes a state-of-the-art underground, 22,000-square-foot spa, called Spa Terra, where guests enjoy serenity, with natural stone and copper water and a wide variety of spa treatments. Inside the spa we found a relaxation lounge, 10 treatment rooms, including couples rooms that are cocooned in the heart of the earth. Both ladies and gentlemen's private lounges feature whirlpools, steam grottos and soothing water walls. Like I said, this is quite a place — a destination in itself.
We got cleaned up and then explored the great selection of American wines at the Estate Wine Cave and Meritage Wine Tasting Bar, where we tasted several glasses of Trinitas wine, paired with local gourmet truffles. Are you kidding me? Chocolate, a variety of wines to taste, massages and facial treatments and luxury accommodations. Did I mention we had arrived?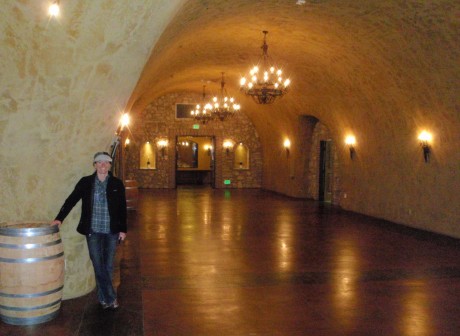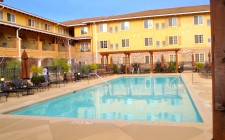 After a bunch of wine tasting and further exploring of the grounds of the hotel, we enjoyed a delicious dinner and retreated to one of the hot tubs under a starry sky before closing in for the night. We slept in and had a hard time getting ourselves out of the room the next morning. We enjoyed a wonderful breakfast from the restaurant before our stay at the Vino Bello came to an end. We had to leave sometime, right? After experiencing all this, I understood why my friend who recommended the Vino Bello to us warned me that we'd never want to leave the resort.
We did, but only because we had a (wine) train to catch.
The Vino Bello Resort was luxury and pampering all the way around for this frontier couple.
Indeed, for at least that one night, we had arrived. And it was epic.
Vino Bello Resort is part of Shell Vacations Hospitality.