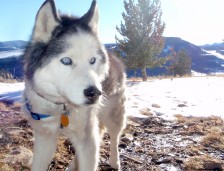 Yesterday, we said goodbye to Taiga, our husky, who was almost 15 years old.
I'm sure any of you reading this who has a dog, or has lost a dog, can understand how we're feeling right now.
I got Taiga for a Valentine's Day gift for my husband, Jerry, in 1995. Taiga, whose name means "tundra," was a beautiful dog. She had blue eyes and was white with black markings, including black rings around her eyes. It looked like she had smeared mascara.
That first night after she was presented to Jerry, she howled all night long. But that was short-lived and soon she fit right in. She was our first baby.
During her first days with us, we'd keep her corralled in a spare room while Jerry and I were away at work for the day. One day we returned for lunch and she had eaten an entire hiking boot (except for its shoestring).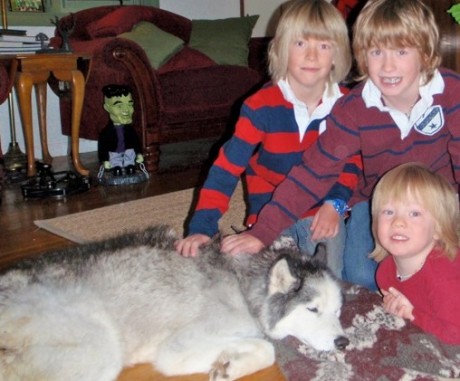 Five years later, we had our first son, Wolf. When Wolf was eight months old, we headed into the mountains to get a Christmas tree. We took Taiga and she pulled our son up the mountain switchbacks. She was in her element to be in the snow and pulling a sled. Our little baby boy giggled and delighted in his sleigh ride. Then, after cutting down a rather big Christmas tree, Taiga helped pull it down the mountain. Despite her petite size, she was strong and wanted to pull.
In her youth she used to run along the fence "mirroring" our neighbors' dogs and she'd run and leap just like a deer. It was not dog-like at all but it was beautiful, and it was a sight to see Taiga showing off like that. Although she had such grace, it would make us laugh out loud and we were always trying to get her to "run like a deer."
She wasn't a big dog. She weighed 30-35 pounds. She preferred the cold and being outside and loved the snow. During winter her nose would turn from black to pale pink, and this was her "snow nose." She would frolic in the yard after a fresh snowfall.
Huskies typically aren't barkers. Taiga never barked. But she would howl when a siren went off, and we even taught her to say "I wuv you." It was pretty darned cute when she did that. Fortunately our three sons were able to hear her demonstrate that special talent.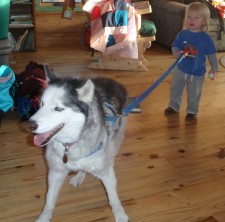 She loved our three sons. Each time she met one of our sons, soon after their birth, she would tilt her head at them like only a husky can. And her tail would wag. She accepted all of our boys into her pack.
She was the "alpha" after all. When we first got Taiga, some husky experts advised us to wrestle her and show her who was in charge. Jerry teases me about this still, because despite Taiga's small size, especially as a puppy in those early days when we did this drill, Taiga remained "in charge." She had a very stubborn personality but because she was so adorable, we grew to love this about her.
Other notable and fond things we recalled during her last days are how she was a beer snob. She preferred expensive beer. She would shake her head and become a snob when Jerry poured beer in her bowl that was anything less than a microbrew. Similar to how a baseball pitcher will decline a pitch that his catcher instructs him to throw, Taiga would just shake her head, acting insulted when/if Jerry placed "regular beer" in front of her. But Red Hook or Fat Tire, now that she would lap up quickly. She also loved Jerry's pancakes and the ribs he would grill for her, and the big, special rawhide treats my parents would get for her on various holidays.
When Jerry and I were training for our first 50k trail run in 1999, we scheduled what was my first-ever 20-plus mile training run. Taiga was right by my side for that. At the time, we had two other dogs, a golden retriever and a German shepherd. By mile 11, the latter two were lying down in the middle of the trail in protest. But Taiga, she continued on without complaint until the end of the long run, and still had enough energy left over to chase squirrels in our backyard later that day.
Everyone in our family agrees that Taiga's favorite thing to do was to "dare" us to try and catch her in the back yard. We seldom could catch her. She was too fast and too quick with her feet. She took a lot of pride in this fact. The boys this morning at breakfast said that they are sure Taiga is now the fastest dog in Heaven. We also think she's in the "snowy part of Heaven," with her youthfulness back and probably frolicking right now.
We miss her very much and feel blessed to have had her in our lives.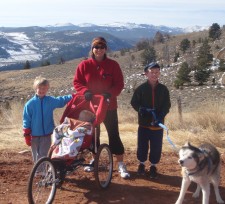 By the way, Dr. Jess Blake, and the folks at Lander Valley Animal Hospital, were exceptional to Taiga, and to our family during what has been a most difficult time. Thanks to Dr. Blake, we were able to experience a loving and personal farewell to Taiga.
During the last couple of years, we noticed, and knew, that Taiga was getting up there in age and that her health was gradually deteriorating. A week ago, we awoke to her wailing in pain and took her to to the vet. She had been on steroids and although the wailing had ceased, it was obvious she was in pain. Recently, her enthusiasm for life was waning. Her tail wasn't wagging anymore. We feel certain she was hanging on for our sake.
And so we made the hard decision to end her pain, and her life. After our kids and Jerry got home from school yesterday, our family gathered around Taiga, who we situated on her favorite blanket in our front room. There, we took turns recalling our fondest memories with Taiga. Our 7- and 9-year-old both read essays they wrote for Taiga. Our 2-year-old, unaware of what was taking place, provided some helpful comic relief.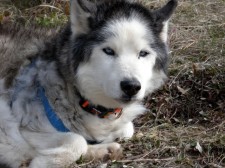 It was extremely sad and difficult, yet beautiful. We hugged and stroked Taiga's soft fur as she seemed at peace and ready to let go. We said goodbye, and with Dr. Blake's help, she died, peacefully.
Rest in Peace, Taiga. Thank you for being in our lives and bringing us so much joy. We love you.