This is POST 19 of my "fitness journey." For backstory, see Post 1,
Post 2, Post 3, Post 4, Post 5, Post 6, Post 7,Post 8, Post 9, Post 10, Post 11, Post 12Post 13,Post 14, Post 15, Post 16, and Post 17 and Post 18.]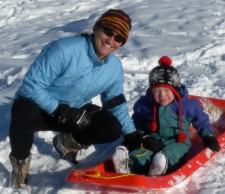 I'm an athlete-client of trainer Steve Bechtel, of Elemental Gym, in Lander, WY, and yesterday was my regular 6-week testing, which includes weigh-in, body fat testing and body composition measurements.
I'm always a little nervous on test day. I don't want to have gained any weight, or fat. And yet, I'm at a point where I can't expect – or aim – to lose much more weight or fat, given my frame and size, and the fact I don't want to be skinny. As I've shared in these posts before, my biggest goal is to be in tip-top health for my family, to have increased energy, to feel better about myself, and to be able to consider any endurance-type adventures that interest me.

Elemental Gym is a great gym. Its slogan is "We get results." About that, yes, I can say that is true. At least in my experience. Most of you who have been following my fitness journey know that the last 10 months have been very hard and have required that I make all sorts of life changes, but that during the same time I've lost 26 pounds and gotten a lot stronger.
So, back to Elemental Gym's slogan. Let's be clear about it. Elemental Gym doesn't give its athletes results. The gym's trainers, including owners Steve and Ellen Bechtel, Jagoe Reid and Sophie Mosemann, make us earn them.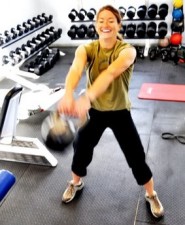 For example, the other day, in a period of approximately 19 minutes, I lifted 7,500 pounds. It should be pointed out that this was not done by lifting 40 pounds many times over with tons of reps on various exercises. This was doing 105-pound front squats, then moving directly to "T push-ups," where I had a 20-pound dumbbell in each hand against the ground and was in push-up position. I did a deep push-up, then lifted the dumbbell with right hand all the way up, continuing with it to straight arm toward the ceiling while rolling to my left side in a plank, then another deep push-up, then repeat with left arm/side. Next, move directly to 25-pound-plate Russian twists. I did all of these exercises in sequence with minimal, if any, rest in between, with this pattern and number of reps: 2-4-6-8-10-8-6-4-2 (50 reps total).
It's hard to explain. You really had to be there. But let's just say it was no party. My heart was pumping out of my chest and I was huffing and puffing, hard, and at one point thought I might even hurl (ie. lose my lunch).
When Steve crunched the numbers to illustrate the level of volume I lifted in 19 minutes, it came to 7,500 pounds. If you include my body weight, which would be fair to do since I'm also responsible for lifting part, if not most, of my body to perform the aforementioned exercises, the total comes to 11,250 pounds. Whew! And the number can get even more impressive if medium, or light weights, and a higher number of reps, are what my coach is serving for a workout. If you are lifting weights, you too can figure out the total volume of weight you're lifting. It's likely you'll be impressed by the data!
Not all of my workouts are this monstrous. But often they are.
Currently I'm training for a 25k skate ski race in West Yellowstone on March 6, and for a handful of 26-mile day hikes I will enjoy this summer in our Wind River Range.
But I'm also pretty sure I could be a good help if someone needs to lift their car off of the ground or move it without going to the trouble of starting it up and driving it.
By the way, in the last video blog about my progress and goals for the new year, Steve indicated that he likes Home Depot's slogan, "You Can Do It. We Can Help." Steve says the philosophy at his gym is the same. And I couldn't agree more. I have needed, and continue to need the guidance and support and expertise of my coach/personal trainer. My coach is a big help. But the hard work – it's all mine. I have to do it.
Elemental Gym has a fantastic gym, some terrific programs and classes that will help you achieve better fitness. And, I might add, some great personal trainers: Steve Bechtel, Ellen Bechtel, Jagoe Reid, and Sophie Mosemann.
Thanks to Mei Ratz for use of the kettlebell photo.