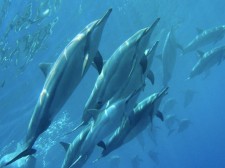 We just returned from one week of vacationing on the Big Island of Hawaii. It was our second time to the area. The Big Island is definitely on our short list of favorite places in the world.
One of the highlights of our trip was a "Swim with Dolphins" snorkeling trip, provided by Sunlight on Water. I went on the adventure with our two oldest sons, Wolf and Hayden, ages 9 and 8.
Here's one clip of a guide, Kevin, swimming with Wolf. Watch to the end and you'll see a manta ray:

My husband, Jerry, is recovering from a spine fusion, so he and our 2-year-old son, Fin, spent the morning exploring tidepools and building sand castles and swimming while Wolf, Hayden and I went on the dolphin swim.
Here is a clip of Spinner Dolphins living up to their name, captured before we swam with them:


Sunlight on Water is owned and operated by "China Mike" and Melainah Yee. This adventure is ecotourism at its best! We found out, firsthand, that to swim with dolphins, in the wild and out in the middle of the ocean, is an adventure of a lifetime.
The adventure started with Captain China Mike performing a Hawaiian Ceremony and prayer. This offered a cultural aspect to the adventure, making it even more memorable.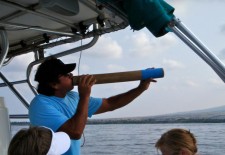 Coming out of the harbor, we were all pleasantly surprised to see a humpback whale. We were visiting the Big Island at the tail end of the humpback whale migration. Most of the whales are well on their way back to Alaska so we didn't expect to see any whales.
However, before our 4-hour adventure ended, we had viewed six to eight whales. It was incredible! We not only saw mommy whales with their babies, but also males, who were singing. China Mike put a microphone under the ocean waters so we could listen to one of the male whale's tunes. One time we watched a mommy whale and her baby right before they passed under our boat. For a minute the good-sized boat we were on felt pretty small…
Check out the male whale's song here:

According to Mike, the whales spend time in Hawaii's waters giving birth. Alaska's waters are too cold for birthing because baby whales, who can weigh about 2,000 pounds, don't have any fat on them. Mommy whales' milk has more fat than any other milk on the planet.
We learned a lot about dolphins and all of it was fascinating. For example, dolphins are among the most intelligent of animals. Individuals communicate using a variety of clicks, whistles and other vocalizations, all of which we could hear while swimming among the dolphins. Play is an important part of dolphin culture, and although dolphins rest, they never fully sleep. Rather, they can turn one hemisphere of their brain off in a "slow wave sleep" that allows them to remain conscious enough to breathe and be aware of predators.
Here is a clip of me swimming with the dolphins:

China Mike and his guides were phenomenal. One of the guides was Kevin, and he helped ensure that Wolf and Hayden got the pleasure of swimming right in and with the dolphins and helped them see things they might otherwise had missed. It was the first time the boys, who are good swimmers, spent time swimming out in the middle of the ocean, and it was their first time for snorkeling. I was worried and they were a little uneasy. But thanks to great instruction and hand-holding by the Sunlight on Water crew, particularly Kevin, the boys had an awesome time of it. In all, I think we snorkeled and swam with dolphins on five different occasions during the adventure.

It was a perfect day. After our adventure with the dolphins came to an end, I asked Wolf and Hayden how they would describe it. Both of them thought "magical" best described it. It was a significant highlight of their trip, and they are still talking about it as we return to our life in the snowy mountains of Wyoming.
This was truly a magical adventure and I can't recommend it enough!
Both Michael and Melainah are USCG licensed captains. "China" Mike has been surfing, diving and has captained boats on the Kona Coast for over 25 years and is one of the most experienced captains on the Big Island. He operated the first charter boat offering Dolphin Swims in Hawaii.
Michael and Melainah are Kona's leaders when talking about experience with Dolphins and are known internationally for their expertise. They have been featured on several television documentaries discussing the human/dolphin connection.
We were made aware of Sunlight on Water, and this great adventure, by Tom Barefoot, of Tom Barefoot's Tours, a provider of discount tours and activities on the Big Island, Maui, Oahu and Kauai. Tom provided invaluable input to us as we were planning activities for our trip, and I am grateful to him, especially for directing us to the Sunlight on Water dolphin swim. (And yes, Barefoot is his real last name.)
Dolphin swim videos included in this blog post were captured and provided by Ryan Leinbach and DolphinDreams.com, a video business that accompanies the adventure and captures underwater footage, which is available for purchase later.