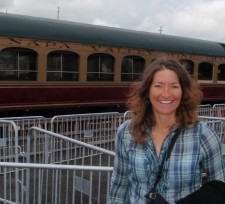 It was our first time to Napa Valley and California's wine country. After a bunch of hiking and exploring the Marin Headlands to the south, we were looking forward to some spectacular wining and dining. Napa Valley seemed like just the place.
We like riding on trains and don't get the opportunity to do so very often. We also preferred to have someone else do the driving since we'd be testing a bunch of wine and weren't familiar with the region. And, we were looking forward to some great food along the way.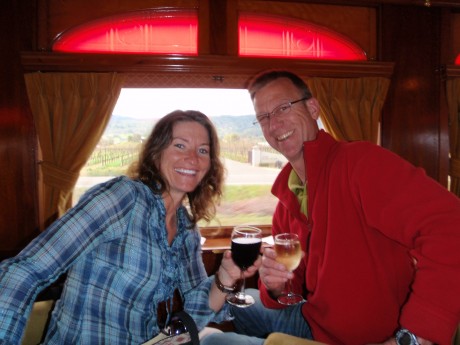 Enter the Napa Valley Wine Train. Called one of Napa's most unique and delicious dining experiences, the Napa Valley Wine Train takes you right through the heart of Napa Valley, passing vineyards and wineries.
The train itself and riding on it was a fantastic experience. We loved every minute of the train ride. The scenery was wonderful and different for us, and we enjoyed it all in upscale comfort.
We had booked the Grgich Hills Winery Tour. So, after a wine tasting seminar at the Wine Train station, we boarded the train at 11 am and were seated in the fine dining car. We starting enjoying our 3-course gourmet lunch at around 11:30.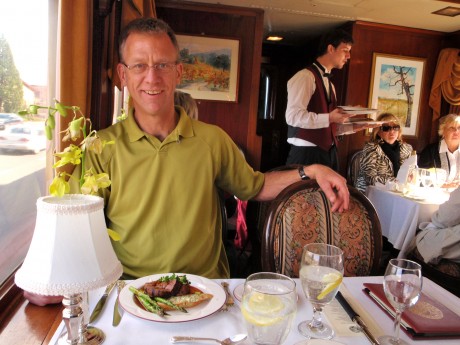 The lunch was to die for. We were seated in a refurbished 1915-1917 Pullman Car for the scenic ride through Napa Valley. To start, Jerry had lobster bisque soup and I had a baby lettuce salad with candied walnuts and smoked goat cheese in a honey cider vinaigrette. Then, Jerry enjoyed a roasted tenderloin on gorgonzola toast with asparagus sautéed in a cabernet beef demi sauce. I had thyme-glazed pan seared roasted chicken breast on baby carrot soft polenta and kale in a grilled orange Beurre Blanc.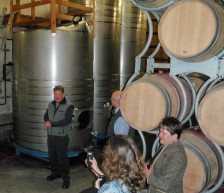 Because we were riding a wine train through world-famous wine country, of course we had to imbibe wine. Jerry had a glass of Terra Valentine Cabernet Sauvignon (2007) and I had a Robert Mondovi Pinot Noir (2008). It was all delightfully delicious — even more so given the fact we were doing it from a train traveling through Napa Valley.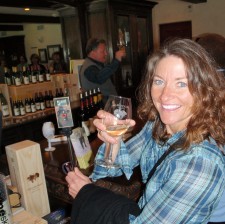 At around 12:30, we disembarked from the train for a 1-hour tour of Grgich Hills Winery. Grgrich Hills owns five vineyards in Napa Valley.
Some interesting things we learned on the Winery Tour:
–Miljenko "Mike" Grgich began "stomping grapes" at age three for his family's table wine. Many years later Grgich worked under some of the most celebrated California winemakers. In the historic Paris Tasting of 1976, his 1973 Chateau Montelena Chardonnay bested the top white Burgundies to win first place. (This catapulted him to the forefront of the world's great winemakers.)
–It takes about 15 people to pick 18 acres of grapes in seven-and-a-half hours.
-Grgich Hills Winery produces 70,000 cases of wine a year.
–They purchase barrels, which store the wine during production and whose wood gives it much of its flavor, for $1,000 each new and they use them for three or four years before selling them for about $100 each.
–Cabernet spends the most time in the barrels – about two years — and will be in the new barrels.
–Grgich Hills's Chardonnay spends about 10 months in the barrels.
–One normal barrel equals 25 cases of wine — 300 bottles of wine.
–3 normal barrels equal approximately one ton of grapes.
–How to volatize the esters (before tasting/drinking the wine)
–Grgich Hills Estate is world-renowned for its wines, including its Chardonnay, Cabernet Sauvignon, Fume Blank, Merlot, Zinfandel and Violetta, a dessert wine.
–While I wouldn't call myself anything but a very amateur wine drinker, I can report that Grgich Hills' wine is tasty, particularly their flagship Chardonnay.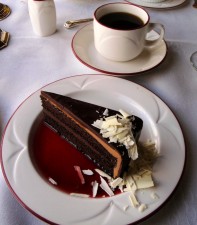 After tasting five different kinds of wines and learning a lot at Grgich Hills Winery, it was time to re-board the train. Once on the train, we enjoyed desserts that were to die for. Jerry had a creme brele and I had a piece of Cabernet chocolate cake. Nothing like to-die-for desserts to cap the day of wine tasting and train riding.
The Napa Valley Wine Train is an extraordinary experience. We had an amazing time. Particularly for folks who have only limited time available to experience Napa Valley and who are interested in riding a historic train, enjoying gourmet food and touring and tasting wine from local wineries, the Wine Train is a perfect solution. Book your experience.