(Zion Trip, Pt. 1)
In early March, I met Kathy, from Omaha, in Vegas. Our destination was Zion National Park.
I was looking for an adventurous getaway where I could capture some video for the MyZionPark.com website we're working on while getting some great hiking and sightseeing in. It would be a short adventure vacation.
My husband, Jerry, and I and our sons had been to Zion a couple of times. We had done some serious hiking even with our kiddos, including the 8-mile, steep Observation Point hike. But that had been about 5 years ago and I was eager to do it again, and this time with a digital camera and Flip Video in tow.
Most exciting was our plan to hike Angel's Landing. On my previous trips with our kiddos, Angels Landing had not been an option. But, since I first learned about it, it beckoned. It's been like an itch that needs scratched.
Kathy is a chiropractor and is married to my cousin, Jody Kloewer. They have three kids. I was a bridesmaid in their wedding in 1990, and Jerry was a groomsman. That's how Jerry and I met, so Jody and Kathy hold an extra-special place in our hearts.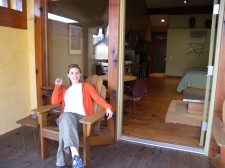 Kathy is in great shape, is a real trooper, loves nature and photography as much as I do – and very important, she has an easygoing (great) personality. I knew if she accepted the invitation to join me, it would be a fantastic trip. Also, did I mention she's a chiropractor? That can come in handy on a hard-charging hiking trip.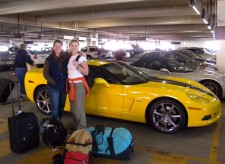 So, we met in Vegas, rented our yellow Corvette and off we went toward Zion.
In a few hours we were pulling into the Desert Pearl Inn, our home for the next four nights. Desert Pearl Inn has loads of raving reviews on the internet, and many people claimed it's the best place to stay while visiting Zion. By the looks of it, I was sold and we booked our stay.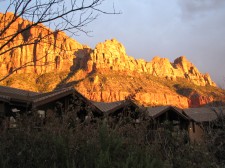 Normally I'm only interested in a clean roof over my head, especially on these hiking adventures where not much time is spent in the hotel and all I need is a bed to plop on and a shower to clean the grime off. But this time, since we'd be hiking hard, I figured we'd splurge a little. What the heck, we'd be deserving of nice accommodations.
Some people, including myself before this trip, would say that a hotel can't really be a reason to visit a place. Until this trip, I agreed. But Desert Pearl Inn made me change my mind. Desert Pearl Inn is situated under the shadows of the towering Watchmen red rock cliff and its back yard is cut by the Virgin River. Our room had a balcony with deck and we had the luxury of the sounds of a babbling brook in the background thanks to slightly-opened windows during sleep after a long day on the trails. But that's not all. We had a kitchen, a wide screen television, big comfy beds, wood floors, great earthy and rustic interior design, and even a – get this – bidet.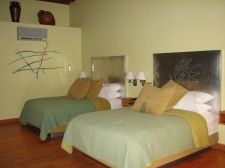 A bidet you ask? Well, being a small town girl from Wyoming, I definitely didn't know what it was. It looked like a mini-me version of the toilet, but it had a faucet. Hhmm. But after Kathy told me how it's pronounced (It's French and it's pronoucned bee-dey), I sensed whatever it was, it was special and it was a luxury to have one. Suffice it to say it's not a small sink for your kids…
If you're visiting Zion National Park or the other national park wonders accessed by southwestern Utah, Desert Pearl Inn offers truly a wonderful retreat after a day of exploring nature's wonders.