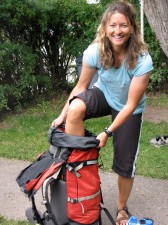 (Click here for a pre-trip post I wrote.)
I sit here today rested and showered, a little stiff and sore, and completely exhilarated. You see, yesterday I returned from my successful Grand Teton summit expedition.
For some photos, click here. (BTW, thanks to Jason Kintzler and Brunton. Thanks to Brunton's solar power and battery pack, I was able to keep my camera batteries are charged.)
I think the best way to blog about my experience is to break it into days. Each of the expedition's four days held enough hard work, stunning sights and accomplishments to warrant its own post.
As it is, I'm a woman of too many words, and I think one gigantic post will be too much. Add to that, I'm still sorting through all the videos and the almost 1,000 combined photos our group took. So this post will be a general sum of the experience and provide a sneak preview of what will come over the next few days as individual journal entries for each day of the adventure.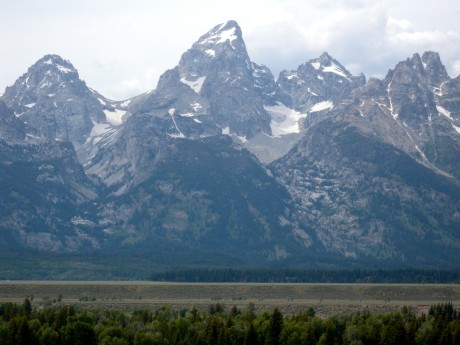 Jackson Hole Mountain Guides guided our expedition. In our group was me, my friend Kathy Kloewer, and Jeff and Jamie Johnson (brothers of my husband Jerry). I live in Lander, WY, and the others hail from Omaha, NE. Our guides were Julia Niles and Nate Opp. They were exceptional guides and provided valuable expertise, guidance, wisdom, instruction, moral support, encouragement, great personalities and wonderful guiding.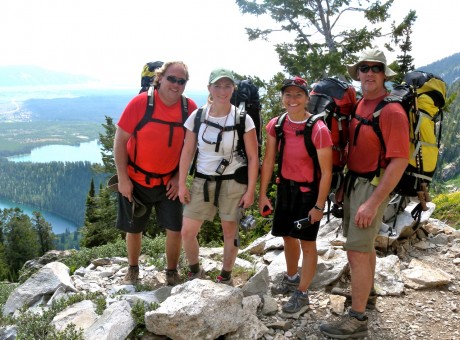 After a night of camping at Gros Ventre Campground near Jackson, WY, we went to JHMG office to do a "gear check" and to rent backpacks for the trip. We were all very excited for the trip, but anxious too. My hometown of Lander is situated at about 5,200 feet. I often hike at higher altitudes ranging from 7,000-11,000′. In Omaha, Kathy, Jamie and Jeff live and play at about 900 feet. It's hard to train for such a high altitude, rugged, and physically demanding adventure at 900 feet elevation, but they did their best and I knew that their attitudes would carry them far.
IN SUMMARY:
• On Day one, starting at 10 am, we hiked 6 miles/4,200 feet from Lupine Meadows trailhead in Grand Teton National Park, up Garnet Canyon to the Corbet High Camp, situated at 11,000′. This is Jackson Hole Mountain Guides' base camp and it's spectacular. Our tent was right below the Tepee Glacier and we had views of the Middle Teton, Middle Teton Glacier, Grand Teton, Tepee Glacier, Jackson Hole Valley, Lupine Meadows, the Watchtower and many fantastic, dramatic, towering mountains.
• On Day 2 we had climbing instruction. We climbed two pitches on Fair Share Tower and three pitches on All Along the Watchtower, from which we also enjoyed a 180-foot rapel.
• On Day 3, with coffee and breakfast consumed and headlamps on, we left at 4 am over scree, boulder fields, up, up, up, across snow, up a technical route called Pownall-Gilkey, and to the summit of the Grand Teton, where we arrived at 9:30 am and basked in the sun and views for 60 minutes before completing the last 50% of the summit experience – getting down, which is no cakewalk.
• On Day 4, we hiked down, got a shower at Climber's Ranch and returned to our families and civilization. My husband, Jerry, and our three young sons, surprised us by hiking in the first mile or so and greeted us on the trail. This was a very special moment for me!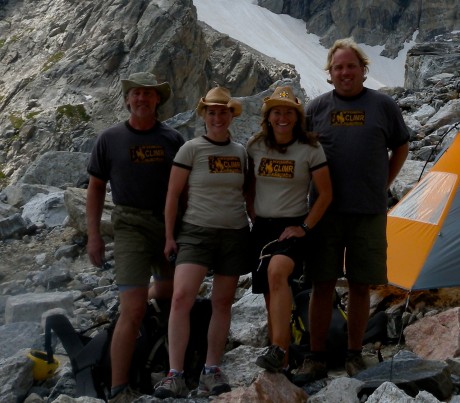 THINGS I LEARNED:
1) The air is thin and oxygen less plentiful the higher you go up. Of course I knew this but this trip confirmed it rather quickly. At around 8,500′ I noted a definite change and it got thinner as we hiked upward.
2) "We go slow so we can go fast." This was advice from one of our guides, Julia Niles. What this means is we didn't break often and when we did it was brief and with purpose. But we didn't hike at break-neck speeds either.
3) Efficiency is key on this expedition. Efficiency of energy, pace, momentum, eating and drinking, packing, moving up the rock, looking for solid footing on boulders and scree, and so on.
4) Take a deep breath. In fact, take a bunch of deep breaths. No, let's make that: take nothing but deep breaths.
5) Slow and steady does work. Nate showed me on the hike in ways to maximize use of our larger (upper leg) muscles while hiking uphill and I watched his heels most of the way up the last 1,000 feet of trail. His steps were so deliberate and sure-footed it was like he was pulling his back foot out of quick sand. I did the same and it worked to preserve my calf muscles.
6) Live in the moment. Don't anticipate. Only focus on the task in front of you. We've all heard these Zen-like affirmations before, but during climbing instruction and our ascent of Grand Teton in particular, this advice proved to be particularly compelling and important. Julia, especially, emphasized this, saying to utilize "present time consciousness," what we came to call PTC. (This is one of the reasons she's so drawn to climbing and mountaineering.) And by the way, living in the moment is not my strong point, another reason this trip was good for me.
7) I've entered 50-mile trail runs and other ultras and this adventure proved to be the most challenging thing I've ever done both mentally and physically. Physically I was in near top shape so the physical effort was not too taxing. But the mental challenges faced in the climbing instruction and on the technical parts of the ascent were very formidable for me, and those in my group. I had doubts on many occasions and dreaded the confrontation of them, over and over again, both on the exposed, high ridge during our climbing instruction and at times during the second pitch of the technical climb while approaching the summit.
8) I had begun reading Deep Survival while on the trip. How fitting. During night one outside of our scenic tent sites, I read out loud to Jeff and anyone else in an earshot, about the emotional bookmarks we collect in our minds. I am certain that my experience on this extraordinary adventure created many new emotional bookmarks.
9) I was uncomfortable many times. Not physically but mentally. It was a major benefit to complete the expedition and develop so much mentally and emotionally in the process. I wasn't expecting that. And most wouldn't sign up for the type of fear confrontation that I found on the mountain. I was reminded of the fact that nothing easy is worthwhile. I was completely fulfilled and amazed at what I, and my group, had accomplished at the end of each day. All the while surrounded by truly spectacular scenery in all directions.
10) "Trust your rubber." I was on the second pitch of climbing instruction when this was shouted from below. It didn't seem relevant I can tell you that, and certainly it was not very helpful. Not even very funny at the time given I was at a "crux" in my route. Until I understood they meant my shoes' rubber. The rubber on the bottom and sides of the approach shoes worn during climbing are rubber for a reason. They can smear and more easily find purchase on vertical rock walls. (Oh, now I get it.)
11) Grand Teton is world-famous and iconic. Summiting it is on many people's life lists. Julia says the fact that it's inside a national park, spectacular in beauty, and there's no easy way up it all make it special. While we were in the Corbet High Camp, we met people from Washington, D.C., Connecticut, Oregon, Wisconsin and Texas. Grand Teton is a very special place. I am lucky to have it in my backyard.
12) The Rest Stop bags (wag bags or poop bags) were actually quite a slick solution. Worked magnificently. (More on this part in a future post, though!)
13) Our guides told us on many occasions, "Trust Us." We did that and took comfort in that. They were pros and we were in very good hands if only we trusted them.
14) Humble pie is actually sorta tasty. 🙂
15) Yes, it was very hard and I was pushed beyond my mental comfort zone, but I would do it all again. I am so fulfilled and will be inspired for years to come by the sights I saw and the things I experienced. So much so that Jerry and I are hoping when our youngest son is 12 (10 years from now), he and our three sons and I will repeat the adventure.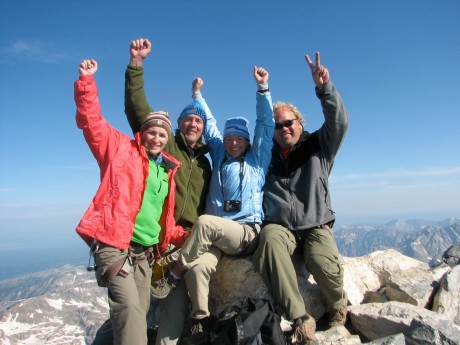 Please stay tuned in coming days. I will post at least four more posts that more specifically highlight the Grand Teton expedition, starting with "Day 1" journal entry.

Thank you to my husband, Jerry, and our sons, and all of my family and friends for their support of this adventure, to Kathy, Jamie and Jeff for going along and sharing such a memorable and challenging adventure with me (and to their families for allowing them to), and to Harlan (my father-in-law) and uncle Gilbert for crewing and providing support in the region while we headed upward into the tall mountains. Also, thanks to Jackson Hole Mountain Guides, especially Nate Opp and Julia Niles, who made our trip more special and remarkable. Also, I would be remiss if I didn't mention Steve Bechtel and Elemental Gym. Steve has been providing training and fitness guidance for the last four months that no doubt helped make this trip a reality for me. Also, thanks to Brunton for keeping my camera batteries charged so I could report on the adventure, and to Bridge Outdoors for outfitting us with "Wyoming Climbr" t-shirts.