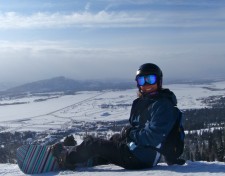 I just returned from a day on the slopes of Jackson Hole Mountain Resort, in Jackson Hole, WY.
I'm lucky because this world-class resort is in my backyard, just a 3-hour drive from my hometown of Lander, WY. I grew up skiing its slopes.
On Thursday I left Lander in a blizzard. More than 10 inches of white stuff had already fallen on Lander. I could only hope that it was doing the same in Jackson.
It wasn't. But that's okay because it meant that once I was over Togwotee Pass I had more suitable road conditions. And, although there was no fresh pow to enjoy on the slopes of Jackson Hole Mountain Resort Friday, we had a stellar, almost-entirely bluebird day. Plus, this would mark my first, and probably only, day to be on the snowboard this winter. Beggars can't be choosers.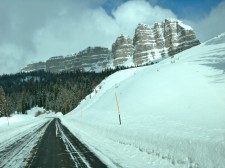 Well, fortunately, there's nothing left to want for once at Jackson Hole Mountain Resort. The place can be described in just one word: Legendary.
If you don't believe me, consider these facts: Jackson Hole Mountain Resort (JHMR) boasts the greatest continuous inbound vertical rise for ski areas in the U.S. –– 4,139′ to be exact. To access this in a single legendary run, ride the Aerial Tram, otherwise known fondly as "The Big Red." In 9 minutes you're delivered 4,139′ of vertical. When it comes to skiing or snowboarding, this is about as close as you can get to instant gratification.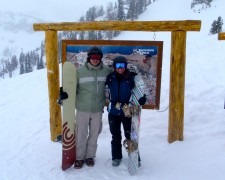 The resort partially covers two mountains — Rendezvous and Apres Vous — and provides access to some of the most challenging terrain in all of North America. Perhaps, then, it's no big wonder that JHMR attracts many of the world's best free skiers.
Within JHMR alone, skiers and snowboarders enjoy about 2,500 acres of inbound terrain. And while that's a heck of lot of terrain (plenty for most people), there is an even larger area to be explored off-piste (out of bounds).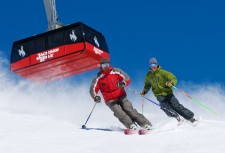 The terrain has not only attracted the best skiers in the world but also one of the leading ski film companies, Teton Gravity Research, and Jackson Hole is home to one of the most famous expert ski runs in the world, Corbet's Couloir.
To whet your appetite, check out the Trail Map. Breakdown of terrain is roughly 50% expert, 40% intermediate, and 10% beginner.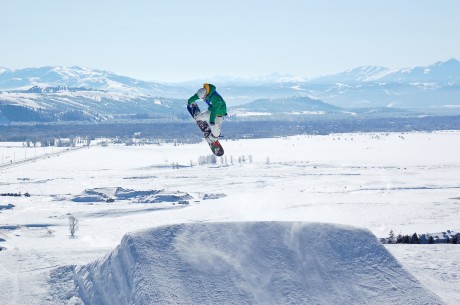 I know, personally, from growing up and skiing and snowboarding at Jackson Hole and then experiencing other resorts, in Utah, Colorado, and California, that often times people will say a "blue" at JHMR is like a "black" on any other resort. I certainly think this is the case. That said, there is plenty of beginner and intermediate terrain.
I consider myself an intermediate snowboarder who, given great conditions, pursues expert runs. The Hobacks are my favorite. They are black diamond runs and represent backcountry conditions but with the advantage of being delivered direct access to them via lifts.
Laramie Bowl is fantastic. One of my favorite extended runs is the Gros Ventre, accessed by the awesome Bridger Gondola. Get out of the elements and ride the Gondola for only 7 minutes. Your reward: A mile and a half of descent! Unbeatable, in my opinion.
Another favorite of mine is to ride the Thunder Quad Chair and take the black diamond Paintbrush to Amphitheatre. Dogface and Bird in the Hand off Sublette Quad Chair are also favorites.
Exceptional, easy-to-access intermediate (blue) runs can also be enjoyed off the Apres Vous and Casper Quad Chairs.
Beginner terrain is plentiful off the Teewinot and Eagle's Rest lifts. There is a phenomenal terrain park and halfpipe as well.
During my recent day at JHMR, I snowboarded about 23 miles worth of runs covering about 50,000 feet of vertical. Not too shabby at all!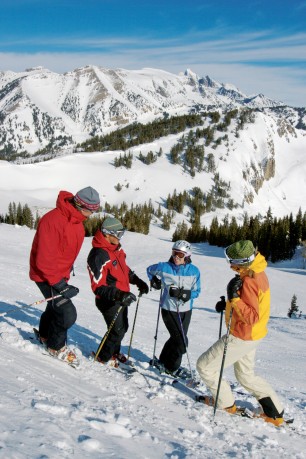 I had views of the Jackson Hole valley below and met nothing but friendly skiers and snowboarders on all my rides up the mountain.
My snowboarding partner for the day and I enjoyed a fantastic lunch at The Couloir Restaurant, which is perfectly located at 9,095′ elevation at the top of the Bridger Gondola.
Joel had a burger and fries that looked downright delicious and I enjoyed a tasty and fulfilling serving of buffalo chili, all while watching paragliders take off from the slope out our window. The Couloir has been written up in Food & Wine, as well as Conde Naste's Hot Tables List. The chef is top shelf, and all ingredients are native to the region.
Snow is plentiful, too. The resort receives about 460″ of white stuff every year.
When you ask someone who's skied or snowboarded at JHMR, who has also skied other major resorts in the Western U. S., about their JHMR experience, often the response is the same. That JHMR is a combination of all the things skiers and snowboarders seek, wrapped into one. The best — most extensive, varied and challenging — terrain, stunning scenery, people who are friendlier than those found anywhere else, and a mountain experience that is 100% authentic.
Like I said, this place is legendary.