This is Part 3 in a 6-part series about my recent Grand Teton Expedition. For previous posts, here is a pre-trip post and a recap.
It is 9 am and we are headed to the Lupine Meadows trailhead. Most of us are caffeinated; all of us are awake, and our eagerness to get the show on the road, after months of anticipation, is so thick you could cut it with a knife.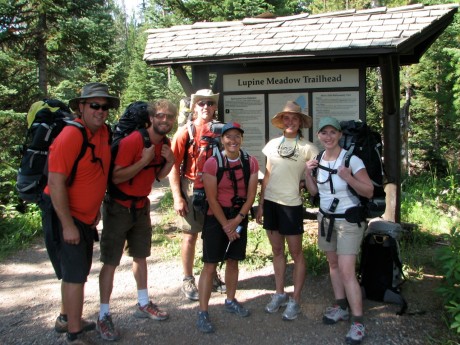 Our guides from Jackson Hole Mountain Guides, Julia "Juice" Niles and Nate "Special" Opp, are waiting for us at the trailhead at 10 am sharp. Our rented backpacks are full, we are clean for the last time in a while, and have covered ourselves in sunblock.
The first portion is a walk in the park. Nothing spectacular, pretty flat and mostly forested. We stop for our first break at 1.7 miles, taking our big, full backpacks off and drinking some water and snarfing a small snack. Then, we're off again for another 1.25 miles that is beautiful and at a slight uphill grade.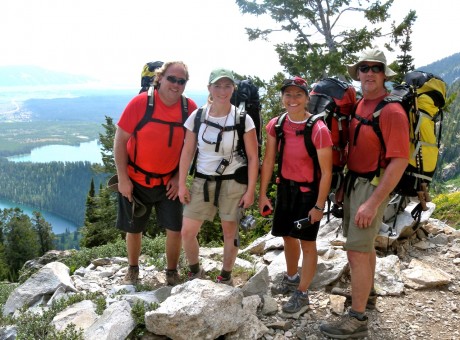 Here we have great views of Bradley and Taggart Lakes and wildflowers of all kinds, as well as huckleberries. After about 3 miles we take a lunch break overlooking the aforementioned lakes. Everyone's still feeling pretty good at this point, laughing and talking, even. : >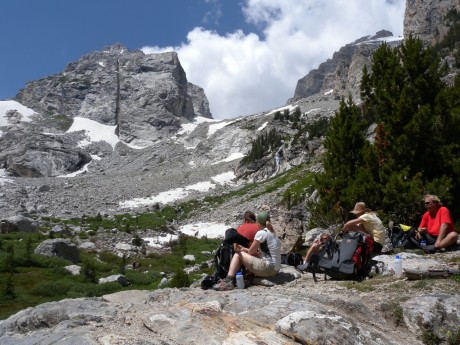 At this point the trail gets more rocky. We'll hike across a boulder field and rocky, steeper terrain. The views get more spectacular with every step. There are towering granite peaks before us, glaciers, a stream with crystal clear waters and a waterfall. I can't imagine scenery more spectacular than what we're hiking through.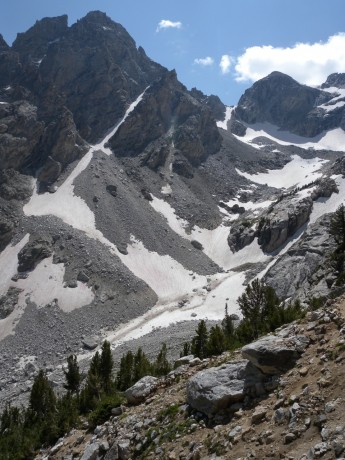 So… the scenery is breathtaking. In more ways than one. The altitude is starting to take effect, especially for the flat-landers among us. Kathy, Jamie and Jeff hail from Omaha, NE, situated at 900 feet. I live in Lander, WY, at 5,200′ and am accustomed to hiking at altitude. Julia reminds us to take deep breaths and of the importance of big exhales to get rid of co2 waste.
Here's a short video clip from the last upward march:

We focus on taking deeper breaths and it helps. We're sounding like a bunch of obscene phone callers, breathing heavily and loudly.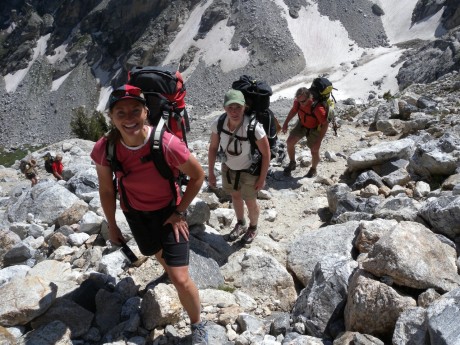 The sights keep us inspired as we continue slogging up the steep, loose trail with our sights on the landmark – a yellowish big boulder – that our guides promise marks our destination, Corbet High Camp.
Soonafter we arrive to what will be our home away from home for 3 nights. It's spectacular. There's no other way to describe JHMG's Corbet High Camp. There are a handful of tents situated throughout the piles of rocks that make up the area.
We choose a tent situated right under Tepee Glacier under the Grand Teton. The view out of our tent door is of the Jackson Hole Valley, the Middle Teton and a wall known as the Watchtower. Not too shabby, I think to myself. Not too shabby at all.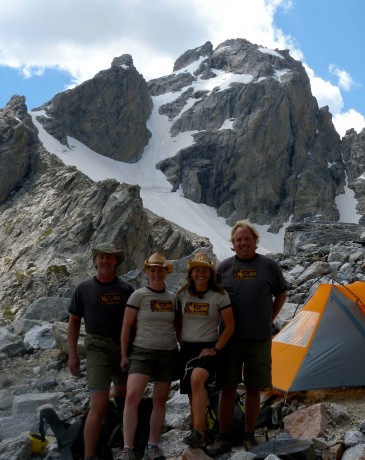 Julia and Nate show us around. We see the "hut," a community area where the kitchen and food is kept and they show us how and where to refill our water bottles. One of the most pressing question our group had had to do with bathroom facilities and logistics. There is not a tree or any vegetation in the camp given the rocky and above-treeline terrain. They gave us instruction on the RestStop bags, which one member of our group feared more than the Grand Teton ascent, but I won't name names. Suffice it to say, it was a pretty brilliant system and proved to work just fine.
After some hors d' oeuvres, which included cheese and crackers and smoked salmon, and tea, we settled our things in our tents and rested and napped on rocks perched near camp.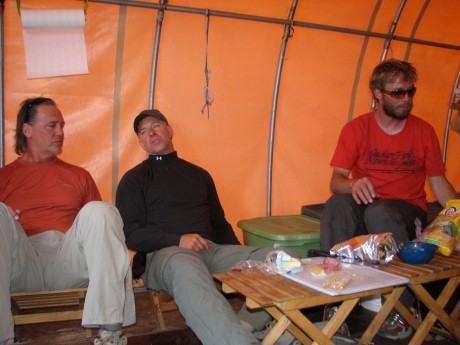 For dinner, we enjoyed pasta and salad and good company. There were others in the camp with their guides. We met people from Washington, D.C., Wisconsin, Texas, Connecticut and Oregon. We became acquainted with not only our wonderful guides, but other JHMG guides including Rob Hess, Darren Budlong, Rob Gowler, Steve Quinlan and Sue Miller.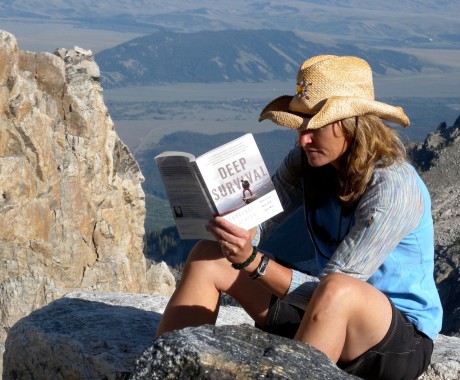 Everyone was tired and fulfilled from what was a beautiful and physically demanding hike to camp so shortly after dinner we retreated to our respective tent sites, where I read out loud from Deep Survival to the others in our group. I think we only made it through the prologue before we all grew weary and headed to bed.
As I lay in my sleeping bag in the tent under a starry sky that night, I couldn't help but be excited for what the next day would bring: Climbing instruction on the nearby crags and other preparation for the "grand" prize: the summit of the 13,770-foot-tall Grand Teton.
HERE ARE SOME REFLECTIONS FROM MY GROUP ON DAY 1:

Thank you to my husband, Jerry, and our sons, and all of my family and friends for their support of this adventure, to Kathy, Jamie and Jeff for going along and sharing such a memorable and challenging adventure with me (and to their families for allowing them to), and to Harlan (my father-in-law) and uncle Gilbert for crewing and providing support in the region while we headed upward into the tall mountains. Also, thanks to Jackson Hole Mountain Guides, especially Nate Opp and Julia Niles, who made our trip more special and remarkable. Also, I would be remiss if I didn't mention Steve Bechtel and Elemental Gym. Steve has been providing training and fitness guidance for the last four months that no doubt helped make this trip a reality for me. Also, thanks to Brunton for keeping my camera batteries charged so I could report on the adventure, and to Bridge Outdoors for outfitting us with "Wyoming Climr" t-shirts.