This is PART 4 in a 6-PART series about my recent Grand Teton Expedition. For previous posts, here is a pre-trip post a recap, and Day 1 Journal Entry.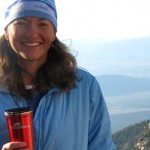 When you're climbing you live in the moment. Don't anticipate. Think about and focus only on what's in front of you in this moment. – Julia Niles, one of our fabulous JHMG guides, and also a Mountain Hardwear-sponsored athlete
Kathy and I wake up around 6:30. Jamie and Jeff are already up – we can hear them getting out of their tent. As soon as I get out of the tent, I sniff some coffee. Yeehaw! I follow my nose, and the short path to the kitchen hut, where a few others are up and sure enough, coffee is on and ready to quaff.
None of us slept that great, but that's okay, it's beautiful out and we're going to learn how to climb today.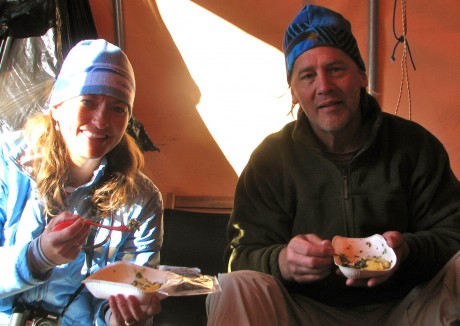 After enjoying a spinach omelette and some really good, strong coffee, we prepare for a day at the nearby crags.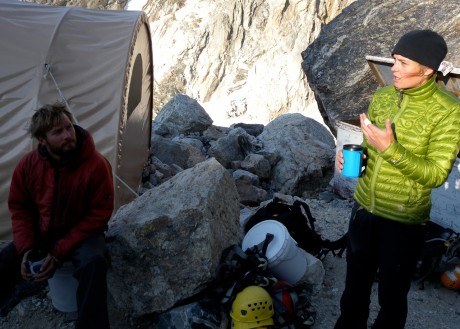 Our first order of business is to try some bouldering. This is scrambling and easy rock climbing that is not high off the ground. We follow Julia and Nate. One by one we practice bouldering – looking and feeling for holds and places to put our hands and feet to maneuver up the rock. We do this for a little bit and then head for bigger rock.

One of the big attractions of going on an expedition with Jackson Hole Mountain Guides is not only the caliber of their guides and the amenities of their high camp, but its location. There is lots of great climbing just a stone's throw behind and alongside it. It takes us about 5 minutes to walk to the base of the first wall we'll climb on, Fair Share Tower.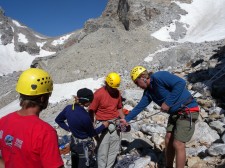 Here, we put on our helmets and harnesses for the first time, and Julia and Nate instruct us how to tie "figure 8" knots. We practice tying up to our harnesses a few times. Julia and Nate demonstrate belaying and climbing on the route in front of us.
Jeff is up first. He scales the route pretty easily and quickly. Up next is Jamie. Despite his big frame (6'3", 263 pounds), Jamie loves rock and scrambling on rocks. Immediately he finds his way up the pitch. He looks like he's having fun. I think he likes climbing better than hiking. Jeff belays him and along with some simple instruction and reinforcements from our guides, he does a stellar job. So far, so good…
Now I'm belaying as Kathy scales the wall. She has no problem. This is fun and not too bad after all, I think to myself.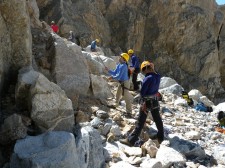 Then it's my turn. I'm nervous but reassured to see my teammates have success. I climb on and look for holds and find them and advance up the wall. My soft hands experience some discomfort from the rough rock but overall this is quite fun.
Next we take turns taking a stab at a pitch to the right of our first route. This one's crux is at the end of the route, and none of our group overcomes it. Except for that part, we are holding our own so far and starting to figure out the basics of this thing that is called rock climbing.

We break briefly to drink water and eat a snack and then head further to our right down a short path to a 3-pitch route known as "All Along the Watchtower."
In this clip, guide Nate belays as guide Julia leads the first pitch for us:

Next we watch as Jamie makes his way up the first pitch with ease. We all get over the first pitch with ease.
The second pitch is also no problem for Jamie, as he scales it pretty quickly and disappears out of our sight. But Kathy and I look on with a bit of dread. The first move seems tricky to us – our legs are shorter than Jamie's. It is not clear from where we are standing how we will get past the first move.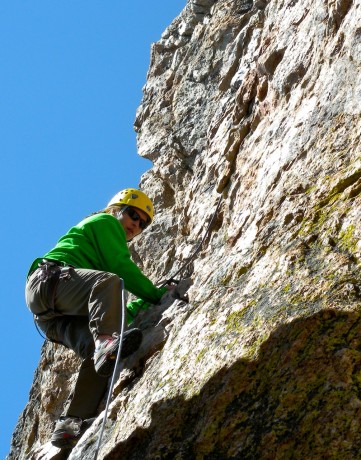 A little anxiety crashes the party. My heart beats faster. I am uncomfortable. I wait patiently and shout out words of encouragement and support to Kathy as, after some efforts, she finds a way past the first part. Whew. I yell, "Great job, Kathy! Way to Go!"
Then she disappears out of sight. My rope pulls tight so I know she's arrived and completed the second pitch. "That's Me," I yell. "On Belay," says Julia. "Climbing," I yell back, despite my fast-beating heart, apprehension and fear.
I recall how Kathy got through the first move and try it myself, and it works. Bingo, that wasn't that tough, I think to myself as I advance up a rock wall that is generous in providing holds for both my feet and hands. Quickly I advance, but then suddenly the wall runs out and I'm at the top of the cliff at a corner. Kathy is sitting as compactly as possible in a tiny little spot of rock where on either side is nothing but vertical abyss. It's breathtakingly beautiful scenery, but it comes at a cost. There are a lot of vertical feet of air separating our beings and the small corner of rock on which we are located and the sights we're taking in. Holy crap. "Where do I go from here?" I ask Julia and Kathy – anyone.
Kathy doesn't say anything. She just sits there, as if glued to her little spot on the rock. Julia says "right here." Well I figured that much, but how?, I think to myself, disappointed that she doesn't provide the answer for me. The only way is to walk on this short, skinny ledge and then climb/heave myself up over the corner. I don't think I have the strength but then I'm propelled by some inner strength onto another tiny vacant spot on the rock next to Kathy.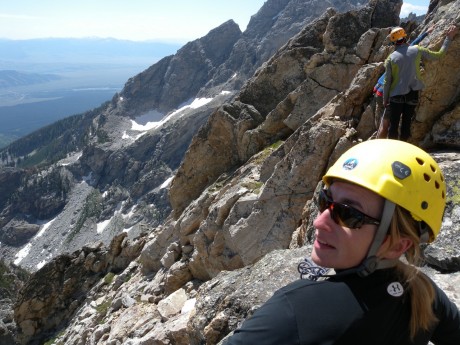 Then Julia and Jeff are yelling their commands back and forth and Jeff's climb is now under way. Kathy and I sit and watch Jamie start the third pitch in front of us, along the top of the cliff/Watchtower. There are "bunny ear" formations on the top of the cliff and he is attempting to climb his way over the first one to start his route across the top to the other side where a pair of bunny ears jut up. His feet slip. He tries again and slips again. He struggles a little more. He changes his strategy and goes at it another way and is successful.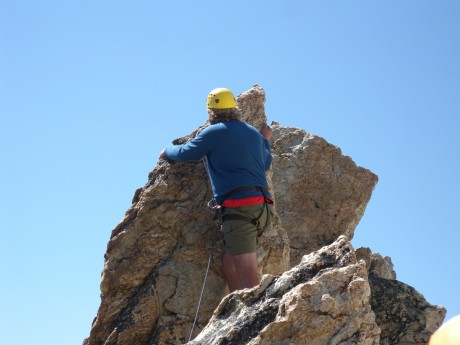 The final pitch that is before us and causing so much anxiety in Kathy is a 250-foot-plus knife edge ridge with hundreds (thousands? does it matter?) of feet of vertical abyss on either side.
I have never come close to – pardon my expression, please – shitting my pants. But at this moment, I just about shit my pants. Doubt, for the third time today, is rearing its ugly head again. There is no freaking way… I can't do it. It's impossible. I can't. Crap. How am I going to do this? It doesn't help that Kathy is looking at me with the same dread I'm experiencing. She looks desperate and shows me how the palms of her hands are sweating. Truth be told, I am glad she is up next and not me. I don't want it to be my turn. Ever.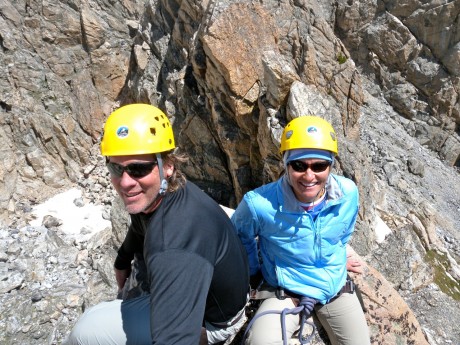 As Jamie makes his way successfully across the top of the Watchtower to Nate and the "bunny ears" and the end of the route, and Kathy and I sit silently, Jeff approaches from behind. I can tell by his body language and expression that he, too, is surprised and a bit freaked by the corner and tiny ledge that stands between he and where we're sitting – where the next pitch is to begin.
"Where do I go?" asks Jeff. There's not much room where Kathy and I are sitting. "Just sit there and dangle your legs over there," said Julia. Jeff looked hundreds of feet below. "Just dangle my feet?" Jeff asks as he proceeds to do as instructed. The sight of us three trying to be glued to the small corner of rock and compacted as much as we could manage must be a sight that JHMG guides are all too familiar with.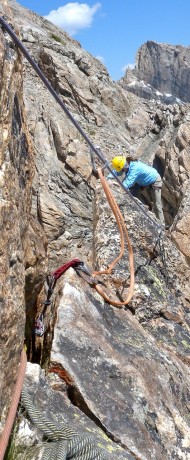 Kathy gets unglued from her safe little spot and starts the route. Reality sets in that my turn will come and I will have to confront the doubts and fear that are doing their best to suffocate me. I watch and take mental notes as Kathy successfully scales the last pitch, which by the way, is about the width of a sidewalk and is generous with holds… but nevertheless on either side of it is hundreds or more feet of air. So although we're roped in and we are in good hands, and there is plenty to stand on and hold on to, I can't get this over with fast enough. Thrilling? You better believe it. Try freaking scary. But one at a time, we each maneuver over it.
Next is a 180-foot rappel. Our test here is glaringly obvious: We will need to commit our weight – and trust – to our harnesses, and step off into space and air. Again, fear consumes me. I recall how I was just more scared than I've ever been and I yet managed to put that behind me. When it's my turn, I face the cliff and back-walk down to a ledge where I am instructed to shift all of my weight to my harness by "sitting" with my feet out in front against the rock, and then I am lowered. And it's fun!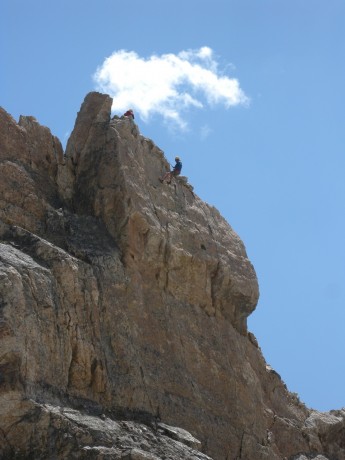 My feet hit the Earth. I feel more alive than I have ever felt. I am invigorated and exhilarated. Or to borrow from some of my climber friends' vocabulary, "totally amped." I think my hair is standing on end.
Our lives were never at risk today. We were roped up and backed up and in good hands with two guides and lots of gear and instruction and moral support, doing something thousands before us have done. I knew this up on the cliff and I know this now, but still I was required to be outside of my comfort zone.
It has been a very big learning day. I encountered great discomfort, a truckload of fear and significant doubt on at least three occasions and each time I overcame them and succeeded. This is an enormous feeling of accomplishment. So much so that it I'm thinking today's experience has been a very worthwhile and fulfilling experience. As I stand here, feet on the ground for the first time in a while, I realize I have just learned a great deal about confronting fear and doubts – oh, and rock climbing, too.
We return to camp, have lunch. Julia and Nate review what we need to pack for tomorrow (Summit day), and what we need to wear. We are instructed to go to bed early because we'll be waking at 3 am to eat breakfast, and will be departing camp for our summit bid at 4 am with headlamps on.
Before turning in, I ask our guides if we'll be climbing the easiest route to the summit. Nate says, "We'll be climbing a route that is definitely not the easiest route." We learn we'll be climbing the Pownall-Gilkey route and that "it's a spectacular route."
After lounging a bit, we eat an early dinner of pasta, and then Kathy, Jeff, Jamie and I gather around our tents to chill, and sum up the adventure so far.
——————————
We all agreed that the Grand Teton summit would be not be as formidable after today's experiences. In fact, it now seems like a much smaller mountain, in mind at least, given the tests we faced, and passed, today.
I'm not sure if that's what the guides had intended with today's climbing instruction, but at this moment, I feel certain it will serve us well on tomorrow's Grand Teton ascent. But no doubt, we'll need to cowboy up for the event.
——————————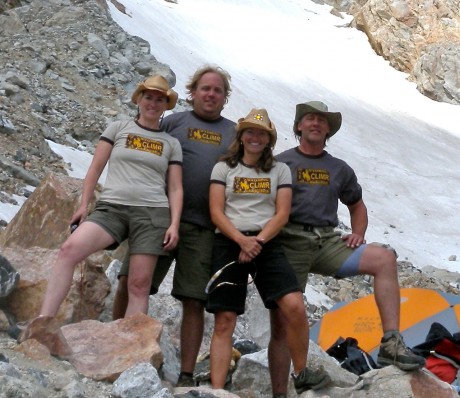 I read some more from Deep Survival: Who Lives, Who Dies, and Why, and then closed in for what would be a short night.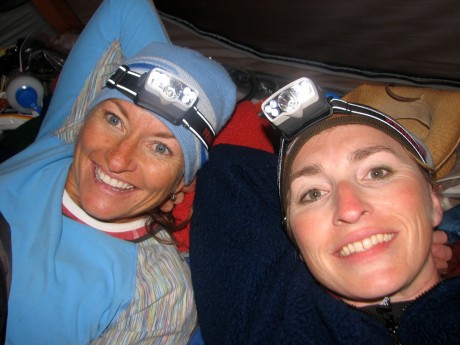 I didn't sleep a wink that short night, or at least I thought I didn't. But Kathy, who for sure didn't sleep a wink, says I in fact did sleep – and snored – for a 15-minute period. The anxiety and eagerness to ascend the Grand Teton was too great for sleep. But it sure was a beautiful star-filled night under which to have insomnia.
It's 2:50 am, and my watch alarm is about to go off. What will today bring? Will we stand on the Grand Teton's summit?
CONTINUED… SEE DAY 3-SUMMIT DAY

Thank you to my husband, Jerry, and our sons, and all of my family and friends for their support of this adventure, to Kathy, Jamie and Jeff for going along and sharing such a memorable and challenging adventure with me (and to their families for allowing them to), and to Harlan (my father-in-law) and uncle Gilbert for crewing and providing support in the region while we headed upward into the tall mountains. Also, thanks to Jackson Hole Mountain Guides, especially Nate Opp and Julia Niles, who made our trip more special and remarkable. Also, I would be remiss if I didn't mention Steve Bechtel and Elemental Gym. Steve has been providing training and fitness guidance for the last four months that no doubt helped make this trip a reality for me. Also, thanks to Brunton for keeping my camera batteries charged so I could report on the adventure, and to Bridge Outdoors for outfitting us with "Wyoming Climr" t-shirts.
av6kdxf8qw