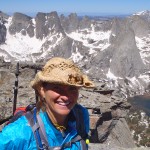 Last Thursday, my husband, Jerry, and I left Lander at (gasp) 3:45 am. It was a two-hour drive to the Big Sandy Opening trailhead, and our plans for the day were ambitious: to climb Mitchell Peak and get back to Lander in time for our middle son's 5:30 pm baseball game.
We made the drive under a star-filled sky, which meant we had picked a stellar day. As we entered the Big Sandy Opening area we noticed our "outside temperature" gauge reporting 21 degrees. OMG. We didn't plan for below-freezing temperatures. It would be a frigid start. Even with all of our layers on and walking at a brisk pace, we were shivering for the first five miles before the trail left the forest and we could finally feel the warmth of the sun.
We had hiked the route many times before, at least once a year for several years. On this day, we would hike from Big Sandy Opening to Big Sandy Lake, up over the first part of Jackass Pass, to North Lake, where we'd take a hard right and head up Mitchell Peak's southern slopes before gaining its northwest "walk up" ridge.
Mitchell Peak is part of the famous Cirque of the Towers, one of the most spectacular sights you will ever see. The sight of the Cirque takes my breath away every time I see it. This is partially due to the effort it takes to get there, but mostly due to its sheer and unspeakable beauty. The sight of the Cirque can move you to tears, and it inspires you for days, weeks and months after.
You can access the Cirque via Big Sandy Opening and Jackass Pass (which straddles the Continental Divide and gets its name because it's so rugged a donkey can't pass over it — and a stupid person can – LOL) or via Dickinson Park and the North Fork Trail. The former is a harder hike, but shorter in distance — about 15 miles roundtrip. It is truly an epic hike given the jaw-dropping scenery and the rugged terrain. The latter is easier — with only 900′ of gain over the course of about 15 miles (30 roundtrip), but with 5 river crossings.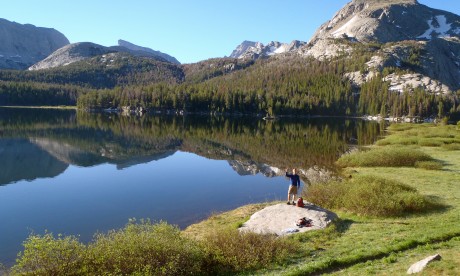 Jerry and I have wanted to climb Mitchell Peak since at least 1997, the year we first camped near the Cirque of the Towers. (Prior to Thursday, we had climbed Lizard Head, Wind River Peak and other peaks in the southern Wind River Range.)
Mitchell Peak is named for the late Finis Mitchell, who remains a hero to our family. During The Depression, Mitchell, and his wife, stocked 2.5 million trout in many of the high country lakes in the Wind River Range by carrying the fish in milk jugs on their horses. A true mountaineer, Mitchell knew the Winds like the back of his hand. He climbed all but 20 of the 300 peaks in the range. Mitchell remained an advocate of the Wind River Range until his death in 1995.
We named our youngest son, Finis, after Finis Mitchell. (By the way, many are unaware of this, but Finis's name was pronounced in a way that rhymes with "highness.") Anyhow, Finis Mitchell is pretty special to us, and this was another reason we wanted to stand on top of Mitchell Peak.
The hike from the trailhead to Big Sandy Lake is a walk in the park. It's a pretty flat 6 miles, mostly through forest and sometimes running parallel to Big Sandy River. Big Sandy Lake is beautiful, surrounded by Big Sandy Mountain, Haystack Mountain, East Temple and Mt. Scheistler. In our experience, sunlight is almost always dancing on the lake's surface. The lake looks like it has "dancing diamonds" on top of it.
Walk past the lake and you'll see a sign directing you up toward Jackass Pass. Think of this next section as a lung-buster — or as I like to say, an opportunity to snack on a little humble pie. excuse my language, but we often call Jackass Pass "kick your ass pass." It's that good. 🙂
We hiked uphill for a bit. The views, looking back, are impressive. We could see Schiestler Peak, East Temple and Temple peaks behind us. To our left was Warbonnet. Up ahead we were getting teased by Pingora, and the Cirque of the Towers, which were starting to jut out of the pass ahead of us. Also about this time, we were able to get a glimpse of Mitchell Peak.
Mitchell Peak, along with Dogtooth Mountain and Big Sandy Mountain, form a high northwest-southeast ridge on the Continental Divide.
I get excited when I am hiking along the Continental Divide. This means that precipitation that falls on the Big Sandy side eventually makes its way to the Gulf of California and the Pacific Ocean, by way of the Big Sandy, Green and Colorado rivers. Precipitation that falls to the other side eventually flows 4,000 miles to the Gulf of Mexico, by way of the Popo Agie, Bighorn, Yellowstone, Missouri and Mississippi rivers. It's pretty cool to be walking along the backbone that splits these two realities.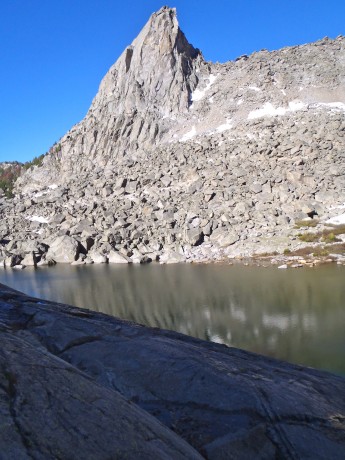 We would descend to North Lake and then take a hard right and start our scramble up the mountain's southern slopes. In reading about Mitchell Peak, we came across a report where Finis had indicated "even a 10-year-old could walk up." It sounded like the route for us. (Disclaimer, a very fit 10-year-old could definitely summit Mitchell Peak, but would probably be best advised to do it during an extended camping trip in the area, rather than as a day hike from Big Sandy Opening.)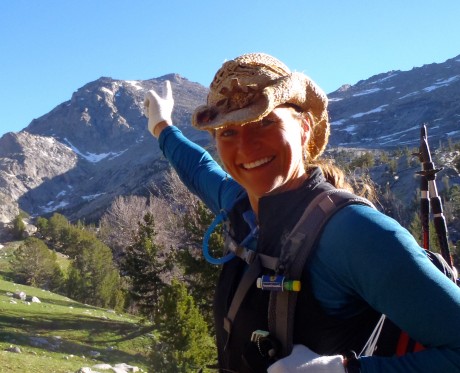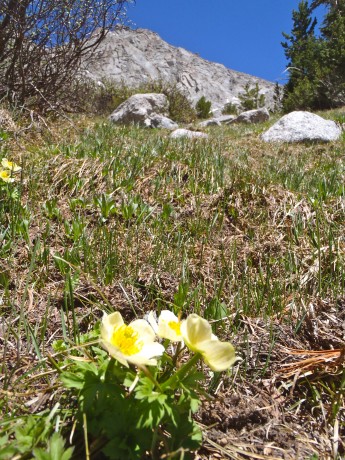 At just under seven miles, we reached the end of North Lake and left the trail for Mitchell. My GPS indicated we were at 10,500′, so we had about 2,000′ of vertical to go to claim Mitchell's summit. Alrighty then. (Access to information is not always a good thing, right?) We paused and considered which route we would take. We could go to the left and follow a spring up. It looked most direct, but more treacherous than our option to the right. The route at right appeared to be more gentle so we headed that way.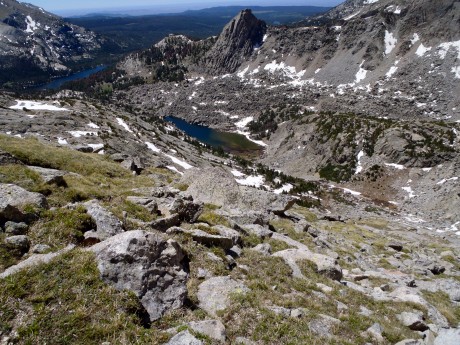 It wasn't long and we got past the big rocky outcrop and could start heading more directly toward Mitchell's top. I didn't need to check my GPS to learn we had arrived at 11,500′. I knew from past experience that, at least for me, once above 11,000,' it's like breathing with only part of a lung, or like someone knocked the wind out of me. So our going got slower but we could taste the summit. I mean, it was right there.
The scenery behind us and before us, was astounding. Silver granite towers jutted out of seemingly fragile alpine tundra, which was littered with boulders and delicate wildflowers.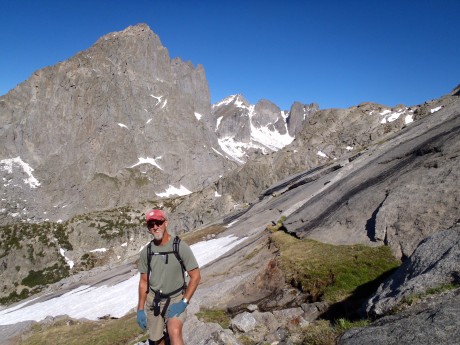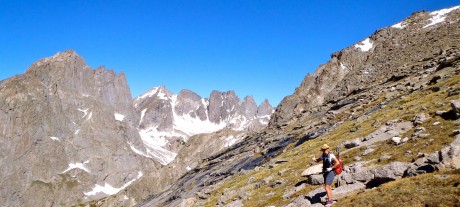 Finally we made it to the top. The views were even grander than we expected. We looked down upon the Cirque of the Towers, and because we were above the towers, we could see the depth of the Cirque. In all directions we had views of granite mountains, rivers and lakes tucked under cirques, some still with "blue ice" on them. Except for the summit's high point, Mitchell's top is pretty flat and broad. I was especially awe-struck after we ventured over to take in the views from directly above Mitchell's 1,000-foot-tall and sheer north face. Wow.
Finis Mitchell, in his Wind River Trails book, said: "…Seldom does man ponder his own insignificance. He thinks he is master of all things. He thinks the world is his without bonds. Nothing could be farther from the truth. Only when he tramps the mountains alone, communing with nature, observing other insignificant creatures about him, to come and go as he will, does he awaken to his own short-lived presence on Earth."
Indeed. As I sat on Mitchell's summit taking in views of my beloved Wind River mountains, which are composed mostly of granite rock formed deep under the surface of the Earth over 1 billion years ago, I was humbled, and grateful.
By the way, when I'm not hiking — and sometimes when I am — I am a life and leadership coach and consultant. Check out EPIC LIFE, my coaching business. Epic Life provides coaching, with an option for a guided epic adventure. I also have a blog there.
Here are some photos, as well as a video blog of the day (compressed to 7 minutes).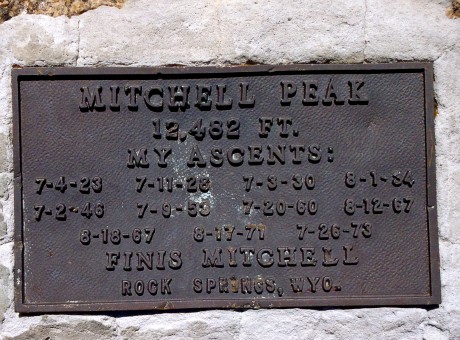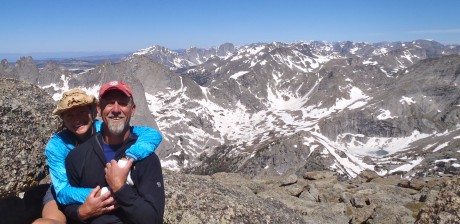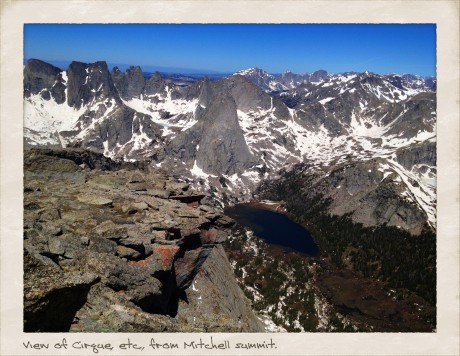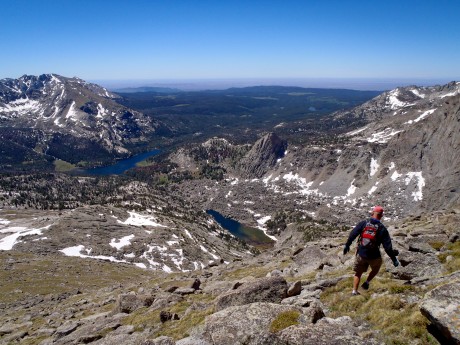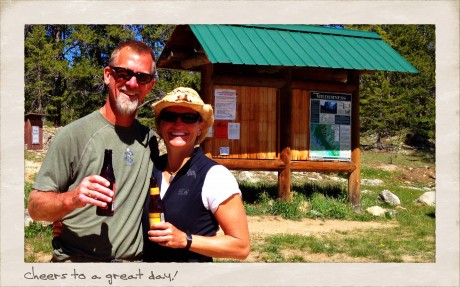 VIDEO BLOG OF THE HIKE: